Shane McMahon's Son Declan Recalls Mother Worrying, Father's Favorite WWE Moment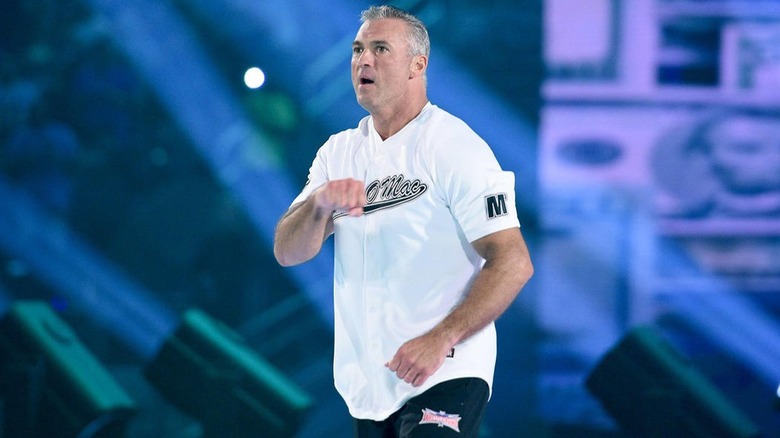 WWE
Shane McMahon has a proclivity for pulling off some crazy moments when he's stepped inside a WWE ring to compete. Whether it's leaping off the Hell In A Cell structure or not quite crashing through glass, McMahon's high risk-taking has genuinely worried some viewers over the years – specifically including his wife. In an interview with "Developmentally Speaking," his son Declan McMahon revealed the first time that his mother was truly worried about Shane — his 2001 Backlash match against The Big Show, where he jumped off the TitanTron.
"A lot of people don't know my dad was only going to stop halfway and kind of fall off. But he got up there and looked at it and went 'F*** this, I'm going all the way up there,'" McMahon shared. "He climbed all the way up and jumped down obviously, and that's really when my mom was like, 'Oh my gosh.'" 
Declan pointed out that it's all about putting trust in your opponent, which his father evidently had with Big Show that night. "Safety is the most important thing and when you're putting your body at such risk like that, obviously everybody is holding their breath. At any moment, anything can go wrong," he said. "In taking these risks — my mom, us — when we're watching, it's that very quick 'Oh my.'"
But for all those dangerous and memorable moments Shane has been a part of, Declan revealed that Shane's favorite wrestling moment was his WrestleMania 32 entrance. That's when he walked to the ring with his children by his side.
"He says, 'That was the highlight of my life.' And it's the highlight of my life, too. My dad was like, 'In everything I've done in the business, overseas, in America, behind the scenes, in the ring, nothing was more close to home and emotional for me quite like walking out with my three boys," Declan McMahon added.
If you use any quotes from this article, please credit "Developmentally Speaking" with a H/T to Wrestling Inc. for the transcription.