AEW Dynamite Results (11/1): MJF In Action, Castagnoli Vs. Cassidy, Tony Khan's Announcement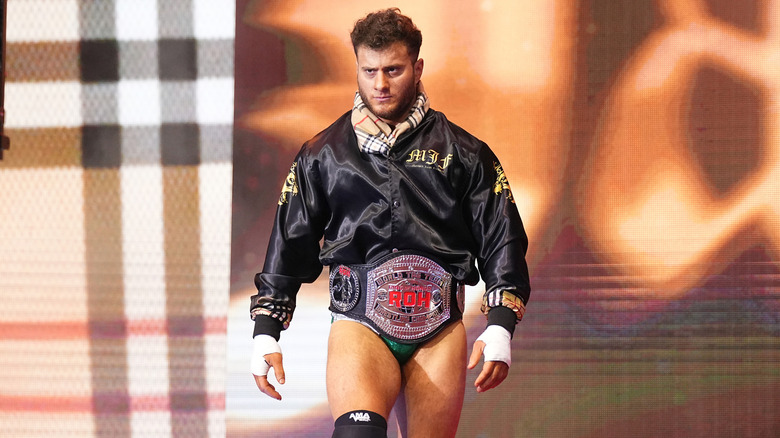 AEW
This is Wrestling INC.'s live coverage of "AEW Dynamite" for November 1, 2023!
Fresh from defending his AEW World Championship against Kenny Omega, MJF will once again be in action this evening. However, this time he won't do it alone as he needs to choose three people to team up with him against Bullet Club Gold.
He isn't short of options though, with Roderick Strong and The Kingdom as well as The Acclaimed and Daddy Ass all having offered to partner him, but MJF has claimed he will not be picking any of them.
Following the tag team main event last week, Claudio Castagnoli will once again compete against Orange Cassidy. However, this time it is singles action with the AEW International Championship on the line as he continues to fight for revenge after Bryan Danielson's injury.
Another title encounter will see Hikaru Shida defend her AEW Women's World Championship against Willow Nightingale, with the winner having to deal with Toni Storm at AEW's Full Gear. The "Timeless" one will also be showcasing her latest black and white movie, giving further details about her current character.
Kenny Omega and Chris Jericho will also be teaming up once again, this time against Jericho's former stablemates, Daddy Magic and Angelo Parker – who will be representing The Don Callis Family.
Finally, Tony Khan has promised he will be making an 'important announcement' on this show, although it's unknown what that will be at this point.
Orange Cassidy (c) vs. Claudio Castagnoli (AEW International Championship Match)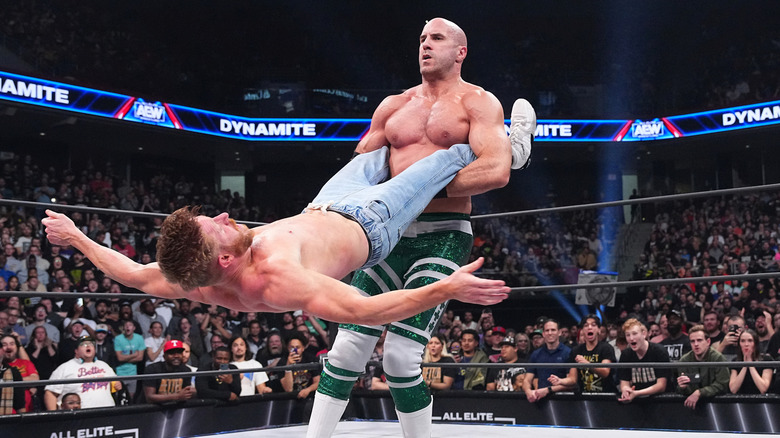 AEW
Tonight's show kickstarts with Renee Paquette backstage with MJF, and he speaks to Adam Cole on video chat. Cole says he's hanging in there and he calls MJF the greatest AEW World Champion of all time, but he wishes badly that he was there as it feels like the world is gunning for him. He tells MJF to consider Samoa Joe's offer. Roderick Strong then turns up and asks if they're still pretending MJF wasn't the devil, so Cole turns the camera off. However, the devil then pops up on the screen. 
Claudio Castagnoli immediately charges into Orange Cassidy, but he can avoid it briefly until the challenger grabs him and dumps the champion to the mat repeatedly. Cassidy turns things around by repeatedly slamming Castagnoli's head into the top turnbuckle, but he then catches Cassidy in mid-air and nails a backbreaker. Cassidy then smartly rolls out of the ring, but he ends up just being clobbered by Castagnoli who runs around the ring to do so.
Cassidy manages to send Castagnoli into the ring post, and follows it with a dive out of the ring. He attempts another, but that leads to Castagnoli catching him and dumping the champion onto the barricade. Both HOOK and Wheeler Yuta then get thrown to the back while the competitors brawl on the top turnbuckle as Castagnoli nails a delayed vertical suplex.
Cassidy tries to fight back with some chops outside the ring, but they make no impact as he then gets dumped face-first onto the ring apron. Back inside the ring, Catagnoli hits a knee to the midsection and he then launches him into the opposite corner of the ring. Cassidy once again tries to fight back to no avail, meanwhile, it is shown that HOOK and Yuta had to be pulled apart as HOOK got ejected from the building for pushing an official.
Back inside the ring, Castagnoli misses with a shoulder charge as he crashes into the ring post. Cassidy then dives out of the ring and DDT's Castagnoli and follows it with a Stundog Millionaire. However, as he tries to keep up the momentum Castagnoli reverses into the Giant Swing and then the Sharpshooter. Cassidy gets out of the submission only to eat a huge uppercut, but he manages to kick out. 
Castagnoli then combines the Giant Swing with the sleeper hold, but Cassidy gets his hands into his pockets and then climbs up the turnbuckle to escape. He follows it with an Orange Punch and Beach Break, but Castagnoli rolls out of the ring. When he gets back in Castagnoli eats a series of kicks and a running PK and a DDT, but Castagnoli kicks out this time. Cassidy then goes for the Orange Punch, which gets reversed into an uppercut attempt, but that in itself is reversed as well with Cassidy rolling up Castagnoli. 
Winner (and still AEW International Champion): Orange Cassidy
Post-match Jon Moxley makes his way out, but Cassidy sprints into the ring to try and fight him, however, Moxley dominates and just beats down the champion.
The Young Bucks & Adam Page (c) vs. The Gates Of Agony & Brian Cage (ROH World Six-Man Championship Match)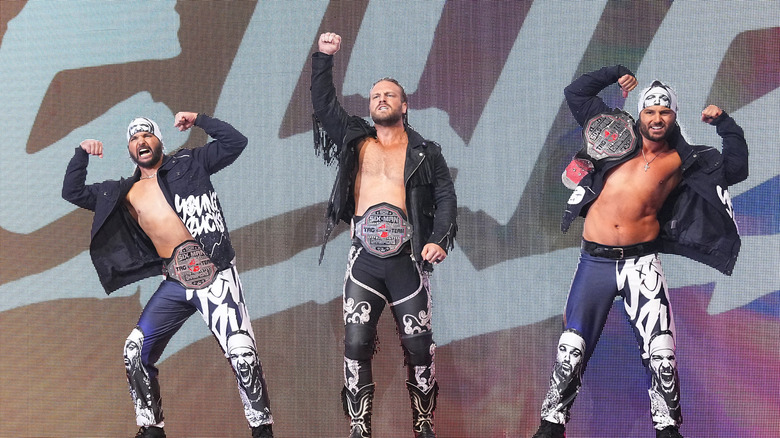 AEW
MJF is shown knocking on Kenny Omega's door, but it's Chris Jericho who answers and he slams the door on him. MJF then gets grabbed by Wardlow, who chokes him and tells MJF he will take everything from him when he least expects it. The Acclaimed then shows up asking to team with him, but MJF walks away.
Jon Moxley is then shown saying Orange Cassidy picked up the scraps, but it was his match against Rey Fenix. He showed Cassidy respect when nobody else would, and he let him walk out on his own power. He's sick of everybody and he isn't doing too well, so maybe Cassidy is the wrong guy in the wrong place, but at Full Gear he will beat him within an inch of his life.
Adam Page immediately starts aggressively by attacking all three men. Page and Matt Jackson then hold Bishop Kaun while Nick Jackson dives in on him. However, as Matt tags in he ends up being run over by Toa Liona, and Brian Cage then dumps him onto the ring apron. Liona then hammers in knee strikes on Matt as they continue to isolate him in their corner. Matt finally tags in Page and he begins lighting up the Gates Of Agony. 
He begins to set for a Buckshot Lariat until Swerve Strickland appears, reminding Page he was at his house last week. He tags out and immediately gives chase to Strickland, leaving Nick Jackson on his own in the ring. However, he takes down all three men with a series of superkicks until the numbers outweigh him and Cage delivers a clothesline and then a suplex back into the ring. 
The numbers end up being too much as Gates Of Agony sends Nick into a powerbomb from Cage who then delivers a big knee strike. The Gates Of Agony then slam him down again as Nick isn't able to kick out. 
Winners (and new ROH Six-Man Champions): Gates Of Agony & Brian Cage
Backstage Page and Strickland are being pulled apart by security staff.
Let's Hear From Adam Copeland
AEW
MJF is then shown considering knocking on Samoa Joe's door, but he doesn't. He then turns and sees The Acclaimed again, but he walks away from them.
Adam Copeland heads out to the ring and puts over Tony Schiavone. He recalls how he and Sting go a long way back as they've had similar injuries and they have been a sounding board for each other. He respects Sting, and he respects Darby Allin. However, before he can answer whether or not he will team with them at Full Gear, Christian Cage makes his way out.
Cage tells Copeland he will be retiring Sting at Full Gear whether Sting likes it or not. He points out that Allin has an injured arm that will never be the same after he dumped him on the stairs at WrestleDream. He doesn't need to remind anyone of Copeland's neck problems and he'd hate for the fairytale to turn into a nightmare, so he should back down from him right now. 
Cage warns him that he will snap Copeland's neck and leave him in a wheelchair so his children can wipe away the drool. Nick Wayne and Luchasaurus go to attack him, but Copeland takes both men down. Cage then gets into the ring, but Copeland hesitates and that allows Luchasaurus to attack him from behind. Wayne's World is then hit. Sting and Allin then hit the ring and make the save for Copeland, as he then Spears Cage! He then tells Sting that he will team with him and Allin at Full Gear.
Tony Khan is then shown backstage who promotes the debut of AEW in England. He reveals information about the AEW All In ticket sale details.
Angelo Parker & Daddy Magic vs. Chris Jericho & Kenny Omega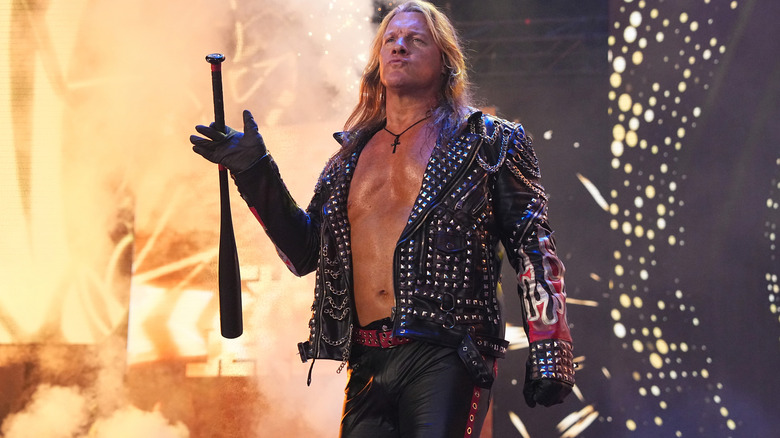 AEW
Daddy Magic and Angelo Parker jump their opponents from the start, but Chris Jericho manages to turn things around by himself before tagging in Kenny Omega as they work together with a tandem suplex. Omega nails a splash into the corner, following it up with a dive to the outside to Magic, while Jake Hager then stands up to him to provide a distraction. It allows Daddy Magic to come around the outside and attack the knee of Omega. 
The former JAS stars try to isolate Omega, but he fights out and brings in Jericho. He starts driving Parker down with several shoulder blocks as he then aims for Walls Of Jericho, but Daddy Magic breaks it up with an attempted clothesline. Jericho avoids it and then dropkicks him off the apron before hitting a Codebreaker to Parker as Magic breaks up the pinfall attempt. 
Omega then gets in and nails a snap dragon suplex to him, hits a knee strike to Hager, and then dives over the top rope to wipe out the big man again. However, with the official distracted Parker and Magic use Jericho's bat to nail him in the face, but it doesn't keep him down. Parker then swings for him again, but Jericho avoids it and connects with the Judas Effect.

Winners: Chris Jericho & Kenny Omega
Don Callis then gets on the microphone and praises them as they're like cockroaches who keep coming back. However, he suggests this ends in a street fight in two weeks. Omega says this was all about hurting him and Jericho, not for his family, but for Callis. Omega says he will be bringing his family along as well, and they have an extra spot for Kota Ibushi. Callis says they're still a man short, but Jericho says he had a friend who was even bigger than Will Hobbs...and Paul Wight appears. Kyle Fletcher runs toward him but eats a KO Punch for his troubles.
Renee Paquette is then shown backstage as Jericho points out Paul Wight is their friend. However, Matt Jackson then asks why The Elite got back together if none of them have each other's backs. He wants to know who invited Jericho into the locker room as they've not forgotten what he did to their father. Jericho points out they won and The Bucks lost, but Jackson says Jericho will screw him over like Callis did.
Hikaru Shida (c) vs. Willow Nightingale (AEW Women's World Championship Match)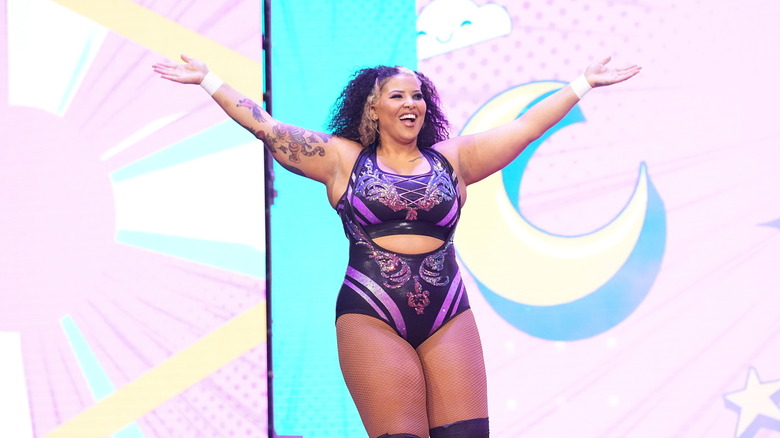 AEW
The two women shake hands to start, but Willow Nightingale begins to showcase her strength advantage with a couple of shoulder tackles and then a running crossbody to wipe out the champion. Hikaru Shida tries to fight back but she just gets caught by Nightingale, only for Shida to use the ropes to dump her challenger out, following up with a knee strike to the back of the head. 
Shida then hits a diving crossbody to the outside and maintains her momentum. Shida continues the attack outside the ring and then hits a running knee strike while Nightingale hangs on the apron. Back inside the ring, the champion nails several big elbow strikes to Nightingale, which is then met by a big running knee strike in the corner as the champion locks in a submission. 
Shida follows up with a straight boot to the face, but Nightingale then cartwheels out of Shida's next move and charges in with a running charge, a lariat, and a big boot. She follows it with a spinebuster, but Shida manages to kick out. The champion fights back once again and heads to the top turnbuckle but Nightingale meets her there and tries to use her strength to hit a Death Valley Driver, but Shida reverses with a Falcon Arrow, yet Nightingale kicks out at one. 
She fires up with some big slaps and then a big pounce! Nightingale hits a big clothesline, but the two then exchange pinfall attempts which allows Shida to nail a knee strike which is followed up by the Katana. 
Winer: (and still AEW Women's World Champion): Hikaru Shida
After the match, Shida shows respect to Nightingale who accepts the handshake. 
Luther then makes his way out with a shoe on a pillow while Toni Storm rolls around on the apron. However, Shida smacks the pillow away and then runs up and hits Storm with a knee strike. The lights then go out and Julia Hart appears behind Nightingale. She holds out her hand, but Skyle Blue appears and puts herself in the way. Hart nods and Blue seemingly turns to attack Nightingale, but instead, she turns back around and sprays Hart with blue mist.
MJF is shown backstage struggling to find partners. The Acclaimed turn up and say they can team, but he has to scissor them and wear what's in a mystery bag. However, MJF has one more team. He turns and sees Jeff Jarrett's group, and MJF just starts to cry. 
Roderick Strong is then shown ringing Adam Cole trying to say MJF is a jerk, but Cole tells him to shut up.
MJF, The Acclaimed, & Daddy Ass vs. Bullet Club Gold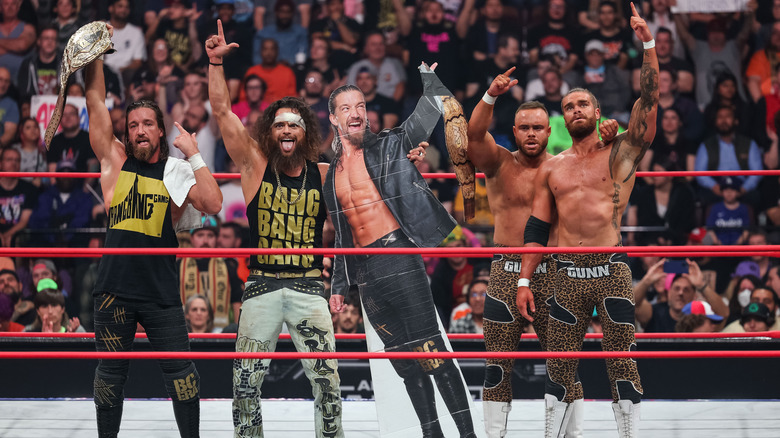 AEW
Anthony Bowens and Juice Robinson start out with The Acclaimed start getting the best of the situation, slamming Robinson down to the mat and then lighting him up with a superkick. Billy Gunn and Austin Gunn then both tag in, and while his son starts out channeling his inner-Road Dogg, he eats a big right hand for his efforts. 
Jay White tags himself in as he attacks the knees of Gunn, but his attempt at a chop makes no difference, while Gunn drops White immediately. MJF then tags in, but White sprints away as The Acclaimed wants MJF to scissor, which he opts to deny. Bowens tags back in and starts nailing Colten Gunn with punches until he responds with a dropkick as Austin then stomps away on him in the corner. 
White then returns to action and mocks MJF while he keeps Bowens grounded on the mat. Billy Gunn manages to tag in though as the two of them scissor and then hit an elbow drop to Colten Gunn (who has tagged in), and he then gets nailed with Scissor Me Timbers as Max Caster enters the match. MJF then teases scissoring his teammates, but they all get pulled out of the ring. 
Bullet Club Gold dumps Caster to the outside with his partners becoming frustrated which allows them to attack him behind the official's back as they complain. Bowens then gets sent over the barricade as Gunn is sent face-first into the ring post as MJF looks on. However, inside the ring, Caster reaches MJF and the World Champion begins cleaning house, taking out everyone in sight as White runs away from him again. 
MJF gives chase to his Full Gear opponent, and eventually, The Gunn's block him off. However, he fights back and nails a Kangaroo Kick only for White to sneak from behind and nail the Blade Runner, pinning the champion. 
Winners: Bullet Club Gold
Post-match, The Acclaimed stopped BCG from attacking MJF. However, White has the title ready to hit MJF with, but Caster takes the bullet for him. MJF then chases them off as he turns to check on Caster. Despite being down, Caster still wants to scissor but MJF knocks it back. This leads to Gunn screaming at him, and that works as the four men end up scissoring in the ring.