Why Rob Van Dam Prefers AEW Star Hook Over His Father, Taz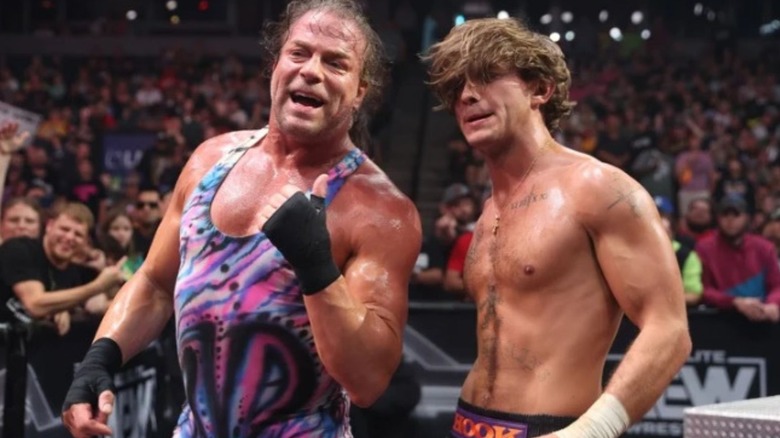 AEW
ECW legend Rob Van Dam is enjoying a run of sporadic appearances with AEW. Furthermore, he has been paired with the son of a fellow legend of Paul Heyman's former hardcore promoion. On a recent episode of his "1 Of A Kind," podcast, he said that he really enjoys working with former wrestler, turned AEW commentator, Taz's son, HOOK. He said it's "cool" to be a part of what is currently going on in AEW, and his appearances with the company could be less sporadic due to his current storyline.
"...It looks like me and HOOK are kind of engaged now," RVD said. "It looks like [there] could be more of a reason to see RVD besides being such a damn good wrestler because now it looks like I got a position mentoring HOOK. And I'm enjoying that too. It's really cool. I like him and it's cool how the crowd takes it because of Taz and me going way back."
RVD and HOOK teamed together on last week's episode of "AEW Dynamite," defeating Alex Reynolds and John Silver of The Dark Order. The pair previously teamed together on an episode of "AEW Collision" in September, where they defeated Angelo Parker and Matt Menard. The "Whole Damn Show" said he and the younger star are getting along well backstage. RVD said they "vibe" much better than he and HOOK's father, Taz, did in the beginning of their relationship.
"Took me 20 years to come around to being able to meet Taz on the same page and being able to talk," he said. "But HOOK, he's really cool, and obviously already looked up to RVD, so that goes a long way when it comes to building a relationship."
RVD went on to say that everyone in AEW has been respectful and "cool," and he's used to people coming up to him to tell him they grew up watching him. As for his recent AEW appearances, he said every time he gets in the ring, he feels better and better.