WWE SmackDown Results 11/3 - Crown Jewel Weigh-In, Donnybrook Rules Match
Welcome to Wrestling Inc.'s results for "WWE SmackDown" on November 3, 2023, coming to you from the Fiserv Forum in Milwaukee, Wisconsin!
The go home show for WWE Crown Jewel tomorrow night will feature Rey Mysterio and Logan Paul meeting face-to-face in a weigh-in ahead of their United States Championship at the upcoming Premium Live Event. The pair first encountered one another on October 20, finding themselves entangled in a verbal exchange.
Pretty Deadly and The Brawling Brutes' Butch and Ridge Holland have had no shortage of issues with one another over the past several weeks, getting into several confrontations with one another and previously facing one another in a tag team match on October 13. Tonight, they look to settle their issues once and for all as they collide in a Donnybrook Rules Match.
Two weeks ago, Bianca Belair returned to WWE to save Charlotte Flair from a post match beatdown from Damage CTRL after she had been sidelined by the group back in August. Then, last week, Belair vowed that she wouldn't rest until she got her retribution which would include facing Bayley in a singles match tonight and looking to dethrone IYO SKY as the Women's Champion at Crown Jewel.
Additionally, Austin Theory will be going one-on-one with Kevin Owens. Theory and his tag team partner Grayson Waller encountered Owens backstage last week in a verbal altercation, which resulted in Owens simultaneously clocking the two men at the same time.
We are live! The show kicks off with a video recapping what happened during the contract signing between Roman Reigns and LA Knight last week.
Michael Cole, Corey Graves, and Kevin Patrick then greet audiences at home as LA Knight makes his way down to the ring.
Roman Reigns and LA Knight Come Face-To-Face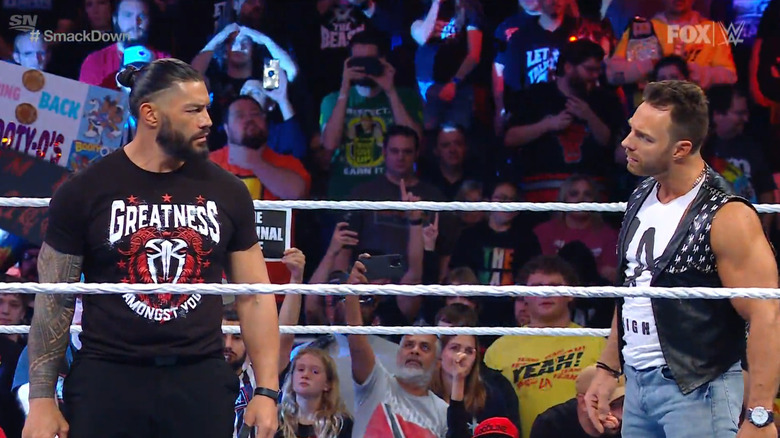 WWE/Fox
Knight says 1,200 days as champion is impressive, but it's not as impressive as how quick it can all come to an end. He reminisces over hitting Roman Reigns with a BFT last week, and says tomorrow night will be no different. He says he's coming for everything Reigns' stands for and says the Undisputed WWE Universal Championship will be coming home with him.
Reigns' music hits and he makes his way down to the ring alongside Paul Heyman. He says he would typically ask the crowd to acknowledge him, but they already know to do so. He says he can't say the same for Knight and formally introduces himself. He says a lot has changed during his time off, and he expected people to step up but not Knight. He says Knight managed to capture the attention of fans and gives him credit for being able to do so. He encourages fans to chant for Knight, but says it's the last time that it'll happen and asks him what he's done except for getting chants. He tells Knight that his dream is over because it's his reality and says he'll finish him tomorrow night.
Knight tells Reigns he must be feeling pretty unbeatable, but what he doesn't understand is that he's not coming after him from the same angle as everyone else. He says he's not here to finish something, but rather to start the LA Knight era and says the only reason Reigns has made himself a megastar is because he's carrying the Undisputed WWE Universal Championship. He tells Reigns to make sure he doesn't miss because he'll come after him time and time again. Officials appear at ringside to make sure that nothing becomes physical.
Kevin Owens' music hits and makes his way down to the ring. Austin Theory follows as Grayson Waller takes a seat at the announce desk. 
Kevin Owens vs. Austin Theory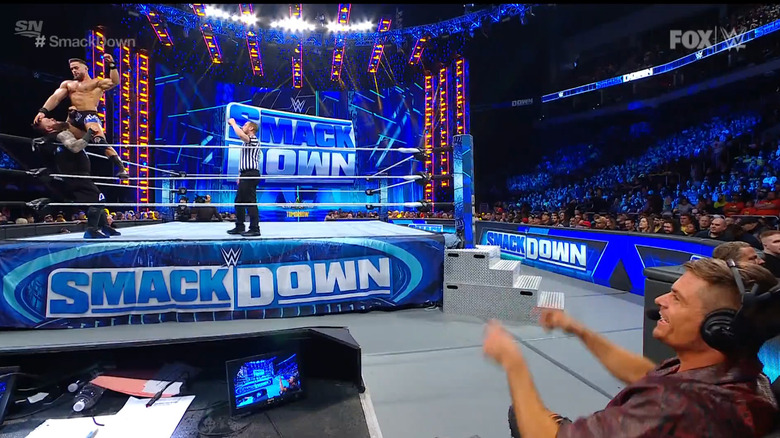 WWE/Fox
The bell rings and the two lock up. The action spills to the outside, and Theory sends Owens into the ring apron and announce desk face first. The two get back in the ring and Theory fires off right hands, but Owens sends him crashing back to the outside and lands a senton.

Back from the break, Owens lands a forearm on Theory outside and sends him bouncing off the announce desk. The pair get back inside the ring, and Theory lands an elbow on Owens. He follows it up with a rolling stunner and fires off stomps in the corner before the two teeter on the top and Owens lands a Brainbuster. He follows it up with a powerbomb and a Stunner for the win.
Winner: Kevin Owens
We head backstage to Bianca Belair chatting with Cathy Kelley. Belair is then blindsided by Damage CTRL.
Back from the break, we see Logan Paul run into Bobby Lashley and The Street Profits. B-Fab interrupts them and asks to speak to Lashley.
Back at ringside, Piper Niven and Chelsea Green head down. Shotzi and her mystery tag team partner, Charlotte Flair, follow. 
Shotzi and Charlotte Flair vs. Piper Niven and Chelsea Green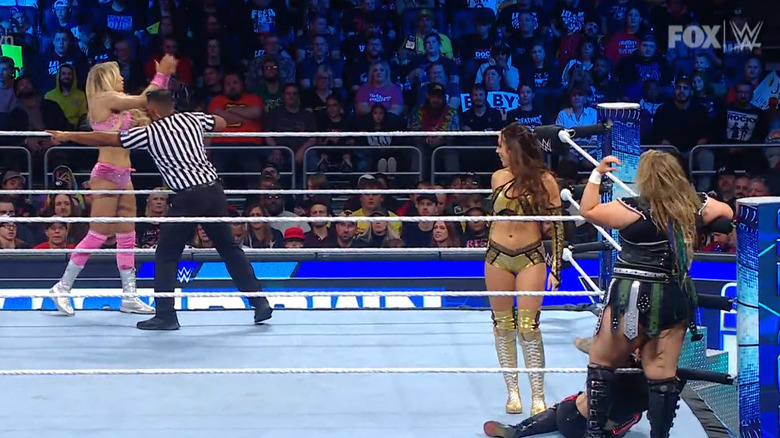 WWE/Fox
Niven and Shotzi begin the action. The bell rings and Shotzi fires off forearms. Niven sends her crashing into the mat and hits a shoulder breaker as we see Alba Fyre and Isla Dawn watching the action from backstage. Green tags in and fires off stomps on Shotzi in the corner, then tags Niven back in. Shotzi connects with an enzuigiri on her and tags in Flair. Flair delivers a crossbody to Green and Niven off the top rope, then delivers chops to both of them and lands a boot on Niven's jaw. She rolls her up, but Niven kicks out. Green makes the blind tag and ascends to the top. She looks for a double stomp, but Flair moves out of the way and lands a boot for the win.
Winners: Shotzi and Charlotte Flair
Back from the break, Solo Sikoa and Paul Heyman head down to the ring.
John Cena and Solo Sikoa Meet In The Ring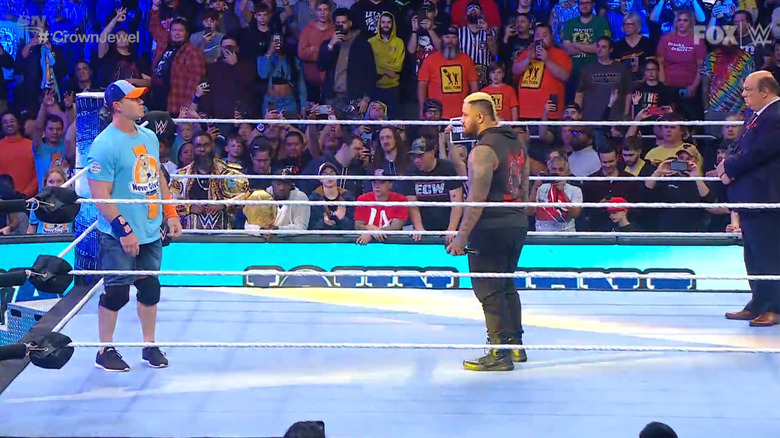 WWE/Fox
Heyman says he wonders how many people realize that it's the end of days for John Cena. He says things didn't pan out the way he wanted them to, and says Cena chose to pick a fight with The Bloodline. He says Roman Reigns calls the shots, and he turned to Sikoa. He says he has a huge future in WWE as "Tribal Chief", and that role doesn't come without any victims. He says Cena will be amongst those, but before he can continue, Sikoa grabs the mic and asks Heyman why he's wasting his breath talking to fans when they came to talk to Cena.
Cena's music hits and he makes his way down to the ring. Sikoa tells Cena he's upset he has to wait until tomorrow to fight him, but Reigns ordered him to give Cena the microphone to say goodbye to fans because he won't be able to after tomorrow. He hands the mic over to Cena and he takes it before asking Sikoa if that's it. He asks him if he realizes who he's in the ring with and questions if what he said was all he brought to the table. He says he can do this with half a voice in 90 seconds, and says he'll say goodbye, but not to fans and for them. He says Sikoa only has a job because of Reigns and he's nothing but a bargain Taz rip-off.
We head backstage and see Damage CTRL strategize for Bayley's upcoming match with Bianca Belair. Nick Aldis approaches them and informs Bayley that Dakota Kai and IYO SKY will be barred from ringside.
Back at ringside, The Brawling Brutes make their way down to the ring. Pretty Deadly follows.
Pretty Deadly vs. The Brawling Brutes in a Donnybrook Rules Match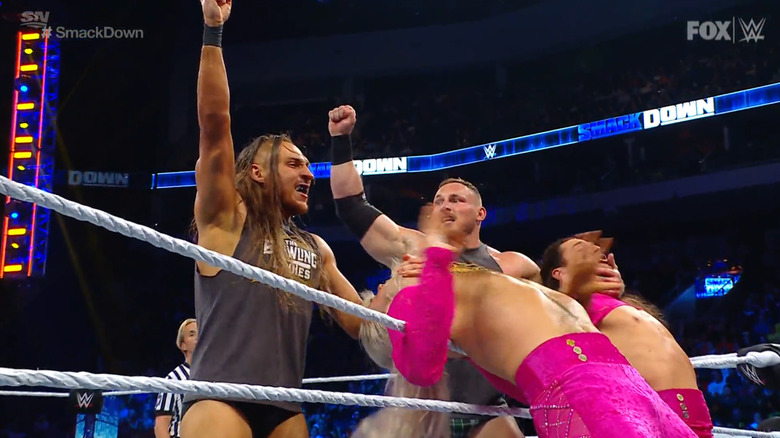 WWE/Fox
The Brutes blindside Pretty Deadly on the ramp as they pose. They get Pretty Deadly back in the ring and the bell sounds. The Brutes execute The Ten Beats of the Bodhran before Butch delivers a dropkick to Prince on the apron and Holland lands a bodyslam on him in the ring.
Butch grabs a pair of shillelaghs from under the ring and tosses one over to Holland. Holland sends Wilson crashing into the mat and holds him in place with the shillelagh as Butch lands a dropkick to his face. Butch then delivers a knee off the apron to Prince. Prince sends him crashing on top of the bar top at ringside. Wilson lands a right hand on Holland, and Prince fires off stomps on him. Wilson then fires off more right hands on Holland and grabs the shillelagh as Prince does the same. They look to hit Holland with them, but Holland sends them crashing out of the ring. Butch lands a moonsault off the top to level everyone on the outside.

Back from the break, Butch delivers a Tornado DDT to Prince on the outside as Holland sends Wilson crashing through a garbage can. Holland locks in a Boston Crab on Wilson, but Prince cracks a barstool across his spine to break the hold. Prince sends Butch crashing into the top rope and follows it up with a running elbow, but Holland lands a powerslam on him. Wilson then takes out Holland, and Butch connects with an enzuigiri on him. Wilson turns him inside out with a clothesline before Butch snaps his fingers. Prince clocks him with a shillelagh and Wilson rolls him up, but Butch kicks out.
Holland sends Prince crashing through a table set up between two barrels on the outside as Wilson runs into a Brogue Kick from Butch. Holland grabs a table from under the ring and slides it inside, where Butch helps him set it up in the corner. Butch and Wilson teeter on the top, but Prince climbs up to provide a hand to his partner and Pretty Deadly delivers Spilt Milk through the table for the win.
Winners: Pretty Deadly
Rey Mysterio and Logan Paul Meet In A Crown Jewel Weigh-In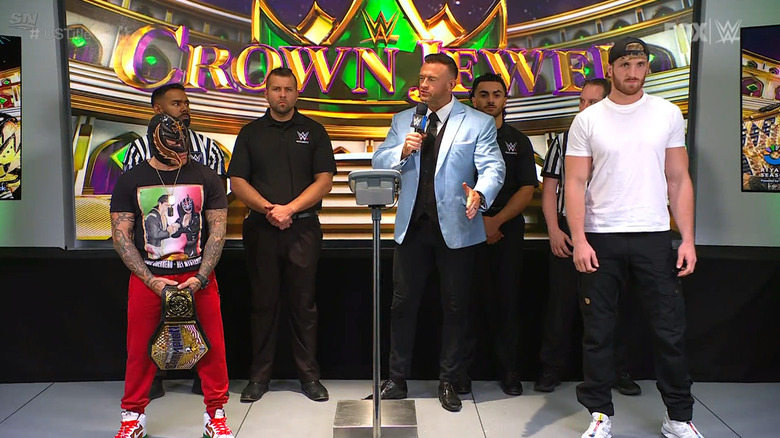 WWE/Fox
We head backstage, where Nick Aldis welcomes fans to the Crown Jewel Weigh-In between Logan Paul and Rey Mysterio and introduces both men. Paul and Rey appear, both stepping on the scales here Paul weighs in at 213 lbs and Rey at 175 lbs. They then stare one another down and exchange verbal jabs. Rey slaps Paul, and Paul fires back with a right hand of his own. Rey hits him in the head with a mic as officials and Aldis separate the two men.
Back at ringside, Bianca Belair heads down to the ring. Bayley follows.
Bianca Belair vs. Bayley - IYO SKY and Dakota Kai Are Barred From Ringside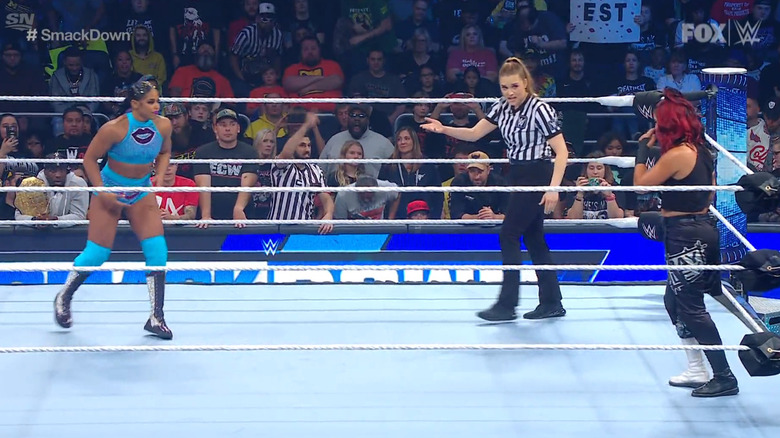 WWE/Fox
The bell rings and Bayley fires off right hands on Belair. Belair fires off a few shoulders on her midsection in the corner, then plants her with a suplex and a Brainbuster. She then delivers a springboard moonsault before Bayley slides out of the ring, Belair chases her back in and plants her with three bodyslams, but Bayley catches her with a running knee on the apron.
Back from the break, Bayley delivers an elbow drop off the apron to Belair's spine on the outside and gets her back inside the ring. Belair catches her with a backbreaker and follows it up with a series of forearms. She lands a shoulder tackle and a single leg dropkick, then delivers a shoulder to her midsection and fires off right hands in the corner. Belair plants Bayley with a spinebuster and sits her on the top turnbuckle, then joins her up there and executes a superplex.
The action spills back out of the ring, and Bayley sends Belair colliding with the ring post. She gets her back inside and ascends to the top, then delivers an elbow drop and goes for a pin. Belair kicks out before Bayley clears the announce desk. Belair sends her crashing into the ring post shoulder first and lands a crossbody over the top rope. She gets her up on her shoulders, but Bayley counters into a pinfall. Belair kicks out and delivers the KOD for the win.
Winner: Bianca Belair
After the match, Belair delivers a second KOD to Bayley through the announce desk and is left standing tall as the show goes off the air.