Dave Meltzer Shares His Doubts About Ric Flair's AEW Contract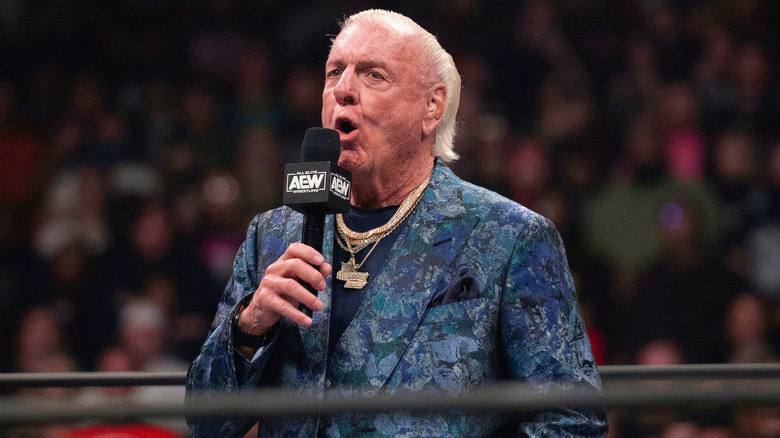 AEW
It has certainly been a divisive decision, but it was announced earlier this week that Ric Flair has signed a multi-year contract with AEW. It's yet another territory to explore for Flair, a former NWA, WCW, and WWE World Champion. But there have been concerns raised over what the 74-year-old could offer AEW, especially considering the controversy clouding his 50-year career. 
Dave Meltzer echoed that concern in this week's "Wrestling Observer Newsletter". He voiced his own doubt over Flair's viability in the long run, and lamented that he isn't the commodity he was in decades past. Meltzer also noted the sexual assault allegations that came to light during Vice's 2021 "Dark Side of the Ring" episode chronicling WWE's 2002 "Plane Ride from Hell." On the program, it was alleged that Flair had drunkenly accosted a flight attendant wearing nothing but his signature robe, attempting to force her to touch him and not letting her leave. For his part, Flair has denied the allegations multiple times.
On the wrestling side of things, Meltzer wrote that he understands bringing in the 16-Time World Champion for Sting's retirement run, set to culminate in March 2024, but was surprised at Flair's AEW deal running further than that. He noted that AEW and Flair were close to agreeing to terms before "Dark Side of the Ring," the deal only being revived as Sting lined up his retirement plans. But even before Flair had made his TV debut, Meltzer said there was a deal in place to sell his branded energy drink at concession stands at AEW live events, and it was going to be advertised in backstage clips and on commentary. The multi-year deal that was announced reportedly hadn't been closed until 8PM the night before Flair's "AEW Dynamite" appearance.