AEW Dynamite Results 11/8: MJF Defends World Title Against Daniel Garcia, White Faces Briscoe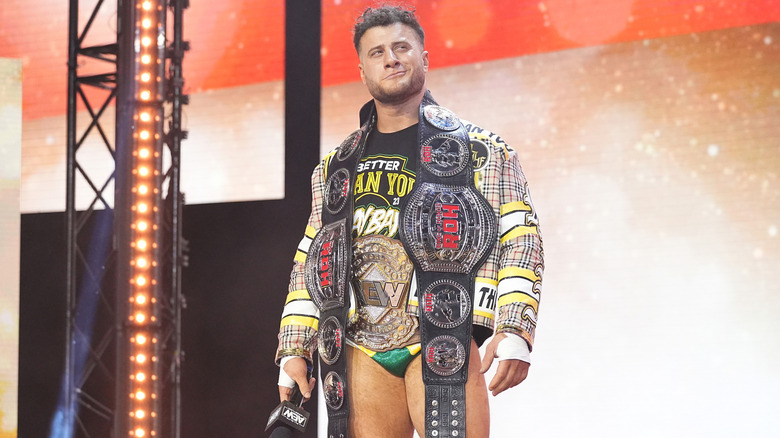 AEW
This is Wrestling INC.'s live coverage of "AEW Dynamite" for November 8, 2023!
Tonight will see the road to AEW's Full Gear continue, and fresh from pinning MJF last week in the main event eight-man tag team match, Jay White will be back in action. The current number one contender for the AEW World Championship will be aiming to continue his momentum as he goes one-on-one against Mark Briscoe, who could end up replacing him at Full Gear as the title shot is on the line in this one.
However, who will be walking in as champion at the upcoming PPV also remains to be seen, because MJF will be defending his World title once again as he faces Daniel Garcia in the expected main event.
There will be title action on this card as Samoa Joe looks to defend his ROH World Television Championship for the 18th time since winning it. Joe has been a dominant champion, holding the title for an impressive 570+ days, but tonight he faces his toughest test in the form of Keith Lee.
Julia Hart will be returning to in-ring action this evening for the first time since AEW WrestleDream where she failed to win the TBS Women's Championship. The House Of Black star is set to compete against Red Velvet, who is returning to the ring herself following a nine-month break due to injury.
Penta El Zero Miedo will be facing Swerve Strickland in singles action, meanwhile, fans can expect to hear from The Golden Jets ahead of their upcoming street fight against the Don Callis Family.
Finally, Sting will be in action this evening as his road to retirement continues. He will be teaming up with Darby Allin to take on The Outrunners.
MJF (c) vs. Daniel Garcia (AEW World Championship Match)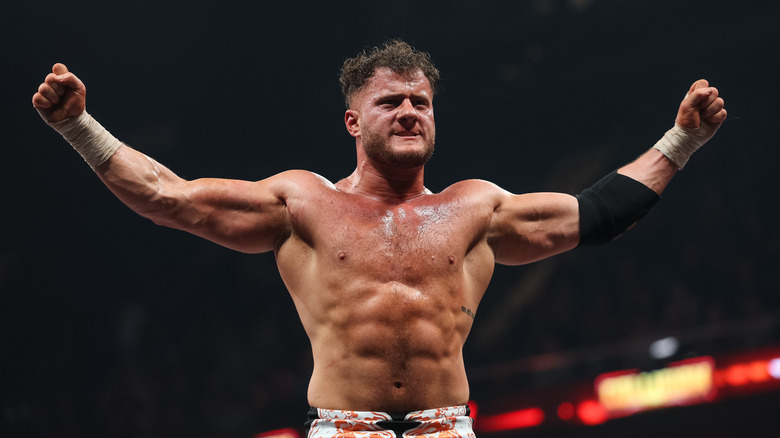 AEW
Tonight's show starts with MJF speaking to Tony Schiavone where he reflects on last week's defeat. Adam Cole then speaks to him via a television and he tells MJF to take up Samoa Joe on his offer. However, he says he will handle Bullet Club Gold after he handles Daniel Garcia. His opponent appears and MJF reveals he accepted the match tonight because he sees himself in Garcia, and he wants to know if he will get the sports entertainer or the professional wrestler.
Roderick Strong and The Kingdom then appear as Strong offers some tips as he is a wrestling legend. MJF agrees he was a legend, but he's turned into a joke. Strong then says it is time to remind everybody who the hell he is. 
When the match gets underway MJF wastes no time bringing Garcia to the mat as he mocks his dancing, but Garcia quickly shows his wrestling skills by bringing him down to the mat as he teases dancing until Daddy Magic and Angelo Parker stop him and remind him to be serious. MJF wants a handshake, but Garcia slaps it away only to be poked in the eye by the champion who then hits a bodyslam.
MJF then goes back to the arm before slamming Garcia down to the mat and getting a two-count. Garcia turns things around by driving MJF into the turnbuckles, he then looks for a piledriver which is blocked so Garcia slaps him. However, Garcia misses in the corner and MJF then drops from the second turnbuckle onto the arm of Garcia, following it with a shoulder breaker and then a DDT, but it only gets a near fall.
Garcia blocks the Heatseeker, but then eats a huge kick to the face as MJF misses with the Panama Sunrise, leading to Garcia attacking the knee of the champion. Garcia then connects with a piledriver, but MJF kicks out. The challenger locks in the Dragon Tamer, but MJF counters into the Salt Of The Earth for the win. 
Winner (and still AEW World Champion): MJF
Post-match MJF tries to shake Garcia's hand, but Magic and Parker pull Garcia away when he tries to accept.
Sting & Darby Allin vs. The Outrunners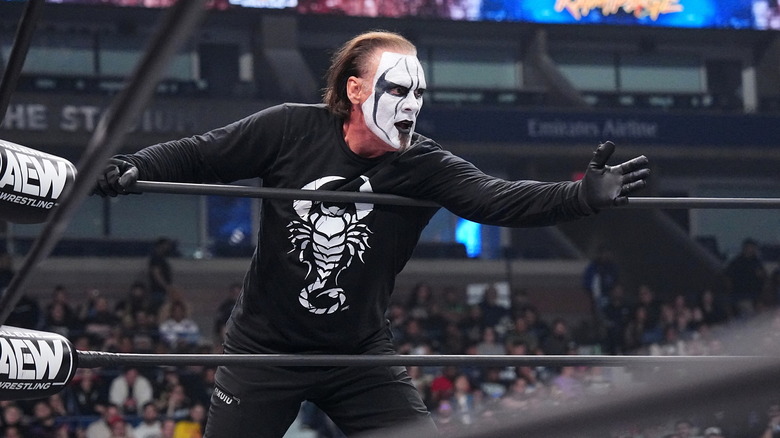 AEW
Truth Magnum kicks things off with Darby Allin, and it is the latter who gets the best early on. Turbo Floyd tags in and helps to turn things around for his team as the two heels make frequent tags and leave Allin isolated. Floyd gets too confident though as Allin turns things around and brings Sting in as the two men work well together until Allin is pulled out of the ring and into the barricade.
This allows Magnum to tag in, but Sting takes the fight to both of his opponents and he and Allin hit splashes on both men. The Scorpion Deathlock is then set up and that's all she wrote.

Winner: Sting & Darby Allin
Tony Schiavone is then shown interviewing both Toni Storm and Hikaru Shida, where Storm confirms she has requested a title match. Shida asks what happened, as she is just focusing on silly acting. Storm blames Shida for it due to Wembley Stadium, and then she wanted to be the first three-time AEW Women's World Champion, but Shida happened again so she became the history. Shida says what will happen at Full Gear is what always happened, and she will retain it. The contract for the match gets officially signed as Storm attempts to use her shoe, but the champion just knocks it out.
Swerve Strickland vs. Penta El Zero Miedo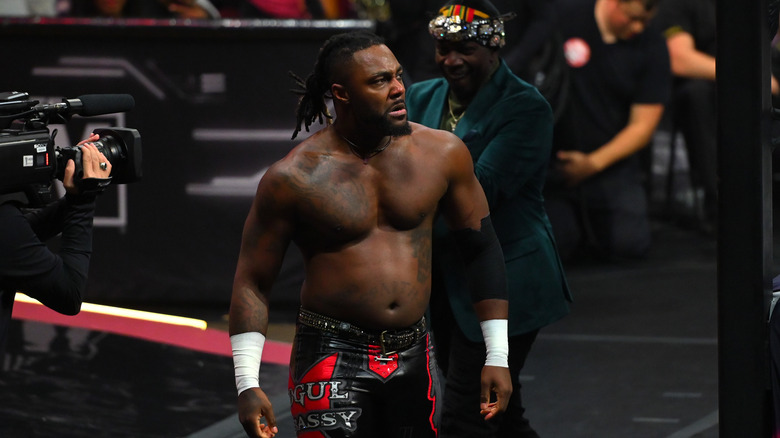 AEW
It is revealed that Adam Page has been banned from ringside for this match. When the encounter begins, Swerve Strickland immediately goes for Penta El Zero Miedo's mask. He takes early control of the match, sending his opponent into the turnbuckle as he focuses on the hand of the masked man. The two men end up exchanging chops until Strickland brings his opponent back to the mat only to then rip at his tongue. 
Penta launches Strickland into the corner, following it with a backbreaker, but Strickland plays possum and that allows him to counter Penta's dive, sending him into the steel stairs. Strickland then tries to dive out of the ring, but this time Penta has it scouted, and even though Penta gets sent onto the ring apron he immediately bounces back to attack Strickland again. 
Penta then delivers some huge chops outside the ring only for Strickland to avoid one as Penta slaps the ring post instead. Back inside the ring, they go back and forth with a flurry of moves before they both drop down after a double clothesline. Penta then drops Strickland onto the ring apron, and as they head back into the ring the Lucha Brother hits a diving foot stomp, but Swerve kicks out.
Despite that, Strickland flips Penta onto the turnbuckles and then chops him as Penta falls outside. However, his feet are still on that bottom rope which allows a diving stomp from Strickland to the outside. However, Penta takes the focus on the arm and then hits Made In Japan, which his opponent manages to kick out of. Strickland lands a shot to the back of the head, and that's followed by him driving Penta, before seemingly breaking the wrist of Penta. He follows it with a Stomp and he gets the win. 
Winner: Swerve Strickland
Post-match, Page appears and attacks Strickland with a chair to the back, but he then starts attacking security with it as well. Page then launches Strickland off the entranceway and into a table on the floor.
Chris Jericho and Kenny Omega then brag about having Paul Wight by their side to Renee Paquette, but The Young Bucks appear and say they set up in a broom cupboard because there's no room in their locker room now with Jericho. They point out that they started it, but Jericho claims it was the four of them that started the company, yet Matt Jackson says he waltzed in and chased in a cheque. 
Jericho says Jericho and Omega are two of the greatest, and he thinks they can beat The Young Bucks, and this leads to Jackson setting up a match between them all at AEW Full Gear. Jericho adds that if they win, they get the guaranteed AEW World Tag Team Championship shot, but Jackson says if they win The Golden Jets are no more. Omega says he doesn't want to wrestle them, but he's done this before and beaten them.
Samoa Joe (c) vs. Keith Lee (ROH World Television Championship Match)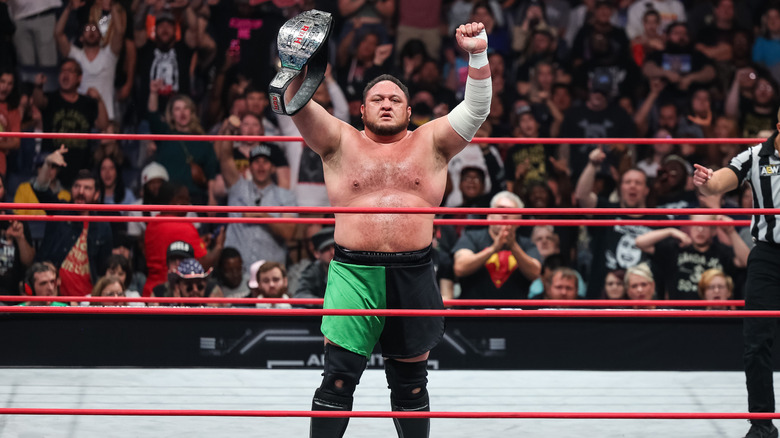 AEW
The two big men shake hands to kickstart the match and they lock up early on, but Samoa Joe then rakes the eyes of Keith Lee which allows him to nail a shoulder tackle. However, that fuels the challenger who responds with one of his own, knocking the champion down as he follows up with a series of punches in the corner. Joe fires back with a series of punches himself, but Lee then showcases his athletic ability by leapfrogging the champion and sending him out of the ring. 
The fight continues on the floor as Lee slams Joe face-first onto the ring apron. Back inside the ring, Lee nails more punches and a knee strike, but Joe responds by lifting Lee to hit a knee breaker, taking down the big man. Lee once again goes to throw hands but as he tries to kick Joe, the champion catches it and then reverses with a dragon screw as he continues to focus on the leg afterward.
Joe hits a Manhattan Drop and then a big boot, following it with a senton but Lee anticipates it, grabs Joe, and then lifts him into a German suplex. He then nails a Powerbomb, but Joe manages to kick out and keep this one alive. Lee tries to continue his momentum, but Joe reverses and locks in the Coquina Clutch, bringing Lee down to the mat and despite his best efforts to fight out of the submission hold he eventually gets choked out. 
Winner (and still ROH World Television Champion): Samoa Joe
After the victory, Joe says he is the greatest ROH Television Champion of all time. However, he didn't come here to just be that. Hunger defines the greats, and he is hungry, and as of tonight, he vacates the title because the next gold that will be on his shoulder will be the AEW World Championship, whether MJF likes it or not.
Orange Cassidy is then shown backstage saying that Jon Moxley is the only person he's thought about since he left him in a pool of his own blood. He picked up the pieces of the International Championship that Moxley dropped, but now holding it he doesn't feel the same as he has to beat Moxley to be the champion he knows he is, and Full Gear he will. 
The Gunns vs. Bollywood Boyz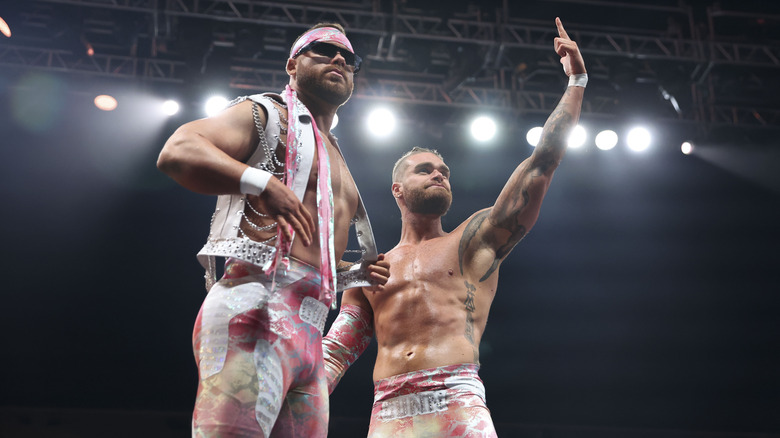 AEW
The Gunns dominate and pick up an immediate win in a quick squash. 
Winners: The Gunns 
After the match they get onto the microphone and say MJF is a liar, he isn't a generational talent. He's been telling sob stories, but unlike him, they've never been told no as they're made for television. They're about to be ROH Tag Team Champions because they are generational talents. They point out MJF's only friends are the people on the other side of the guardrail, and he hopes MJF picks one of the fat pieces of sh*t to be his partner. 
Jon Moxley is then shown and he says people have called him and told him to let Orange Cassidy off the hook, but he knew that Cassidy knew what he was doing. It's not about the belt, it's the laws of the jungle. What example is he setting if he doesn't beat the ever-loving p*ss out of Cassidy. He says the minute they land in LAX it is on, gang warfare.
Julia Hart vs. Red Velvet
Velvet dominates early on with several hip tosses to take control as she then works over Hart in the corner with several kicks and body shots. She hammers down punches until Hart escapes and pushes her through the gaps in the turnbuckles and that allows her to slam Velvet's head into the mat repeatedly. Hart then kicks up the aggression by dumping Velvet out of the ring and into the steel stairs.
However, back inside the ring Velvet connects with a big kick to the face as she then plants Hart to the mat before driving her knees into Hart's back as she rests on the second rope. Hart then gets set onto the top turnbuckle and gets driven down to the mat, but Hart is able to kickout once again. The House Of Black star responds with a superkick as she then stomps down on her before connecting with a Moonsault. 
Winner: Julia Hart
Post match, Hart continues attacking Velvet until Skye Blue makes her way to the ring. They stare each other down until Kris Statlander and Willow Nightingale also make their way into the ring as Hart walks away. 
RJ City is then shown with Mariah May, AEW's newest signing. She's wrestled all over the world and is excited to be in AEW's women's division and she's a big fan of City's work with Toni Storm, as she is the reason why she's here as she's a big fan of her.
Jay White vs. Mark Briscoe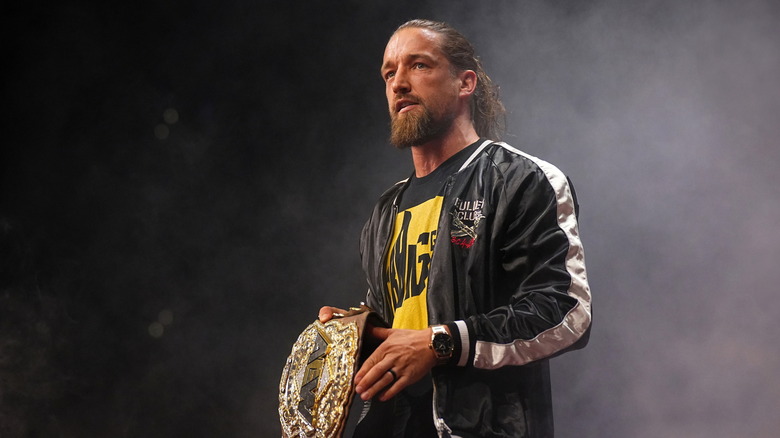 AEW
Mark Briscoe immediately gets the crowd going by sending Jay White to the floor when they first lock up. His domination continues when White tries to take the fight back to him again, spiking him to the mat as he follows up with a suplex. Briscoe then continues the attack outside the ring and showcases he has no fear of the other Bullet Club Gold members. 
Briscoe then heads to the top turnbuckle but as Juice Robinson disracts the official, The Gunns take advantage and help White who then gets to attack Briscoe for the first time. White then pretends he is hurt so the rest of his faction can jump Briscoe outside the ring, but he immediately responds with a chop to White as he then sends White into his stablemates to take them all out. 
Briscoe gets onto the ring apron and tries to hit White with a cannonball, but Robinson pulls White away and Briscoe crashes hard on the floor. White launches Briscoe into the ring post, but as they fight on the top turnbuckle it is Briscoe who comes out on top and then follows it with a missile dropkick. He asks White to hit him and he obliges, but that fires him up and they go back and forth with forearms and chops.
Briscoe nails the fisherman's buster, only for White to kick out, however, he follows it with a Froggy Bow, but that isn't enough to get the job done either. They both trade big elbow strikes and White then smartly escapes the J-Driller, and he attacks the knee of Briscoe which is followed by a sleeper suplex. White connects with a brain buster, but this time it is Briscoe kicking out at the last second. 
Briscoe connects with a few strikes, but ultimately eats another sleeper suplex before being spiked by White, who then hits the Blade Runner. 
Winner: Jay White
After the match, MJF hits the ring and takes out Bullet Club Gold with his Dynamite Diamond Ring. He faces off with White, and he sprints away with the title. MJF says he hopes White has had fun playing dress up, because playtime is almost over as he has to get in the ring with a generational talent and the real World Champion. He promised himself he'd go down as the greatest AEW World Champion, and White will have to kill him to beat him as he's not fighting for himself anymore, he's fighting for those who have been on this journey with him, he's fighting for Adam Cole, as he's their scumbag. He questions if White will be the first man to pull the trigger at Full Gear. 
The lights then go out, and backstage a group of asked men can be seen attacking The Acclaimed as Anthony Bowens gets launched through a glass wall. The clip cuts out and the devil is then shown as MJF then sprints to the back to check on them. Samoa Joe then appears and says MJF is running out of friends.
Hard refresh this page for updates — ctrl + F5 on Windows; Cmnd + shift + R on Mac