AEW's Mark Briscoe Shares 'Toughest' Reminder Of Brother Jay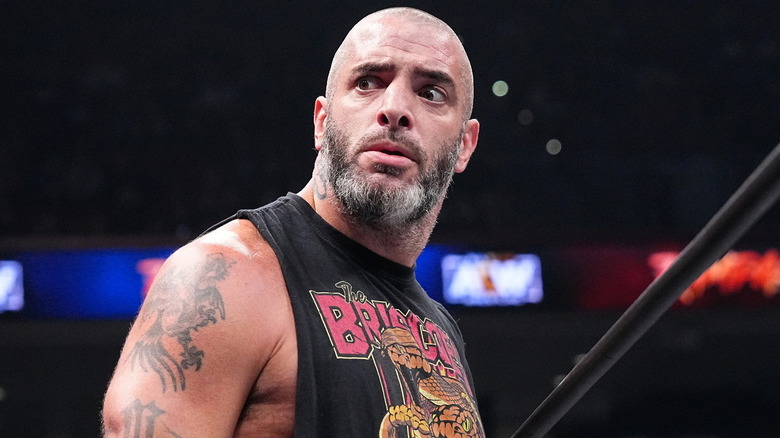 AEW
It's been 10 months since the wrestling world learned that Jay Briscoe, a decorated tag team wrestler, had died at the age of 38. This loss was especially heartbreaking for Jay's brother, Mark, who competed alongside him all over the world. During a recent interview with Sports Illustrated's FanNation, Mark Briscoe opened up about some of the difficulties in adjusting to life without Jay.
"There are reminders of him everywhere, but it's the random ones that hit me hardest. You know what's been the toughest? The drive to the airport," Mark said. "At first I didn't think about it. Then 45 minutes into the drive, I'd be balling. I'm getting used to it. It's like our new normal. But when something catches me off guard, that's when it hits me."
Prior to Jay's death, the Briscoe Brothers spent countless hours on the road together, including the routine two-hour ride to the airport. During this drive, Mark and Jay occupied their time with a mix of deep and light-hearted chatter. As the duo discussed their wrestling schedule, Jay also extended some guidance to Mark, who was one year younger than him. Unfortunately, that car ride to the airport is mainly filled with silence now, as Mark is left to drive solo.
While Mark is void of Jay's physical presence, he believes his fellow Briscoe Brother is still surrounding him, and his family, in a spiritual capacity. "It feels like he's still with us in spirit and in our hearts," Mark said. "We've all bonded together. In a strange way, tragedy comes with beauty. I pick up his kids for school every morning. When we're all together, it makes my heart feel so good."