WWE Hall Of Famer Kurt Angle Critiques Certain Aspects Of The Attitude Era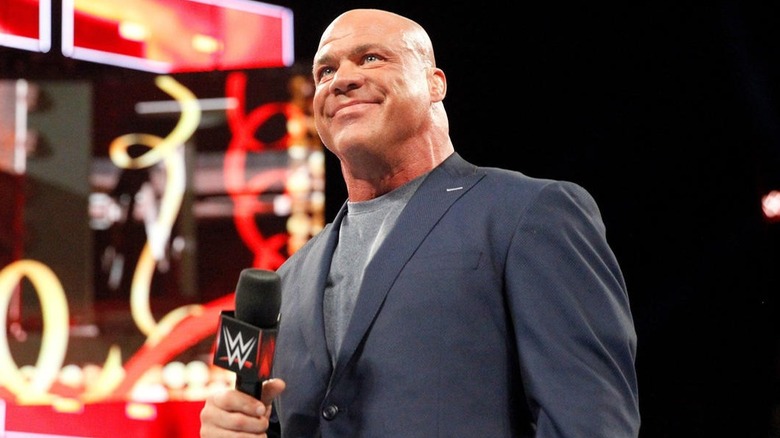 WWE
In the midst of WWE's Attitude Era, an Olympic hero burst onto the wrestling scene in the form of gold medalist Kurt Angle. Debuting in 1999, Angle displayed his wrestling prowess between the ropes with a lengthy undefeated streak to start and more than a few championships along the way. But, on the latest episode of "The Kurt Angle Show," Angle shared that he had wished there was actual more wrestling in professional wrestling during that time.
"The Attitude Era was storyline promo city; it wasn't even wrestling. It got to the point that there was so little wrestling that none of the wrestlers tied up when they started the match," he said. "They'd start with action, punch, punch, shoot, reverse off the ropes. It was all high action because they didn't have time to tell a story at the beginning of the match." 
Angle felt that there was so much time dedicated to promo segments and pre-tapes that there simply wasn't enough available for the in-ring aspect of the business. However, he did add that WWE always made sure fans always got their money's worth inside the squared circle on pay-per-views. Although, he did feel that too many people were being protected constantly, which then came through in a lot of outside interference during the matches.
"What they did a little bit too much though, there was a lot of interference back then," Angle said. "It was like — gosh let us beat each other and that will build each other up, you don't have to protect this guy and have one guy cheat and get the win. It was just too much."   
If you use any quotes from this article, please credit "The Kurt Angle Show" with a H/T to Wrestling Inc. for the transcription.