WWE Hall Of Famer Kurt Angle Explains How His Father Inspired His Discipline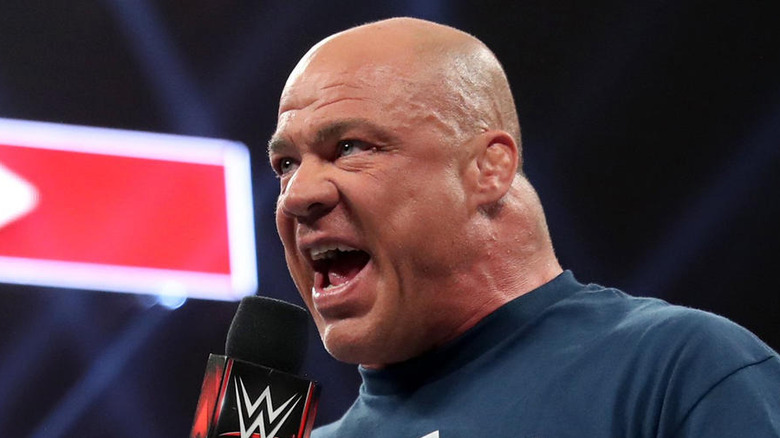 WWE
During an appearance on the "True Geordie" podcast, WWE Hall of Famer Kurt Angle was asked if his discipline was inspired by his late father. Angle lost his dad when he was 16 years old.
"He was the main reason the lightbulb went off in my head," Angle said. "Before my dad died, I wasn't focused. I actually wasn't doing that well. And the documentary ["Angle"], they say I was a great athlete since when I was born. That's not true. I was the worst athlete in my family, and that wasn't bad because everyone in my family were good athletes, but I lost a lot when I was younger. I cried a lot. I was a real crybaby. My family doubted if I'd ever be good at sports.
"And when my dad died in my freshman year of high school, he told me this the year before he died, he said, 'You're gonna be the one.' And I didn't understand him, but he knew, for some reason, that I'd break out of this crybaby stage and end up being a great performer. So I didn't understand what he meant, and when he passed away the next year, I thought, 'My dad said I was gonna be the one; I gotta start working hard now.' So I was motivated for him because he's the one that told me, 'You're gonna be the one to pull the family out and make the name famous.' And I did, and my dad was right."
Angle, who discussed his "father figure" relationship with TKO chairman Vince McMahon last year, went on to say that he didn't know how or why his dad became an alcoholic. However, the former WWE Champion said it didn't really have any effect as his father would still show up to work and go to church every Sunday. Angle mentioned that his dad's drinking was "always intertwined with the sports." The Olympic gold medalist described his father as a "functional alcoholic."
If you use any quotes from this article, please credit "True Geordie" with a h/t to Wrestling Inc. for the transcription.