Why Eric Bischoff Doubts Former WCW Owner Ted Turner Cares About AEW Being On TNT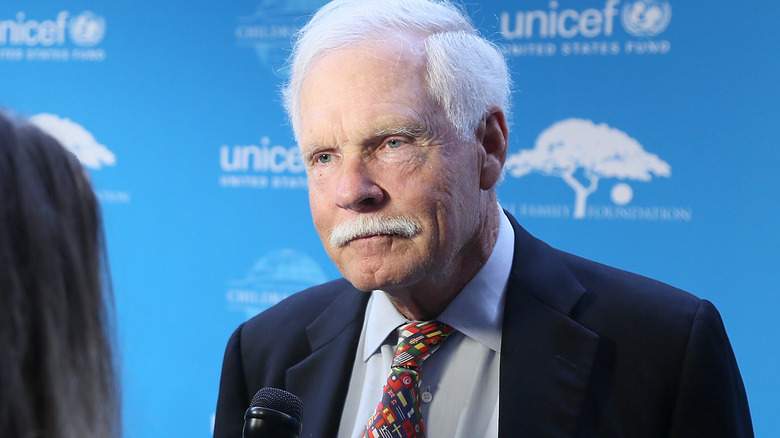 Ben Rose/Getty Images
When "AEW Collision" debuted with a similar color scheme to "WCW Nitro," it was an homage to the history of professional wrestling on the Turner networks, as former media mogul Ted Turner used to own WCW as something of a passion project. On "83 Weeks," Eric Bischoff was asked how he thinks Turner feels about AEW being on TNT and TBS.
"I'd like to think [Ted Turner is happy there's wrestling on his old networks]," Bischoff mused. "I think he's just so disappointed in the way [the merger between AOL & Time Warner, as well as the ensuing years] went, and embarrassed in some respects because of what's happened, especially to CNN." Bischoff believes that the once-great cable news network will be sold for parts. "Ted is dealing with some age-related issues," Bischoff continued, "I don't know what he thinks about anything anymore, but I know he was so disappointed at everything that I doubt he pays attention." According to the former WCW President, Turner has a condition similar to dementia or Alzheimer's, which has led to a retreat from public life from the once media-friendly billionaire.
AEW has programming on both Turner networks, as "AEW Dynamite" airs on TBS and "AEW Rampage" and "Collision" both air on TNT. "Collision" was added earlier this year, with Turner celebrating that the network was doubling down on AEW programming. Bischoff has compared AEW owner Tony Khan unfavorably to Turner, saying that Khan's tenure running the Jacksonville Jaguars is laughable compared to Turner's time owning the Atlanta Braves.