WWE SmackDown Results 11/17 - We Hear From Damage CTRL, LA Knight Vs. Jimmy Uso
Welcome to Wrestling Inc.'s results for "WWE SmackDown" on November 17, 2023, coming to you live from the Ford Center in Evansville, Indiana!
After defeating Grayson Waller during last week's episode of "SmackDown", LA Knight looks to emerge victorious once again as he collides with Jimmy Uso. The two men previously came face-to-face at WWE Crown Jewel earlier this month after Jimmy helped Roman Reigns retain his Undisputed WWE Universal Championship, costing Knight the match in the process.
Damage CTRL gained a new member on November 4 when Kairi Sane helped IYO SKY retain her Women's Championship over Bianca Belair. Then, last week, Asuka was welcomed into the group when she betrayed Belair and Charlotte Flair during a six woman tag team match against SKY, Sane, and Bayley all as Dakota Kai watched on from ringside. In light of such events, Damage CTRL has something on their minds to share tonight.
Judgment Day's next challengers for the Undisputed Tag Team Champion will be determined, as Pretty Deadly, The Street Profits, and The Brawling Brutes will be colliding in a Triple Threat Number One Contenders match. Finn Balor and Damian Priest have been titleholders since defeating Jey Uso and Cody Rhodes on the October 16 edition of "WWE Raw".
Additionally, Solo Sikoa will be making his first appearance on "SmackDown" since defeating John Cena at Crown Jewel along with Paul Heyman. Bobby Lashley and the aforementioned Belair and Flair are all advertised to be in town tonight as well, per WWE's event page.
We are live! The show kicks off with a video recapping the events of the six woman tag team match last week.
Michael Cole, Kevin Patrick, and Road Dogg then greet audiences at home as Damage CTRL makes their way down to the ring.
We Hear From Damage CTRL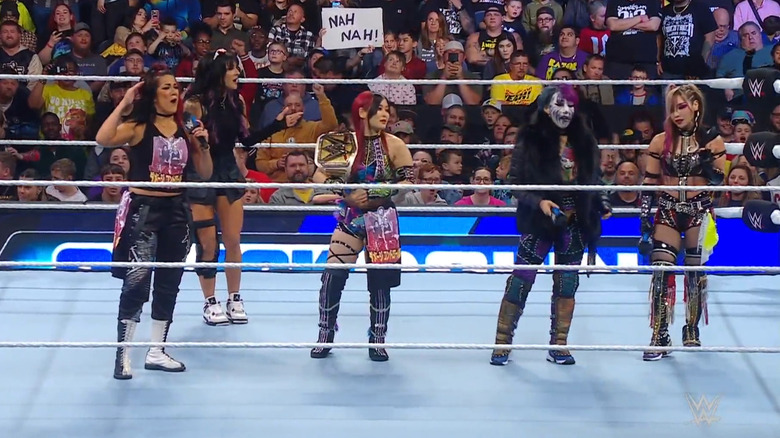 WWE/Fox
Bayley welcomes fans to "SmackDown", then says Damage CTRL doesn't want to share a huge moment with "a bunch of dumb-dumbs". She says her plan to bring Asuka into Damage CTRL has to be one of the top moments in WWE history, then calls her idea brilliant and says the new and improved Damage CTRL is the strongest faction in all of WWE. She says they're playing chest while everyone else is playing Candyland, then says Charlotte Flair, Bianca Belair, and Shotzi were not ready for Asuka. Asuka, IYO SKY, and Kairi Sane talk to one another in Japanese, and Bayley asks what they're talking about. Dakota Kai says that there's someone in the ring that isn't part of Damage CTRL, and while Bayley think she's talking about her, Kai clarifies that she's talking about Asuka as she isn't an official member. Bayley then makes her one, handing her a shirt. Kai adds that SKY suggested herself, Bayley, Asuka, and Sane challenge Bianca Belair, Charlotte Flair, and Shotzi to a WarGames match with a fourth member of their choosing.
Shotzi's music hits and her tank rolls out to ringside, but she's nowhere to be found. Taking advantage of a distracted Damage CTRl, she levels Bayley with a crossbody over the top. Damage CTRL has the numbers advantage over her and beat her down, but Flair and Belair appear to provide Shotzi with some backup. Damage CTRL overpowers Belair and Flair, dumping the two of them out of the ring along with Shotzi.
The Street Profits then make their way down to the ring. 
Back from the break, we head backstage to Belair, Flair, and Shotzi. Belair asks Shotzi why she went after Damage CTRL alone, and Shotzi explains that she had a hard time controlling her impulses. Belair says they need a fourth partner and Flair knows someone who can help. Flair says she'll think about it before Nick Aldis walks in and informs them that he needs the name of their partner by the end of the night.
Back at ringside, Pretty Deadly and The Brawling Brutes head down.
Pretty Deadly vs. The Street Profits vs. The Brawling Brutes in a Number One Contenders Match for the Undisputed Tag Team Championship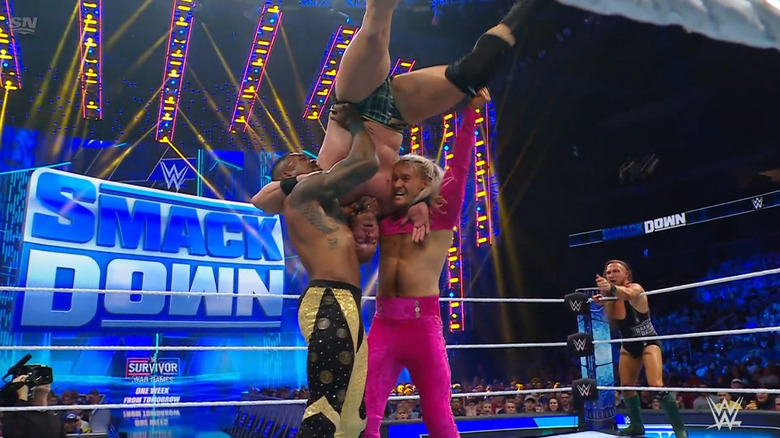 WWE/Fox
Butch, Prince, and Dawkins begin the action. The bell rings and Butch goes straight after Prince and Dawkins. He fires off chops on both men, but Dawkins flattens him before flattening Prince. Ford tags in and delivers a dropkick to Butch, then plants Prince face first with some help from Dawkins. We see Bobby Lashley watching the action from backstage as Ford delivers a splash to Prince and fires off stomps on Butch in the corner. Dawkins tags back in and follows suit, then fires off left and right hands on Prince. Ford becomes legal and looks to plant Prince, but Prince escapes and tags in Wilson. Pretty Deadly then double teams on Ford and Butch, but Holland tags in and sends Wilson crashing into the corner. He delivers a running splash and a DDT, then clotheslines Wilson out of the ring. The Brutes set up for The Ten Beats of the Bodhran on Pretty Deadly, but The Profits clock them from behind before they can. The Brutes then execute the move on The Profits, but Pretty Deadly manages to take them down.

Back from the break, Ford and Prince look to land a double suplex on Holland, but Holland reverses it and plants both men. Butch and Dawkins tag in, and Butch levels both men. He delivers a moonsault to Wilson off the apron on the outside, then takes Prince down with a Tornado DDT off the ring steps and levels all four of his opponents with a moonsault off the apron. He gets Dawkins back inside the ring and plants him, then locks in a Triangle. Dawkins makes his way up to his feet and powerbombs Butch on top of Prince. Holland, Wilson, and Ford tag in and exchange strikes with one another. Wilson levels Holland with a clothesline, then ascends to the top. Holland meets him up there and delivers a suplex, but Prince makes the blind tag in just before he hits it. Ford lands From The Heavens on Holland, and Prince follows it up with a splash off the top. He goes for a pin, but the fall gets broken up as we see B-Fab join Lashley backstage. Butch fires off chops on all four of his opponents, but Pretty Deadly sends him crashing to the outside over the top. The Profits connect with kicks, but Holland flattens everyone.
Butch looks to hit a Brogue Kick on Prince as Holland holds him in place, but accidentally lands it on Holland. Dawkins tags in as Prince dumps him out of the ring, but Dawkins dumps Prince out of the ring and The Profits deliver the sit out powerbomb-neckbreaker combination for the win.
Winner (and new Number One Contenders): The Street Profits
After the match, a frustrated Holland leaves Butch alone in the ring as Lashley appears at ringside to congratulate The Profits.
Back from the break, we see Damage CTRL attack Michin backstage after she was seen talking to Bianca Belair backstage about possibly being the possible fourth member of Bianca Belair, Charlotte Flair and Shotzi's WarGames team.
Back at ringside, Dragon Lee makes his way down to the ring. Axiom follows as he makes his "SmackDown" debut. 
Axiom vs. Dragon Lee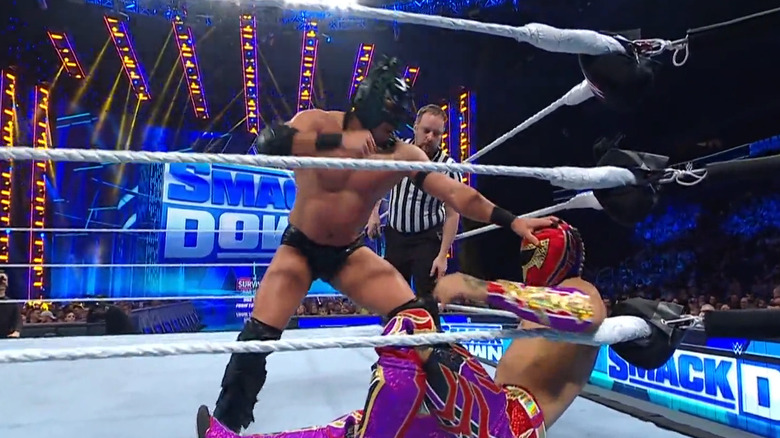 WWE/Fox
The bell rings and the two take turns pinning one another and locking each other in submission holds. They both level one another with dropkicks before Axiom is sent crashing out of the ring and Lee goes flying over the top to level him. He gets him back inside the ring and sends him into the corner, then fires off right hands and delivers a dropkick.

Back from the break, Axiom delivers a moonsault off the top to Lee out of the ring. He gets him back inside and ascends to the top, then looks to go flying. Lee moves out of the way and connects with a kick, then ascends to the top. Axiom meets him up there, but Lee drapes him by his knees and delivers a double stomp to his chest. Axiom fires back with a dropkick and a German suplex, then hits a running kick. Lee plants him with a Brainbuster and looks to plant him with a powerbomb, but Axiom counters into a Canadian Destroyer.
Lee ascends to the top, but Axiom catches him with a kick. He then joins him up there and executes a Spanish Fly before Lee delivers a single arm powerbomb and a running knee. He follows it up with Operación Dragon for the win.
Winner: Dragon Lee
After the match, Lee and Axiom give one another a thumbs up as a show of respect.
Back from the break, Santos Escobar makes his way down to the ring.
We Hear From Santos Escobar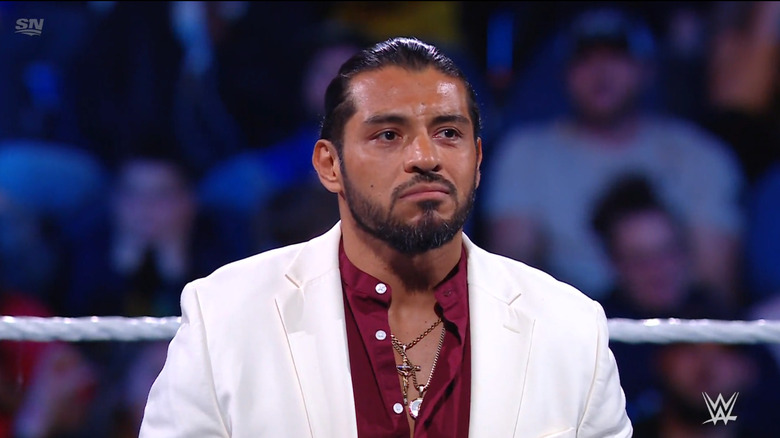 WWE/Fox
Escobar says there's something he needs to get off his chest as the crowd rains down boos on him. He says there's an old expression: never meet your heroes. He says he comes from a rich Lucha Libre tradition, and every member of his family has been labeled heroes. He says despite that, Rey Mysterio was his hero and he modeled his career after him. The other members of LWO watch what Escobar is saying from backstage as he tells Rey he became a father figure to him. He says Dominik Mysterio was right with everything he said about Rey and he deserves to be United States Championship. He says he wanted to rebuild LWO, but Rey took over and brought in new members like Carlito. He says he knows Rey is watching from his hospital bed, and he hopes that the pain he's suffering reminds him of how he betrayed him. He agrees to apologize, but apologizes for not doing more damage and tells Rey he hopes the surgery didn't go well. He tells him he hopes he doesn't come back as Zelina Vega storms her way down the ramp.
Vega asks Escobar what he's doing and the pair begin to argue. Escobar tells Vega they're done, and Vega slaps him. She storms to the back as Cruz Del Toro and Joaquin Wilde meet her on the ramp to check on her. Escobar asks them if they're really siding with Vega over him, and the pair join him in the ring. Escobar tells him that things can go back to the way they were with Legado Del Fantasma, and Escobar tells Wilde and Del Toro he never needed them. He says they were dead weight, and the pair look to head to the back. Before they can, Escobar blindsides them, but Carlito runs down to the ring to provide them with a hand. Escobar retreats.
Grayson Waller then makes his way down to the ring. Cameron Grimes follows, and Austin Theory takes a seat at the commentary desk.
Grayson Waller (w/ Austin Theory) vs. Cameron Grimes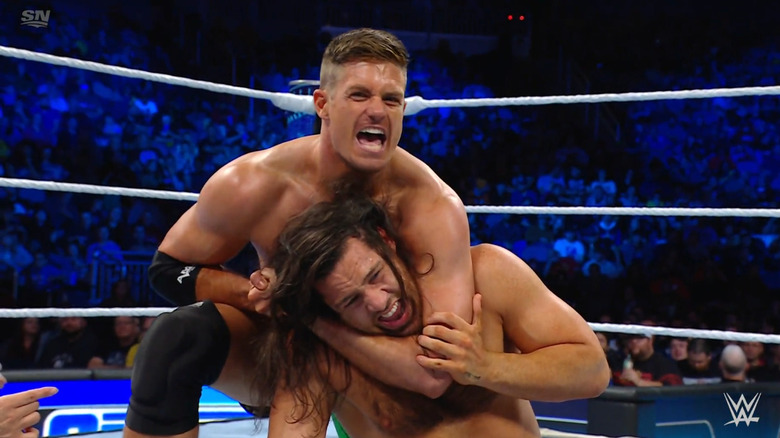 WWE/Fox
The bell rings and the two lock up. Grimes connects with a dropkick and a rolling flatliner, then fires off right hands. Grimes delivers an atomic drop and a dropkick to Waller's face, then plants him with a swinging Sidewalk Slam. Theory checks on Waller on the outside, but Grimes levels him with a kick off the apron. Waller takes advantage, getting Grimes back in the ring and planting him with a Dingo Driver for the win.
Winner: Grayson Waller
We then head backstage and see Bianca Belair chatting with Zelina Vega backstage.
Back from the break, we see Damage CTRL gloating after attacking Vega. Belair and a referee check on her.
We then head over to a video recapping the Crown Jewel match between Solo Sikoa and John Cena. Sikoa, Paul Heyman, and Jimmy Uso then make their way down to the ring.
We Hear From Solo Sikoa, Paul Heyman and Jimmy Uso
WWE/Fox
Heyman introduces himself, then says he has a surprise for tonight: an acknowledgement ceremony for Sikoa. He then teases an introduction for John Cena, then says he's not here and will never be appearing in a WWE ring ever again thanks to Sikoa. He says Cena doesn't have the heart to say goodbye to fans, so he gets to say goodbye to Cena and to fans on his behalf. He counts to three and says that was Cena's cue to slide in the ring and hit The Five Moves of Doom on all of them to massive cheers, but that will never be experienced again thanks to Sikoa. He says no one ever stays gone forever, but Sikoa will have to be his opponent and target if he does. He says Cena will never be himself since he can no longer communicate, and says Cena will no longer be seen because he can't be heard.
LA Knight's music hits and he appears on the ramp. He says he wants to talk to fans and says the one cause and effect Heyman hasn't mentioned is that the only reason Roman Reigns is still Undisputed WWE Universal Champion is because of The Bloodline. He says everyone can see that's a problem, but he's a problem solver. He says he will make sure The Bloodline ceases to exist, and the first step on that path is to take out Jimmy, Sikoa, and Heyman. He says Jimmy is the first step and gloats about how he'll beat him in their upcoming match.
Back from the break, we see Bianca Belair tell Charlotte Flair that they're out of options and she needs to make the call. Flair agrees.
LA Knight vs. Jimmy Uso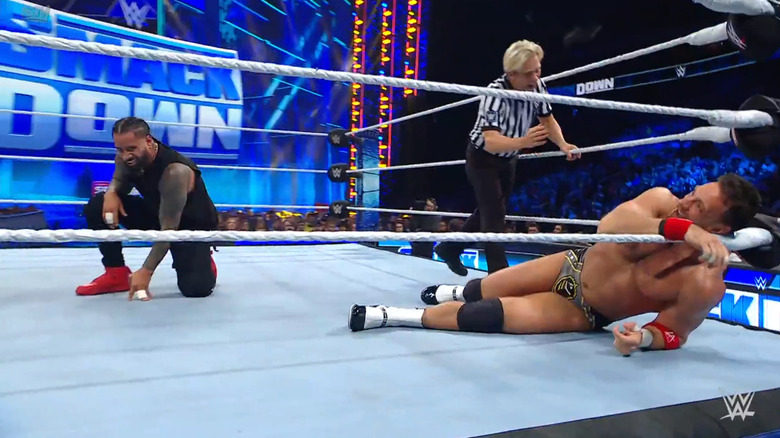 WWE/Fox
The bell rings and Knight delivers a back body drop to Jimmy. He fires off stomps in the corner, then charges at him. Jimmy slips out of the ring, but Knight gets him back inside and fires off strikes on him. Jimmy plants him with a Samoan Drop, but Knight sends him crashing to the outside over the top and delivers a kick through the bottom rope. He sends his head repeatedly bouncing off the announce desk, then tosses him over it.

Back from the break, Jimmy lands an enzuigiri on Knight and looks for a Hip Attack. Knight rolls out of the way and lands a DDT, then hits a clothesline and plants him face first, but Jimmy connects with an enzuigiri from the apron. The pair teeter on the ropes, but Jimmy pushes Knight off and looks to fly. Knight ducks out of the way and hits BFT for the win.
Winner: LA Knight
After the match, Solo Sikoa reemerges. Jimmy blindsides Knight, and Sikoa hits him with a Samoan Spike on the outside. He clears the announce desk as Jimmy drags him over, then gets him on it and fires off right hands. Cody Rhodes' music hits and he runs down to the ring. He sends Sikoa crashing into the ring post and sends Jimmy colliding with the ring steps. He then fires off right hands and sends him crashing into the other set of ring steps.
We head backstage and see Bianca Belair and Shotzi ask Charlotte Flair if she made the call. Flair says she did, but she doesn't know if the person on the other line will be able to make it in time. The three women then make their way down to the ring. 
Bianca Belair, Charlotte Flair and Shotzi Reveal The Fourth Member Of Their WarGames Team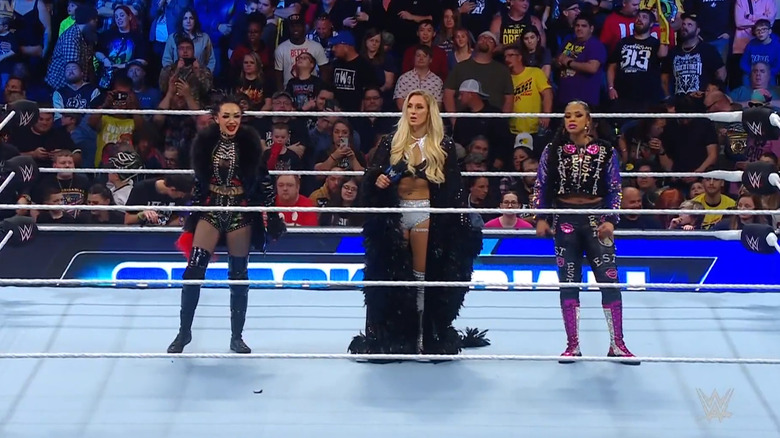 WWE/Fox
Flair says they could stand in the ring talking about what Damage CTRL has done tonight, but time has run out tonight. She formally accepts their WarGames challenge, and she knows a thing or two about turning on a best friend. She says if they're going to war, there's only one person she wants on their side.
Damage CTRL then appears at ringside, and Bayley says she knows Flair is bluffing about having a fourth member of their team. She says she won't make it to WarGames or out of the building as her and her stablemates hop up on the apron. Becky Lynch then slides into the ring, revealing herself as their fourth teammate! All eight women then begin brawling as Dakota Kai watches on in horror. Flair levels everyone on the outside with a moonsault except for SKy, and stares her down before attacking her. The Women's WarGames competitors continue brawling as the show goes off the air.