WWE Hall Of Famer Kurt Angle Gets Real About His Struggles With Addiction
WWE
Former WWE Champion Kurt Angle has enjoyed the highest of highs throughout his legendary career. But one doesn't develop the moniker "Perc Angle" without having their demons. The Hall of Famer lifted the lid on his battles with substance abuse during the "True Geordie Podcast," revealing that he had first been introduced to prescription painkillers after breaking his neck in WWE. He said they were sold to him as "the greatest things in the world" and he was almost instantly hooked:
"Before I knew it, I was taking 65 extra straight Vicodin a day," he recalled, "This was within a six-month period of time, and I mean, we're talking almost enough to kill a horse, it was that bad." 
Angle said that he was an addict and had no longer been focusing on wrestling. By that point, he said he wasn't even taking them for the pain, but to stave withdrawal. On the September 18, 2003, episode of "WWE SmackDown," he was set to square off against Brock Lesnar in a 60-minute Iron Man match for the WWE Championship. Tragically, his sister Le'Anne died of a heroin overdose the day before. Angle recalled his reaction to the news. 
"I took 20 painkillers. I had them in my hand, and I threw them in my mouth and chewed them up and swallowed them, and I didn't wake up until three in the afternoon the next day," he said. 
The match went ahead as planned, with Angle explaining that he wanted to do it for his sister and to distract himself from the tragedy. He said it was his release, and he would have gone 24/7 to keep distracted, and the painkillers continued to be a way to do that. It had gotten so bad that he said he was getting 12 different doctors to write his prescriptions, and when that wasn't enough, he had thousands shipped in from Mexico, spending $7,000 a month to maintain his addiction.
Kurt Angle details his road to recovery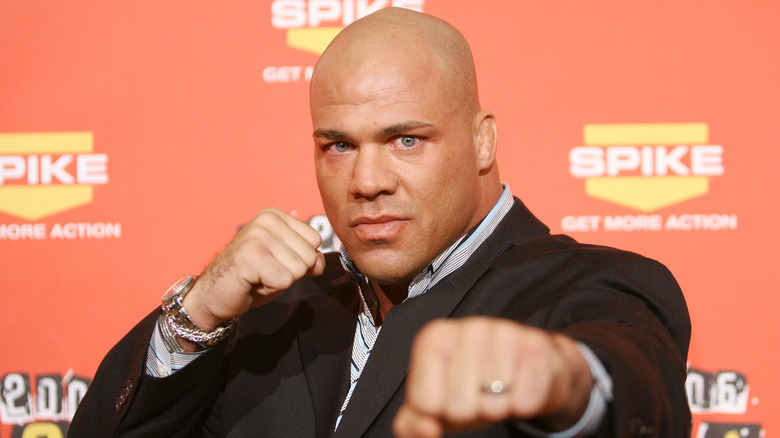 Michael Tran Archive/Getty Images
Kurt Angle continued to recall his downward spiral through addiction, recalling how he had made Steve Austin and Mark Henry both vocally uncomfortable with his demeanor while under the influence. He said that he didn't realize that he was supposed to be a role model, and he was getting out of control for the world to see. Things came to a head for Angle's time, with Vince McMahon even making it clear he wanted to see him sober up, even offering him the means to do so. 
"There was a meeting with him [McMahon], and he wanted me to get help," he recalled, "I didn't want help; that's why I left the company and I ended up going to TNA."
Angle would later quit prescription pills except for a prescribed morphine dose to ensure he didn't suffer withdrawal. But he turned to excessive drinking, a path that would lead to four DUIs in five years. He said that he called his wife from jail after the fourth misdemeanor, and she delivered an ultimatum: get clean or she would leave with the kids. Angle said that he checked into rehab solely to keep his family together. "I didn't go to get better, I went just so my wife wouldn't leave me."
When he checked into rehab, he said he realized that he had a disease, and is proud to say he has been clean for 13 years now. 

If you or anyone you know needs help with addiction issues, help is available. Visit the Substance Abuse and Mental Health Services Administration website or contact SAMHSA's National Helpline at 1-800-662-HELP (4357).