AEW Star Matt Hardy Shares His Prediction For Who The Devil Is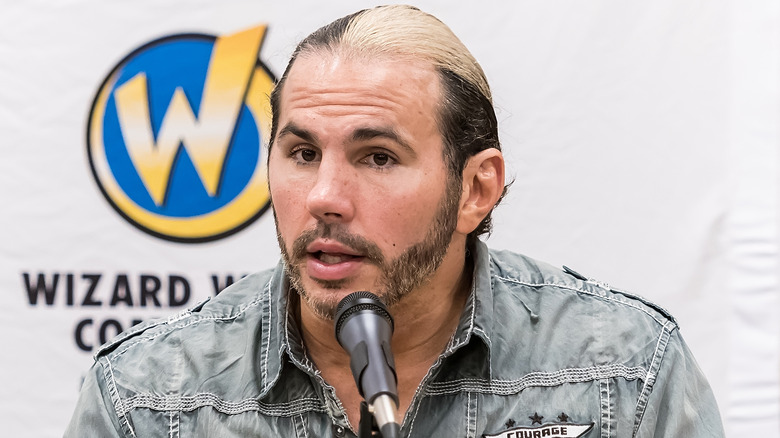 Gilbert Carrasquillo/Getty Images
Who is posing as the Devil and his masked assailants in AEW?
That's the big question surrounding Tony Khan's storylines these days, with the identities of each mysterious individual closely guarded. That, of course, leads to tons of speculation on who is behind the attacks on anyone even remotely aligning with MJF — and Matt Hardy wants in on the guesswork, too. Credited the wrestling whodunnit for prioritizing stories over matches for match's sake, Hardy also made his guess as to who is behind the masks on the latest episode of "The Extreme Life of Matt Hardy" podcast.
"If I had to guess, [Adam Cole] would be my guess ... I genuinely don't know," said Hardy. "That is just based on general storytelling and where I think they're going." Hardy also added that he's as intrigued by who the Devil's associates are as he is by the identity of the Devil itself. Hardy belives that such a personal betrayal in the Bro-chacho relationship would need underlings who had as much reason as Cole to target MJF.
"Those guys bonded," Hardy explained as he further discussed how the heartbreak of splitting up the oddcouple needed to be matched. "They have a really intriguing dichotomy." 
However, Hardy noted that there's a very obvious answer as to who serves as the Devil's minions. "Could it be The Kingdom and those guys tied into it?" he pondered. "Possibly. Like a new faction, the Undisputed Kingdom Era supergroup." Hardy hedged that not enough of The Kingdom or the Undisputed Era have enough personal animosity with MJF to make the reveal substantial. "I'm just not sure who the guys are gonna be."