The Most Disturbing Wrestling Matches Ever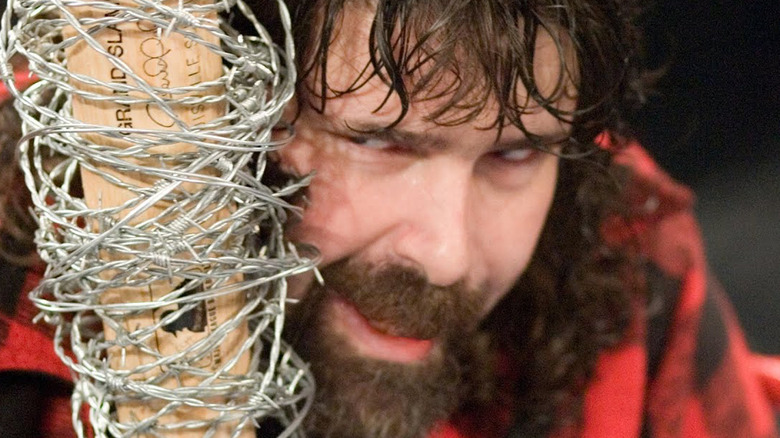 WWE
High concept violence goes together with professional wrestling like chocolate and peanut butter. From the bright lights of WWE to the smokey annals of ECW, wrestling has never been afraid to show its teeth. Oftentimes, the addition of Home Depot fodder such as ladders, light tubes and chains can add a welcome aura of danger to a match. Additionally, nothing will ever sell a heroic babyface more than seeing them shed literal blood, sweat and tears for championship gold!
That being said, there have been many occasions where wrestling has become legitimately disturbing, resulting in a bevy of sickening moments. These can range from a match with an obscene amount of blood or a brutal botch or just a sickening stipulation. For those of you with an affinity for the dangerous side of the squared circle, this list should most definitely quell your appetite.
Eddie Guerrero vs JBL - Judgment Day 2004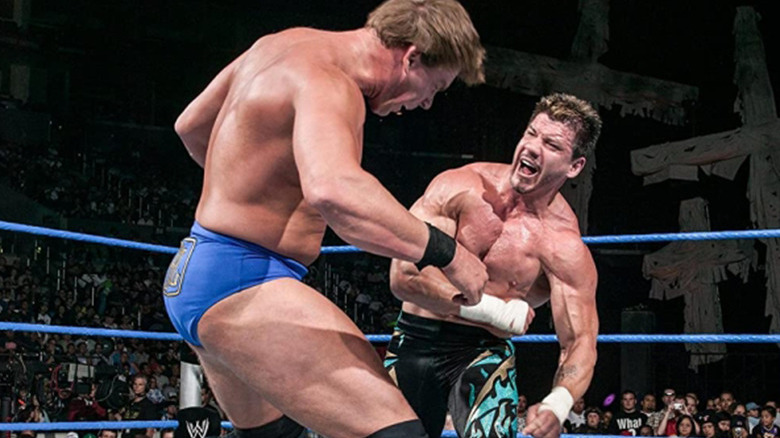 WWE
Unlike other entries on this list, this is a disturbing match that started off as normal as any other WWE Championship match. Eddie Guerrero is, to this day, one of the most beloved wrestlers who ever laced up a pair of boots. Even almost twenty years after his untimely passing, wrestling fans still rabidly consume and praise his stellar in-ring work. However, one of his most memorable matches is one that's remembered less for its work rate and more for its violence. That match in question would be Eddie's WWE Championship encounter with John "Bradshaw" Layfield at WWE Judgment Day 2004.
Partway through the match, JBL executed a planned spot where decked Eddie with a steel chair. Eddie, in accordance with the spot, proceeded to do a routine blade job on his forehead to draw some blood. Unfortunately, Eddie would cut too deep, and caused a cascade of blood to begin pouring across his face, neck, and chest. The match continued as planned, ending in a no disqualification, Eddie left looking like a car crash victim. It is, to this day, one of the more gruesome sights ever broadcast during a WWE pay-per-view event.
Undertaker vs Mankind - King of the Ring 1998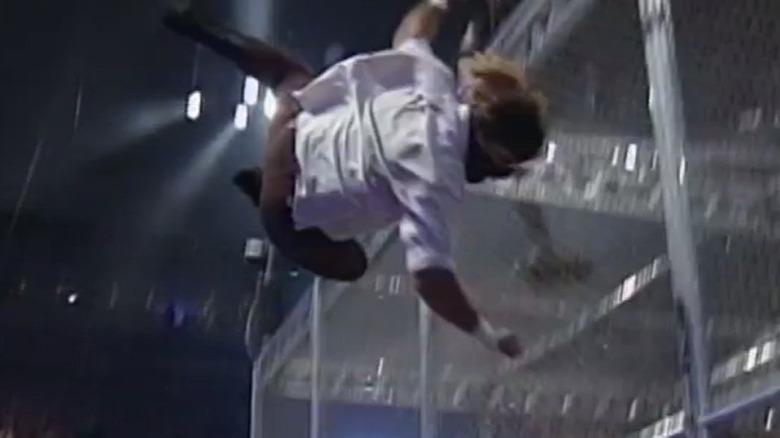 WWE
En route to WWE's 1998 King of the Ring event, the stage was set for Mankind (Mick Foley) to face The Undertaker inside Hell in a Cell. The only other time the stipulation has been used was at the previous year's Badd Blood: In Your House for Undertaker versus Shawn Michaels. Given the widespread acclaim that match had received, as Foley recalled on "Chasing Glory with Lilian Garcia," it was clear that topping it would prove quite difficult.
This would result in a rather unique idea from Foley's mentor and fellow wrestler Terry Funk — why not have Foley thrown off the cage? Despite some justifiable hesitation from Mark Calaway (The Undertaker), the match would go ahead with the idea being green lit. The spot would occur as planned and would result in the audience in attendance, as well as the commentators, going absolutely wild. However, Foley would then opt to return to the top of the cage to continue the match — resulting in a choke slam through the cage. This spot, unlike the previous, was not planned with a shaken looking Undertaker fully convinced that he'd just killed Mick Foley. Add to that a tooth getting knocked out of Foley's face and a sea of thumbtacks, and you have the makings of a legendary matchup.
Atsushi Onita vs. Terry Funk – FMW 1993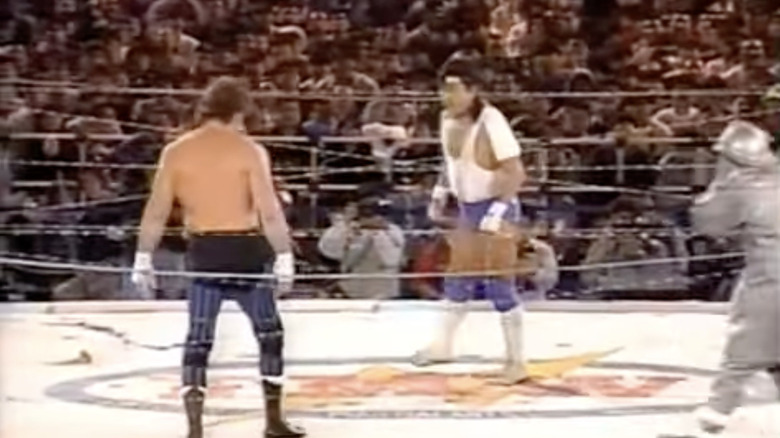 Frontier Martial-Arts Wrestling
Founded by Onita in 1989, Frontier Martial-Arts Wrestling quickly became Japan's go to federation for hardcore wrestling — specifically a style of hardcore would put any stateside equivalent to shame just by comparison. Wrestling in the Land of the Rising Sun tends to breed some tough as nails talents, with neither Atsushi Onita and Terry Funk being exceptions! If one were to look up tough or resilient in the dictionary, one would find pictures of Onita and Funk.
Funk, already an established name in the United States, would meet his match overseas in the form of Atsushi Onita. As noted on "Dark Side of the Ring," both men had already built up a solid friendship and trust, bred by Funk serving as Onita's guide to traversing the US. This trust would more than be put to the test in the No Rope Exploding Barbed Wire Time Bomb Deathmatch! The stipulation of the match was to capture the pin or submission prior to the time bomb's clock hitting zero. The match concluded with arguably one of wrestling's finest moments: Onita throwing himself on Funk's prone body to save him from the blast. It's violent, sickening, and undeniably melodramatic — which, in short, is everything that makes hardcore wrestling great.
Edge/Lita/Foley vs Funk/Dreamer/Beullah - One Night Stand 2006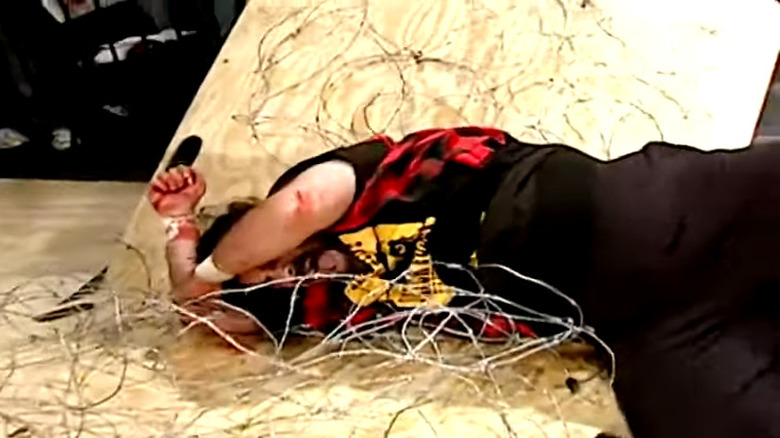 WWE
This is a match that exemplifies the term "car crash" but in the most entertaining and visceral way possible. The first ECW One Night Stand pay-per-view was an absolute slam dunk for WWE, garnering over 300,000 buys. The following year, WWE scheduled another event, and this time they definitely upped the ante from the previous outing. En route to the followup show, Mick Foley formed an alliance with Edge following their hardcore match at WrestleMania 22. Turning his back on his mentor Terry Funk and fellow ECW alumni Tommy Dreamer, Foley turned fully heel.
At ECW One Night Stand 2006, the originally planned tag match between the two teams would be tweaked at the last minute. Now joining in the mayhem would be Lita, Edge's then-girlfriend, and Beulah McGillicutty, Tommy Dreamer's wife — making the match an intergender six person tag match. After the bell rang, the match quickly descended into an ECW appropriate level of bloodshed and rampant anarchy. From ladders to barbed wire boards to flaming two-by-fours — everything but the kitchen was used here. Top it off with Edge using a rather suggestive as a pinfall, and you have a match most fans won't soon forget.
D-Von Dudley & Mass Transit vs The Gangstas - ECW
En route to Extreme Championship Wrestling's first pay-per-view event Barely Legal 1997, the company hit a grisly speed bump. Ahead of a house show, Axl Rotten had a family emergency which meant he'd need to be replaced in that night's tag match. In his place would be Eric Kulas AKA Mass Transit, a sizable young man with a bus driver gimmick. However, unbeknownst to Paul Heyman, Eric wasn't 23 as listed on his ID — as in actuality he was only 17. Eric not only lied about his age but his experience as well, fabricating a narrative that he'd been trained by Killer Kowalski.
As recounted by New Jack on "Dark Side of the Ring," Kulas told him that he wanted to bleed in the match. Jack, never one to do anything halfway, would acquiesce to this request partway through the match — much to Eric's regret. As opposed to a standard gimmicked blade, Jack opted to cut Eric's head the hard way with a modded surgical scalpel. The subsequent spot, recorded via fan cam, would see Jack cutting Eric's head too deep which caused him to spurt blood and pass out. To this day it's still remembered as one of professional wrestling's most infamous events with New Jack having shown zero sympathy even in the years preceding his death in 2021.
Nick Gage vs Thumbtack Jack - CZW Tournament of Death VIII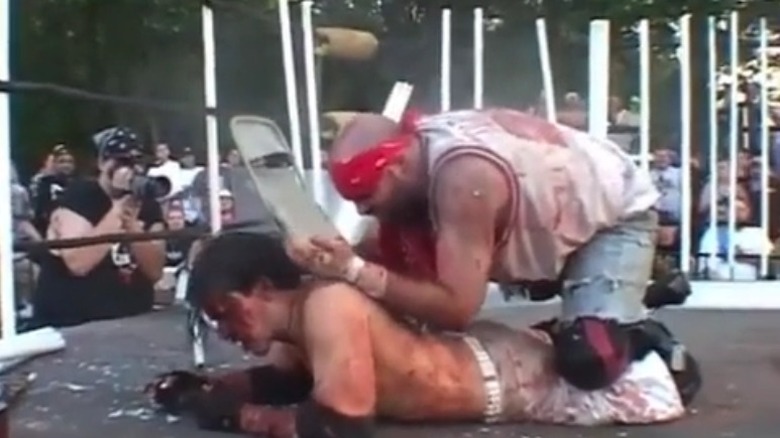 Combat Zone Wrestling
Very few independent professional wrestlers have achieved the rabid cult status of Nick Gage. The self-proclaimed leader of the Murder Death Kill Gang received an extra dose of notoriety via his episode of "Dark Side of the Ring." Additionally, an unexpected one-shot appearance on "AEW: Dynamite" in 2021 against Chris Jericho definitely garnered him new fans as well. During his time in the business, Gage has cemented himself as one of wrestling's toughest ... often to his own detriment.
A key example of this would occur at Combat Zone Wrestling's Tournament of Death VIII back in 2009. Under the hot sun in the fields of Delaware, several competitors would compete against each other in several ultraviolet match types. One such encounter would be the semi-final matchup between Gage and a German talent by the name of Thumbtack Jack. The match — featuring 200 light tubes and various panes of glass — was primed to be a gloriously violent spectacle but would sadly go south in record time. A light tube would catch Gage's armpit during a spot in the match, severely cutting him and causing immense blood loss. This would result in Gage being kept from running back out, against his will, and subsequently airlifted out by helicopter. Gage's blood loss was apparently so intense that he would flatline and be declared legally dead for eight minutes!
Casanova Valentine vs Slade - Dark Side of the No-Ring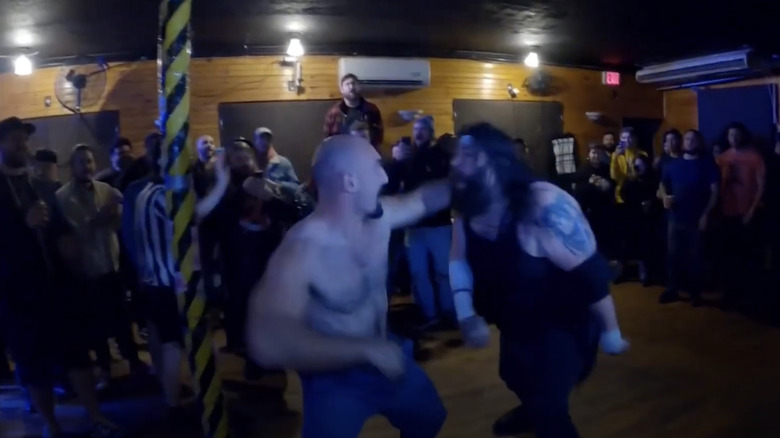 Independent Wrestling TV
There have been many interesting developments within independent professional wrestling in the last few years. One such innovation, born out of New York City, are No Ring Deathmatches, a unique blend of wrestling and performance art. The format –- two or more wrestlers having an all out brawl in a bar -– is the brainchild of indy talent Casanova Valentine. Valentine elaborated on this gonzo match type in VICE's online documentary concerning him and the growing No Ring Deathmatch scene. Given the already lengthy list of matches under Valentine's belt, we could've made a case for any one of them being here. However, we'll have to go with one of his more recent outings against rising indie talent Slade.
The match in question took place at New Fear City's Dark Side of the No Ring event from November 2021. The match would see both men absolutely batter each other throughout the venue, even spilling into the bar area. From stiff chops to light tubes to nail studded adult apparatuses, this is a match packed to the brim with madness. If you've yet to experience a No Ring Deathmatch, definitely check one out on YouTube or attend one in person.
The Rock vs Mankind - Royal Rumble 1999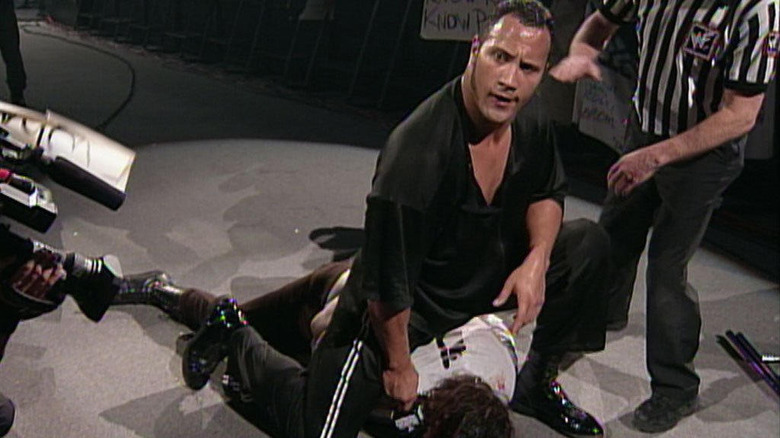 WWE
Before Dwayne "The Rock" Johnson was the box office powerhouse he is today, he was the Most Electrifying Man in Sports Entertainment. A far cry from his often squeaky clean presentation seen today, The Rock of the '90s was a true villain. Nowhere is this better exemplified than in his feud with Mankind following his heel turn at the 1998 Survivor Series. One of the more pivotal encounters during their feud was their I Quit match which took place at the 1999 Royal Rumble. The match's one and only rule is as follows: the only way to win is to make your opponent utter the words "I quit."
The match itself was a fairly even encounter until the Rock slapped some handcuffs on Mankind, rendering him mostly helpless. The Rock would then begin bashing Mankind's head in, blow-after-blow with a solid steel chair. A chair shot (or two) was part of the plan. What wasn't part of the plan was the Rock hitting Foley with some extra chair shots (something he'd later regret). The spot is shown with more detail and with morbid musical accompaniment in the 1999 wrestling documentary "Beyond the Mat." This behind the scenes look definitely shows just how damaging the extra shots to the head were to Foley's well being.
Four Way Ladder Match - Armageddon 2006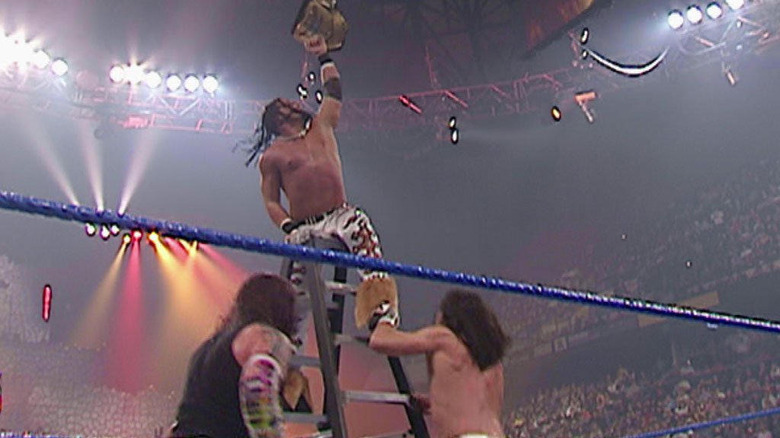 WWE
Once again, another match with a fairly innocent setup but one that would result in one of WWE's most stomach churning moments. At Armageddon 2006, a fairly by-the-numbers Ruthless Aggression era pay-per-view, WWE would see one of its more gruesome unplanned moments. Before the WWE Tag Team title match could begin, Teddy Long would throw a few last minute additions. Those additions being two former tag gold holder, The Hardys and MNM, along with a special ladder match stipulation. With London and Kendrick, along with William Regal and Dave Taylor already in the fray, this match delivered on some eclectic madness.
From brutal bumps on hardware to glorious over-the-top ladder spots, the match sees everyone get a turn to hurt. However, one moment would see a fairly standard spot turn very deadly very fast, that being the Hardy's double team move on MNM. The brothers would use a teeter totter-like setup to send a ladder smashing to Johnny Nitro and Joey Mercury's faces. Unfortunately, Joey Mercury would end up receiving the worst of it, with the ladder breaking his nose and nearly blinding him.
New Jack vs Vic Grimes - Xtreme Pro Wrestling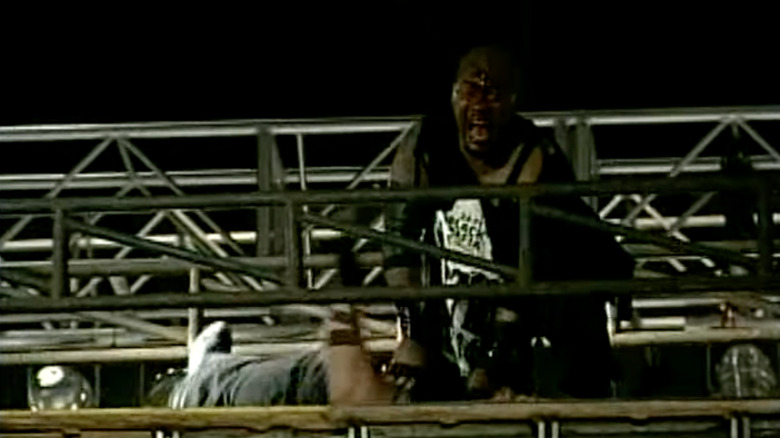 Xtreme Pro Wrestling
If it's a list of disturbing wrestling matches, you can be sure that New Jack is going to appear more than once. Here, the other factor at play is the environment the match took place in: Xtreme Pro Wrestling. XPW was one of many hardcore based companies that would result from the ultra-violent sub culture jumpstarted by the original ECW. Many ECW alumni would make the jump to XPW after the company folded in the early 2000s — including New Jack and Vic Grimes. The duo would continue their infamous feud from the Land of Extreme which had already jumped the shark in terms of sensibility.
Previously, at ECW's Living Dangerously, Vic Grimes would cause New Jack to take a 15 foot plunge to the floor below. This plunge resulted in Jack receiving a fairly gnarly head injury that, per New Jack's recounting, had cracked his skull, resulting in prolonged headaches. As corroborated by "Dark Side of the Ring," New Jack would see their rematch years later as a chance for revenge — even saying as much directly into the camera. Upon climbing the precarious scaffolding for the second time, Jack would then whip out a taser and shock Grimes. Grimes, unable to feel his legs, would be met with zero sympathy from Jack who simply noted "Bombs away!" It's a brutal moment only punctuated by Jack noting to Grimes during his exit that "now we're even."
Greg Valentine vs Roddy Piper - NWA Starrcade 1983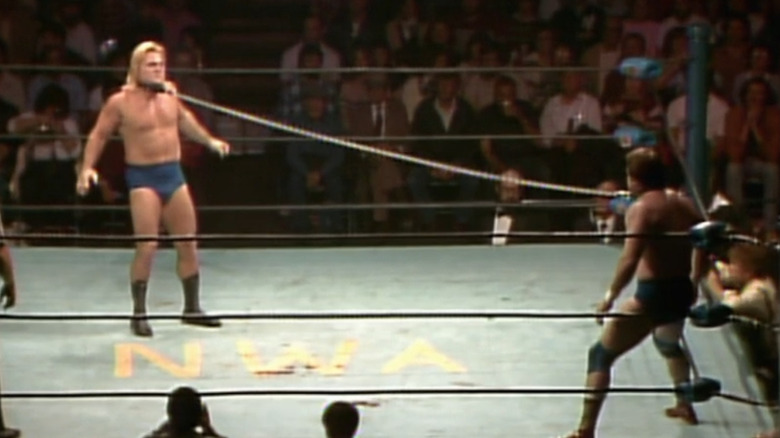 WWE
The NWA has played host to many brutal matches over the years, but few as vicious as Greg Valentine vs Roddy Piper. If you are looking for pure, uncut intensity, lit ablaze by gasoline then look no further than Rowdy Roddy Piper. Whether its CM Punk, MJF or Jon Moxley — all of wrestling's current top talkers all bow at the feet of the master. Very few feuds brought the fire out of Piper in the same brutal fashion as his brutal rivalry with Greg Valentine. Contested over the NWA United States Heavyweight Championship, Valentine would steal the title via some well placed evil shenanigans. Using a ring bell, The Hammer would cost Piper 75% of the hearing in his ear, causing the referee to stop the match. Granted, this was merely a part of the storyline, but it did help to sell the unpredictable danger of their feud.
Piper would get his chance at payback shortly thereafter at the 1983 Starrcade pay-per-view in the duo's now infamous Dog Collar match. The match isn't even a proper match in all honesty, as both men truly sell a convincing and sickening brawl. From choking each other with the chain to amplifying their strikes with it, this is as fine a slugfest as one can find. If you wondered why CM Punk chose this stipulation to destroy MJF, pop it in and give it a watch.
Vince McMahon vs Stephanie McMahon - No Mercy 2003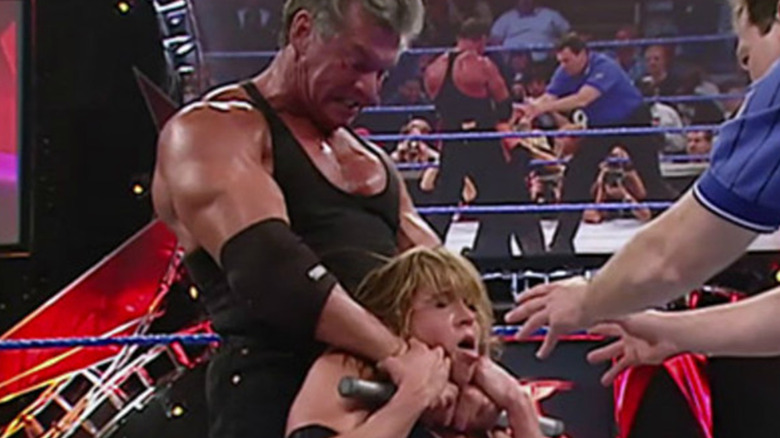 WWE
The McMahon family has certainly been at the forefront for many of the WWE's greatest and most baffling moments. Whether you love them or (more justifiably) hate them, you can't deny that they've provided wrestling with many memorable moments. However, something can still be memorable despite being — more often than not when Vincent Kennedy McMahon is involved — absurdly problematic. This one is part of the latter. It was uncomfortable in 2003 and, sure enough, it's still uncomfortable today. During the one millionth chapter in the McMahon family and their never ending power struggle came this very baffling booking decision.
That booking decision: an I Quit match between Vince McMahon and his own daughter, the then-GM of "SmackDown," Stephanie McMahon. In one of the rare instances of intergender wrestling in WWE, the father and daughter would engage in combat. What would ensue are nine minutes of Vince McMahon beating up his own daughter in, what can charitably be called an unsettling display. Vince would get the win, leaving his own daughter a beaten and crumpled mess in the middle of the ring.