The 12 Best Main Events From NXT 1.0
For many years, NXT provided a unique alternative to the WWE's main roster offerings like "Raw" and "SmackDown." Standing in sharp contrast to the main roster's frequently more cartoonish offerings, NXT was grounded and to the point. Populated by an influx of independent wrestling's best and brightest, the brand would soar to widespread acclaim in the 2010s. For years, the black and yellow brand was unstoppable and was delivering stellar main event matchups one after another.
Things would change following NXT timeslot shift away from Wednesdays, when it was announced that the brand would be rebooted. The once heavy metal alternative to the main roster was to be retooled into a brightly lit, colorful developmental show. This meant that the indie heavy, grittier edge that NXT had become known for was going to be retired all together. With the black and yellow era definitively laid to rest, here are twelve of NXT 1.0's best main event matches.
Adrian Neville vs. Sami Zayn vs. Tyler Breeze vs. Tyson Kidd - NXT Takeover: Fatal 4-Way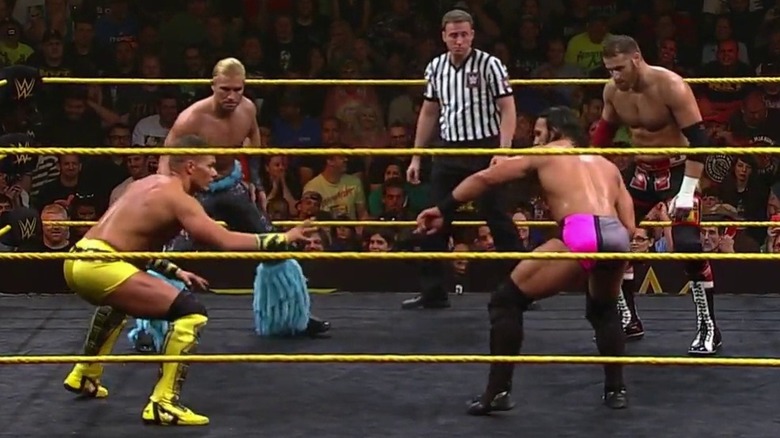 WWE
In the main event of NXT Takeover: Fatal 4-Way, Adrian Neville would defend his NXT Championship against Sami Zayn, Tyler Breeze, and Tyson Kidd. All three challengers had received singles opportunities at one time or another, but had previously come up short. Additionally, it had been clearly established that Neville and Zayn were good friends and allies, often working together as a tag team. Despite this, both men showed an equal desire for the gold, making any encounter between the two very intriguing. 
The fatal four-way was packed to the brim with fast paced multi-man moves and a slew of "Matrix"-style acrobatics. It was a glorious showcase of NXT's main event scene and indicative of the brand's meteoric upward mobility. The match would conclude with Neville opting to play dirty and break up Zayn's attempted pinfall, saving his own title reign. Neville would then pin a prone Tyson Kidd which would secure him the win, much to the heartbreak of Sami Zayn. The conclusion of this match would serve as one of the major story beats en route to Zayn and Neville's eventual matchup at NXT Takeover: R-Evolution.
Adrian Neville vs. Sami Zayn - NXT Takeover: R-Evolution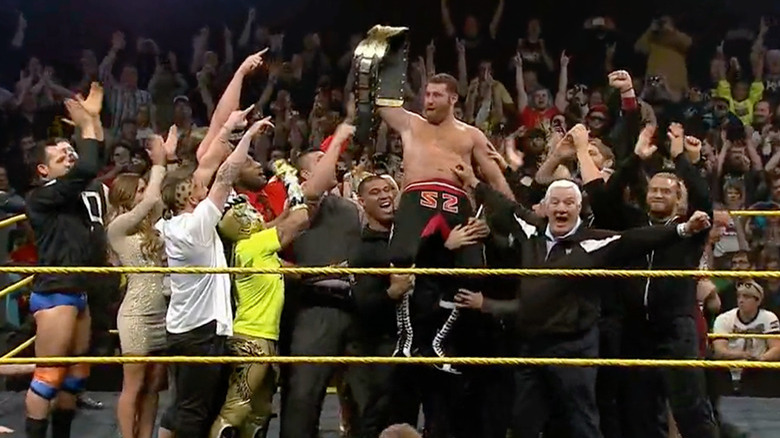 WWE
Spurred on by his loss in the main event of NXT Takeover: Fatal 4-Way, Zayn would begin a road to redemption. He would pick up wins over many of NXT's key contenders, resulting in a one-on-one title match with Adrian Neville. The match was hard fought and would see Zayn come within moments of winning until he'd be suckered in by Neville. Feigning an injury, Zayn's alleged friend preyed on his good nature and opted to steal a cowardly win to save his title. This elevated animosity would result in a do-or-die championship versus career match at NXT Takeover: R-Evolution.
Given the duo's history, training, and experience the indie scene, Zayn and Neville's in-ring chemistry was perfectly in sync. Each man would give the other their absolute best, matching each other's offense and resolve tit for tat. Additionally, with Zayn promising that he'd leave NXT if he lost, every pin resulted in big reactions from the Full Sail crowd. After resisting the urge to stoop to Neville's lows, Zayn would finally hit a definitive Helluva Kick to finally secure the win. Following the win, the locker room would come to celebrate with Sami, where even a battered Neville would embrace the new champion. 
This feel good moment would be beautifully capped with Kevin Owens' sudden but inevitable betrayal — putting the bow on an already epic main event.
Sasha Banks vs. Bayley - NXT Takeover: Respect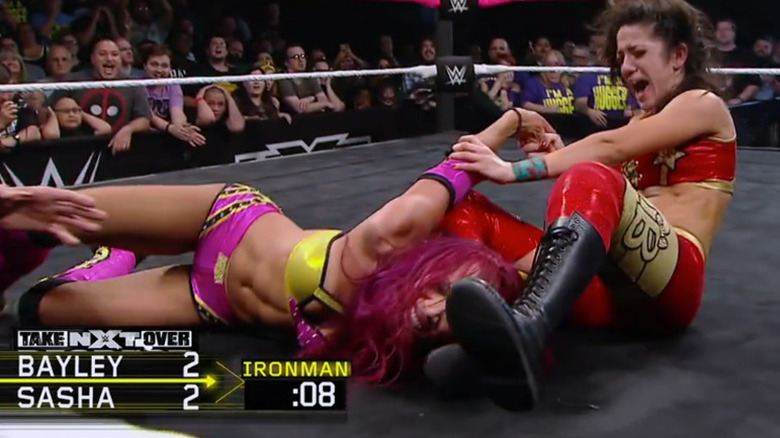 WWE
In terms of wrestlers who laid the groundwork for the WWE women's revolution, few had done more than Sasha Banks and Bayley. As a part of the Four Horsewomen, along with Becky Lynch and Charlotte Flair, both women dazzled the Full Sail Arena on a weekly basis. Their epic encounter at the first ever NXT Takeover: Brooklyn is still highly regarded years later. However, their subsequent rematch is a definite case of a sequel being just as good, if not better, than the original. This match was a landmark not only for it being the first female NXT main event, but the first Iron Woman match as well.
The match would see both women engage in an all out war, leaving everything they had in the squared circle. It would also result in some of the finest heel crowd work that Sasha Bank had done up until that point. Partway through the match Sasha would snatch the headband off the head of Izzy, a little girl and a then-prominent Bayley super fan. It was this extra injection of heat that would really bring the beast out of Bayley, allowing her to match Banks' intensity with ample gusto. With this added level of drama, the match is an immensely compelling back and forth contest — a definite modern classic for sure.
Authors of Pain vs. Team DIY - NXT Takeover: Chicago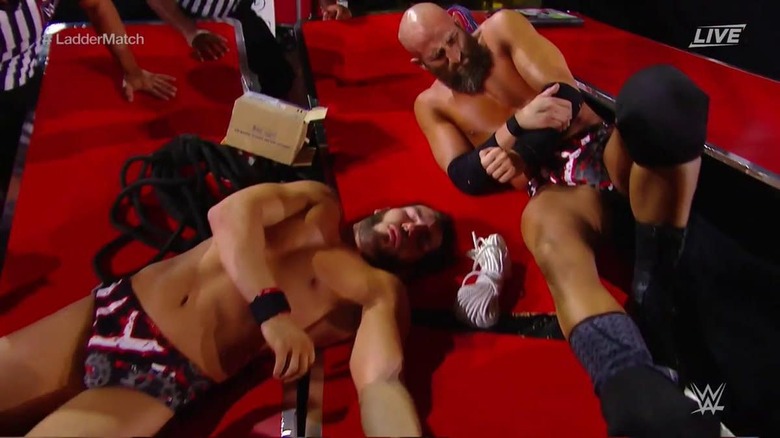 WWE
The main event of NXT Takeover: Chicago wsaw Team DIY, Tommaso Ciampa and Johnny Gargano, take on the Tag Team Champions Authors of Pain, Akam and Rezar, in a high stakes ladder match. At a definite disadvantage, DIY would utilize their speed and the provided ladders in various ways to topple their gargantuan opponents. Additionally, AOP got a great chance to show off their dominant prowess as well, often manhandling DIY like they were nothing. The match also wisely integrated Ciampa's legitimate knee injury into the action, making any high risk spots all the more suspenseful. A particularly brutal spot arrived during the finish, which saw AOP slam Gargano and Ciampa into each other before hitting them with respective power bombs. This would allow AOP to grab the title belts and secure the win, crushing DIY's quest for a second title run. 
However, the true drama of the contest had been brewing between Team DIY for quite some time on weekly TV. Despite the duo's clear respect for each other, eagle eyed fans always noted Ciampa's occasional disdain for Gargano — be it when Gargano bested him in the Cruiserweight Classic or when Gargano would take the fall in major tag team matches.
Following the match's conclusion, just as the copyright bug appeared, Ciampa would look Johnny in the eyes and plunge the knife. Declaring that "this is my moment," Ciampa proceeded to slam Gargano headfirst into the entrance set's LED board. Showered with a chorus of boos, Ciampa had taken the first step towards his very successful heel run.
Undisputed Era vs. SAnitY vs. AOP & Roderick Strong - NXT Takeover: WarGames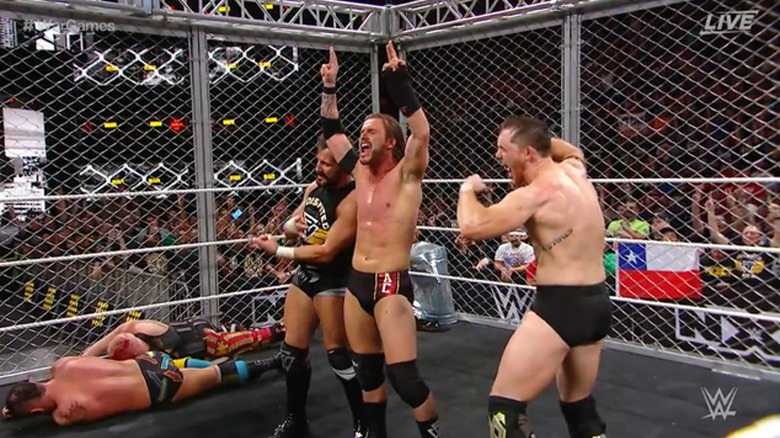 WWE
In this ode to rampantly unchecked destruction, three of NXT's deadliest trios collided in a double wide steel cage, complete with two rings. The brand's first use of the brutal WarGames stipulation would arise due to the conflict between three different factions — The Undisputed Era, SAnitY, and the Authors of Pain.
After the formation of The Undisputed Era at NXT Takeover: Brooklyn III, the trio of Cole, O'Reilly and Fish went on a rampage. They often got into brutal fist fights with the members of SAnitY— Eric Young, Killian Dain and Alexander Wolfe. Roderick Strong, whom UE had been targeting for recruitment, opted to align with Akam and Rezar, The Authors of Pain, instead. With these three trios primed to explode, GM William Regal opted to bring back WarGames just to contain them all. 
The match would see all three teams risk life and limb just to take each other out in excessively grand fashion. From chains to tables to kendo sticks to trash cans, every bit of hardware was used to elicit the craziest spots possible. It was a hard fought battle, which would finally conclude with Cole hitting Young with a chair assisted Last Shot for the win. It's undoubtedly excessive, but when you have nine wrestlers this talented in the ring, you know you're in for something stellar.
Andrade Cien Almas vs. Johnny Gargano - NXT Takeover: Philadelphia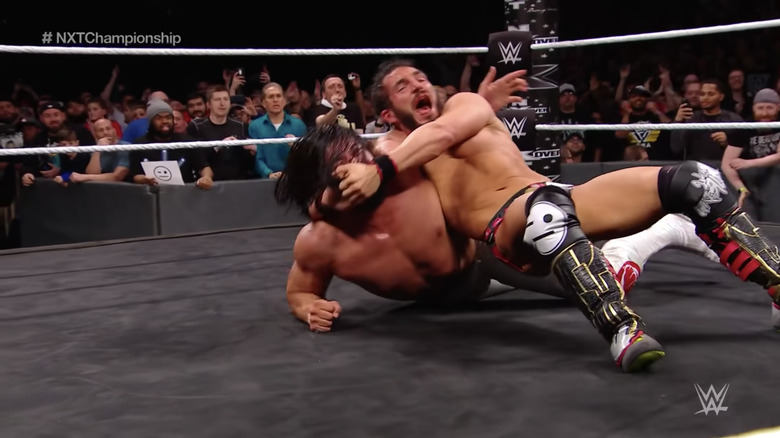 WWE
All eyes were definitely on Andrade Cien Almas' following his shock win against then-NXT Champion Drew McIntyre. Almas was on top of the world and cemented his status with an epic main event against Johnny Gargano. Following Ciampa's betrayal months earlier, Johnny Wrestling set out to prove himself as a dominant single competitor and future champion. Eventually, he found himself in the main event of NXT Takeover: Philadelphia against Almas for the NXT Championship. 
From bone rattling super kicks to a brutal spinning back fist, there isn't a moment in this match that won't have your eyes glued to the screen. Considering the match's rather daunting 30 minute length, it's impressive that the audience was never once bored during the proceedings. Following a devastating running knee and a draping hammerlock DDT, Almas would secure the three count for the win. Both men put on career defining performances that night, only enhanced by the always electric Chicago crowd. 
Johnny Gargano vs. Tommaso Ciampa - NXT Takeover: New Orleans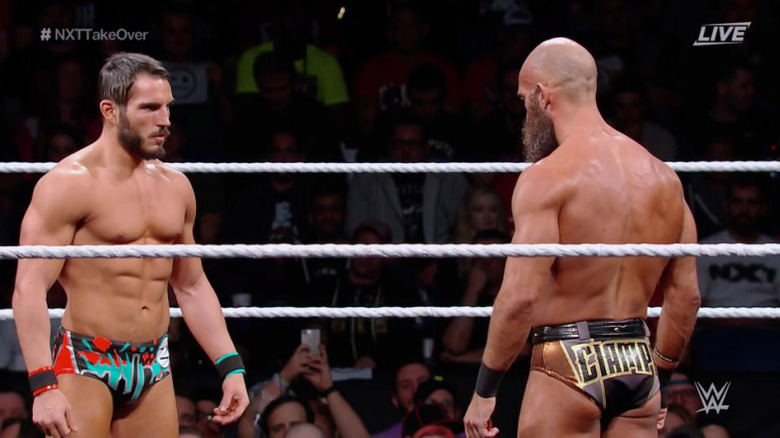 WWE
No NXT feud spanned for as long and got as brutal as Johnny Gargano and Tommaso Ciampa's epic multi-match saga. However, one of its strongest chapters was undoubtedly their heated first encounter in the main event of NXT: New Orleans. Following a long storyline which saw Gargano temporarily banished from NXT, Ciampa was deservedly run ragged by his former friend. From chasing after his car to keeping him awake outside his own home, Gargano wasn't letting Ciampa off easy. Things escalated until the former besties finally collided in an Unsanctioned match, which wasted very little time getting as nasty as possible.
From steel chairs to slams on exposed the arena floor, both men did everything possible to end each other. Both men played their disdain for each other perfectly, with each strike feeling as stiff and vindictive as humanly possible. In terms of crowd investment, the NXT faithful were fully behind Gargano, rabidly clamoring for the defeat of his friend turned enemy. Eventually, Gargano utilized Ciampa's own knee brace to cinch in a painful submission hold which finally caused Ciampa to tap out. This match is a gem and definitely laid the appropriate groundwork for the sharp twists and turns that their feud would take.
Undisputed Era vs. Mustache Mountain - NXT TV 7/11/18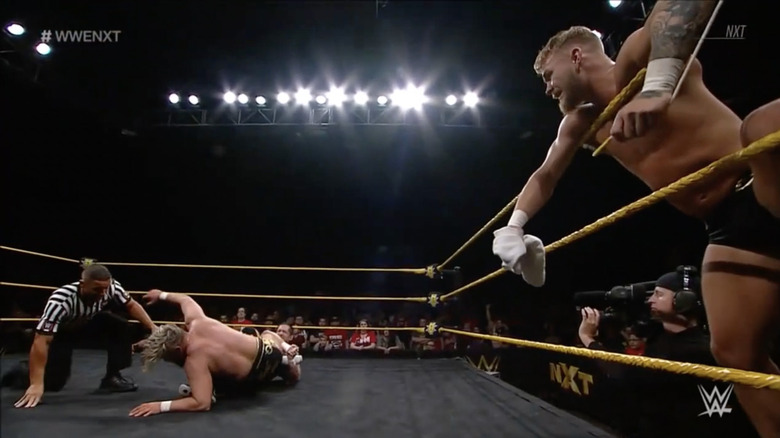 WWE
During the development of NXT UK, some prominent United Kingdom talent would migrate over to WWE programming, including Trent Seven and Tyler Bate. The duo had already made names for themselves through their tag team Mustache Mountain and as a part of British Strong Style, led by Pete Dunne. Additionally, Bate had already established himself as the inaugural NXT UK Champion. So when they captured the NXT Tag Team Titles at the second United Kingdom Championship Tournament, UK fans were ecstatic. 
On the July 11th, 2018 edition of NXT, The Undisputed Era got their rematch and would win in sickening fashion. The match proceeded much like their previous encounter, with each team matching the other's grit and intensity. There was very little flashy about this tag match, with the wrestlers utilizing technical and old school offenses. O'Reilly and Strong, representing the Undisputed Era, targeted Seven's (kayfabe) injured leg which resulted in some truly wince-inducing moments. Seeing his friend and mentor in unbearable agony, Bate had no choice but to throw in the towel to save him. Undisputed Era left victorious, capping off the only NXT TV main event to receive five stars from Dave Meltzer (via Sportskeeda).
Tommaso Ciampa vs. Aleister Black - NXT TV 7/25/18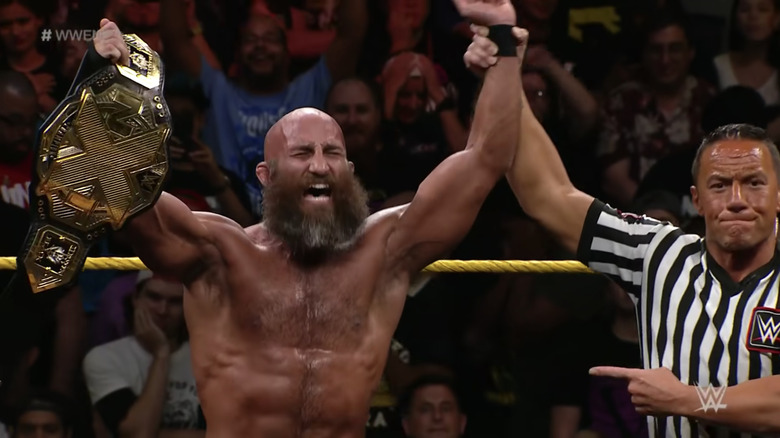 WWE
Sometimes a main event is great not just because of the in-ring athleticism, but for the reaction it elicits from the crowd. 2018 was a great year for NXT, playing host to some of NXT's best storytelling and this is no exception. Tommaso Ciampa's increasingly seething feud with Johnny Gargano was reaching a fever pitch on screen, and bystanders were getting burned. One such victim was then-NXT Champion, the mysterious Aleister Black, who was soon targeted by the devious Ciampa. The matchup saw Black and Ciampa take each other to the limit, with their respective strike based and technical styles melding perfectly. 
Ciampa, noticing the ref was knocked out, attempted to use the NXT title belt as a weapon, only to be stopped by a vengeful Gargano. However, in his haste, Gargano sent the title crashing into the head of Aleister Black. This momentary distraction opened Black up to Ciampa's finishing move, the devastating Fairy Tale Ending. One three count later and Ciampa, the most despised man in NXT, had finally captured the brand's top prize. Having no entrance music to speak of, Ciampa would bask in his newfound gold while being showered with a cataclysmic cascade of boos. In one fell swoop, Ciampa would cement his top heel status and indirectly help turn the audience against Gargano as well.
Adam Cole vs. Johnny Gargano - NXT Takeover: New York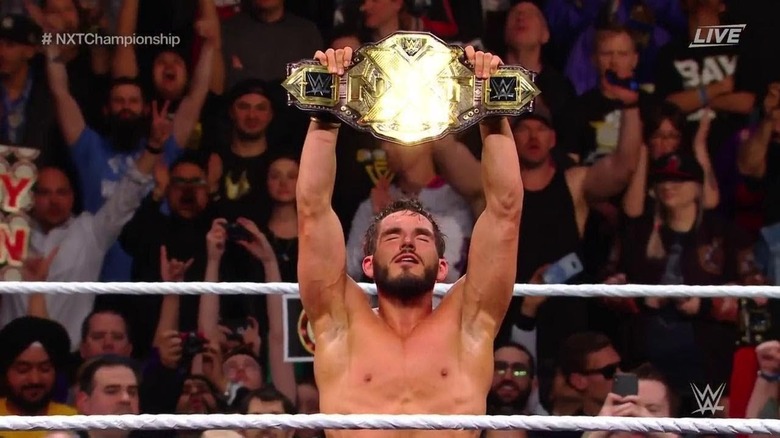 WWE
Sometimes a great crowd can make all the difference. Going into NXT Takeover: New York, the long awaited finale to Ciampa and Gargano's feud was set for the main event. However, real life would rear its ugly head in the form of injury: It was announced that Ciampa required neck surgery, which resulted in him being stripped of the title. Soon enough, a new number one contender emerged in the form of The Undisputed Era's leader Adam Cole. To ensure a definitive winner, and to raise the stakes, Triple H gave the match a two out of three falls stipulation.
Given Cole and Gargano's combined in-ring acumen, it was a given that the match would deliver — however, there was one intriguing development. New York, being one of wrestling's smarkier crowds, were firmly behind Cole, the heel, showering Gargano with a fair amount of boos. Despite this, Gargano's never-say-die attitude slowly but surely turned the crowd's support back in his favor. Both men would pour everything into this match, hitting each other with their respective finishing moves on multiple occasions. With enough false finishes to stop your heart, it's no wonder that this match had the crowd standing out of their seats!
Rhea Ripley vs. Shayna Baszler - NXT TV 12/18/19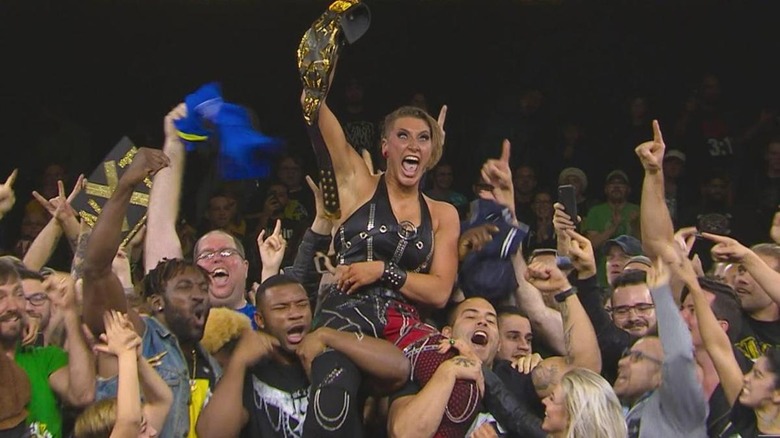 WWE
The Wednesday Night Wars were an intriguing, if slightly aggravating, ratings competition between NXT and All Elite Wrestling. For years, NXT was the show to watch midweek for amazing indie-caliber talent mixed with pristine high budget production values. This changed when AEW hit the scene in late 2019 and completely change the wrestling landscape. For a total of 78 weeks, the two shows would compete, with AEW beating the black and yellow brand for most of it. That is except for December 18th, 2019 where NXT won that week's ratings war due in no small part to its main event.
For over 400 days, MMA fighter turned wrestler Shayna Baszler had picked the bones of nearly the entire NXT women's division. However, one challenger finally gave the Queen of Spades a run for her money: Rhea Ripley. The Australian born Mae Young Classic standout had already built a reputation for herself via her previous Women's title reign on NXT UK. Baszler's technical wrestling would be equally matched by Ripley's size and strength, tenaciously fighting out of her opponent's submission holds. After a grueling 15-minutes of back and forth combat, Ripley would finally topple Baszler with a top rope Riptide for the win.
Finn Balor vs. Pete Dunne - NXT Takeover: Vengeance Day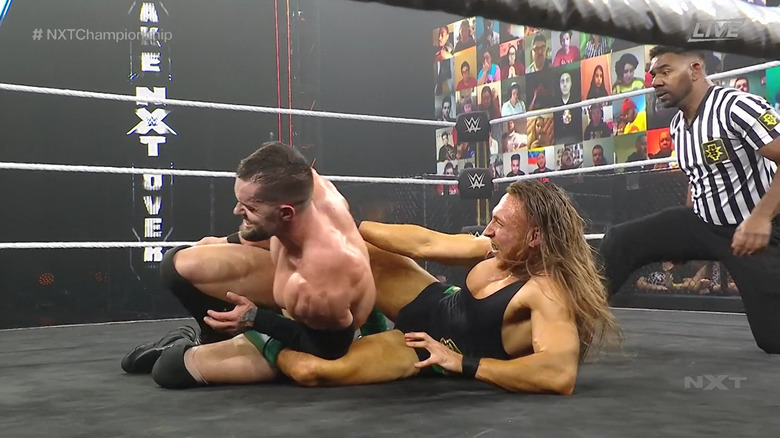 WWE
En route to NXT's candy coated reboot in 2021, the black and yellow brand was still delivering on epic marquee main events. One such match would take place on one of the many televised Takeover events the brand had been producing. The main event of NXT Takeover: Vengeance Day would see NXT Champion Finn Balor defend his title against Pete Dunne.
Long before he was repackaged as Butch on "SmackDown," the Bruiserweight was one of the UK indie scene's finest exports. After his WWE signing, Dunne quickly became a staple of both NXT and NXT UK, holding the UK Championship for a whopping 685 days. Across the ring you had Finn Balor, whose recently regained mean streak helped him to regain the NXT Championship for a second time. 
The match contained a particularly glorious sequence where Balor and Dunne exchange a flurry of dropkicks, forearm strikes and even power bombs. The true appeal of this one came from just how legitimately painful it looked. With a healthy balance of mind boggling agility and legitimately painful looking submissions, this is another main event that definitely delivered.