John Cena's Worst Moments
For many modern professional wrestling fans, there is perhaps no name more famous and beloved than John Cena. Despite not being a weekly competitor since his transition to Tinseltown, Cena is still a fixture of WWE's marketing. From his multiple championship reigns to countless WrestleMania main events, Cena has more than left his mark. There's a good chance that many of your WWE favorite moments from the past 20 years involved Cena in some way. That's not to mention the man's philanthropy, having set an impressive and heartwarming record for the most Make-A-Wish wishes granted.
However, no one's record is spotless, and Cena is no stranger to a bad storyline or some baffling booking decisions. Throughout his 20 year tenure, Cena has left behind a bevy of cringeworthy moments and been victim of some misguided creative decisions. So grab your rally towels and a bowl of Fruity Pebbles, because these are some of John Cena's worst moments.
His offensive raps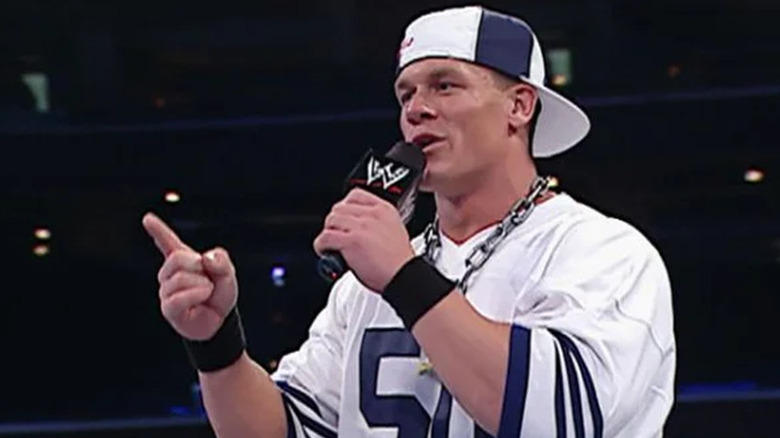 WWE
There's no denying that one of the first major steps towards main event status for John Cena was his Doctor of Thugonomics gimmick. After his debut in Kurt Angle's open challenge — complete with his adorable rookie tights — Cena began to flounder. WWE's "Ruthless Aggression" documentary series recounted how Cena, not quite getting over as a babyface, was close to being fired. This was until the young upstart started doing some free styling on the WWE tour bus, a skill which made its way back to management. They asked Cena if this was something he could do on TV, to which he enthusiastically said yes. During a BuzzFeed interview, Cena noted how this new gimmick really allowed him to engage with the WWE audience. The gimmick did indeed lead Cena to elevated popularity and success, including a United States Championship win against Big Show at WrestleMania XX.
However, it is worth noting that many of Cena's raps have not aged well since their broadcast in the '00s. From objectifying female talent to body shaming to homophobic remarks, Cena definitely crossed a few lines while spitting his bars. Considering Cena's carefully maintained family friendly image, it might be best that a lot of these old raps remain in the archive.
Beating the Nexus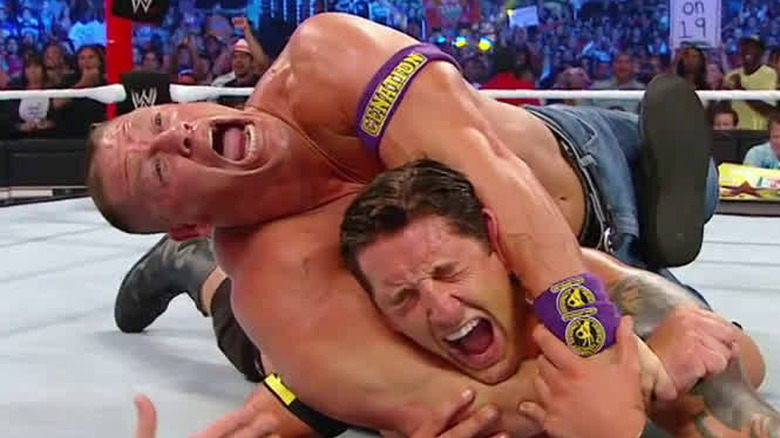 WWE
Much has been said and written about the treatment of the Nexus faction after their arrival in 2010. Born out of the first season of NXT, the faction was composed of various rookies, led by the season's winner, Wade Barrett. The faction immediately make their presence known through one of the most shocking conclusions to an episode of "Raw." The gaggle of rookies attacked and vandalize ringside, all the while assaulting John Cena and other ringside workers, including announcer Justin Roberts. Following this attack, the Nexus' name was on everyone's lips and the future definitely seemed bright for the young faction.
At SummerSlam, Cena aligned himself with other WWE superstars to combat the devious Nexus in a multi-man elimination tag team match. However, what should've been the defining victory of the Nexus' quickly became a crash course in the pitfalls of backstage politicking. In a 2013 edition of "Talk Is Jericho," Edge and Jericho — both a part of Cena's team — recounted the last minute changes. Apparently, both men pushed for the Nexus to win, but Cena had his own ideas in regards to the match's finish. Cena would defeat the final two members of Nexus on his own, completely derailing any significant momentum they'd had. Cena has since spoken out about this decision, providing more context to it but ultimately deciding he was in the wrong.
Facing Rey the night he won the WWE Title
Every so often we have to wonder if WWE actually knows what a babyface is and how they are supposed to act. After CM Punk "walked out" with the WWE Championship at Money in the Bank, the company held a tournament to crown a new champion. The finals of this tournament saw long time fan favorite Rey Mysterio face The Miz on "Raw." Mysterio ended up defeating the Miz, winning the WWE Championship for the first time in his career. For any hardcore Rey Mysterio fans, this was like Christmas in July, just a perfect feel good moment for a very deserving talent. However, in a move that still has fans scratching their heads, John Cena would challenge Rey for the title that same night.
This is mind boggling for many reasons, not the least being Cena being present for Rey's backstage post match celebration. Why would Cena, a clearcut babyface, opt to face another babyface for a title when the latter had already wrestled that night? This is a tactic often used by the heels, so to see Cena implementing such a method was bizarre to say the least. Cena, in typical fashion, won the title back, which set up his rematch with CM Punk at that year's SummerSlam. Over a decade later and it's still one of the more baffling booking decisions made with Cena during his divisive run.
Juan Cena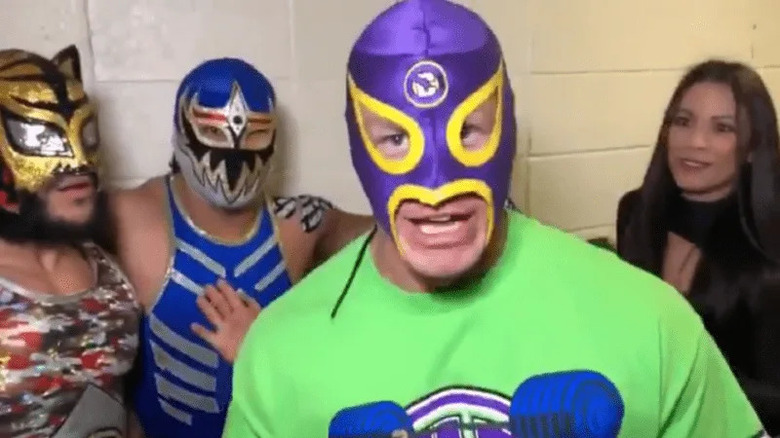 WWE
During his storyline firing due to the machinations of Wade Barrett, John Cena was banished from WWE TV ... for a total of five minutes. It seems that WWE couldn't bear the thought of Cena not being a part of television or live shows. This resulted in Cena simply showing up on "Raw" regardless to harass the Nexus until he was given his job back. This on its own was a fairly baffling choice, as it hindered any drama following Cena's kayfabe termination. However, another unfortunate side effect of this need to keep Cena present would come in the form of Juan Cena.
This persona entailed Cena donning a "Looney Tunes" cartoon of a disguise in the form of a luchador mask. In fairness, it can be said that this lucha-themed ruse was likely never truly meant to be taken seriously. However, it is still a prime example of the often madcap and cringeworthy booking that clouded Cena's main event run. Cena resurrected the gimmick for a brief cameo alongside Lucha House Party in 2019. 
Losing to John Laurinaitis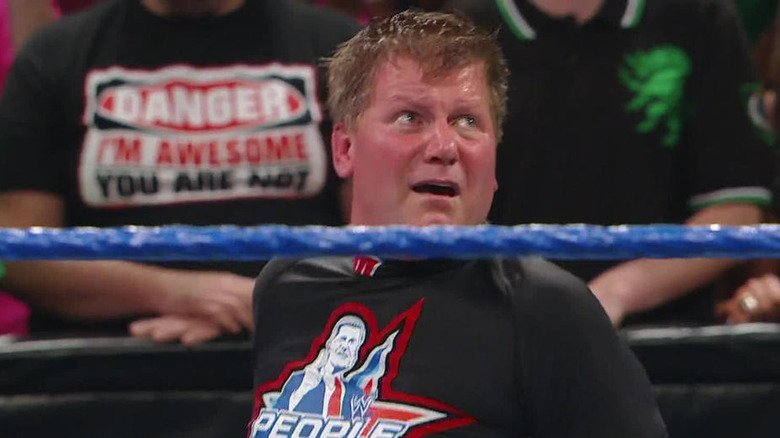 WWE
Very few storylines have made WWE viewers want to take a hammer to their television more than Johnny Ace and People Power. In the 2010s, WWE saw itself run through a whole slew of authority figures of varying quality. One such figure was John Laurinaitis, then-head of talent relations, who became an onscreen presence in 2011. At first, Laurinaitis was established as Vince McMahon's stooge, but gradually got more to do on the show. After being made head of "Raw," Laurinaitis — despite preaching the notion of People Power — began messing with various superstars. His two major targets during his heel run were CM Punk, in the midst of his 434 day reign, and John Cena.
His clash with the leader of the Cenation ended up causing some of the most groan inducing content WWE has produced. This included an actual one-on-one match between them at Over The Limit 2012, wherein Laurinaitis would be fired if he lost. The match is a mess, equal parts goofy and wince inducing, in no way deserving of closing the show. Embarrassingly, Cena actually took the loss via the shenanigans of the Big Show, capping off an abysmal main event.
Losing to Kevin Federline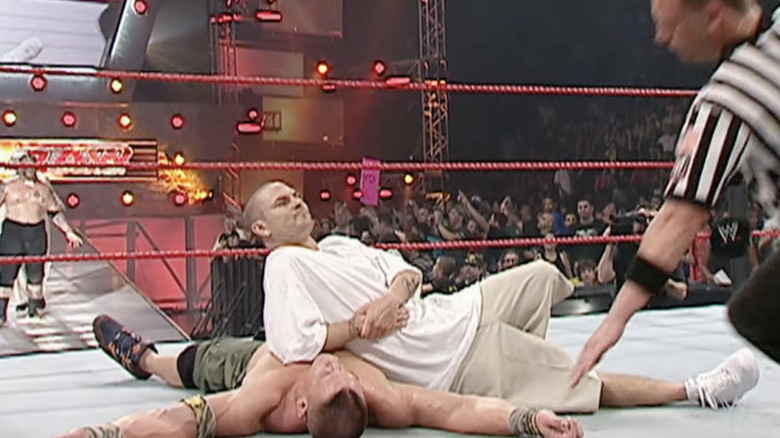 WWE
It's not uncommon for WWE to jump at any potential pop cultural cross promotions, especially if it helps them move the needle. Unfortunately, in the pursuit of mainstream dollars and cents, WWE has green lit some rather embarrassing collabs with some big stars. One of the more baffling collisions was a brief 2006 feud between WWE Champion John Cena and Kevin Federline. For those who cannot recall, Kevin Federline AKA K-Fed was a backup dancer turned rapper, and Britney Spears' then-husband.
Promoting a solo rap album, K-Fed made an appearance on "Raw" in 2006, where he immediately established himself as a heel. Following demeaning comments towards the audience, Cena hit the ring and would begin spitting back at K-Fed. His harshest joke was a comment about K-Fed's wife, which saw Cena get beaten down by K-Fed and Johnny Nitro. This led to that year's Cyber Sunday, event where K-Fed would cost Cena his match against King Booker and Big Show. Following this interference, Cena and K-Fed squared off in a no-disqualification match, which saw Johnny Nitro and Umaga interfere. This outside interference resulted in K-Fed actually picking up a pinfall victory over Cena, much to the rapper's delight. Later that night, Cena demolished K-Fed with the Attitude Adjustment, mercifully ending their rivalry and sending K-Fed.
Avenging Santa Claus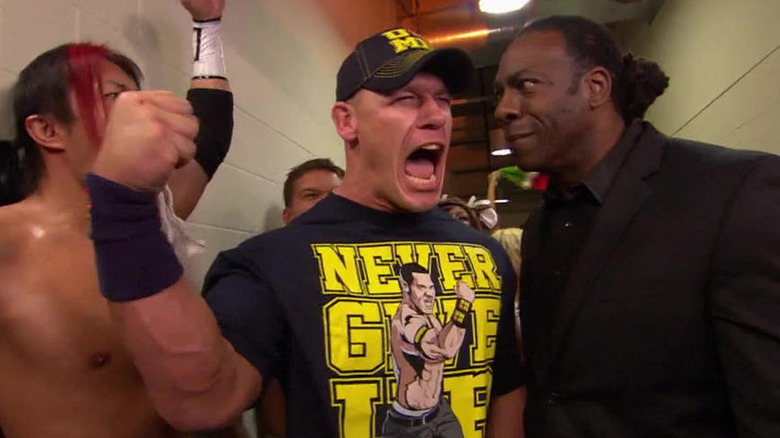 WWE
No pop cultural entity celebrates the holidays quite like the WWE, for better and (more often) for worse. Whenever the most wonderful time of the year comes around, WWE tends to inject some holiday cheer into their programming. This often includes trotting out a version of Santa Claus for either an in-ring appearance or some comedic backstage segment. But by far one of the more facepalm worthy offerings took place on a 2012 Christmas Eve edition of "Raw." Taking on the role of Santa was WWE legend Mick Foley, whose affinity for Santa and Christmas has been well documented.
Commentary and the wrestlers opted to treat him as the actual real life Santa Claus about to deliver gifts. This bizarre sense of whimsy was interrupted by Alberto Del Rio hitting Santa with a car during his entrance. Motivating the locker room, a comically incensed Cena vowed to avenge Kris Kringle and take on Del Rio later that night. They'd square off in the main event with the added stipulation of it being a Miracle on 34th Street Fight. Santa Foley made a triumphant return to help Cena defeat Del Rio, capping off the show with the two celebrating. It's not uncommon for WWE to get cartoony from time-to-time, but this was a few candy canes too much.
Being squashed by The Undertaker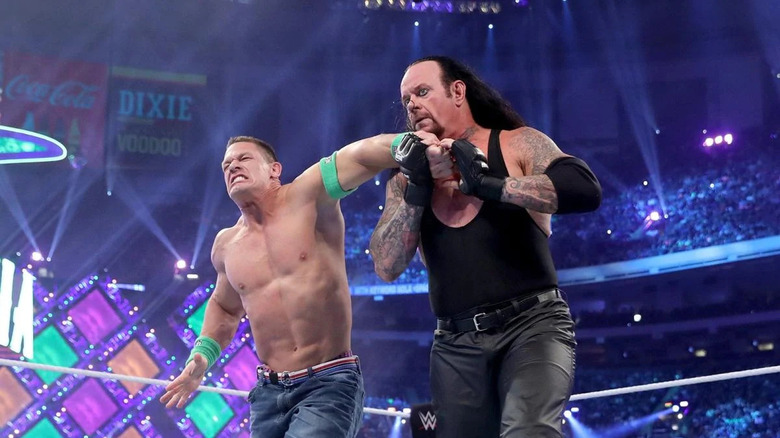 WWE
For years, one of WWE's more coveted dream matches was a WrestleMania encounter between John Cena and The Undertaker. However, other than a few one-on-matches on lower tier pay-per-views and television, Cena and Taker had never been given a true main event storyline. The match had been penciled in for WrestleMania 32 at one point, but Cena's injury would preempt the encounter. Taker, eying retirement, allegedly pushed to face Cena the following year but the idea would once again be scrapped.
It wouldn't be until WrestleMania 34 that Cena versus Taker finally got a spot on the show, albeit under bizarre circumstances. The storyline was centered not around Cena and Taker exchanging words, but around Cena not having anything to do at WrestleMania. This led to Cena calling out the Undertaker, even going as far to break kayfabe and reference Undertaker's home life. These one sided promos persisted until the night of WrestleMania, where WWE didn't even confirm if Taker would even be present. Cena, enjoying a cold beer amongst the WWE faithful, immediately geared up upon hearing that Taker had arrived. After much delay and an Elias centered fake out, Taker finally arrived in grand fashion to face Cena ... for all of three minutes. Relegating this dream match to a squash match done at warp speed was most definitely a far cry from what fans, and even likely Taker, had wanted.
Canceling his planned heel turn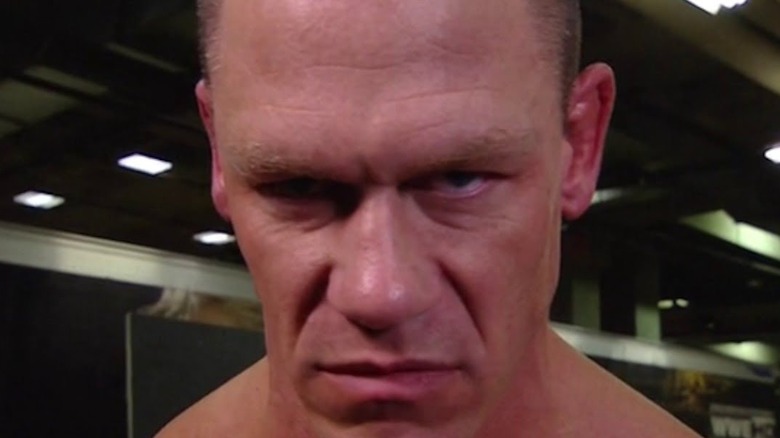 WWE
For years, many of his more vocal detractors were pushing for John Cena to pull a Hollywood Hogan and turn heel. Cena, whose rise to prominence began with a heel run, was definitely familiar with the territory, so it wasn't inconceivable. What many fans might not know is that WWE was tinkering with the idea of turning Cena heel again in 2012. These plans were confirmed by former-WWE writer Matt McCarthy during an appearance on the "We Watch Wrestling" podcast. McCarthy noted that following his WrestleMania loss to The Rock, Cena was to be turned heel to add extra heat to their upcoming rematch.
As confirmed by Cena on "Talk is Jericho," the turn seemed so likely that he'd had custom gear and music made for it. Sadly, WWE opted to kibosh the turn. This change led to several more years of Cena's character remaining the same cheeky, virtuous goober than had repelled many fans.
Once in a lifetime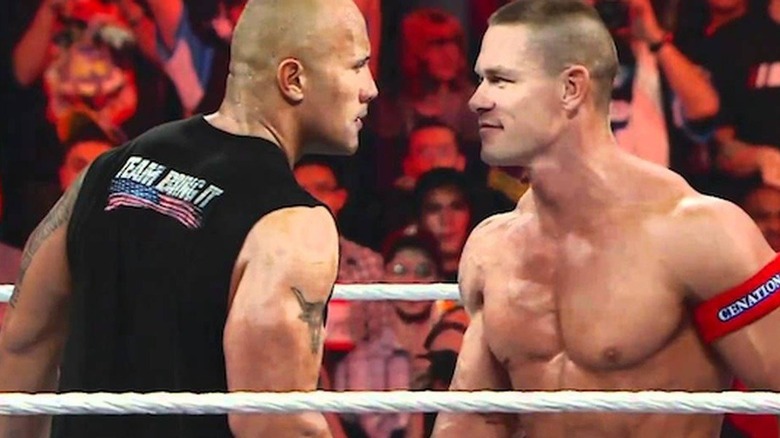 WWE
When Dwayne Johnson AKA The Rock returned to WWE in 2011, it definitely helped bring many jaded fans back. This was when The Rock had fully transitioned from pro wrestling to blockbusters, so having him back on TV was quite the treat. When the People's Champ arrived back on "Raw," he wasted very little time going after John Cena, cutting a vicious promo. This incited a months long verbal war between the two, which included Cena rapping and references to Fruity Pebble cereal. The match itself was incessantly branded as a once in a lifetime affair, ensuring its status as a must see main event. It's important to note just how much this storyline engulfed WWE TV, spanning multiple WrestleMania events and even leaking into other secondary pay-per-view events.
At WrestleMania 28, both combatants finally faced off with the Rock hitting the Rock Bottom for the decisive win. However, that wouldn't be the end of things, as it seems WWE didn't actually know what "once in a lifetime" meant. The duo would run their match back once again at WrestleMania 29, resulting in a far more underwhelming main event. Cena ended up getting his win back, finally putting a merciful end to his three year long saga with The Rock. To this day it's still seen as one of the WWE's more disingenuous marketing tactics, which says a lot.
Going to SmackDown and then back to Raw in one night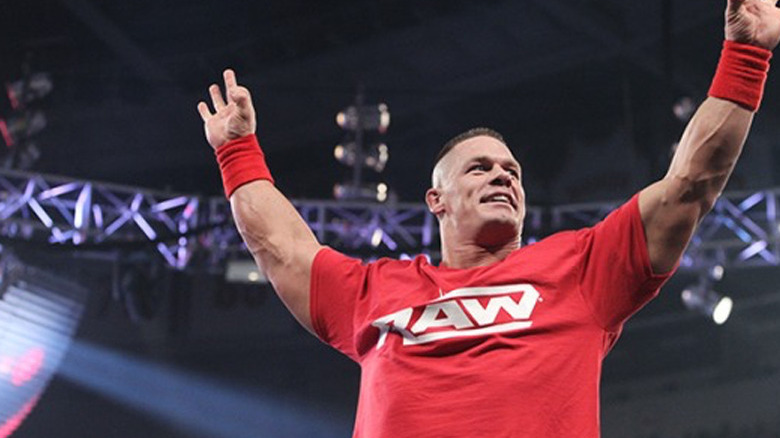 WWE
The WWE Draft has often resulted in many of WWE's coolest developments — and some of its more bewildering. Whatever your thoughts on the WWE draft are, there's no denying it led to one of John Cena's more baffling moments. 
During the 2011 draft, the show opened with a true shocker: Cena being drafted to "SmackDown." Cena had been a mainstay of "Raw" since 2005, so for many this change promised some interesting developments. A new environment and a different roster would've helped keep Cena's act fresh and energized.
However, this development was revealed to be just another frustrating example of the WWE toying with its audience yet again. Following the night's main event, the final televised draft picks were announced, which saw Cena sent back to "Raw." Cena then closed out the show re-donning his red "Raw" t-shirt, making us all wonder what the point of the switch even was.
Ruining Money in the Bank twice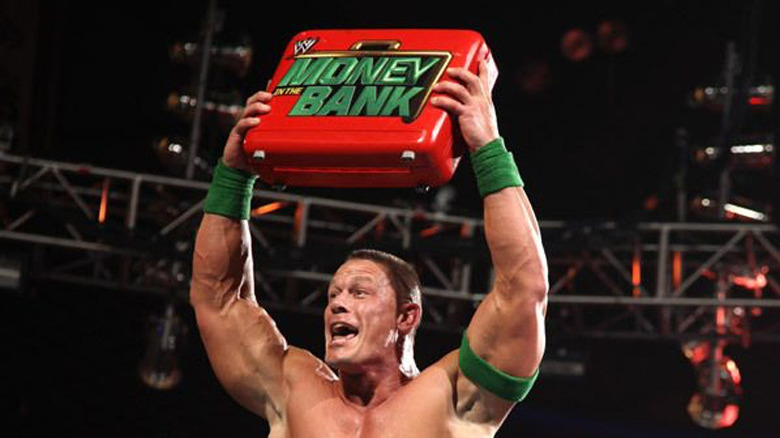 WWE
The Money in the Bank ladder match has served two purposes within WWE since its inception back in 2005: it's a golden ticket for a rising superstar, and it's WWE's get out of jail free card in terms of their booking. Whether a wrestler push isn't landing or a storyline isn't quite hitting the mark, the briefcase has always been a solid backup plan. With that in mind, it's fair to say that Cena should be kept away from the briefcase at all costs. This is due to Cena ruining a Money in the Bank cash in on two separate occasions, albeit in different ways.
The first time would occur after Cena actually won the match itself and would announce his cash in — as opposed to doing it on the fly like many. His match with CM Punk on "Raw 1000" ended via DQ thanks to Big Show, completely wasting the briefcase. His second time ruining Money in the Bank would come five years later and at the expense of Baron Corbin. Corbin, having won the briefcase for himself, seemed to be on track for a main event title run. However, following some comments made towards one of WWE's head doctors concerning concussions, Corbin would be humiliated for his verbal transgressions (via PWInsider). This resulted in Cena distracting Corbin during his cash in attempt, making Corbin only the second superstar to fail in doing so.
Embrace the Hate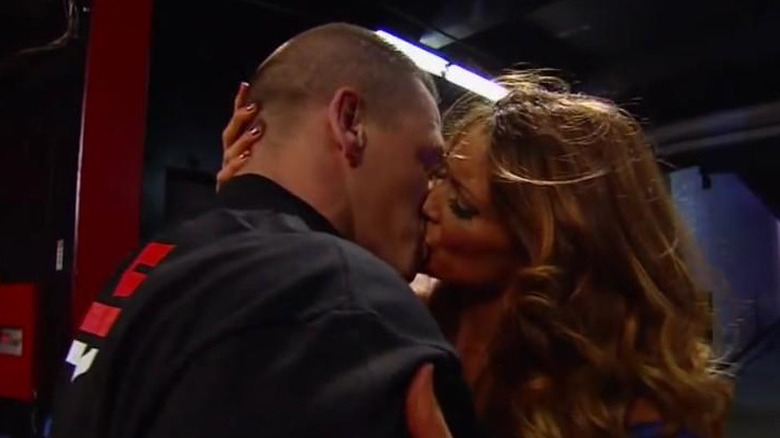 WWE
Often regarded as one of WWE's more baffling storylines of the 2010s, Embrace the Hate was indeed a special kind of stupid. Following his loss to The Rock at WrestleMania 28, Cena was tempted to join the dark side by a revamped Kane. Having returned from time on the shelf, Kane adopted a new variant of his masked persona complete with a darker edge. During this storyline, Kane opposed Cena's then-frequent motto to rise above hate, telling Cena to embrace the hate. But what started off as a promising storyline quickly devolved into complete lunacy, which would only increase week after week.
Zack Ryder, established as Cena's onscreen buddy, would suffer the most from the storyline, being turned into a completely helpless dork. In record time, Ryder went from a dynamite babyface and United States Champion to being thrown off the stage in a wheelchair by Kane. Cena also ended up kissing Ryder's on screen girlfriend Eve Torres, much to Zack's comically presented sadness. Cena, of course, won the day, vanquishing Kane back to the mid card and maintaining his moral high ground. Considering that WWE had a tentative heel turn planned for Cena at the time, this far from the best way to begin that change. For stifling Ryder's push and botching Kane's potentially fascinating rebranding, Embrace the Hate is a storyline we'd be better off forgetting.
All the pushes he's stifled
WWE
If three words have stuck to Cena's reputation for years like white on rice, they would be "Cena Wins LOL." This lovingly widespread meme was made in response to WWE's reliance on John Cena being in the top slot. For many fans, it became clear that it didn't matter how much they booed, because Cena would still win regardless. WWE always looking to maintain Cena's Superman-like image was coming at the expense of countless other wrestlers.
There have been many examples of this going as far back as Cena's title run in 2006, killing Umaga's monster push en route to WrestleMania. There was also the time Damien Sandow cashed in his Money in the Bank briefcase on Cena on "Raw." Cena soundly defeated Sandow, making the self proclaimed Intellectual Savior of the Masses the first person to come up short in a cash-in. Cena would even defeat both Bray Wyatt and Rusev at back to back WrestleMania events, halting any momentum they'd built up. This streak of hindering various wrestlers became so well known that it'd even be referenced in Cena's Firefly Funhouse match with Wyatt in 2020. It's bizarre to think where certain wrestlers would be in their careers if WWE had opted to put them over on Cena.