AEW Dynamite Live Coverage (08/10) - AEW Interim Title Match, TBS Title Match, Coffin Match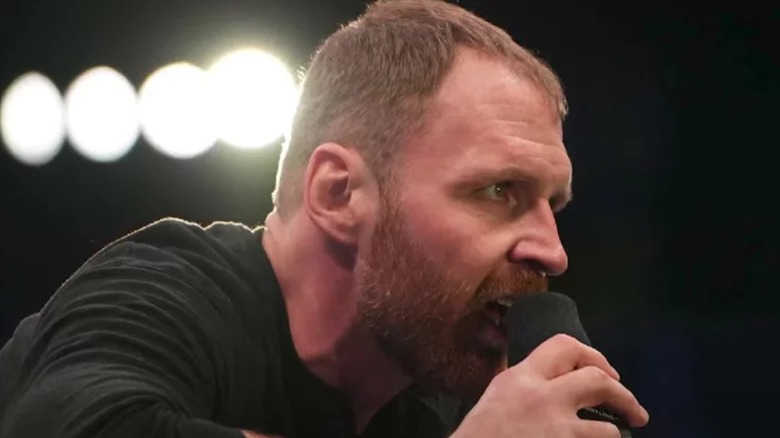 This is Wrestling INC.'s live coverage for AEW's Quake at the Lake event.
Blackpool Combat Club member Jon Moxley will be taking on Jericho Appreciation Society leader Chris Jericho for Moxley's AEW Interim World Championship. The previous champion, CM Punk, was sidelined with a broken foot and a tournament was held to crown a champion in the meantime. Moxley and Hiroshi Tanahashi would make it to the finals and Moxley would beat him for the title at Forbidden Door. Moxley had previously dethroned Jericho to become the World Champion last year during Revolution to begin his first title reign.
Darby Allin will be facing House of Black member Brody King in a Coffin Match. The two have been involved in a feud that has become increasingly more personal following the Royal Rampage show in July. King would put Allin to sleep before attacking Allin at a mall autograph signing a little after a week later. King would once again attack Allin, this time during San Diego Comic Con. King would then get a tattoo of a headstone with Allin's name on it, signaling that he would end him.
TBS Champion Jade Cargill will be putting her title on the line against AEW newcomer and wrestling veteran Madison Rayne. Cargill and Rayne have had a couple verbal altercations over the past couple weeks and have been out to get one another ever since. The Lucha Brothers will also be facing Andrade El Idolo and Rush in a Tornado Tag Team Match.
Darby Allin vs. Brody King in a Coffin Match
We are live in Minneapolis, MN! Taz, Excalibur, Jim Ross and Tony Schiavone greet audiences at home as King makes his way to the ring. Allin comes out of nowhere and jumps King. He sends him into the corner, then hits him with his skateboard covered in tacks along the bottom. He drives King's face into it and King begins bleeding from his head.
King hits a right hand and sends Allin flying over the table in the timekeeper's area. King breaks Allin's skateboard before Allin attacks him from behind. King and Allin climb to the top turnbuckle as Allin gouges King's eyes. Allin manages to hit an Avalanche Code Red and both men head to the outside. King sends Allin into the barricade, then delivers a super kick. King whips Allin into the opposite barricade as Allin lays lifeless. He sends Allin over the barricade and wipes the blood off his head.
King sets up tables on the outside and lays Allin on top. He goes for a splash off the top turnbuckle, but Allin moves out of the way and King crashes through the table. The lights go out in the arena before Malakai Black and Buddy Matthews shield King. Julia Hart causes a distraction, allowing Matthews to deliver a chop block. Black sets Allin up on a table in the corner as King delivers a cannonball to him, breaking the table. Matthews opens the coffin so they can put Allin in it, but Sting appears in it and jumps out to attack Matthews. Black grabs the bat from Sting and stares him down, but drops it and exits the ring. Sting goes after him and the two men stare one another down at the top of the ramp as Allin delivers a cannonball to King. King sends him into the barricade , but Allin fights him off with a chain and chokes King with his chain off the apron. He sends him into the coffin and it closes for the win.
Winner: Darby Allin
Jon Moxley then appears backstage and says that the AEW Interim Championship is about pain and how much the champion can endure. He says the Lion Heart is the last true survivor of the Hart Dungeon and he wants to find out how much pain he can endure.
Back from the break, Jericho is backstage and he says he'll beat Moxley. He tells Moxley to be careful of what he wishes for and says Stu Hart caused him pain he never wanted to think about again. He says you can heal a cut, but you can't fix what he's going to do to Moxley. He says he will be the next AEW Champion.
Back at ringside, Andrade El Idolo and Rush come to the ring with Jose the Assistant. The Lucha Brothers follow with Alex Abrahantes.
The Lucha Brothers vs. LFI in a Tornado Tag Team Match
AEW/TBS
The bell rings and the two teams start brawling. Penta hits Rush after flying off the top rope before Rush hits him with a power slam. Andrade sends Fenix into his brother, then the two pin the Lucha Brothers. The brothers kick out. Andrade and Rush send them out of the ring before they go flying over the top rope. Rush sends Fenix into the barricade.
Back from the break, Penta hits a Casadora DDT on Rush. Fenix delivers a hurricanrana to Andrade as Penta delivers a backstabber to him. The two double team on Andrade with a casadora splash combo before Penta goes for a pin. Andrade kicks out and Penta sends Fenix into him. The two hit a double thrust kick on Andrade and Rush to send them to the outside. The two fly over the top rope with a flip to take them out. They send Andrade back into the ring as Fenix looks for a Frog Splash off the top. Andrade gets his knees up and he looks for a thrust kick. Fenix moves out of the way and Andrade hits Rush by mistake. Andrade hits a double knees in the corner on Penta as Rush hits a power bomb on Fenix. Penta then hits a cutter on Rush. Penta hits a commiguri on Rush followed by a Canadian Destroyer to Andrade on the apron. He gets Rush in the same spot, but Rush counters with a knee.
Rush hits a head butt on Fenix before tying Penta's mask onto the middle rope. Penta looks to escape as Rush hits a missile drop kick and a piledriver. Penta unmasks himself in order to break the pinfall. Abrahantes tosses Penta an extra mask, but Andrade intercepts it. Andrade delivers a series of kicks to Fenix in the corner before Rush hits the Bull Horns. El Idolo hits the Hammerlock DDT for the win to massive boos.
Winners: Andrade El Idolo and Rush
We head backstage to The Young Bucks. They approach the Dark Order and Hangman Page. They thank Page for saving them last week as Matt says they aren't proud of how they treated him. He says his favorite time in his career was when him, his brother and Page were together. Matt says thinks got weird when they headed to AEW and apologizes to Page. Matt says he was proud when he won the AEW World Title, but couldn't get the courage to tell him. He says he can never get those years back and says that while they might be bad people, Page brings out the good in them. He asks Page to be their trios partner. Page says while he would love to, he can't because they weren't there for him. He says the Dark Order were and he wants to have their back. He says he'll be in their corner and not in the tournament. Matt says it's cool and they awkwardly walk away, upset.
Back at ringside, Jungle Boy heads to the ring and joins commentary. Luchasaurus heads to the ring, with Anthony Henry already waiting in the ring.
Luchasaurus vs. Anthony Henry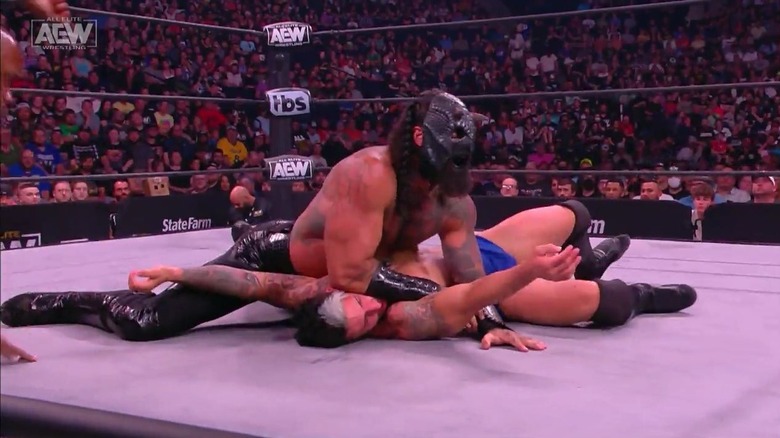 AEW/TBS
The bell rings and Henry goes straight after Luchasaurus. Luchasaurus hits a German Suplex, followed by a head butt and a spine buster for the win.
Winner: Luchasaurus
After the match, Christian Cage appears on screen. He says he was going to rip his head set off, but Minneapolis doesn't deserve to see him. Jungle Boy finds him backstage as security holds him back. Luchasaurus takes them down and head butts Pat Buck.
Backstage, we head to Miro. Julia Hart approaches Miro and tells him to embrace the darkness like she did. He says only one woman can touch him and he now knows his path is to destroy the House of Black.
We hear from Jay Lethal, Sonjay Dutt and The Jericho Appreciation Society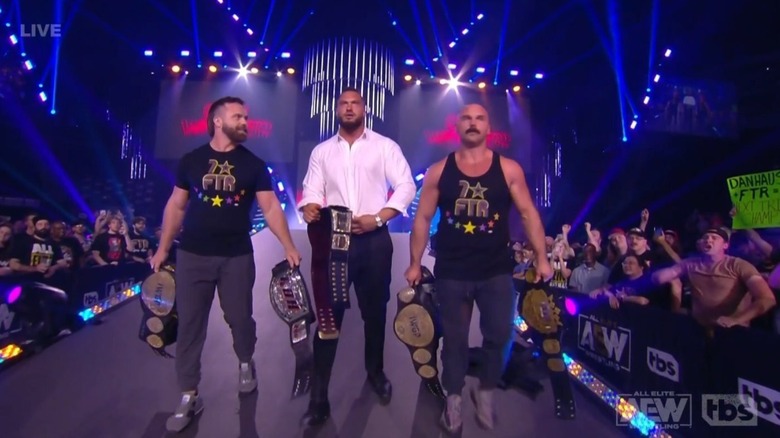 AEW/TBS
Backstage, Powerhouse Hobbs is with Mark Henry. The Factory approaches him and says they can take care of Starks. Hobbs tells them not to make his problem theirs.
Back at ringside, Jay Lethal, Sonjay Dutt and Satnam Singh head to the ring. Dutt says he is on a high after Battle of the Belts 3. He says they did the unthinkable to Wardlow and they aren't done with him yet. Lethal says that they will come find him again if he doesn't come to them for the title. Wardlow comes to the ring and says they can get their title shot if he can beat all three of them. FTR's music hits and they come to the ring. Lethal, Dutt and Singh retreat and the six men stare one another down. Lethal tries to attack the men from behind, but Wardlow catches him as FTR delivers the Big Rig to him. We head backstage to Jericho Appreciation Society. They say they have a Little Bit of the Bubbly for later and Garcia says he owns Danielson because he is the Dragon Slayer. Anna Jay chokes out a backstage official.
Ricky Starks vs. Aaron Solo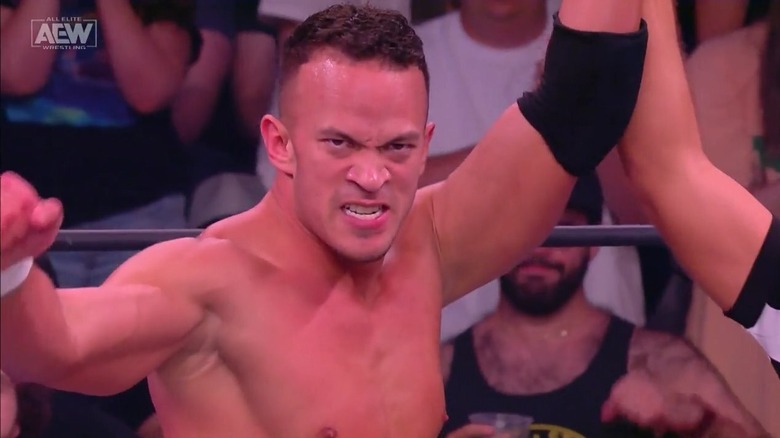 AEW/TBS
Back at ringside, The Factory come to the ring. Ricky Starks follows. The bell rings and Solo charges at Starks. Starks takes Solo down with a clothesline before Cole Karter causes a distraction, allowing Solo to get the upper hand. Solo hits him under the chin, but Starks comes back with a DDT. He hits the Spear on Solo for the win.
Winner: Ricky Starks
After the match, Comoroto heads to the ring with a chair. Starks hits a spine buster before Solo attacks him from behind. Starks escapes through the audience as the other members of the Factory chase after him. We go backstage and see an angry Powerhouse Hobbs smash a table.
We head backstage to Lexy Nair and the Gunn Club. Billy asks his sons how they would single handed ruin a match he created. Stokley Hathaway approaches Austin and Colten and offers them his card. Billy tells him to have a bad day. Billy says he made a match for them on "Rampage" before Danhausen walks in and says he can't wait to meet him in the ring with the big bearded guy (AKA Erick Redbeard).
Jade Cargill vs. Madison Rayne for the TBS Championship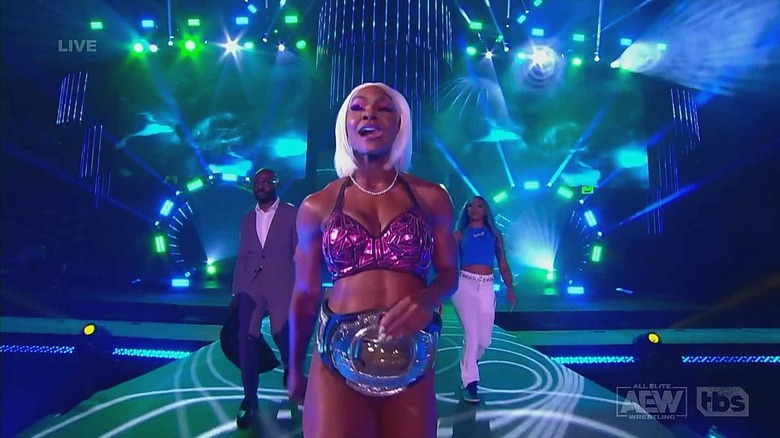 AEW/TBS
Back from the break, the Best Friends and Orange Cassidy are approached by the Trustbusters. Ari Daivari offers Cassidy a spot in the group to launch him into superstardom and he says no. Daivari says he will learn first hand what happens to people who say no to him.
Back at ringside, Madison Rayne comes to the ring, followed by Jade Cargill, Kiera Hogan and Stokley Hathaway.
The bell rings and Cargill pushes Rayne. Rayne delivers a forearm before Cargill delivers a kick to Rayne's midsection. Rayne delivers a drop kick and sends her to the outside. Rayne looks for a knee off the apron, but Cargill gets her up. Rayne gets out of it with a hurricanrana and sends her into the barricade. Cargill gets back into the ring and Rayne followed, but Cargill spears her as she enters the ring. Cargill delivers a suplex to Rayne before tossing her across the ring and gloating. She does some push ups before delivering a kick to her midsection. Cargill delivers a back elbow to Rayne before firing off several forearm shots. She delivers a leaping elbow to Rayne before continuing to beat her down. Rayne manages to hit a jawbreaker, followed by a hanging neck breaker. She hits a flipping neck breaker, then goes for a pin but Cargill kicks out. Rayne delivers a DDT and goes for another pin, but Cargill kicks out. 
Kiera Hogan hops up on the apron to cause a distraction and Cargill goes to hit a pump kick, but hits Hogan by mistake. Rayne looks for the Cross Raynes, but Cargill counters and hits The Jaded for the win. bringing her winning streak up to 36-0.
Winner: Jade Cargill
After the match, Athena, disguised as a Baddie, attacks Cargill out of nowhere with forearms before Hogan pulls Cargill out of the ring.
We then head backstage to ThunderStorm. Rosa says she has Storm's back in her upcoming match next week, but Storm says she's ultimately here to win the AEW Women's Championship. Rosa says they'll discuss it another time.
Jon Moxley (c) vs. Chris Jericho for the AEW Interim World Championship
Chris Jericho comes to the ring, followed by Jon Moxley. William Regal joins commentary. 
The bell rings as Jericho gives Moxley the middle finger. Jericho hits a couple arm drags on Moxley before the two lock up. Jericho gets Moxley into a headlock before Moxley escapes. Moxley hits several chops before the two men begin exchanging them. Moxley hits Jericho with a kick to his back, but Jericho fires back with one of his own. Jericho pulls Moxley's earring out of his ear before hitting a drop kick to Moxley that sends him to the outside. Jericho gloats in the ring, priding Moxley's earring.
Jericho tosses Moxley back into the ring and kicks him in the corner. Moxley hits several chops on Jericho before Jericho sends him to the mat. Moxley delivers a clothesline to Jericho out of the corner as Moxley hits an uppercut. Jericho hits a double underhook back breaker, followed by a lariat. He delivers a lion sault, then goes for a pin but Moxley kicks out. Jericho hits some elbows on Moxley's face, but Moxley manages to counter into an ankle lock. Jericho hits a double kick on Moxley before Moxley hits a German Suplex. Jericho returns the favor and delivers a chop to his chest. Jericho delivers a teharis off the top, then goes for a pin but Moxley gets his foot under the rope.
Jericho hits Moxley's foot on the ring post before wrenching in the Figure Four Lock on the ring post. The referee breaks it up, but Moxley manages to lock in a cross face. Jericho escapes and locks in the Walls of Jericho. Moxley manages to escape after being locked in it throughout the entire commercial break. Moxley delivers a springboard to send Jericho out of the ring, followed by a Diving Double Sledge off the top turn buckle. 
The crowd cheers 'this is awesome' as the two men enter the ring. Moxley looks for another sledge off the top. Jericho counters into a Code Breaker and goes for a pin but Moxley kicks out. Jericho begins to rip the pads off the turn buckles as Sammy Guevara tosses a pair of brass knuckles into the ring from the crowd. Guevara over shoots it and Jericho goes to retrieve it. He hits Moxley with them and goes for a pin but Moxley kicks out. Moxley sends Jericho face first into one of the exposed turn buckled, then hits the Judas Effect. He goes for a pin, but Moxley kicks out at the last second. Jericho grabs the AEW Interim World Championship from the outside, but Moxley moves out of the way when Jericho goes to hit him. Moxley locks in the Rear Naked Chokehold, but Jericho counters it back into the Walls of Jericho. Moxley escapes and fires down elbows on Jericho's back. He locks the Rear Naked Chokehold back in on the mat and Jericho taps out.
Winner: Jon Moxley
The Fallout Of Moxley vs. Jericho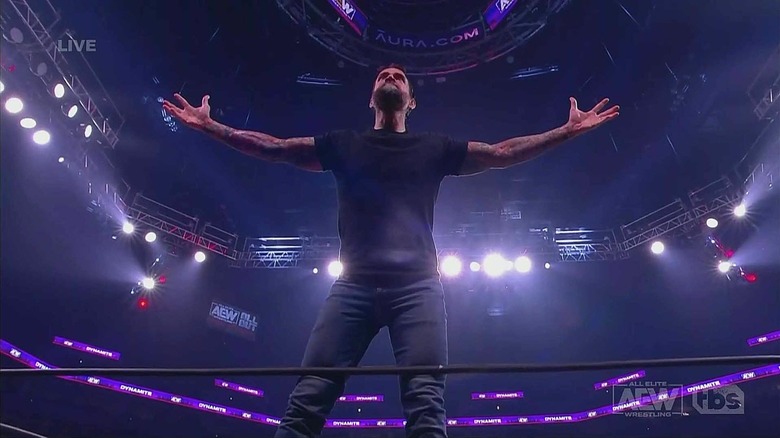 AEW/TBS
After the match, Sammy Guevara and Jake Hager attack Moxley from behind. Blackpool Combat Club, Eddie Kingston and Ortiz run down to make the save as everyone starts brawling with one another. The rest of the Jericho Appreciation Society runs down to the ring and everyone starts beating one another down. Jericho has the AEW Interim World Championship in hand before CM Punk's music hits and he makes his return! Punk takes the Jericho Appreciation Society down and sends them out of the ring. Moxley and Punk are the only two men left in the ring as the crowd cheers loudly for Punk. The two men come face to face and stare one another down. Moxley gives Punk the middle finger and shoulder checks him as he leaves the ring while commentary remind the audience that the AEW Interim World Championship and AEW World Championship must be unified at some point.