The Best Samoa Joe Matches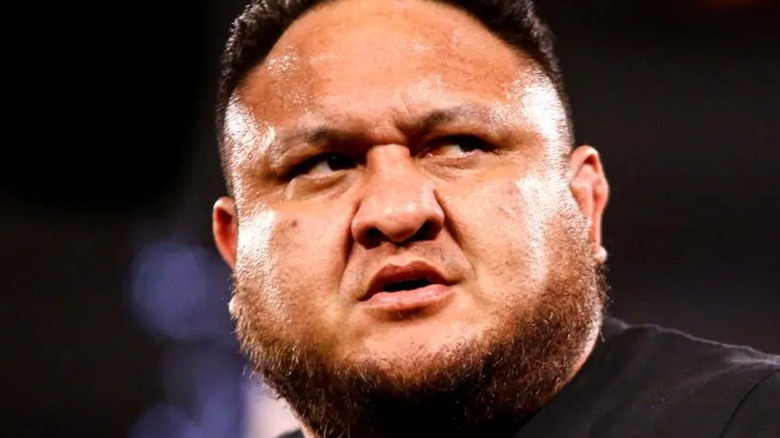 WWE
Every so often, a talent comes along in professional wrestling that catches on in a way that's almost indescribable. One such talent is Samoa Joe who, ever since his arrival in the early 2000s, has become one of the industry's most beloved names. When it comes to raw intimidation, few have the natural menace and simultaneous mean streak of Samoan Submission Machine. When Joe steps between the ropes, you know you are in for a hard hitting matchup like no other. The man just exudes a malicious swagger that simply says danger is en route.
After over 20 years in the business, Joe has been everywhere from ROH to WWE and faced just about everyone. From grisly deathmatches to eclectic triple threats, Joe has quite the resume of impressive and endlessly rewatchable matchups. Listed here are some matches spanning Joe's extremely eventful career that you owe it to yourself to watch.
Samoa Joe vs CM Punk — ROH World Title Classic 2004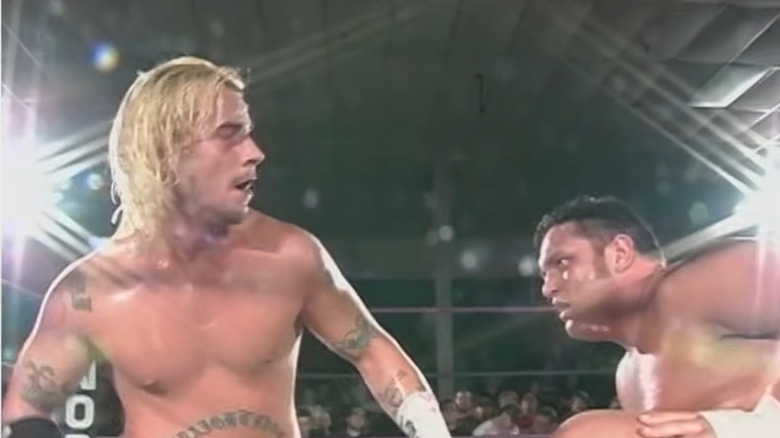 Ring of Honor
We couldn't have a list regarding the best Samoa Joe matches without mentioning this classic and its subsequent sequels. Along with Joe, many names have helped to define the last two decades in pro wrestling, and one such name is CM Punk. The self proclaimed Best in the World has most certainly lived up to that moniker, providing the indies and beyond with some amazing moments. Many of those moments occurred through his epic trilogy with Samoa Joe in Ring of Honor.
This first encounter, from the 2004 ROH World Title Classic, served as the first installment in their epic saga. Neither Joe or Punk were keen on going home as the loser, so both men left absolutely everything in the ring. Joe's streak of dominance had been well established by this point, which made Punk's resilience all the more impressive. The match wouldn't have a definitive winner, with both men outlasting each other until the 60 minute time limit had elapsed. Oftentimes time limit draws can be a bit deflating — but not so in this case, with the finish serving to protect both men.
Samoa Joe vs. CM Punk II — Joe vs. Punk II 2004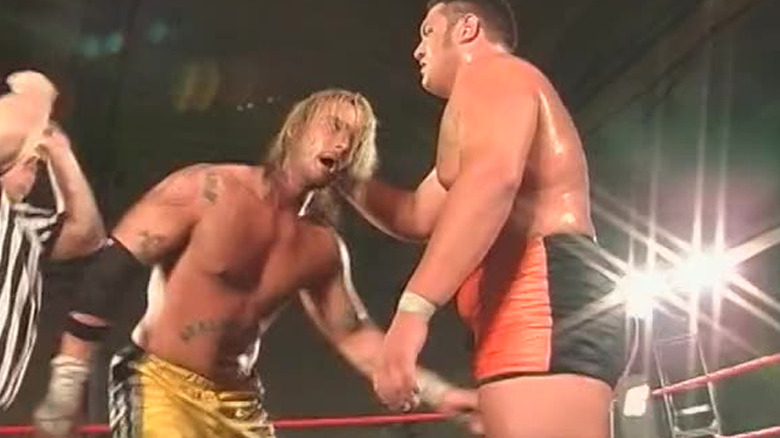 Ring of Honor
With their first encounter ending in a time limit draw, a rematch between Joe and Punk was only natural. This rematch was so eagerly anticipated that ROH opted to go all in and name the encompassing event Joe Vs. Punk II. En route to this rematch, however, something curious happened: Joe would suffer a non-title pinfall loss to Colt Cabana. This was a definite black mark on Joe's dominance streak and had fans thinking that Punk, Cabana's then-close friend, could win. Heading into round two with Joe, Punk was more confident he could finally defeat the Samoan Submission machine.
To say that the sequel was as good as the original would be a gross understatement. Not only was the match well received by the ROH fans, but it received the coveted five star rating from Dave Meltzer! Both Punk and Joe were more prepared for each other this time around. However, after an hour of vicious exchanges and near-pinfalls with neither man relenting, the clock expired — again. Once again, Joe and Punk had taken each other to the absolute limit, with neither man getting the definitive win.
Samoa Joe vs. CM Punk III — All Star Extravaganza II 2004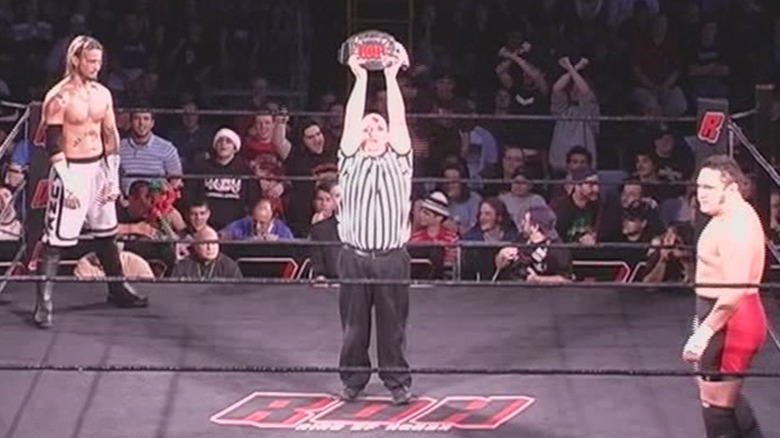 Ring of Honor
If ever a feud needed a rubber match and a deciding win, it was most definitely Samoa Joe and CM Punk's epic trilogy. ROH opted to amend the time limit expirations of the previous two matches with a simple fix — by having no time limit. Backed by a crowd of ravenous fans and all the time in the world, both men looked to end their saga in decisive fashion. Much like their two previous encounters, neither man left anything to chance, with Punk taking advantage of the extra time to gradually wear down Joe. After two subsequent hour-long matches, both men had a solid understanding of each other's respective offense and counters.
However, unlike rounds one and two, this match would actually have a decisive finish and a clear winner. After 30 minutes of brutal back and forth combat, Joe decimated Punk with a series of different suplexes before cinching in the choke. The referee called for the bell and, at long last, Samoa Joe finally beat CM Punk which put an end to their now-legendary trilogy. While their second outing is widely regarded as their strongest, this finale is still an exemplary 30 minutes of professional wrestling.
Samoa Joe vs. Jay Briscoe — ROH At Our Best 2004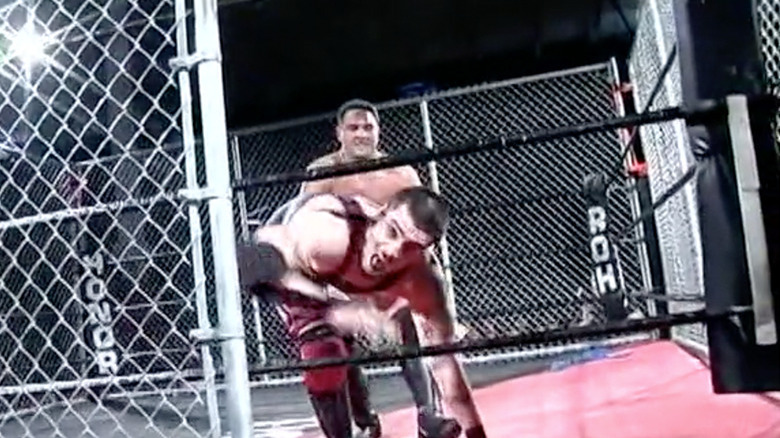 Ring of Honor
The Briscoe Brothers, Jay and Mark, are one of pro wrestling's best tag team duos. However, both brothers have seen plenty of success competing as singles competitors as well, especially Jay Briscoe. Flying solo, Jay has been the ROH World Champion on two separate occasions, with his second reign lasting 286 days. Briscoe's mean streak has become well documented, being able to dish out beating and endure more punishment than most.
Early on in his career, Jay found himself in the main event of ROH At Our Best 2004, staring down Samoa Joe. This encounter took place inside of a daunting steel cage, making for a truly brutal one-on-one championship matchup. The joy of watching this one comes from its legitimately unnerving violence, with Briscoe wearing an impressive crimson mask. But the other drawing factor is just how this match convinces you that Joe might be on the verge of losing. Briscoe's never-say-die attitude, spurred on by literal blood, sweat, and tears makes for a truly compelling matchup. Additionally, Joe's super muscle buster — which closes out the match — is a visual that will definitely stand the test of time.
Samoa Joe vs. Homicide — ROH Generation Next 2004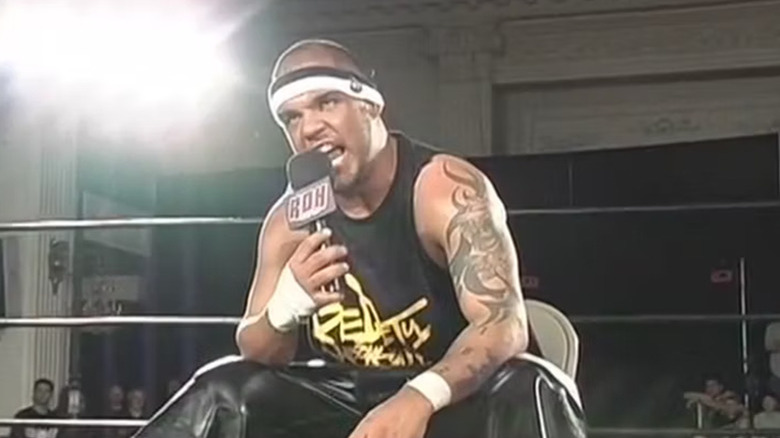 Ring of Honor
When you see Samoa Joe walking down the ramp, you know for a fact that danger incarnate is on its way. However, the same can be said for his opponent from ROH Generation Next 2004, the Notorious 187 and fellow indy legend, Homicide. Simply put, Homicide has been an institution of independent wrestling for over 20 years, serving as a guiding force for many wrestlers. The man possesses an incomparable swagger and a sense of unpredictability that has become increasingly sparse in modern wrestling. Never afraid to spill some blood, his or anyone else's, he was an absolutely perfect opponent for Samoa Joe.
The match began, as was the norm for ROH, with a cascade of streamers, which both men cleared a warpath through almost immediately. Joe has often done best with opponents who complement his often hard hitting style, with Homicide being no exception. At the peak of the match's violence, Homicide bust out his frequently used fork to horrifically jab at Joe's cranium. In an impressive exchange, Joe was able to break out of Homicide's Cop Killa and deck the Notorious 187 with a devastating lariat. One muscle buster later and Joe secured the win, successfully holding onto his ROH Championship title.
Samoa Joe vs. Kenta Kobashi — Ring of Honor 10/1/05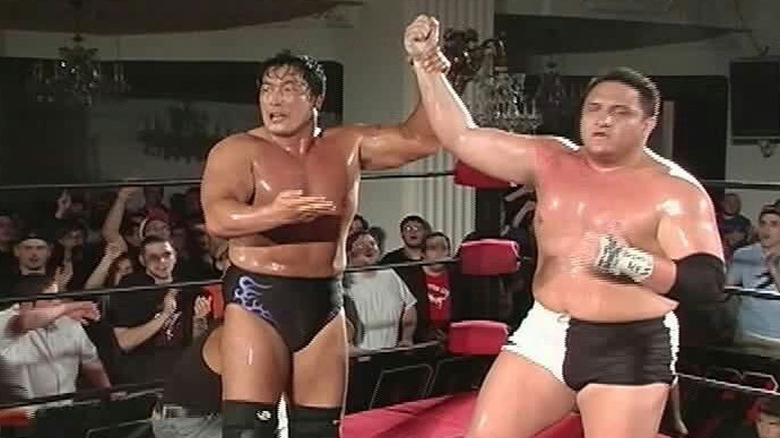 Ring of Honor
There's a reason why this matchup is often regarded as one of the finest matches in independent wrestling history. Best known for his work in All Japan Pro Wrestling and Pro Wrestling NOAH, Kenta Kobashi is truly Japanese wrestling royalty. It made sense for Kobashi to stake his claim on United States soil as well, in the form of a Ring of Honor match with Samoa Joe. Considering Joe's style, an impressive blend of hard hitting strikes and mind blowing agility, this was a (literal) match made in heaven.
Per an interview with Steve Austin, Joe revealed that Kobashi was unsure if American fans were even aware of his work. Once he stepped through the curtain and heard the crowd's epic reaction, those fears were put to bed. The match itself, much like many Samoa Joe matches, is an all out war, with both men hitting each other with absolute bombs. From endless chops to decapitation-worthy lariats, the match is testament to the winners of human endurance. Kobashi was the one who left with the victory, but both men could rest easy knowing they'd produced an unparalleled modern classic.
Samoa Joe vs. Necro Butcher — IWA-MS Something to Prove 2005
Every once in a blue moon, a match comes along that succeeds at being a complete car wreck by design. When it came to living on the edge of sanity, few pushed more boundaries than the demented Necro Butcher. From ROH to IWA Mid-South to CZW, the man was known for two things: wrestling barefoot and spilling gallons of blood. It was his run in IWA Mid-South that led him to one of his highest profile matches, a brutal encounter with Samoa Joe. The best way to describe this match would be somewhere between a street fight and "The Texas Chainsaw Massacre." The match is a simultaneously disturbing yet immensely exhilarating matchup between two psychopaths. 
Between Joe's unyielding strikes to Necro's refusal to stay down, the match reaches maximum discomfort — aided by Necro bleeding like a stuck pig. The encounter ended, appropriately enough, with neither pin or submission, but with Joe getting the win via knockout. If you want a match that'll test your endurance in the best possible way, definitely throw this one on. Fair warning, however: once you subject yourself to this bloodbath, there's a good chance that you'll never be the same.
Samoa Joe vs. AJ Styles vs. Christopher Daniels — TNA Unbreakable 2005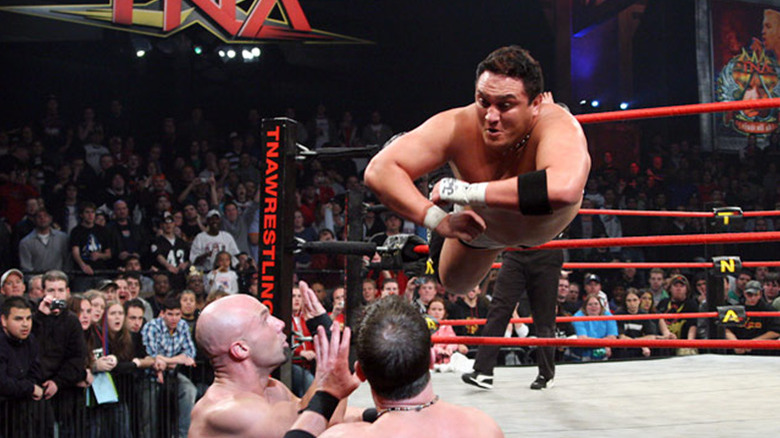 Impact Wrestling
It's widely regarded as one of TNA Impact's best matches, and it's not hard to see how. All competitors — Samoa Joe, AJ Styles, and Christopher Daniels — brought their A-games to the match. At its core, the X-Division was similar to the WWE Cruiserweight division but without any active weight limit, focusing more on risk. This meant a man of Joe's size could mix it up with the likes of Styles and Daniels without any issue. The division's broad range of in-ring styles definitely made for some utterly superb matchups, this one being no exception.
What helps this triple threat stand out is just how involved all three men are for the full 20 minutes. Many triple threat matches will see two men work while one man takes a turn on the outside recovering. Here, however, all three are consistently in the mix with each other, resulting in some electric double teams and heartstopping pin breaks. Compared to what WWE was producing around the same time, the difference in quality is honestly staggering. When someone wants to illustrate just how good Impact was back in the '00s, this match is usually a top shelf example.
Samoa Joe vs. AJ Styles – TNA Turning Point 2005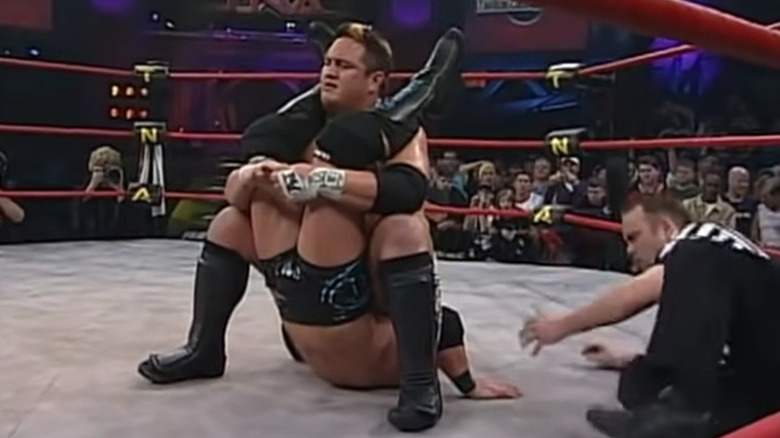 Impact Wrestling
When AJ Styles is in the ring, you are usually due for a pro wrestling match like few others. Styles and Joe always had tremendous in-ring chemistry, especially during the 2000s, and this match is a stellar example. Despite his larger physique, mixing it up with TNA's agile X-Division competitors was often a breeze for the Samoan Submission Machine. After Joe ruthlessly assaulted Christopher Daniels, then-current X-Division champion Styles challenged the undefeated Joe to a match. The two ended up squaring off at TNA Turning Point 2005 in what would turn out to be a mind blowing encounter.
Styles made it clear from the millisecond the bell rang that he knew Joe was not to take him lightly, quickly hitting Joe with a flurry of moves. Joe, of course, fought back in dominant fashion, beating Style from pillar to post and even outside of the ring. This match saw both men at the respective peaks giving each other, and the crowd in attendance, all that they had. While not quite meeting the high mark of its triple threat predecessor from three months prior, this was still an impressive outing.
Samoa Joe vs. Bryan Danielson — ROH Fight of the Century 2006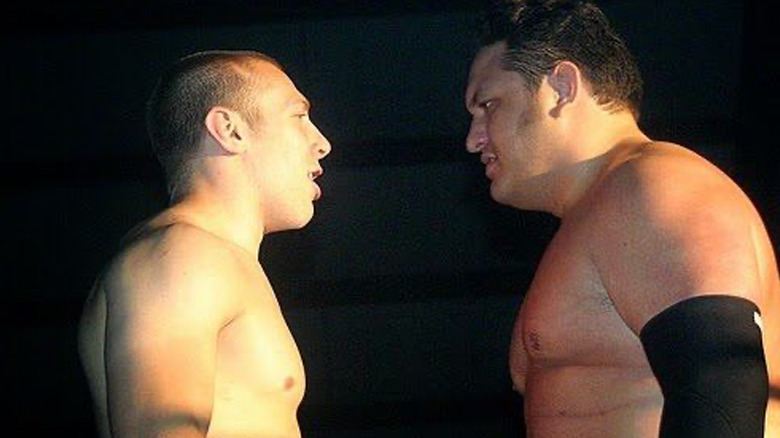 Ring of Honor
No list of great professional wrestling matches would be complete without a visit from the American Dragon, Bryan Danielson. Honestly, there isn't a whole lot of complexity involved in this one, just a great encounter between two stellar competitors. Danielson is widely regarded as one of professional wrestling's finest, due in part to his ability to have a good match with just about anyone. So when you put him across the ring from someone like Samoa Joe, there's a good chance sparks are gonna fly.
Their match from ROH Fight of the Century 2006, for example, is one of their finest outings as opponents. What adds to the drama here is the level of selling from both men, making each other's beatings look as real as possible. Every strike, every blow, every submission hold looked like absolute hell for whoever was on the receiving end. Both Joe and Bryan would battle to the bitter end, with neither man securing the win before the time limit expired. If your blood isn't pumping by the final moments of this one, you might need to check with a doctor.
Samoa Joe vs. Kurt Angle — Lockdown 2008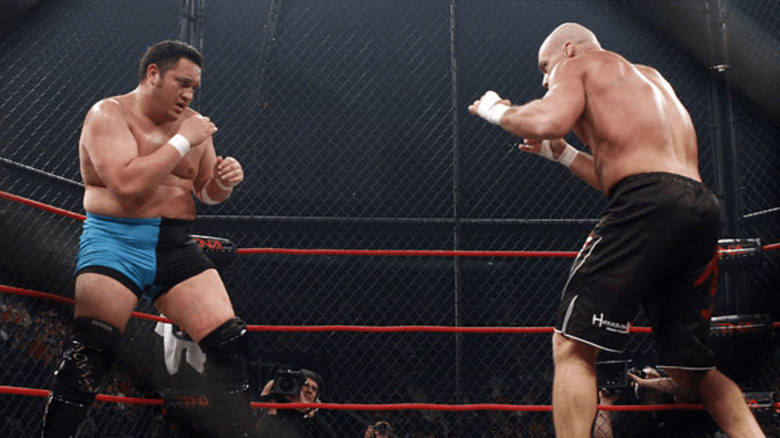 Impact Wrestling
During their time in Impact Wrestling, both Samoa Joe and Kurt Angle truly brought the best out of each other. It's fair to say that, upon arrival, Kurt Angle became Impact's top draw — serving as both a heel and a babyface during his stint. Angle, who showed little ring rust amidst his transition from WWE to TNA, quickly established himself as a top tier destroyer. Angle and Joe encountered each other many times during their respective runs in Impact, resulting in several epic matchups. However, their most impressive outing is still their epic six sided cage match from the 2008 edition of TNA Lockdown.
One of the hooks for this match, aside from the cage, was Kurt's use of MMA-style combat to contend with Joe. This storyline addition definitely played into the match, making for a truly raucous combo of MMA and pro wrestling moves. This match also paid off Joe's long hunt for the TNA Heavyweight Championship, finally defeating Angle for the gold. Much like his cage match with Jay Briscoe, this encounter definitely put Joe together with someone who could match his mean streak. Any of Joe and Angle's one-on-one encounters are worth a watch, but this brutal battle still has a strong place in many fan's hearts.
Samoa Joe vs. Shinsuke Nakamura — NXT Takeover Brooklyn II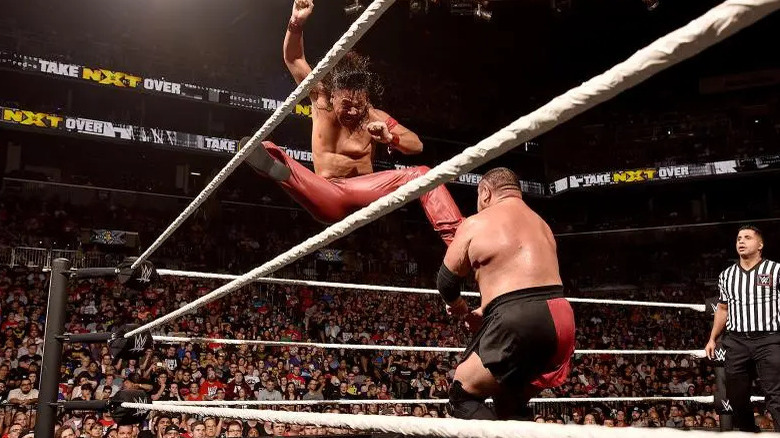 WWE
When Samoa Joe finally arrived in NXT back in 2015, it was beyond surreal to finally see the Samoan Submission Machine in WWE. By the time 2016 rolled around, NXT's rise to prominence could be described as meteoric, and for good reason. Not only was the brand selling out larger and larger venues, but they were stuffed to the gills with marquee talent. Among these talents were Joe, on a dominant run as NXT Champion, and the self proclaimed King of Strong Style, then-recent signee Shinsuke Nakamura. Known for his stiff, hard-hitting style from NJPW, Nakamura was a sizable get for the black and yellow brand.
Held in front of a hot Brooklyn crowd during SummerSlam weekend, the match was definitely well deserving of the main event slot. Joe and Nakamura's strike based and more grounded combat styles complimented each other perfectly, with both men taking an equal amount of punishment. The match, while exceptional, is hindered ever so slightly by an ill timed jaw injury for Samoa Joe, expediting the match's finish. Despite this, it's still a stellar main event from a pivotal year for the NXT brand and a glorious showcase for both men. Additionally, Nakumara overcoming Samoa Joe in grand fashion was a surefire way to solidify his ever rising popularity.