Facts About Hiroshi Tanahashi Only Hardcore Fans Know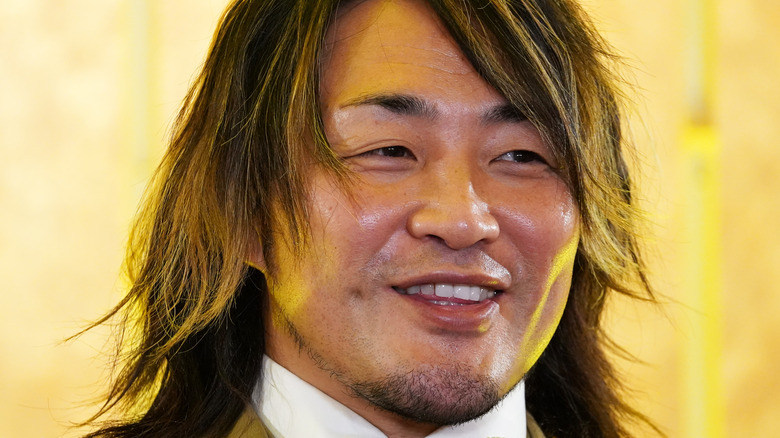 Etsuo Hara/Getty Images
When it comes to New Japan Pro Wrestling (NJPW), few names truly exemplify the promotion quite like Hiroshi Tanahashi. The man known as "The Ace of the Universe" is often credited with carrying the promotion during its lean years in the 2000s and helping elevate the brand to major growth and popularity, not only in Japan but all over the world.
Tanahashi has lived a fascinating life both in and out of the ring, filled with incredible ups and downs that have influenced his peers and generations of wrestlers that followed. His decades-long career is decorated with a massive number of accolades that most wrestlers only dream of achieving. He still remains one of the biggest names and draws in NJPW today, and he shows no signs of slowing down and/or retiring anytime soon.
There is truly only one "Ace," as we'll explore in these lesser-known facts about Hiroshi Tanahashi.
Like other wrestlers, Tanahashi got bit by the acting bug
Plenty of wrestlers have attempted careers in acting for better (Dwayne "The Rock" Johnson) and for worse (Hulk Hogan). Hiroshi Tanahashi can be counted among those actors who have taken a step out of the squared circle and onto the silver screen.
Tanahashi starred in the 2018 film "My Dad Is a Heel Wrestler." The film is an adaptation of a popular Japanese children's book by Masahiro Itabashi and Hisanori Yoshida. The film's plot centers around a young son discovering his dad is a universally hated wrestler named Cockroach Mask.
Tanahashi isn't the only popular wrestler that appears in the film. A number of NJPW wrestlers are featured in the film including Kazuchika Okada, Hiromu Takahashi, Hirooki Goto, Yuji Nagata, Ryusuke Taguchi, Togi Makabe, and more.
Currently, "My Dad Is a Heel Wrestler" has an audience score of 60% on Rotten Tomatoes.
He was stabbed twice by an ex-girlfriend
Tanahashi had a terrifying close call in November 2002 after he was stabbed twice in the back by his ex-girlfriend, TV personality Hitomi Hara.
According to UPI, the stabbing happened after Tanahashi broke up with Hara, telling her he met someone else. Hara was initially charged with attempted murder after telling authorities she tried to kill Tanahashi and then was going to take her own life. She was sentenced to three years in prison, but ended up serving four years of probation. The judge in Hara's case opted for probation because, "She committed the crime only after becoming emotional."
Tanahashi suffered a collapsed lung as a result of the stabbing, which prevented him in taking part in the 2003's January 4 Tokyo Dome Show, which would be later branded Wrestle Kingdom in 2007. He recalled during his autobiographical "Ace's High" interview series with NJPW, "Looking back, it was a bit selfish of me, to want to be back for the Tokyo Dome. In the end, I couldn't get back in time, and I ended up being in Manabu Nakanishi and Masahiro Chono's corner ... The thing is even if I were put into a match I was in no state to have a good one. You have to remember I was coming back from a collapsed lung; when I sparred with Chono I was absolutely blown up inside of a couple of minutes."
Tanahashi returned to in-ring action in February 2003.
Tanahashi is a super-fan of a classic Japanese superhero
Wrestlers aren't immune to fandom, and that's definitely the case for Tanahashi, who's a super fan of the Japanese superhero franchise "Kamen Rider." The franchise has existed since the early '70s and consists of multiple television series, TV specials, films, a slew of merchandise and more.
Tanahashi is such a known super fan of "Kamen Rider" that he was cast in the 2016 film "Kamen Rider Heisei Generations: Dr. Pac-Man vs. Ex-Aid & Ghost with Legend Rider." The film centered around a computer virus called "Pac-Man" that was wrecking havoc across Japan. Tanahashi played Soji Kuruse, a villain who worked alongside the creator of the "Pac-Man" virus.
The "Kamen Rider" universe also includes various albums from groups that were created and inspired by the series. With album releases come music videos, and Tanahashi has appeared in two "Kamen Rider" music videos. The first video came out in 2011 for the song "Kamen Rider V3," which was the theme of the series of the same name. The second video came out in 2012 for the song "Life is Showtime," which was the theme of the series "Kamen Rider Wizard."
His Kamen Rider super-fandom has impacted his presentation
There are many elements of Tanahashi's presentation that have been inspired by "Kamen Rider." To begin with, his ring gear, especially his elaborate jackets, are noted to be heavily inspired by various characters from the many "Kamen Rider" series, according to The Illuminerdi. Tanahashi will even share photos via Twitter of his gear alongside images of "Kamen Rider" characters. For example, his 2021 ring jacket was inspired by Kamen Rider Saber.
Another notable part of Tanahashi inspired by "Kamen Rider" is the hand gesture he uses while posing. This gesture is also used by the character Kamen Rider Kabuto, who Tanahashi has cited has his favorite character. Tanahashi has used "Kamen Rider" as inspiration for one of his elaborate hair styles he often dons for major matches. One particular style was based on Kamen Rider Build, featuring red and blue coloring scattered throughout his hair.
He wrestled with torn ligaments for seven years and worked through other major injuries
In his "Ace's High" interview with NJPW, Tanahashi recalled wrestling with Kensuke Sasaki against the Steiner Brothers in May 2002. He said, "I'd actually torn my ACL two weeks before. I should have been out for two months, but I had it patched up ... The older brother, Rick, just threw me on my head with all these German suplexes, I was scared for my life. The pressure about being in the semi-main event were one thing, but I was more worried about my body holding together."
In April 2008, Tanahashi took part All Japan Pro Wrestling's Champion Carnival, during which he sustained an injury to his quad. Shortly after the tournament, he sustained another torn ACL and PCL on top of the quad injury. Tanahashi told NJPW, "When I went to get [those injuries] looked at, they found I'd torn the ligaments as well. But the truth was, it wasn't the Carnival that did it. I'd been carrying that injury since 2001 ... I wrestled Silver King, and when I went to pick his leg, he countered with a basement dropkick. My leg bent back the wrong way; looking back, that has to be when it happened ... When the swelling went down it got better, and I would tape it up. When I finally got the MRI done the doctor said there was no way it could have been a recent injury, so I flashed back to 2001."
Wrestling wasn't his first dream job
Many people that become wrestlers spend most of their time growing up dreaming and working towards a life inside the ring. Tanahashi, however, had different plans, at first.
Growing up, Tanahashi was a big fan of the Chunichi Dragons of the Nippon Professional Baseball league, the Japanese equivalent of Major League Baseball in the United States. He played on various school teams growing up and had dreams of going pro, but he admitted during his "Ace's High" interview with NJPW, he just didn't have the talent. "It just seemed I couldn't get anywhere with it," Tanahashi said. "No matter how hard I practiced I wasn't getting any better."
Around his junior year of high school, he considered studying journalism so he could cover baseball instead, but during that time, he started getting into wrestling, too. "Here came this completely different, awesome thing into my life," Tanahashi recalled. "It might sound hokey but wrestling made life a lot more worth living to me."
His ring gear inspired the gear of another wrestler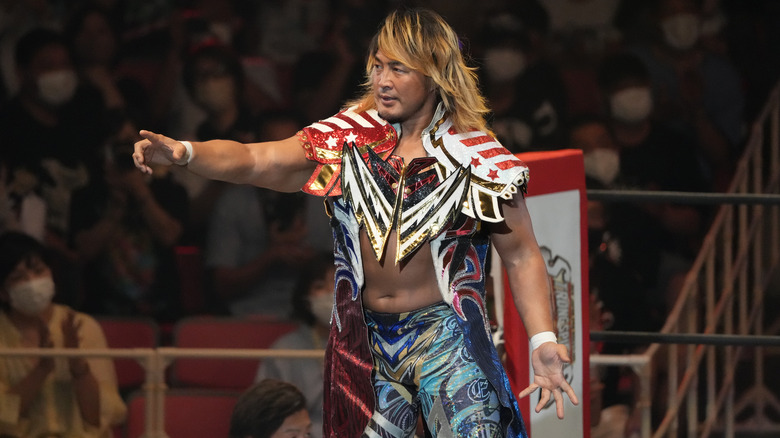 Etsuo Hara/Getty Images
Tanahashi has a very distinct look and ring attire. Considering his popularity, it is not surprising other wrestlers would be influenced by him. One of those wrestlers is WWE superstar Ricochet.
In an April 2019 appearance on "Chasing Glory with Lilian Garcia" (h/t 411Mania), Ricochet touched on how his ring gear was inspired by Tanahashi's and how he reached out to him for permission to borrow a bit of his style. Ricochet said, "He's been the top guy there for years now and he's just so good. He's one of the best in the world. Even to this day, and he always just came to the ring and he looked so cool and his jacket was kind of the same style like that, I messaged him and asked him, 'Hey, do you mind if I use that style of jacket? If I call myself The Ace of NXT' and I guess now, The Ace of all WWE, and he said, 'Yes, sure. No problem, please'. He goes, 'Yeah, I would like that.'"
Tanahashi was part of a great NJPW Dojo class and oversaw a now legendary class
The NJPW Dojo is renowned for not only its intense training regimen, but for all the names that made their way through the system and went on to become major stars. Among the wrestlers that graduated from the NJPW Dojo are Keiji Mutoh, Jushin Thuder Liger, Hiroyoshi Tenzan, Satoshi Kojima, Yuji Nagata, Tetsuya Naito and Kazuchika Okada.
Tanahashi was one of the wrestlers that graduated from the NJPW Dojo as part of the 1999 class. He was far from the only big name in that class. Also part of the 1999 class was Wataru Inoue and Katsuyori Shibata.
Tanahashi went on to become the Dojo leader and oversaw the stacked 2002 class that included Shinsuke Nakamura, Hirooki Goto, Ryusuke Taguchi, Yoshitatsu, Hiroshi Nagao and Akiya Anzawa. The Dojo was naturally competitive, but Tanahashi did his best to make sure everyone got along.
"I remember when I was the Dojo leader I felt I should act as a go between for [Nakamura and Yoshitatsu]," said Tanahashi in his NJPW "Ace's High" interview series. "I went and bought a bunch of beers and chu-his (a type of Japanese hard seltzer) and got the Young Lions together for a drinking session in the dining room one time. I thought it would break the ice with those two, but it all ended with them saying they didn't respect one another and everything just got really awkward. Hey, I'm a wrestler, not a life counselor [laughs]."
Tanahashi was quite the ladies' man in school
Tanahashi spilled the tea on what he was like as a kid in his extensive "Ace's High" interview with NJPW. Apparently, he had a bad habit of lifting up girls' skirts when he was a kindergartner. He said, "I guess I saw myself as a player! I wasn't there, but apparently there was a little school reunion recently, and one poor girl still remembers [me lifting her skirt up] from over 30 years ago."
Fortunately, Tanahashi grew out of those skirt shenanigans, but he moved on to other ones, namely cheerleading once he reached junior high school. He told NJPW, "I joined the school cheer squad around that time, too. You might not think it, but the cheer squad boys were popular with the girls."
Tanahashi recalled having many different girlfriends throughout his school days, but one girl he really liked in particular broke his heart. After pursuing her multiple time and being turned down, Tanahashi finally asked her why she wouldn't go out with him. She said she had feelings for someone else. That someone was Shoji Narita from the '80s Japanese boy band Otokogumi. "For years, I couldn't hear an Otokogumi song without getting pissed off," Tanahashi told NJPW with a laugh.
He holds the record for most consecutive Wrestle Kingdom main events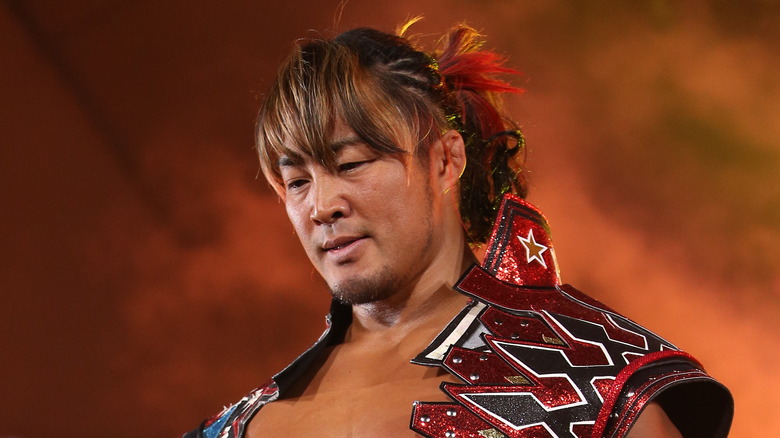 New Japan Pro-wrestling/Getty Images
The January 4 Tokyo Dome Show/Wrestle Kingdom has been a NJPW tradition since 1992. Tanahashi holds the record for most consecutive main events with six. Overall, he has main evented ten Tokyo Dome events.
Tanahashi's record for his six consecutive main events is 5-1. In 2011 at Wrestle Kingdom V, he defeated Satoshi Kojima to become the IWGP Heavyweight Champion. In 2012 at Wrestle Kingdom VI, Tanahashi defeated Minoru Suzuki to retain the IWGP Heavyweight Championship. At Wrestle Kingdom 7 in 2013, he defeated Kazuchika Okada to retain the IWGP Heavyweight Championship. At 2014's Wrestle Kingdom 8, Tanahashi beat Shinsuke Nakamura to become the IWGP Intercontinental Champion. In 2015 at Wrestle Kingdom 9, he defeated Okada again to retain the IWGP Heavyweight Championship, but Okada would finally defeat Tanahashi at Wrestle Kingdom 10 in 2016 to become the IWGP Heavyweight Champion.
Tanahashi also holds NJPW's most prestigious record
New Japan Pro-wrestling/Getty Images
In 2021, the IWGP Heavyweight Championship was unified with the IWGP Intercontinental Championship to create the IWGP World Heavyweight Championship. By doing this, it solidified Tanahashi as the wrestler with the most IWGP Heavyweight Championship reigns with eight.
Over the course of his eight reigns, Tanahashi held the IWGP Heavyweight Championship for a combined 1,396 days. His longest reign was his fifth, which lasted 404 days and included 11 defenses. Tanahashi's fifth reign would end on February 12, 2012 at The New Beginning where he was defeated by Kazuchika Okada marking the first time he won the prestigious championship.
Tanahashi's shortest reign with the IWGP Heavyweight Championship was his last. He defeated Kenny Omega at Wrestle Kingdom 13 in 2019 to win the title for the eighth time, but he only held the title for 38 days before being defeated by Jay White at The New Beginning in Osaka.
He bestowed his own nickname upon himself
Tanahashi is known as "The Ace of the Universe," and being "The Ace" has been reflected with a "Go Ace!" refrain in his various entrance themes. But who first started calling Tanahashi "The Ace?" Himself, actually.
During his first IWGP Heavyweight Championship reign, one of the four successful title defenses was against Shinsuke Nakamura, a common foe of Tanahashi. Leading up to the match, Tanahashi was very confident with NJPW quoting him saying, "Nakamura is the best challenger there could be, but as champion, I'm the best, period."
This championship match took place on December 10, 2006 at NJPW Circuit. After defeating Nakamura, Tanahashi would refer to himself as "The Ace of the Universe" in his post-match promo. NJPW's "Ace's High" series would further note Tanahashi saying during his post-match promo that he could see him "fighting [Nakamura] for the next ten years." As history went on to prove, especially when it came to their Wrestle Kingdom 8 match for the IWGP Intercontinental Championship, Tanahashi wasn't exactly wrong.
Tanahashi has long played air guitar, but at one point, he lost it
Every wrestler has quirks and other little things that make them "them," and Tanahashi is no exception. One of the elements that have long been part of his identity is playing air guitar following a major win.
So, why does Tanahashi play air guitar? In a December 2018 interview with NJPW, Tanahashi alluded to how he really just wanted to shake things up within the promotion and do something no one else was doing. On top of the air guitar fun, he would say "I love you" to the crowd during post-match promos and would interact with fans at ringside, which NJPW wrestlers didn't do.
"It was about creating new meaning for what New Japan can be," noted Tanahashi of these choices. "At the same time, many people booed me."
Then, tragedy struck in 2016 when Tanahashi "lost" his air guitar. A whole campaign was launched to find Tanahashi's air guitar, including a wistful video putting a call to action to fans to help him find his air guitar. There was even a dedicated section on NJPW's website about the lost guitar. Tanahashi is quoted on the website saying "on the night of March 31, I remember bringing home an air guitar but before I knew it, it had suddenly disappeared."