The Undertaker Walked Away From This Pro Basketball Contract To Become A Wrestler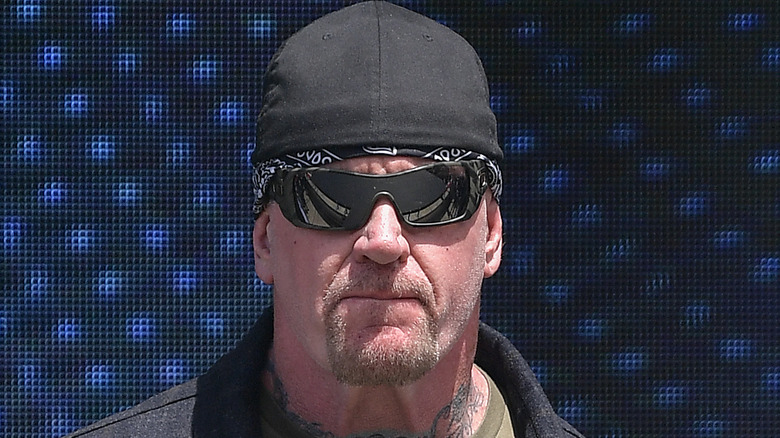 Logan Riely/Getty Images
Mark Calaway, aka The Undertaker, is a four time WWE Champion and three time World Heavyweight Champion. He has a well-earned place in the WWE Hall of Fame and is considered to be one of the greatest wrestlers to ever step into the ring. On a January 2021 episode of the "The Joe Rogan Experience," The Undertaker discussed his path to a career in pro-wrestling and how it almost didn't happen. "I was a big wrestling fan as a kid," he told Rogan. "But as I got into basketball and football, I kind of drifted away." Mark Calaway played basketball for Texas Wesleyan University Rams from 1985-1986 during his college years and European pro basketball scouts were interested in him. "Maybe after next year, they may want to give you a tryout," he recalls his coach saying.
According to Texas Wesleyan coach Richard Hoogendoorn, however, there was a European scout who already had a price in mind for Calaway without him even having done a tryout. In an interview with Bleacher Report, Hoogendoorn stated a European scout "basically had him a contract" for $80,000 a year to play for a team in France.
His contract was worth more than some NBA contracts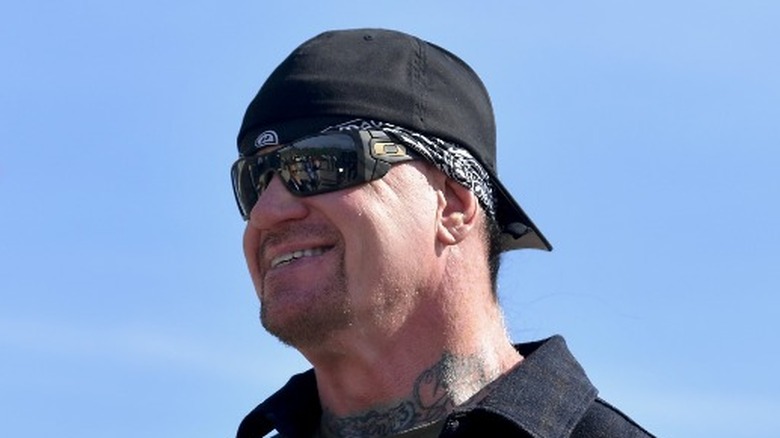 Logan Riely/Getty Images
An $80,000 European basketball contract is impressive, especially when it is compared to NBA salaries at that time. For the 1985-86 season, the minimum salary for an NBA player was $70,000.
Also, being that Mark Calaway was a Division 2 player, an overseas team would have been a good fit for him. According to an article by Brendan Winters, a former overseas pro and co-founder of youth basketball program Pro Skills Basketball, "Overseas leagues Division 2 players have long fruitful careers because they are used to the high shot volume, carrying the scoring loads, and being relied on in pressure moments just as they were in college."
Mark Calaway was 6'8" and 230-240 pounds, but the Texas Wesleyan coach told him that due to the European pro basketball style at the time, the scouts wanted him to be a little bigger. So Calaway began training to increase his size in preparation for becoming a pro basketball player who was going to make more money than some NBA players.
Drifting back to pro wrestling
While Mark Calaway was training, as he told Rogan, he met someone at the gym who continuously insisted that he become a pro-wrestler. Calaway originally rejected the idea and focused on his European basketball goal. In the end, however, he decided to become a professional wrestler instead. 
The Undertaker's wrestling career lasted over 30 years, and such a long career may be one of the reasons that he doesn't regret walking away from the basketball contract that was offered to him many years ago. "One of the things that's helped me through my career is being a realist," 'Taker said to Joe Rogan. "Kinda started having these conversations with myself, like, 'Even if you do make a team, how long do you really have?'" 
The average career of a basketball player (at least, in the NBA) is about 4.5 years, which means that if Calaway had become a pro basketball player instead of a pro-wrestler, his basketball career could have ended before he turned 26, the age he was when The Undertaker began his first reign as WWF Champion.
While Coach Hoogendoorn originally thought Calaway was crazy for rejecting the basketball contract, he told Bleacher Report that his view of 'Taker's decision has changed since then, saying "He obviously made the right choice."