WWE RAW Results (7/11/05): Roddy Piper & Matt Hardy Return!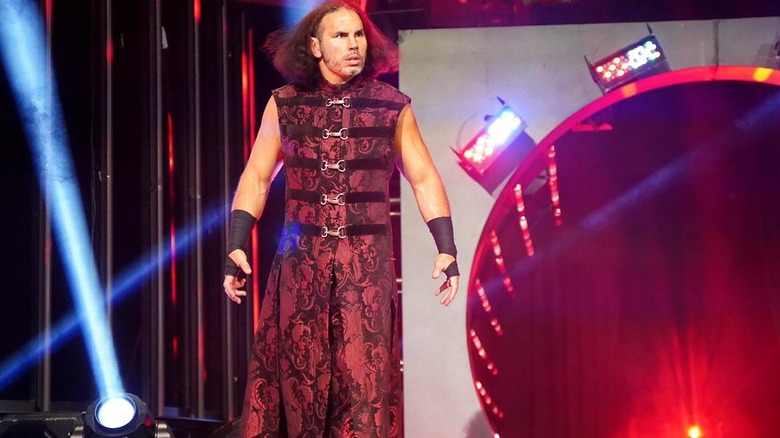 AEW
Event: WWE Monday Night RAW Results
Date: Monday, July 11th, 2005
Location: The Continental Airlines Arena in East Rutherford, NJ
Results by PowerWrestling.com
WWE RAW Opener:
RAW opened up with a video package looking at Shawn Michaels hitting the Sweet Chin Music on Hulk Hogan last week after their win over Kurt Angle and Carlito. The fireworks then went off in the arena for the start of the show as Jim Ross, Jerry Lawler and the Coach welcomed us to East Rutherford, New Jersey in the shadows of New York City.
In the arena:
The music of Carlito hit in the arena as he made his way down to the ring as the Intercontinental Champion for the Cabana. Carlito got on the mic and said as of late, there s a lot of reasons why a lot of people should be watching RAW, mainly because of Carlito. He said he has a big match for the Intercontinental Title against Shelton Benjamin, and the only show on RAW that has everyone talking; Carlito s Cabana. He said last week, on the 4th of July; his guest was the Immortal Hulk Hogan, and look what happened to him. He said he knows the people want answers, so without further ado, the man who super kicked Hulk Hogan last week, Shawn Michaels. The music of Chris Jericho then hit in the arena as he made his way out to the ring. The fans chanted for Y2J as Carlito said everyone wants to be a guest on the Cabana. He said he was flattered, and why doesn t Chris have a seat and he ll show how a real show is conducted. He then went to introduce Shawn Michaels, but Jericho cut him off. He said last week his Cabana segment was trumped by the Highlight Reel, and his guest was none other than John Cena. He said over the course of the interview, he beat the living hell out of Cena and sent him packing. He said he will trump the Cabana again tonight, and told him to get rid of the yard sale of a set, lower the Jeritron 5000 because his guest is none other than Shawn Michaels. Carlito said Michaels wanted to be on the Cabana, not the Highlight Reel. He said the Highlight Reel is just like Jericho, really boring, really outdated, it really sucks. He said Jericho is a little older, and little sadder, a little fatter.
Carlito talked about Jericho s love handles, and said that s not cool. Jericho then told Carlito to do up his shirt, and said he is the epitome of cool. He said he is Chris Canadian Cool, and then called him Sideshow Bob. Jericho said that Shawn Michaels is a unique individual, and he sure as hell doesn t want to be on a fly by night, amateur talk show like Carlito s. He told Carlito to step aside, and said Michaels wants to be with the original, the Johnny Carson of RAW, not the Carson Daly. He then introduced Shawn Michaels to the ring, and then Roddy Piper s music hit!! Hot Rod made his way to the stage with a microphone in hand. Jericho and Carlito couldn t believe their eyes as Piper got on the mic and asked if Jericho just said the Highlight Reel is the original? Piper called Carlito buckwheat, and said there is only one original and they are looking at him. Piper said as for interviewing Shawn Michaels, neither of them are going to. He said they need to know why Shawn Michaels blindsided Hogan, and by the time the show is over, he will have the answer to that question because tonight, Michaels is in Piper s Pit, and everybody s got to pay the Piper! Piper went to the back as Jericho and Carlito continued to argue in the ring.
Referee: Jack Doan
Chris Masters vs. Tajiri
The music of Chris Masters hit in the arena, as the Masterpiece made his entrance. Footage was shown from two weeks ago when Tajiri took up the Master Lock Challenge, and Tajiri hit Masters with the Green Mist. Tajiri then made his entrance and we are set for action.
The start:
Masters stomped Tajiri as he entered the ring and then hit some chops in the corner. Masters hit a overhead suplex, and then choked Tajiri over the bottom rope. Tajiri came back with kicks to the ribs, and then hit a low dropkick to the knee, before hitting a spinning heel kick and then the handspring elbow to knock Masters off the apron to the outside.
Mid-match notes:
Tajiri tossed Masters back in the ring and kicked at his legs and then hit another spinning heel kick for two. Tajiri kicked Masters hard in the back, and then hit the handspring elbow for another near fall. Masters rammed Tajiri to the corner, but Tajiri came back with a sunset flip for two.
The Finish:
Masters ate Tajiri s boot on the corner, and then went for a Tornado DDT, but Masters threw him off, but Tajiri landed on his feet and hit a super kick for two. Tajiri chopped the chest of Masters and then went for the Tarantula, but Masters blocked and slammed Tajiri down to the mat before locking in the Master Lock for the win.
Winner – Chris Masters
Backstage:
Shawn Michaels is shown walking backstage getting a coffee, and joked to the cameraman that he was walking too fast.
Backstage:
Edge and Lita are shown sitting on their couch in the dressing room, and then Snitsky comes in. Edge said they are watching their wedding video, and Edge said that he wants to fast forward to his favorite part, when Matt Hardy s music hit. Edge said tonight he has a match with Kane, and Lita has told him that Snitsky has a bit of a fetish. Lita then stuck her foot near Snitsky and he got all excited. Edge said if Snitsky pats his back, maybe Lita can pat his. If Snitsky helps Edge in his match with Kane, then Snitsky can have a crack at Lita s feet. Snitsky then went to put them in his mouth, but Edge stopped him and said first he has to help him in his match with Kane. Snitsky left and said he d see those toes later.
Vengeance:
Footage was shown from Vengeance, and that was the last time we saw the Game, and we have had no word from Triple H since then, and don t expect to anytime soon.
Intercontinental Championship Match
Referee: Chad Patton
Shelton Benjamin vs. Carlito (c)
The music of Carlito is playing in the arena, and he is set to defend the Intercontinental Title against the man he won it from in Shelton Benjamin.
The start:
Carlito and Benjamin locked up and Benjamin went to work with right hands before hitting a reverse elbow knockdown. Shelton whipped Carlito hard to the corner and the followed up with a snap suplex for two. Carlito fought back with some chops in the corner, but it only riled Shelton up who came back with chops of his own before hitting a dropkick for another near fall.
Mid-match notes:
Benjamin scored with an inside cradle for two and then went for a clothesline, but Carlito ducked and hit a dropkick. Shelton nipped up and stood behind Carlito and then kicked him in the gut and sent him to the ropes, but Carlito grabbed them and then rolled outside. Shelton hit a baseball slide to knock Carlito down on the outside as we went to commercial. Back on RAW, and Carlito is in control of Benjamin with a rear naked choke in the middle of the ring. Benjamin elbowed out of it and then charged at Carlito, but Carlito sidestepped and tossed Benjamin to the outside. Carlito whipped Benjamin hard into the barricade before tossing him back inside and covering for two. Carlito repeatedly stomped Benjamin and then locked in a rear chin lock.
Carlito hit a series of elbow drops and covered for another two count. Carlito threw Benjamin down hard to the mat and then choked him with his boot in the ropes. Carlito choked Benjamin over the middle rope and then kicked him down and covered but Benjamin kicked out. Carlito hit a snapmare and went back to the rear naked choke on Benjamin in the middle of the ring. Benjamin fought out and shifted his weight on a Carlito body slam attempt for two. Benjamin followed up with a backslide and an inside cradle for near falls, and Carlito came back with a nice DDT but Benjamin kicked up at two and a half. Carlito went for a suplex, but Benjamin floated over and hit a neck breaker for a near fall. Benjamin followed up with a modified back breaker and then covered for another two.
Benjamin rolled Carlito up and Carlito rolled through and grabbed the tights but Benjamin kicked out. Carlito perched Benjamin on the top rope and went up for a superplex, and scored with it for another two. Carlito rolled to the outside and grabbed the Intercontinental Title, and then slide back inside but the referee grabbed his belt and it landed outside. Carlito then walked into Benjamin who hit a Samoan Drop. Carlito rolled back out and went for the belt, but Benjamin grabbed him by the hair on the apron.
The Finish:
Benjamin and Carlito both went for suplexes, and then Benjamin went for a super kick, but Carlito grabbed his boot and Benjamin hit the Dragon Whip sending Carlito to the outside. The referee began his count, and Carlito was about to get in at eight, but then looked down, grabbed his belt, and left.
Winner by count out, Shelton Benjamin
Backstage:
John Cena and Eric Bischoff were shown backstage arguing about something and Cena shoved him away and walked off.
In the arena:
The music of the WWE Champion, John Cena, hit in the arena as he made his way down the ring to a huge pop. Cena grabbed the mic and addressed the crowd, and told them to make some noise up in here, because the champ is here! Cena said it feels good to be out there, and said he s having a bad day. He said Bischoff is up is ass, and he then mocked Bischoff. He said then he s got Y2-Cheap, coming out here and saying how he kicked his ass on the Highlight Reel last week. He said Jericho seems to believe he can take that title from him anytime he wants, and there lies the problem. He said this is Chain Gang, and they solve problems. He said the solution is simple, if you want some&come get some! Cena threw down the title and then the music of Eric Bischoff hit as he made his way out as the General Manager of RAW. Bischoff got in the ring and grabbed a mic. He said it s like he was trying to get through his thick skull backstage. Bischoff said this is about that WWE Title, he doesn t defend it when he wants to, he defends it when Bischoff wants him to.
Bischoff said Cena had an opportunity to get on his good side, but no, and now you re gonna see what happens when he throws his weight around. Cena said it looks to him as if Bischoff is physically threatening him. The music of Chris Jericho then hit in the arena as he made his way down to the ring. Bischoff told Jericho to stop in the aisle. He said he knows Jericho would love to get into the ring right now, but why get your hands dirty on a thug like this. Cena told Jericho to get in the ring, but Bischoff said there is no reason for it. He said Jericho can get something better by waiting. He said Cena will be defending the WWE Title at SummerSlam, against Chris Jericho! Jericho thanked Bischoff for his decision, and said last week he said he will take that title anytime he wants. He said he will do it because he has to. Jericho called Cena a disgrace, and said he calls Jericho cheap, when Cena is cheapening the legacy of the championship just by having it. He said Bischoff is right, and Cena is not championship material.
Jericho said Cena is nothing but a thug, a low down thug. He said Cena doesn t deserve to be the champion. Jericho said he is the one that deserves the title, and when he beats him he s going to go on to become a bigger superstar than ever. He said he ll sell more records, he ll be in the movies, the magazines, and be the biggest superstar in the WWE. Cena mocked Jericho, and told him to get off his own nuts. He said this ain t about being a superstar; it s about real recognizing real. He told Jericho to settle it right now, and took off his shirt. Jericho took off his jacket in the aisle and said he could come in that ring, but he s not going to. He said at SummerSlam, there will be a new WWE Champion, and his name is Chris Jericho! Bischoff laughed in the ring as Jericho left, and then Cena got on the mic again and said he guesses that since Bischoff and Jericho were in cahoots, then they are a team, and since his team mate isn t here, maybe he should take it out on him. Cena then hit Bischoff with the F5 and says "Welcome to the new RAW, b—h."
In the arena:
Back on RAW, and the Diva Search girls are getting in the ring, and Coach said we are having a talent contest here tonight. Christy then introduced us to the girls, and Coach said before we get to the competition, somebody has to go home, except for Elisabeth who has immunity. Coach said Alexis has been cut, and she made her way to the back. Christy said each girl will have 60 seconds to show their talent. Ashley was first, and said rather than coming up here and dancing, she has been learning some wrestling. She went over to Coach and he wanted off, and then got Christy in the corner and gave her a monkey flip. They then hugged, and Christy said wow, that was good. Leyla was next, and said her talent requires the referee who threw the towel on her last week. Earl Hebner made his way down and she danced around him, and then gave him a low blow. She said that s for disqualifying her last week. Summer was next, and she said it is Summer time, and she s going to show some athletic ability. She then did some back flips and the splits and stuff. Kristal is next, and she is wearing a fake moustache, and she spoke in a French accent. She said she s going to do a self portrait. She ripped off her coat and moustache, and then poured blue and yellow paint over herself and rolled around on some paper. Elisabeth is next, and she is going to do a dance. She has a police hat on, and then took off her robe and danced about. She handcuffed Christy to the ropes and then slapped her ass. Simona is next, and said she is going to do her fantasy. She has a sword and danced around with the sword looking at Coach. Lawler Coach, you better pull out your sword, I heard it was a little short . She kissed the Coach and the crowd booed her for that one. Cameron (who is dressed in a little schoolgirl outfit, very hot) is last up, and they got some chairs in the ring and Christy sat down and Cameron danced around the chair and gave Christy a kiss and a very hot revealing lap dance. Photos can be found at the link below. It's the top headline. Coach said that s all for the competition, and then told everyone to go to WWE.com and vote for your favorite. No immunity this week I guess?
Kurt Angle Invitational
Referee: Jack Doan
Matt Striker vs. Kurt Angle
The music of Kurt Angle hit in the arena as he made his way to the ring with Policemen in tow, for the Kurt Angle Invitational. Angle got on the mic and said since no one has come close to beating him for the medal on Smackdown, so he thought someone on RAW might do better. He said all they have to do is last three minutes in the match, so let s see what we ve got. The guy made his way down, and it s Matt Striker (the guy who was fired from his teaching job for working a Zero One tour). Angle said the guy looks familiar, and he said he is Matt Martel, and he s from New York. Angle said his name is not Martel, it s Striker. He said he s the teacher who got fired from his teaching job. Angle said he wrestled him in Philadelphia, and that he lies a lot.
The match:
Angle and Striker locked up and Angle wrenched on the arm. Angle locked in a side headlock and then an arm bar. Angle gave him some uppercuts in the corner before hitting a back suplex. Striker came back with shots to the mid section and big right hands, and then hit a boot in the corner, but then walked into a belly to belly overhead suplex. Angle took down his straps and locked in the Ankle Lock, but Striker kicked him off, and Kurt hit his head on the ring post and crashed to the outside! Striker stared at the clock, and there is only 30 seconds to go! Angle got back in and Striker kicked and went to work at him in the corner. Angle hit the Angle Slam but Striker reversed and shoved him into the referee in the corner and then hit a low blow! Angle came back with speed and locked in the Ankle Lock and Striker tapped with one second left!!
Winner – Kurt Angle
Backstage:
Todd Grisham has Kane backstage, and asked his thoughts about facing Edge next. Kane just laughed. Edge and Lita were then shown walking towards the ring and MATT HARDY came out of nowhere and shoved Edge into a sliding door and hammered away at him as Lita screamed to stop. Matt ran for it as Johnny Ace and some referees went to get him!
The Boogeyman:
A promo aired for the Boogeyman, who apparently lurks behind a door, and waits to prey on your deepest and darkest fears.
Referee: Michael Chioda
Edge vs. Kane
The music of Edge hit in the arena as he made his way to the ring with Lita, set for one on one action with Kane. The commentators didn t mention Matt Hardy at all.
The start:
Edge nailed Kane with some right hands, and Kane came back with some of his own to knock Edge down. Kane ate a back elbow in the corner and then missed a big boot and got caught in the turnbuckle, and Edge kicked him down and hit a baseball slide to knock him to the outside. Edge followed out and sent Kane back inside and then went up top but Kane caught him with a right hand to knock him to the canvas.
The Finish:
Kane ate boot in the corner, but then caught Edge and went for the chokeslam, but Edge escaped and then Kane hit the sidewalk slam. Kane went up top and came off with a flying clothesline and then went after Lita on the outside. He grabbed her by the throat, but Snitsky came out and nailed Kane, sending him into the ring steps.
Winner by disqualification, Kane
The Aftermath:
Snitsky went to nail Kane with a chair, but Kane kicked it back into his face and threw him over the barricade and followed him through the crowd. In the ring, Hardy jumps Edge and they go at it with tons of security breaking it up! Hardy went back through the crowd and grabbed the mic and called Adam a bastard, and Lita a whore, and said he s going to make their lives miserable and kick their ass! He said he s going to Ring of Honor, RoH, and then a ton of cops came down and handcuffed him and the fans were going NUTS for Hardy. They took him to the back and the fans chanted HARDY as he screamed that WWE can kiss his ass!
Last Week:
We go to a video package looking at Shawn Michaels and his turn on Hulk Hogan.
Piper s Pit:
The music of Rowdy Roddy Piper hit in the arena as he made his way down for Piper s Pit!
Piper s Pit:
The music of Rowdy Roddy Piper hit in the arena as he made his way down for Piper s Pit! Piper said that this one is going to be a hard one, let s get down to it. He introduced the man with the answer, the Heartbreak Kid, Shawn Michaels. Michaels made his way down to the ring to a mixed reaction from the crowd. Piper said he was going to make it real simple, one pro to another. Piper asked why he blindsided Hogan? Michaels took the mic and said for the last 20 years, he has come into this ring with one intention, and one intention only, and that is to leave the people with something they will never forget. He said that he literally broke his back to give them that, and he believes that he delivered. He said no one has creative more RAW and PPV moments than the Heartbreak Kid, Shawn Michaels. No one has left them with more WrestleMania memories than Shawn Michaels, and no one has had a greater impact on the direction of this industry than Shawn Michaels. He said at the Hall of Fame, he heard their chant to Hulk Hogan for one more match. He said it was then and there that he decided that he would once again sacrifice himself to give the fans what they wanted. He said last week, he believes he guaranteed that Hulk Hogan will have one more match, and he wanted to make sure that the match would be against him.
Michaels said Hogan is known the world around as the Immortal Hulk Hogan, and then fans then broke into a Hogan chant. Michaels said he has never seen that like they do. He said he s going to prove in this instance that perception is not reality, so tonight; he is laying down the challenge. For the first time ever, SummerSlam, The Immortal Hulk Hogan vs. The Showstopper, the Headliner, the Main Event, the Icon, the Heartbreak Kid, Shawn Michaels! Michaels said at SummerSlam, he will prove that mortality or, immortality, has a price. Piper got on the mic and said he still hasn t answered the question; why? He said Michaels can t fool him, and he said the fans made him, he didn t make the fans. He said the fans made him four time WWE Champion, and they stood behind him. He said he remembers a long time ago when Michaels would come to him and ask how to get in the main event. Piper said he told him how because Michaels was worth it, but he has to be honest with him. He said he is ashamed of Michaels, and told him to look at him when he talks to him. He said he had everything going for him, and then went sideways and nailed Hogan from behind. Why would he ruin a reputation like that? Michaels said this was hard for him, and he respects him and always has, but he s given his answer. Michaels went to leave and Piper screamed at him not to walk away from him. Piper said he knows the answer, and he will tell the world. He called Michaels a coward, and then Michaels nailed him with the Sweet Chin Music, and then stood over Piper as RAW went off the air!
Check out PowerWrestling.com