John Cena Speaks On Jericho & More On The Best Damn Sports Show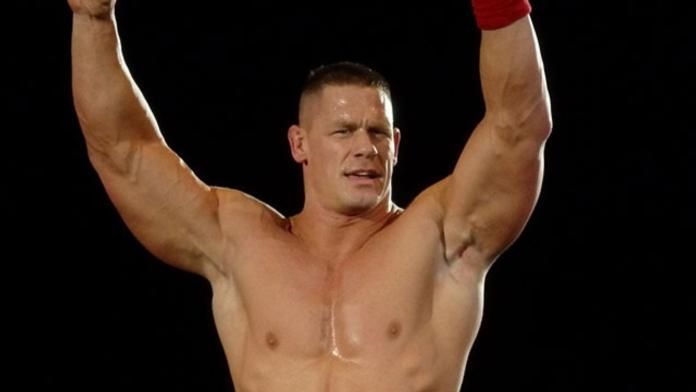 Source: PWInsider.com
Thanks to Brian Richey for the following recap:
Recap of John Cena on "The Best Damn Sports Show Period" on Fox Sports Net
Cena was the first guest of the night and was introduced with a small montage of him on the offense on RAW. He walked out in a Boston jersey with the title belt spinning. The boys commented on how beautiful the 'hardware' was and then about his hometown. Cena told them the jersey he was wearing was Wade Boggs' number and joked that he was going to get chicken after the interview. He said things were busy and cool and was asked about how he wears the throwback jersey to whatever city he's in. Cena said it was because he is a sports fan and to help tell the people that they have heroes in their town, specifically kids who might not know such legends. The hosts liked how he brings the belt with him wherever he goes and Cena spun it again and said it took forever to get it made.
The hosts then brought up SummerSlam and said that they liked Jericho and that he was a good guy. A marquee for Cena read "faces Chris Jericho August 21 at SummerSlam," as he said that he liked Jericho in the beginning, but lately he (Jericho) has been out of his mind. Cena brought up their music rivalry and said that Jericho's music was phenomenal, but that he put all the focus on himself and didn't help those who helped him. The audience applauded and Cena was asked if it pissed him off that Jericho claims Fozzy will do better than Cena ever will. Cena jokingly said that he's sold 200,000 while Fozzy sold about 15 copies of their last record, so they have to catch up. Cena said that he'll show up whether in front of a mic or in the ring. The hosts brought up Hogan at SummerSlam and Cena commented how the show will be awesome and that it's great to see him back. When asked if he had seen "Hogan Knows Best," Cena said he watched the Hall of Fame episode and looked for himself but he 'didn't make the cut.' He said that it's weird to see the transition of Hulk from the ring to home.
The host brought up that they were currently in the Mohegan Sun where RAW took place two weeks ago. Cena mentioned that he had glue in his head from when Jericho busted him with camera. The hosts questioned this and Cena explained that he didn't want stitches, so the doctors offered to seal the wound with glue. One host accused Cena of being scared of getting stitches as they went to break.
Back from commercial, they plugged their sponsor, Hardees, and had cups in front of the title belt. Cena commented on how he nearly lost it when he found out the other guests, but kept his cool in the greenroom. They held up Cena's album and he mentioned the song 'Right Now' and it's positive message. He said that he is proud of both his music and wrestling and that he wants to follow in the footsteps of men like The Rock. He continued by saying that he and the company are trying to prove that they go out and do live TV every week, not just wrasslin', and he mentioned that RAW just beat out Gunsmoke for most original episodes. He praised his peers and called them great talents.
They then showed a clip of Cena's new video for 'Right Now.' One host asked whether they sold shirts where Cena lives. Cena said basically they had a keg party at the old man's house and the shirt just came off as they were partying. One host mentioned his freestyling the last time Cena was on the show and asked him to do it again. Cena managed to put out a little freestyle that mentioned several baseball players and was pretty good for on the spot. The hosts applauded, plugged SummerSlam one more time, and thanked Cena for coming.