John Cena Speaks With WWE, Saturday Night's Main Event, More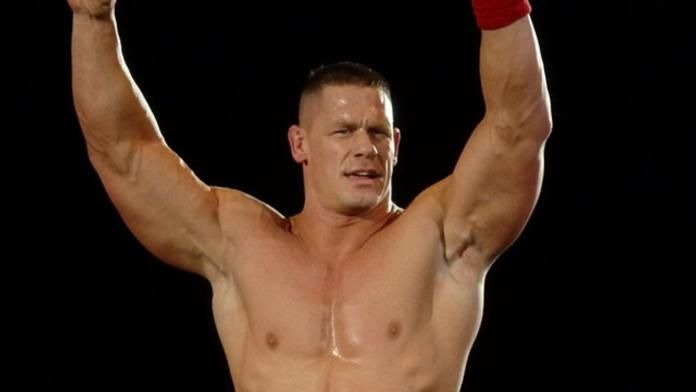 The following is from WWE.com:
Cena on USA, Saturday Night's Main Event and more
August 11, 2005
WWE.com was able to sit down with WWE Champion John Cena early Thursday morning while he was in Stamford, Connecticut, to film some television spots. Cena talked candidly about a variety of subjects, including his new video, SummerSlam and even the Red Sox.
WWE.com: What brings you to Stamford this morning?
Cena: We re shooting some introduction pieces for the upcoming move to the USA Network. I think the switch will be great for us. USA has shown us a lot of love and it s one of those things where WWE is finally the flagship of someone s programming. USA is really putting us out there and hyping us like we should be because we have the best entertainment on the planet.
WWE.com: There are even rumors that WWE will revive Saturday Night s Main Event?
Cena: That would be great. I was a big fan of that when I was a kid. I just hope they keep the same theme music.
WWE.com: Talk about the success of your debut album, You Can t See Me.
Cena: We ve sold more than 200,000 copies in the U.S. and over 300,000 worldwide. We re hanging in there on the billboard charts and we re actually ahead of many, if not most, bigger name artists. I m totally surprised by the success. I didn t think we would sell 20 albums because of the stigma of a wrestler making an album and what we re up against. It s traditionally not the type of music WWE fans listen to. It s a wake-up call to hip-hop that this kid is for real and a wake-up call to sports entertainment that there are wrestling fans who love hip-hop.
WWE.com: Your second video, Right Now, is very personal. What was the message behind that?
Cena: That was for the people that didn t know me before I started coming through the curtain as a WWE Superstar. A lot of times people question your motives or wonder if you really have a passion for what you do. But with that video they see what my life was like growing up and it shows WWE is where I always wanted to be. Nobody can question that. I also wanted to send a positive message, which hip-hop lacks right now. Anyone with friends and family can understand where I m coming from.
WWE.com: Has your life been more or less hectic since the album came out?
Cena: Much more hectic. It s just like with WWE, you have to go out and promote your product, and that s been a total grind. In the process, I ve been able to do some live shows, and I m also making a bunch of appearances (Best Damn Sports Show Period, Teen Choice Awards, Hip-Hop Awards, VH-1 Countdown). So, they got me going places, but then again, they got me going places.
WWE.com: Has it ever crossed your mind to dedicate yourself full-time to music when you consider the success you re already having with your first album?
Cena: No, because WWE is pivotal to the success of the album. The bottom line is if you re making good music and it s something you believe in, it s only a matter of time before people catch on and recognize that. But there s no way I would devote full-time to music. As you can see on the new video, this is where I want to be. Music, movies and anything else, it s great when it comes around, but it ll have to cater to the WWE schedule.
WWE.com: Talk about you match with Chris Jericho at SummerSlam on August 21.
Cena: Just like on SmackDown!, where JBL thought I was a disrespectful champion, this time the guy who runs the joint (Eric Bischoff) thinks I m a disrespectful champion. But this is a big match because the odds are against me. I never predict victory, but I m going to bring it at SummerSlam.
WWE.com: What are your impressions of Chris Jericho since you ve been on RAW?
Cena: Although he disrespects me, I do respect his creativity, but I think he goes about it the wrong way. He use to be one of my favorites, even when I was a fan. He was always so excited to be there and entertaining, and now he seems frustrated.
WWE.com: Any thoughts on the World Heavyweight Championship No Holds Barred Match between Batista and JBL?
Cena: JBL got the match he wanted. I think Batista better be careful. I know he s been in some crazy matches with Triple H, but JBL is one tough dude. Just watch the match at Judgment Day. I won, but he beat the hell out of me.
WWE.com: Do you still watch SmackDown!?
Cena: I try and catch the show. It s definitely weird, but I have a lot of love for that brand still. Of course, I have more love and pride for RAW because that s where I am now. But I still have a lot of friends on the show and try to keep up.
WWE.com: With about two months left in the baseball season, how do you think your Red Sox are looking?
Cena: It s not about now, but what you do in September and October that counts. I wish the season ended today because that would mean the Yankees wouldn t make the playoffs. I ve been through so many hard times and good times with the Sox. Last year was great and hopefully they can do it again.