Goldberg Speaks On Making A Comeback To Wrestling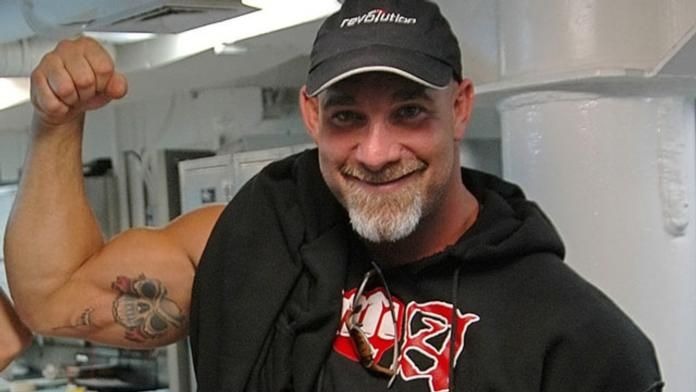 Credit: Doug Brown & PWInsider.com
Show: The Night Shift
Station: Sportsradio 610 AM in Houston, TX
Hosts: Matt Jackson and Adam Wexler
Guest: Bill Goldberg
Airdate: Wednesday, September 14, 2005
Goldberg came on the program to plug the September 20th DVD release date for "The Longest Yard." Matt and Adam joked about how nice it was of Goldberg to let Adam Sandler be an extra on "his movie." This got a good laugh from Goldberg.
They ran down the list of names in the movie (Steve Austin and Kevin Nash were mentioned.) Goldberg said that the project was really cool. He later added that anytime he can put on the helmet and crack somebody in the head again, that it is a good thing.
Goldberg mentioned that the original "The Longest Yard" was one of his favorite movies as a kid, and that he must have seen it at least 50-100 times.
Matt and Adam mentioned that Houston Chronicle Sportswriter John McClain (who was an extra in the movie) told them to ask about a scene in the movie where Goldberg's character is supposed to be "well endowed." Goldberg said that Adam Sandler owed him a favor, because he left him out of the first two Hanukkah songs.
The talk turned to Goldberg's new show "Automaniac." Matt joked that in honor of Goldberg appearing on the show, the History Channel ran an "Automaniac" marathon. Goldberg said he agreed to do the show because he has a real passion for cars. He said that he has been having a lot of fun with it, and that next season, he is going to be a co-producer.
Adam asked about the transition from wrestling to acting. Goldberg said that he has not taken any acting classes. He said that if roles come his way that's fine, but at 38 years old, he doesn't need to go to Hollywood to "shake hands and kiss babies." Goldberg does mention though that he goes to auditions at least once a week. He said that he would like to do more comedy right now, and maybe pick up more action roles down the line.
They asked if it worried him about being typecast because of his size and look, but Goldberg said that it didn't.
They also brought up "Santa's Slay" which airs on Spike TV on October 20. Goldberg mentioned that it was fun playing a 6-3 280 pound Jewish Santa that goes around killing everybody.
Goldberg said it was a good experience and that he met his wife because of it. She worked as a stunt woman on the movie. He told a story about her doing a stunt where she had to jump from one train to another. Goldberg said that it was very difficult for him to watch her do something like that.
The discussion moved on to wrestling. Matt mentions Ric Flair and Hulk Hogan still wrestling in their 50's. Goldberg at first joked that they were in their 100's, but later added that both men were great inspirations to his career.
Adam asked if he would ever consider a comeback. Goldberg mentioned that he has been approached. Though he didn't say by whom. Goldberg said that wrestling is "a crappy business right now." Goldberg said that the best part was the fans. He thanked all the fans for their support during his career, and also stated that they got him to where he's at. Goldberg does mention though that we will not see him in the ring in his 50's wearing a Speedo, and having flab bounce everywhere.
Adam asked which people Goldberg liked getting in the ring with. He first mentions Sting. Goldberg said that one of the bad things about WCW folding was that he and Sting only had a couple of matches together. He credited Sting with getting him into the business.
He also named his match with Hogan as one of his favorites.
Goldberg said that he enjoyed working with the late Curt Hennig. He really put over Hennig saying that he owed him a lot, and that Hennig was one of those guys that "you could watch for 45 minutes to an hour and never get bored."
Goldberg called wrestling an art form, and said that it was terrific to be a part of it. He stated that the thing he misses most about wrestling is hearing an arena filled with thousands of fans chanting his name. Goldberg said though that it doesn't outweigh the bad that's in the business right now.
The hosts closed the interview by asking if he was sweating last weekend's Georgia Bulldogs game. Goldberg said he loves the passion of college football. He said he's not really a big NFL fan, because he's got too many friends on each team.
Goldberg closed the interview by thanking the fans, and said that he would "be seeing him again real soon."