Matt Hardy Reveals New Love Interest, More News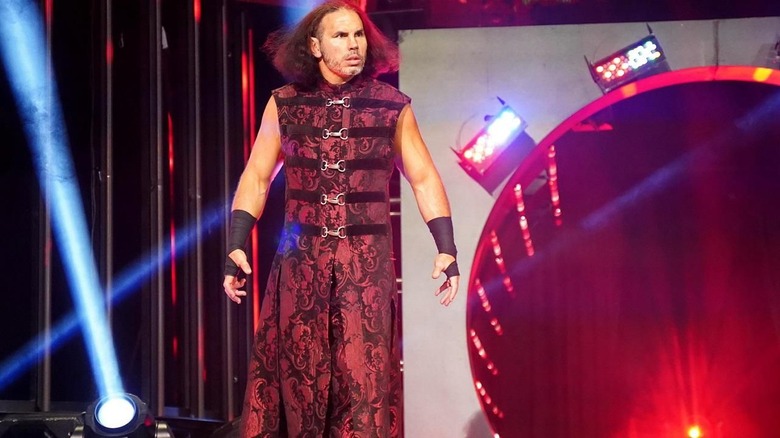 AEW
Hardy's latest version
By Matt Hardy
September 23, 2005
Hello everyone! First and foremost, I want to thank everyone who has stood by me through thick and thick. I wouldn't have been so driven and determined to overcome the odds without your support. Last Sunday at Unforgiven was a monumental day in the history of Matt Hardy. Not only did I gain revenge on Edge and Lita by making them pay for their sins against me, I also did what I do best – prove people wrong. I proved that you can overcome all odds and obstacles by refusing to die. I proved that I could perform on a show-stealing level if given the chance. I also proved that I made the right decision in returning to WWE. My win over Edge last Sunday was the ultimate satisfaction after being put through this horrible ordeal.
My lower back is still killing me from doing the legdrop "from the Atmosphere," off the top of the steel cage. I honestly can't explain how insane it was to look down at my biggest adversary, knowing I'm about to sacrifice myself to destroy him. I knew deep down I had to cap off the match by pinning Edge with an unbelievable move in an unforgettable moment. I had already bloodied and beaten Edge, given Lita the Twist of Fate, and now it was time to legdrop Edge to hell from the heavens. I may have broken my pelvis, compacted my spine, or done permanent damage to my lower back. Was it worth it? Would I do it again? You're damn right I would – and I wouldn't think twice about it or hesitate. It was a well-deserved and hard-earned finish to an unbelievably intense cage match and rivalry – or so it seemed. It looks like I will dance one last time with my mortal enemy on October 3rd – this time in a Ladder Match – with everything on the line. But more on that next week – right now, I'm basking in the glory of my win on my birthday, September 23rd.
As I type this, both my professional and personal lives have never been so good. I am just coming off the biggest, most rewarding win of my wrestling career. It feels good to know that I'm back – better than ever in my professional life – doing what I love to do. I was very fortunate to be able to secure my dream job with WWE for a second
time. It's amazing how once my professional life finally came back together – so did my personal life. As I type this, I am in a secluded mountain cabin in Gatlinburg, Tennessee, with someone who is very, very special to me. Right now, I am more happy than I've ever been in my professional and personal life. I believe now more than ever that good things happen to good people. I couldn't ask for a better birthday present than being back with WWE and having such an amazing person in my life – times are good for Matthew Moore Hardy.
I also want to thank all of you who have wished me Happy Birthday and given me such wonderful cards and gifts. Thank you all so much. Thanks for always being in my corner, I got nothing but love for you. Be well all, and talk to you soon...
Matt Hardy