Kevin Nash On Scott Hall's Status, TNA's Future, So Much More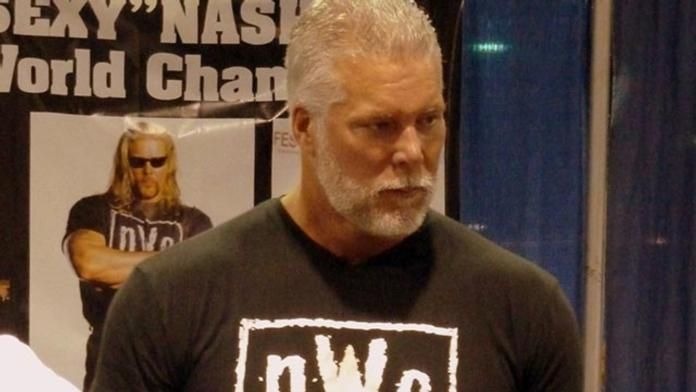 TNA held about an hour long conference call earlier today. TNAWrestlingNews.com was invited and we have done a very long recap. This is very newsworthy:
A women named Ronda opens the call and says TNA has been averaging a .8 rating for their first three weeks on Spike TV. She says the show is averaging about 895,000 views per week which is much more than what Velocity had been doing in the same timeslot. She said everyone is very excited about this and it is a very strong performance. She announced that there will be a two hour special on Thursday, November 3rd from 9-11EST. She then introduced Kevin Nash.
A caller asked about his knees and the big PPV coming up. He said his knees are in very bad shape and have gotten worse. He's had 13 knee operations but he promises to give a good performance Sunday at the PPV.
A caller asks if two years from now he can see TNA being competition to WWE. Nash says yes and that they need to build stars first which is what they are doing now. He says he feels TNA will take off.
Nash notes that his wrestling days are numbered as he's 46 now.
A caller asked if a move to Monday nights would happen. Nash said that would be a network call and that it's up to the people/fans to decide that. He says if they can do 2.0, 3.0, and even 4.0 rating then yes, a move could happen. He puts over the UFC show as well.
A caller asks if Nash thinks Vince is overdoing it with the trademarks. Nash says everyone signs a contract and they know what they sign. He says that's why he left WWE and dropped the Diesel name to become just Kevin Nash. Nash says he has learned his lesson and says that name doesn't matter. He says that you can put someone on TV with a new name and still know who they are. He says the trademarking by Vince just means he knows they are competition.
Nash says he still speaks to both Scott Hall and Shawn Michaels. He says Scott is going through some rough times right now.
A caller asks what he was doing during his lengthy absence from TNA and Nash notes that he was in China filming a movie that will be out around January. He says he came back and talked to Jeff and they agreed to just wait and see what happened with Spike TV. When they got the deal, he made his return.
Kevin says he's beat up these days but still loves wrestling. He just wants to enjoy his time right and says he's an old school guy. He says he wants to be an actor after wrestling and says he really cant perform in the ring that much longer. He says TNA reminds him of some of the young guys from WCW and says he wants to help stop the monopoly WWE has right now.
A caller asks about his contract with TNA right now and he says it's limited. He says it's very open and that when he needs time off they can work around it. For example, if a movie project were to pop up, Nash would be free to go film that and take time off from TNA. He says he can always make the PPV's on Sunday because they don't film in Hollywood on Sundays.
Nash says he watches Spike TV all the time because of the CSI episodes and notes that tonight at 7, CSI will be on and he'll be tuned in. He says Spike is growing and so is TNA. He says he tunes in to see the final moments of RAW each week because he's a huge fan of the UFC show and doesn't want to miss it.
A caller asks about wrestling as tag team and said he would do it with people like Scott Hall "if he could get his life straightened out" and Sean Waltman "if he could get his issues resolved".
Brian from Texas says looking as his career, how does he want to be remembered? He says he thinks he's made some contributions and was one of the better big men workers. He says he hopes he made people laugh, cry, and angry.
When asked about his favorite times in the business, he noted the nWo and his time with WCW.
A caller asks who he thought was the best worker in the business and he said HBK, Triple H, AJ Styles, and Monty Brown "will get better". Nash says AJ is in a class by himself right now. He also says Raven and Daniels have potential as well. Samoa Joe is a "star on the rise".
Nash says he heard a story about AJ Styles growing up and how poor he was. He heard he actually had to sneak across the site to a trailer park to watch wrestling. He thinks its amazing AJ has come so far.
A caller says "If i'm a casual wrestling fan, why should I give TNA a shot"?. Nash says when he watches the shows, it's fast paced. He says about bra and panties matches "Sometimes I think to myself, Man, I don't have time to sit through this crap". He said if people want to watch high-flying moves and good action, then TNA is for you. He said if you want to see bra and panties matches, TNA isn't for you.
He says he'd like to see TNA go 2 hours and says they have the talent to make it work.
Nash said he has a gut feeling that TNA will succeed and says he's been in two places at the right time and feels TNA is the next big thing.
Black Jack Brown asks his feelings on Hogan and nWo. He said it was a good time.
A caller asked if he would return to the long hair and he said at his age he didn't think so.
Nash said he'd like to play comedian acts for movies.
Nash also says he wants to do comedy movies if he could.
When asked about his JAKKS figure he says he has a contract with them but doesn't know when it will be out. He says there is some wording on his contract and he's working on it.
They rap up the call, thank Nash, and plug TNA iMPACT! on Saturday nights and the Bound for Glory PPV this Sunday.
That's a wrap.