Latest Backstage News On The Jim Ross Situation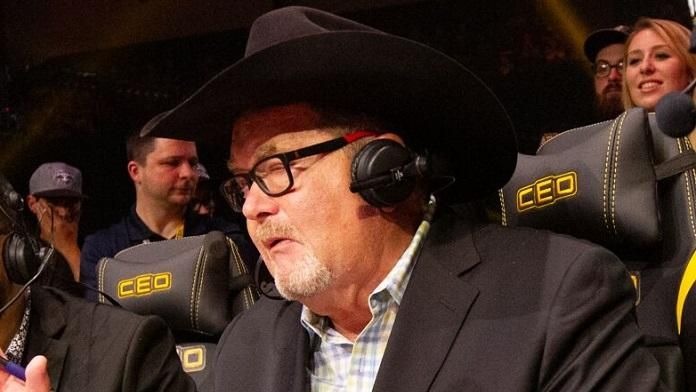 Photo Credit: AEW
Credit: PWTorch.com
The word backstage from RAW last night in Corpus Christi, TX is that Jim Ross is officially done as an on-air announcer for WWE. There was said to be many who felt the writing team, and more importantly the McMahon's, didn't send off Ross in the right way if this ends up being his final appearance as a broadcaster for the company. The feeling was that a tribute could have been utilized for Ross as opposed to using his storyline firing as an excuse to put over Linda McMahon's heel turn.
At the moment, WWE's goal is to put a new, young, energetic announcer on the air for RAW's broadcast team. With Mike Goldberg turning down the offer and instead choosing to re-sign with UFC, it remains to be seen who WWE has interest in bringing in. As noted earlier, the qualifications for this position does not require an extensive knowledge of pro wrestling or even any knowledge of the business period. It is possible the WWE could use announcers they already have and push them into the spot for RAW next week, including Josh Mathews and even former ECW announcer Joey Styles.
In regards to Ross' future with WWE, we do know that his contract is up in less than a year. After that point, he would be free to go anywhere he wants. This has already prompted rumors of possibly heading to TNA once his WWE deal is up. Although Mike Tenay is considered the top announcer for that company since it began, the addition of Ross would no doubt help TNA's product overall. However, that is just simply talk as Ross could very well renew his deal with WWE and simply work behind-the-scenes and remain off the air. Another option for Ross could also include Ring of Honor. It should be noted that when Ross was fired by WWE many years ago, he went and announced for Smokey Mountain Wrestling. What may make or break this situation is if there is a large backlash by WWE fans to this move (ala Matt Hardy). If that doesn't happen, this past Monday night was Jim Ross' last appearance on WWE TV for now.