Matt Hardy On SmackDown! Next Week; Is He Dating Ashley?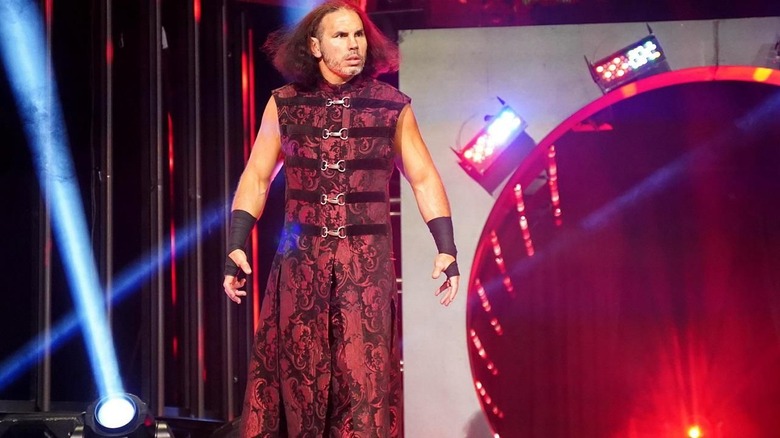 AEW
Matt Hardy is living proof that when one door closes, another one usually opens.
Just weeks after coming up short in a Loser Leaves RAW Ladder Match to Edge, Hardy has found a new home on SmackDown. In fact, Hardy will make his SmackDown debut next week on the Peep Show, which is hosted by a Superstar Matt is very familiar with – Christian.
WWE.com recently caught up with Hardy to talk about moving away from the saga with Edge and Lita and heading back home to SmackDown, where he originally made a name for himself as a singles star.
WWE.com: What will it be like to get away from Edge and Lita?
Matt Hardy: I think in reality I m ready to get away from it in many ways. It s something I had to do upon returning to WWE. I came in and addressed it. From a fan s standpoint, I don t think you can argue with the drama and suspense and storyline and matches that went with it. I think they were amazing. But from a personal standpoint, it s been a tough scenario to deal with. It s just one of those weird things with Edge, Adam Copeland. I can go in the ring and have great matches with the guy. As a performer, I think he s amazing. As a human being, I think he s a piece of sh*t. But it s tough to do that. It s tough to go in the ring and do that night in and night out. It s something I did, and I ve done everything I need to do as far as that scenario goes and I m ready to move on past that. I m ready to move on and get back to being me; to be Matt Hardy, the guy who goes out and entertains people and enjoys what he does every night. As far as the whole scenario goes with me and Edge, I think it s like with Shawn Michaels and Bret Hart. As long as we re both in the wrestling business, as long as we re both in the world, there s going to be a built-in issue there and I don t think it will ever officially end until one of us dies. For the time being, though, I went in and did that, and it s just time to move on to bigger and better things and move on to my ultimate goal and that s to be World Heavyweight Champion.
WWE.com: On the Coachcast Edge called you the Bubonic Plague would you like to respond to those comments?
Matt Hardy: Well, if anyone is a plague, it s Edge. He s very good at name calling, and he s one of the best spin doctors you ll ever meet. I don t know anyone that has been close with the guy that hasn t ended up with a worse opinion of him than when they first met. Everyone who s had a close, personal relationship with him especially now that the real Adam Copeland is out walks away from him with a lesser opinion of him than they started. He s great at trying to twist the truth. Just ask all the women he s worked over the course of his life. But in the end they always catch him, so he ll get his in the end. I believe in karma, and I d hate to have his karma chasing me.
WWE.com: What was it like having to leave RAW and it not being on your own terms since you ended up being double teamed?
Matt Hardy: I m not going to lie about it. It sucks to leave RAW. It s the longest-running wrestling show out there now. It s live, and there s no atmosphere like a live atmosphere. To leave under the conditions I left isn t how I would have wanted to leave. But I m a man about it. I m not going to curl up and die. I will not die.
WWE.com: What do you have to say to the fans that said by coming back to WWE you would be buried?
Matt Hardy: The Internet wrestling community is an interesting bunch. I do appreciate them because they re very passionate. But at a moment s notice they ll be the first to be hypocritical. Instead of looking at the glass half full, they ll look at it half empty. They didn t look at as me coming back to the place I always dreamed of working and that I was going to be in a high-profile situation. And when you go back and look at Street Fight and the Cage Match, those are two of the best matches in the careers of both me and Edge. You just don t get those every day. The fact is, I came back, and in an odd way I almost came back in a better position I left in. It just sucks I had to go through that personal situation. I knew it was going to be weird coming back to WWE. I was coming in here wrestling someone who is one of the top guys in the company. I knew it was going to be tough from an in-ring and out-of-ring perspective. I came in, took my licks and got past that. Now I m moving on to SmackDown and things will be bigger and better than ever.
WWE.com: What are the pros of moving to SmackDown?
Matt Hardy: I m excited about going to SmackDown because it s really where Matt Hardy Version 1.0 or Matt Hardy the singles wrestler was born. The most success I ever experienced was in my first run on SmackDown. And most everyone knows that ended because I wanted to come back to RAW to spend more time with Lita and resume our relationship. Looking back, that doesn t seem like the best career choice, but it did at the time. Now I m going back to SmackDown and I won t be dealing with Lita, or dealing with Jeff (Hardy) or dealing with Shannon (Moore). It s just going to be Matt Hardy worrying about Matt Hardy, and I m more focused and more motivated than I ve ever been. This is going to be the best run of my career.
WWE.com: Who are you most looking forward to working with on SmackDown?
Matt Hardy: Right now, one of the first guys that stands out, of course, is Christian. I ve done so many great things with him in the past. I think he s an amazing athlete in the ring as well as an amazing personality out of the ring. Then you have guys like Rey Mysterio, JBL who has come so far; he ll be interesting to work with. And obviously, the Champion, Batista. When I go to SmackDown, my goal is to be the World Heavyweight Champion at some point. I m going to aim high. To me, if you don t go in there with the goal to become the Champion, you re not going in with the right mindset. I just feel like now I m at a time in my life where I have enough knowledge of the wrestling business and my body is in the best condition it s ever been in. I feel like now I m one of the best competitors in the entire wrestling business. I want to give everyone a run for their money. Shawn Michaels always says he s the Showstopper, I want to go out there night in and night out and be the showstopper. There s also other guys like Eddie Guerrero and Chris Benoit that I ve never wrestled that I look forward to facing.
WWE.com: How do you think the roster is different from the last time you were on SmackDown?
Matt Hardy: The roster right now, in some ways, is similar to how it was when I was previously there. When I used to be there Brock Lesnar was the World Champion, and now Batista is at the top. Some guys like Eddie and Benoit are still there. The cruiserweights are there, and I think they re underutilized. From the heavyweight division perspective, it s pretty similar, but in time I think the guys have progressed and gotten bigger and better.
WWE.com: You ve been on SmackDown before and had some success. What do you envision for this go around?
Matt Hardy: I think coming in new and fresh, with other guys who have been fighting for title shots, I ll have to work my way up a little bit. But I m coming off a pretty hot streak of matches with Edge so there s some notoriety attached to the name Matt Hardy. I ve got a lot of people behind me, and I m happy about that. I ve always been happy to have the people behind me, because without the people, there s no me. But coming in, I m just going to bust my ass and do whatever it takes to accomplish my goal of becoming the World Heavyweight Champion one day. If that means getting in better shape, adding new moves, jumping off the top of a cage and giving a leg drop, I ll do it. I ll do whatever it takes. I think my performance has shown that recently, and I m not going to slow down. I m going to strengthen my game from all aspects.
WWE.com: You also have a history with Christian from your tag team days. What will it be like being on the Peep Show with him?
Matt Hardy: I m just looking forward to getting out in front of my SmackDown fans and making the official announcement that Matt Hardy is coming home. In a lot of ways SmackDown is what created Matt Hardy as a singles wrestler. In some ways it feels right to go back there and be a member of the blue team. Although, I hated to leave RAW under the circumstances in which I did. But I feel like everything happens for a reason, and SmackDown is where I need to be. It s time for Matt Hardy to achieve all the dreams and goals I ve always dreamt of.
WWE.com: With all of the bad blood brewing between RAW and SmackDown lately, do you think another Matt Hardy vs. Edge confrontation could come along or is that something you want to close the book on completely?
Matt Hardy: I will never close the book on that. Personally and professionally I will never be able to let that go and it will always be there. I would never say no to it. I would almost bet money that there will be another or more Matt Hardy vs. Edge matches. I know he plans on being around for a while, and I plan on being around for a while, and I m sure you haven t seen the last of that. And who knows, if he ever gets traded to SmackDown, it might start all over again.
WWE.com: Would you like to comment on the Internet reports that you re dating Ashley?
Matt Hardy: Ashley and I traveled together and hung out. I think Ashley is an awesome person. We spent some time together and I think each one of us made the other happy. We definitely enjoyed each other s company. Now it s a little different because she s on RAW and I m on SmackDown and we won t see each other as much, but you never know. She s a great person and a great soul. She s really working hard and trying to do good in WWE as a sports-entertainer. I think she s going to be really good because she has an awesome attitude and a great mindset. I really dig Ashley.