WWE Notes: HHH/Steph Marriage, Blue Meanie-WWE, More News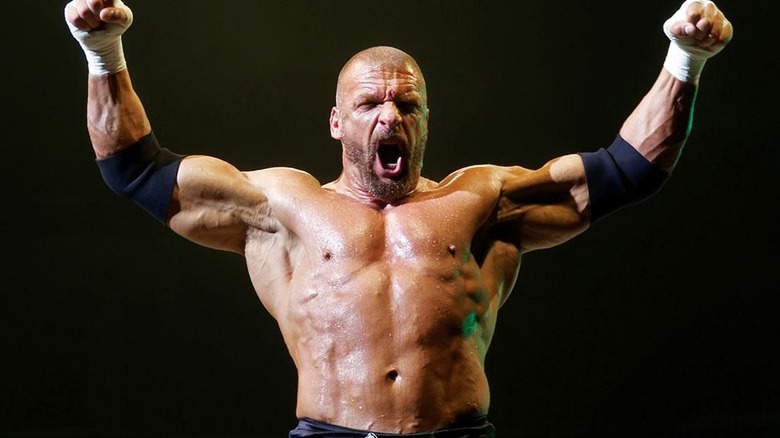 Photo Credit: Miguel Discart
This past Tuesday was the 2 year anniversary of the marriage of Jean-Paul Michael Levesque (Triple H) and Stephanie Marie McMahon as they got married on October 25, 2003 at a chapel in Sleepy Hollow, New York.
The WWE Auction site is auctioning off the straw hat The Blue Meanie was wearing on Smackdown back in July as he was portraying "John Blue Lamefield" in a BWO promo. The Blue Meanie was lured into WWE in the summer for the sole reason that he wouldn't sue them after John Bradshaw Layfield took matters into his own hands by legitimately busting him up at the ECW One Night Stand pay-per-view. He was never officially under WWE contract as he was on a pay-per-appearance deal. The BWO went over like a dead balloon on WWE programming and it was written off WWE programming as quickly as it started. The Blue Meanie's last appearance was at The Great American Bash in a six-man tag match against The Mexicools in which they lost. Blue Meanie then wondered why he wasn't being used anymore by calling WWE management and they wouldn't even return his calls. His brief WWE run helped pay some large debts he had though. Meanie is said to be working at a video store which sells videos of a pornographic and/or adult content nature now.
The WWE Auction site has put up for auction Jim Ross "Surgery Vignette Items Vince McMahon used in Monday night's vignette.
It was announced on Velocity last weekend that Stacy Keibler will be wrestling Jillian Hall on Smackdown this week. There was even a match graphic shown of the two ladies. This will be Jillian's first match in front of a WWE crowd and she does wear a mask to avoid her 'mole' falling off.
"The Hurricane" is officially no more as he'll now be referred to as Gregory Helms from now on. There is a video on WWE.com that aired during WWE Unlimited last night where he proclaims that he will now be known as Gregory Helms. WWE.com has even changed his profile to now refer to him as Gregory Helms instead of The Hurricane.