WWE RAW Results (11/28/05): General Manager Shane McMahon?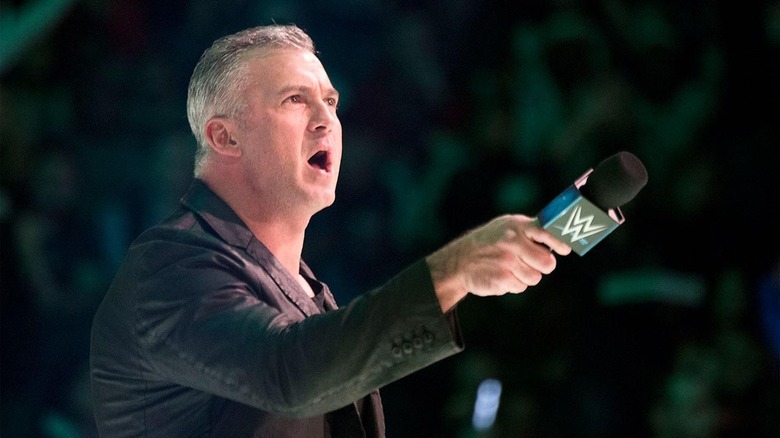 WWE RAW Results (11/28/05): General Manager Shane McMahon?
Event: WWE Monday Night RAW Results
Date: Monday, November 28th, 2005
Location: The Gund Arena in Cleveland, OH
Results by PowerWrestling.com
The fireworks went off in the arena for the start of RAW as Joey Styles, Jerry Lawler and the Coach welcomed us to the show and Eric Bischoff is already in the center of the ring and he doesn t look happy! Bischoff said in just a moment, he is going to call every wrestler who is under contract to RAW, who is back in that locker room, to come down to this ring, because he is going to give them a piece of his mind! He said last night at Survivor Series, all of the RAW superstars let the people down, but more importantly, they let him down, which is why the first thing he did when he got here was put everyone on notice that failures like last night at Survivor Series will not be tolerated, so with that in mind, he is ordering every one of the RAW superstars to get down to this ring and face the music.
Bischoff waited and no one came out and asked if there was an audio problem, and to get down to this ring right now! Again no one showed, and he said he will come to them and he will fire the first person&the music of Vince McMahon then hit as he strutted down to the ring!
McMahon got on the mic and asked if Eric said he was going to fire the first person he sees? He said his name is Vince McMahon and he s the chairman of the board, how you doing? He said he doesn t want Eric to fire him, he loves his job and he loves the business, but Eric you re not going to fire him, and you re not going to fire anybody! He said the reason the RAW superstars didn t come out is because he told them they didn t have to. He said it isn t about them, it s about Bischoff. He said Bischoff had three goals at Survivor Series, Team RAW was going to beat Team Smackdown but that didn t happen. Bischoff was going to beat Teddy Long and that didn t happen either, and the third was to screw John Cena out of the WWE Title and that didn t happen either! McMahon said Bischoff set these goals and he fails to reach them, so some people could construe that as Bischoff being a failure! McMahon said Bischoff had some success here and there, but is he going to burn RAW down like he did WCW? McMahon told Bischoff to speak and then yelled to shut up and said his record SUCKS! The fans chanted you suck at Bischoff as McMahon said perception is reality, so therefore, if the people perceive Bischoff to be a failure, then they will perceive RAW to be a failure, and then they will perceive McMahon as a failure.
McMahon said he is a lot of things but he isn t a failure, so he s giving Bischoff an ultimatum, and that is to set a goal and achieve it and if he doesn t, McMahon could very well be looking for a new General Manager. Bischoff said with all due respect, they both know it s not as easy as it sounds. He said despite his deficiencies, he s held this show together since 2002, while on Smackdown it s been a revolving door. He said that he wants McMahon to reconsider, because he won t find it easy to find a replacement for him. McMahon asked him to repeat what he said. Bischoff said no one can possibly replace him. McMahon then looked to the back and the music of Shane McMahon hit!!! HERE COMES THE MONEY! Shane came down to the ring and shuffled around like only he can! He and his father embraced and Shane took the mic. Shane said that he never really liked Eric and he s looking forward to seeing him go, but as far as it goes to answer who could replace him, well you re looking at him! Shane said he was born to do this job! Bischoff didn t look happy, and his back up against the wall here tonight on RAW!
Referee: Mickey Henson
Shawn Michaels vs. Carlito
The music of Shawn Michaels hit in the arena, and on WWE Unlimited, Carlito blamed Shawn Michaels for Team RAW s loss at the Survivor Series so they are going to go one on one here tonight!
The start:
Carlito slapped Michaels and then spat apple in his face before unloading with right hands. Carlito sent Michaels to the outside and then choked him with his t-shirt. Carlito sent Michaels into the barricade and then back into the ring. Michaels came back with some chops and then Carlito hit a lung buster. Carlito stomped away at Michaels and then locked in a side headlock on the mat.
Mid-match notes:
Michaels sent Carlito to the ropes and Carlito nailed a shoulder block. Michaels came back with a hip toss and then Carlito went back to the side headlock. Michaels sent Carlito to the ropes again and then Michaels went for a roll up but Carlito blocked and tossed Michaels over the top, but Michaels skinned the cat and then Carlito clotheslined him back over. Carlito nailed a flying crossbody over the top onto Michaels on the outside. Carlito tossed Michaels back inside and covered for two and then stomped a mud hole in Michaels. Carlito continued his assault with right hands and then chopped him in the corner.
Michaels came back with chops of his own and they traded more chops before Michaels sent Carlito to the corner, but Carlito came back with a high crossbody for a near fall. Michaels nailed more chops and then hit the flying forearm before nipping up but Michaels knee buckled in doing so! Michaels rolled to the outside and Carlito nailed him with a baseball slide and Michaels is down and out on the floor as we go to commercial. Back on RAW and Carlito is working the injured leg of Michaels with a single leg crab. Michaels escaped and came back with chops on Carlito but Carlito kicked the leg and sent Michaels to the corner and charged in but Michaels got his boot up and then went up top slowly but Carlito easily crotched him.
The Finish:
Carlito went up for a belly to back but Michaels elbowed him off and then nailed the flying elbow off the top. Michaels started to tune the band and went for Sweet Chin Music but he couldn t extend the leg and Carlito nailed a nice DDT for a near fall. Carlito went for a suplex but Michaels floated over and went for the superkick again but his knee buckled. Carlito went for the overdrive but Michaels escaped and hit Sweet Chin Music for the win out of nowhere!
Winner – Shawn Michaels
Backstage:
Bischoff is shown backstage and Angle and Daivari stormed in. Angle said last night was the biggest screwjob in history, and a Smackdown referee made the fall. Angle said when the referee made the count they stood up and cheered, and he wants the WWE Title! Daivari spouted off and Angle said what the Boogeyman did to Bischoff last night will be nothing compared to what Angle will do if he doesn t get what he wants! Don t piss him off!
Last night:
Footage was shown from the Survivor Series with all of the Smackdown! team having to hit their finishers on the Big Show to eliminate him from the match and tomorrow night, the Big Show will go head to head with Rey Mysterio on the Smackdown! Special on UPN at 8/7 CT on UPN.
Backstage:
Bischoff is shown in his office and Maria comes in. She says she wanted to ask him if he thinks he will get fired tonight, and Shane McMahon sent her. Bischoff laughs and says he is still the General Manager of RAW, so he is going to send her out to that ring and have a match with Kurt Angle. She says she is an interviewer and not a wrestler, but Bischoff said tonight his goal is to never have to hear Maria ask a question again. He told her to get out to that ring or she s fired.
Referee: Daivari
Maria vs. Kurt Angle
Maria is in the ring looking very worried as the music of Daivari hit and he made his way down in his referee shirt. Daivari got in Maria s face and Chad Patton the referee is out here and says he is going to referee this match. They both argue and then Patton decked him with a right hand! Daivari backed off and acted like he was leaving till Patton turned his back and then Daivari attacked from behind and choked him out. Daivari locked in a Camel Clutch on Patton and then tossed him to the outside and spat on him. Daivari then got in Maria s face again as Kurt Angle made his way to the ring, with the you suck chants censored yet again. Angle gets on the mic and tells Maria to calm down, and he isn t going to hurt her. He said it s a stupid idea and he doesn t wrestle women. He said that he wants her to come out here and give him a hug and they will call it a day. Maria and Angle hugged and then he clutched her and dropped her with the Angle Slam! Cena then hit the ring and hammered away with right hands and then a shoulder block and clotheslined Angle to the outside. Masters then hit the ring and attacked Cena from behind and locked in the Masterlock! Angle then came in and kicked away at Cena while he was in the Masterlock. Bischoff came out and said to hold on, and that Angle has to save a bit for later on. Bischoff said McMahon wants him to have a goal, and that goal is to see Cena tap out and lose the WWE Championship, so tonight on RAW it will be Cena defending the WWE Championship against Kurt Angle and Chris Masters in a No Disqualification, No Countout, Triple Threat Submission Match! Angle then gave Cena an Angle Slam, and Angle has the Ankle Lock and Masters has the Master Lock, what does Cena have, the 5 Knuckle Shuffle?
Winner – No Contest
Six Diva Tag Team Match
Referee: Jack Doan
Trish Stratus, Mickie James and Ashley vs.
Victoria, Candice Michelle and Torrie Wilson
The music of Trish Stratus hit in the arena as she made her way to the ring as the Women s Champion, along with Mickie James, and they will be teaming with Ashley to take on Victoria, Candice Michelle and Torrie Wilson!
The start:
Torrie and Mickie kicked thing off with a tie up and Torrie slapped Mickie and then sent her to the apron. Torrie yanked the hair but Mickie sent her into the turnbuckle and then hit a crossbody for two. Ashley tagged in and went to the middle rope with a double sledge but then Torrie nailed a clothesline. Torrie tagged in Candice who stomped at the leg of Ashley and then went to choke her over the ropes but Ashley blocked it and then Victoria nailed her and tagged in.
Mid-match notes:
Victoria hit a suplex and rolled out for two. Ashley went for a tag but Victoria stopped her and locked in a rear naked choke. Ashley elbowed out but Victoria nailed her from behind and then gave her a body slam and then the flipping slingshot leg drop. Ashley tagged in Mickie who hit a clothesline, and then another and then some right hands.
The Finish:
Mickie hit a flying forearm and then some kicks to the chest and a spinning heel kick for two when Candice made the save. Mickie sent Candice out but then Victoria nailed her with a clothesline but then ate an elbow in the corner and Mickie hit the spinning headscissors. Mickie then hit Stratusfaction and Torrie came in but Trish took her down and Mickie pinned Victoria for the win!
Winners – Trish Stratus, Mickie James and Ashley
Mickie was all happy and took the Women s Title and celebrated with it like Trish, and then realised and handed it to Trish. They all hugged. Woo.
Backstage:
Bischoff is shown in his office again and Shane McMahon comes in. Bischoff said he will accomplish his goal tonight when John Cena loses his WWE Championship. McMahon said Bischoff must feel like a real big man putting Maria in that match with Angle. Bischoff said in his opinion, Shane is nothing more than a card carrying member of the lucky sperm club. Shane then grabbed him against the wall and said not to ever disrespect him or his family name.
Backstage:
Angle is shown and Daivari is rubbing his shoulders, and Angle is getting worked up for the match tonight. Angle said Cena doesn t have a chance, especially since he will have his own referee. Masters came in and said that sounds like a great plan, but if Daivari screws Cena, Daivari will screw him. Masters said he went to Vince McMahon and Daivari has the night off! Masters said tonight, we have a fresh impartial referee for the match, and the new champion will be him, the Masterpiece.
Referee: Mickey Henson
Shelton Benjamin vs. Trevor Murdoch
The music of Shelton Benjamin is playing in the arena, and he is set for action with Trevor Murdoch.
The start:
Murdoch went straight for Benjamin, but Benjamin sent him to the outside and then hit a flying clothesline off the top to the floor on Murdoch! Benjamin went for a splash but Murdoch moved and then knocked down Benjamin, and followed up with a clothesline and then some stomps before covering for one.
Mid-match notes:
Murdoch nailed a slam and then went to the middle rope but Benjamin got his boot up and Murdoch blocked but Benjamin then nailed him and took him down with a clothesline and then a shoulder block. Benjamin then nailed the dragon whip. Benjamin went up for a clothesline but Murdoch moved and then hit a face buster for two.
The Finish:
Murdoch ate boot in the corner and then Benjamin overshot a sunset flip. Benjamin came back with right hands and then nailed the stinger splash. Murdoch sent Benjamin into the turnbuckle and then rolled him up with a handful of tights for the win!
Winner – Trevor Murdoch
Backstage:
Triple H is shown walking backstage towards the arena, and we will hear from him next!
In the arena:
The music of Triple H hit in the arena as he made his way down to the ring, and last night he defeated Ric Flair in a Last Man Standing Match at the Survivor Series. Triple H got on the mic and said it has been brought to his attention that some people think he is not a compassionate man, but you re wrong, he is a regular humanitarian. When they took Flair out of the arena in the ambulance, he made sure they took him to the finest hospital in Detroit, he made sure he had his own suite, and a plasma screen on his wall, and made sure they had the USA network because he didn t want Flair to miss one single moment of RAW. He said he knows Flair is sitting in his hospital bed watching right now, and tells Flair to stay down. He knows Flair is thinking he can come back from this, but he can t. Come to terms with the fact that Ric Flair is gone. He said he doesn t know what Flair is upset about, he couldn t have written a better exit if he tried, going back to back pay-per-views with the greatest wrester alive today. He said there is no shame in him losing to the best. When they let him out of the hospital, go home and live out the rest of your life, and don t come back here because you are not wanted anymore.
Triple H asked if the fans have a problem with that, and the problem is they know he s right and the reason they are mad is because none of them would have the guts to do something about it and that s what separates him from them. They can sit out in the crowd and hide behind the anonymity of the mob, and run him down, but the fact is there is not a man alive who will look him in the eye and tell him to his face. The music of the Big Show then hit as he made his way down to the ring! They both stared at each other intently as Show got on the mic. Show said he has known Triple H for a long time, and has let a lot of the things that he has done slide, but after what he did to Ric Flair, he s here to tell him to his face, eye to eye, man to man, Hunter, you re a piece of s–t. Show said Triple H thinks he s a tough guy, but Show doesn t a need a sledgehammer to put someone out of their misery. He told him a few weeks ago that his time is coming, and his time is here and now, but the question is, does Triple H have the guts to fight him now. Triple H backed up and went to speak but Show whacked the mic out of his hand. Triple H then backed out of the ring and up the aisle as Show stared him down.
World Tag Team Championship Match
Referee: Jack Doan
Snitsky and Tyson Tomko vs. The Big Show and Kane (c)
Show stays out in the ring as he and Kane have a title defense against Tyson Tomko and Snitsky, next.
The start:
Back on RAW and we are underway with Kane hitting a big boot on Tomko and covering for two. Show comes in and gives Snitsky a headbutt but then Snitsky nailed Kane with a big boot and Tomko covered for two. Snitsky tagged in and choked at Kane in the ropes but then Kane came back sending Snitsky face first into the canvas.
The Finish:
Show tagged in and hit clotheslines to both men, and then hit a side walk slam on Snitsky. Show hit a powerslam on Tomko for two when Snitsky made the save. Kane hit a clothesline from the top on Snitsky and then sent him to the outside. Tomko was sent to the corner and Kane splashed him, and then Show gave him the chokeslam for the win.
Winners and still World Tag Team Champions, Kane and The Big Show
The Aftermath:
Kane and Show celebrated their impressive victory, who will be able to take the gold from these two?
WWE Championship Match
Triple Threat Submission Match
Referee: Michael Chioda
Chris Masters vs. Kurt Angle vs. John Cena (c)
We are set for the WWE Championship Match, and as per Eric Bischoff, this will be no countout, no disqualifications and a submission match! The music of Kurt Angle is playing and he is already in the ring as the Masterpiece makes his entrance, followed by WWE Champion John Cena.
The start:
Cena went straight for Angle but Masters took him from behind and he and Angle double teamed him. Angle choked Cena with his hoodie as Masters hammered away at him. Angle gave Cena an uppercut and then an elbow drop. Masters then hit an elbow of his own and then they hit a double suplex. Angle then kicked Masters in the gut and tossed him to the outside.
Mid-match notes:
Cena came back with right hands on Angle and then gave him a clothesline and knocked Masters off the apron. Cena went for the FU but Angle elbowed out and locked in the Ankle Lock! Cena reached for the ropes but then Masters came in and locked in the Master Lock on Angle! Angle tried to break the hold but then started to fade but came back before fading again. Cena then came in to break the lock and nailed Masters with right hands but Masters then kicked Cena in the leg and hit a delayed vertical. Masters signalled for the Master Lock on Cena and synched it in.
Cena tried to fight it but then he faded and went down to his knees. Angle then came in and broke the lock and hammered away with right hands in the corner. Masters sent Angle into the corner and went for the Master Lock again but Angle dropped down and locked in the Ankle Lock! Cena went up top and hit a flying double axe handle on Angle and then hit a flying shoulder and a pair of clotheslines. The fans are booing Cena again as he hit a belly to back sit out powerbomb.
The Finish:
Cena went for the five knuckle shuffle but Masters nailed him with a clothesline! Masters stomped on Cena and then Angle took down his straps and went to the outside and grabbed a chair. Masters held Cena and Angle went to nail him but Cena got a boot up and kicked it into Angle s face! Cena then hit Masters in the leg with the chair, and then hit him right in the knee with it! Cena then locked in an STF and Masters tapped!
Winner and still WWE Champion, John Cena
The Aftermath:
Cena looked intense as Vince and Shane are shown watching the back, and Vince said next week, it s time to take out the trash!
Check out PowerWrestling.com.