Huge TNA Update: Titles, Gail Kim, Pierzynski, iMPACT!, & More Inside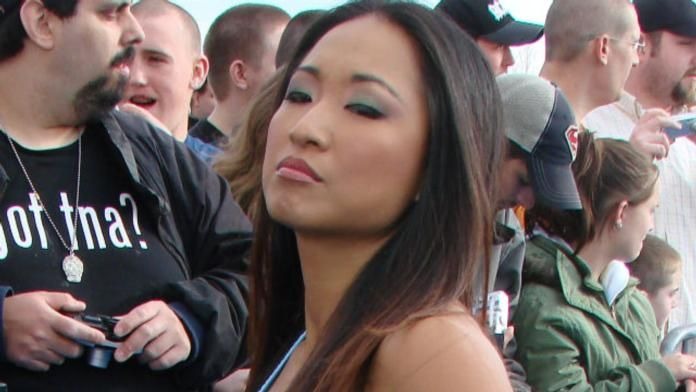 MLB.com has a story on White Sox player A.J. Pierzynski signing a new three-year deal with the Chicago White Sox. The articles says there is nothing in the contract that prevents him from working TNA wrestling. This entire angle was huge publicity-wise for TNA.
TNA drew a record for their iMPACT! replay rating this past Monday night with a .6 for about 636,000 viewers. The regular show on Saturday did a .7 but has been averaging a .8. This is obviously great news for TNA as their product is being seen by over one million people on a week to week basis. The PPV's have been drawing anywhere from 15,000 to 40,000 buys. When TNA was on Wednesday nights before FSN and Spike TV they had been averaging about 6,000 buys. WWE PPV's average around 250,000 buys per show.
Gail Kim has posted a message on her official website. She mostly talks about recently filming her role in the independent film Princess. She says that was the reason as to why she was off TNA programming for a few weeks. Visit TheGailKim.com for more.
TNA officials are thinking about creating X-Division tag team titles in 2006. They are also thinking about creating a women's title.
TNAWrestling.com issued the following Press Release yesterday: Ring In the New Year with TNA, Nashville, TN (December 21, 2005) End 2005 and start 2006 by watching the most exciting, unpredictable, adrenaline rush on Spike TV — TNA iMPACT! This double dose of TNA action starts off at 8PM ET on New Year's Eve with a primetime showing of iMPACT! NWA World Champion Jeff Jarrett will team up with "The Alpha Male" Monty Brown for some tag team action. The ruthless X-Division Champion Samoa Joe will be in action and in the main event, "The Phenomenal" AJ Styles will battle one-half of the NWA Tag Team Champions, "Cowboy" James Storm. Also, relive all the most "impactful" moments of the year with a special look back at TNA in 2005. Everything from Christian Cage's shocking TNA debut to Rhino's rise at "Bound For Glory" to "The Controversy In Canada" to the Team 3D Funeral will be covered during this year-end retrospective. Then at Midnight ET, kick off the new year with "Captain Charisma" Christian Cage and witness the official announcement that will change the face of TNA Wrestling in 2006. Then in the very first wrestling match of 2006, a championship will be decided! Make your resolution now to start your New Year right with the intense action that only TNA can deliver!
We have opened a website directly related to TNA at TNAWrestlingNews.com Please be sure to check that website for all the latest backstage TNA news and rumors updated on a daily basis. Check it out now at TNAWrestlingNews.com