WWE RAW Results (12/26/05): HLA, Vince-HBK-Bret Hart, More!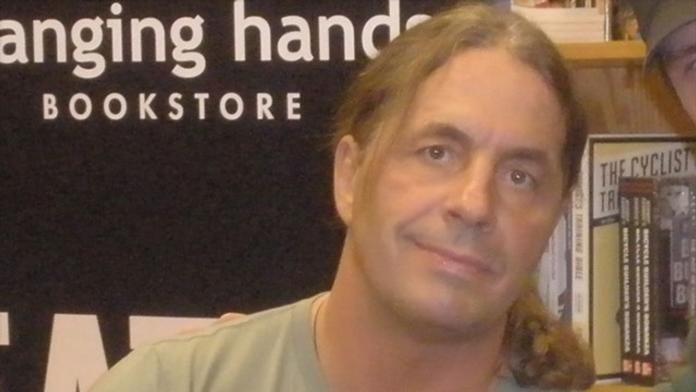 Photo Credit: Google
WWE RAW Results (12/26/05): HLA, Vince-HBK-Bret Hart, More!
Event: WWE Monday Night RAW Results
Date: Monday, December 26th, 2005
Location: The Arena at Harbor Yard in Bridgeport, CT
Results by 411Wrestling.com
- Vince McMahon welcomes us with a smile and goes over the matches set for tonight where Elimination Chamber participants will be in action and the fastest win times will get the best Elimination Chamber spots. He also mentioned that he would review the Bret Hart DVD.
Shawn Michaels vs. Gene Snitsky
Michaels attached Snitsky quickly due to the importance of winning quickly. Snitsky quickly turned things around and gained control, pounding on HBK's back with power moves. Michaels hit his comeback after a few minutes but his back went out when he tried to lift Snitsky. Snitsky countered a Sweet Chin Music attempt but got nailed with it a few moments later, giving HBK the win. The time of the match, and the time to beat, is 5:56.
Winner: Shawn Michaels
- Ric Flair on "The Cutting Edge" next!
- Edge and Lita are out for "The Cutting Edge." Edge says Ric Flair isn't original and that he stole the entire "Nature Boy" stuff from Buddy Rogers, the chop from Wahoo McDaniel, and the "Whoo" from Jerry Lee Lewis. He then introduces Ric Flair and....it's a Ric Flair picture on the Titantron with the lips moving, ala "Conan O'Brian." HAHAHA. I think right now, WWE is probably better off stealing funny ideas than coming up with their own...well, not so funny ideas. The fake Flair said that he beat up the driver (referencing his real life road rage incident) because he thought the driver was Edge. Edge then went on the verbal attack, saying he's the better looking, better athlete, and better wrestler of the two. He also said that once he cashes in his Money in the Bank Title Shot, his title reign will last longer than all of Flair's title reigns put together. The real Ric Flair then walked out and entered the ring. Flair didn't waste time throwing punches at Edge. Lita helped Edge get ouf of it and the two retreated.
Chris Masters vs. Chavo Guerrero
The time to beat is 5:56. The crowd let out a big "Eddie" chant when Chavo came down. Chavo got a quick rollup for a two count to start. Chavo used his speed to get an early advantage and some nearfalls but Masters soon gained control. He worked Chavo over and went for the Master Lock but Chavo was able to fight it off before getting caught in a fallaway slam. Masters maintained control, nailing a big back body drop but was able to only generate two counts. Masters again went for the Master Lock but Chavo was able to get out of it, leading to a sunset flip for a two count. Chavo continued on the offensive but finally got caught in the Master Lock. However, Chavo did not tap in under 5:56. The match was stopped as the announcers debated whether the match should continue or not. Masters then got the mic and said the timer was fast and not accurate. Masters said the people want to hold him down but it won't happen since his New Year's Resolution is to win the WWE Title at New Year's Revolution. Chavo then came back in and tossed Masters over the top. So, after all that, why not finish the match? Pretty lame. The time to beat remains 5:56.
Winner: No Contest
- Kurt Angle's big announcement is next.
- Kurt Angle talks about the "Salute to the Troops" shows last week and says it made him proud that he didn't go to Afghanistan. Angle says all the troops who volunteered to go there and are now "b—hing about it" make him sick. He says they haven't done anything since going there. Angle says he didn't cry when he broke his neck and won the Gold Medal only to have fans say he sucks. Well, he didn't cry but he sure whined a lot. Angle says the troops need to "do their damn job." Angle says all the troops and everyone who sympathizes with them make him sick. He then storms off.
- Vince McMahon is in the back with Torrie Wilson who apparently wants to be the GM. Vince says that she is just an over-sexed b—h. Torrie then turns to reveal she is holding a dog. Vince was talking to the dog! Get it? Oh the hilarity! Todd Grisham walks in and McMahon tells him to tell Ric Flair that he will be defending the WWE U.S. Title against Edge at New Year's Revolution. He then asks Grisham if he saw Bret Hart on Byte This a few weeks ago. Grisham said he did. Vince then asked if he "could take him." Grisham said that he could. Vince then told Torrie that he loves people who speak their mind and that he also loves playing with puppies. Of course, he means the dog as he begins to make kissy faces at it.
- Mickie James is excited backstage. Trish enters and they wish each other a Merry Christmas. Mickie has decorated the locker room for them, stockings and all. Mickie talks about how excited she is to face Trish. Mickie tells Trish to look up. Mistletoe. Mickie french kisses Trish. (HOT, pics below) Trish is stunned and storms out as Mickie tries to apologize.
Kurt Angle vs. Daivari
The time to beat remains 5:56. The announcers talk about how Kurt Angle doesn't deserve to wear the red, white, and blue. Angle grins when Daivari enters, leading the announcers to wonder if the opponents really have been picked at random. Daivari falls to the mat on purpose and Angle covers him. Ref Chioda counts to two and stops. Angle yells at him. Daivari lays down again. Again the ref only counts to two. Angle pushes the ref who pushes him back. Chioda runs off while Angle chases him. Another ref enters and counts Kurt Angle out. The crowd busts out in a "You Suck" chant as Angle paces in anger.
Winner by Countout: Daivari
- The Big Show lumbers backstage.
- It's the always fun Contract Signing segment. Triple H and Big Show enter the ring. Coach said that both men had reviewed the contracts backstage and asked if either had any questions. Nope. Show signed first. Triple H didn't sign though. He talked about how he didn't have any problem with the Big Show, but then went on about how Show got everything handed to him because of his size while he had to work for everything he has gotten. He called Show a "freak" and an "overinflated basketball player." Big Show then grabbed the mic and said that Triple H doesn't have DX right now, or Evolution, or any backup, so he better watch what he says. Trips said he doesn't need backup and then stabbed him in the face with a pen. He then flipped over the contract table to reveal a sledgehammer. Show fought back but the two ended up on the outside with Trips nailing Big Show's chokeslam hand with the hammer. Big Show rolled around on the floor in pain, almost looking like he was crying. Trips grabbed the contract, signed it, then tossed it down. I love how WWE contracts say "CONTRACT" in jumbo-sized font at the top.
- A clip was shown of Stacy Keibler on "Dancing with Stars." She was wearing hot spandex red pants which were unreal.
John Cena vs. Shelton Benjamin
John Cena tried to nail the FU early but couldn't. Benjamin countered with a sunset flip once and a samoan drop the other time, both for two counts. The early fast action was halted when Shelton snapped a sleeper on Cena. Cena fought out of it and almost got the win with a fisherman's suplex. Benjamin was able to escape another FU by holding on to the ropes, causing the 5:56 mark to be passed. Cena then dumped Shelton over the top rope. Styles argued that Shelton wasn't playing fair because he held on to the ropes to run the clock out, not to win. Yeah, OK. Cena tried to help Shelton to his feet after the match but Shelton poked him in the eyes, leading to an FU and a STFU which caused Shelton to tap. I guess this match continued despite time running out. The time to beat, however, remains 5:56. Kurt Angle and Daivari then charged the ring and attacked John Cena.
Winner: John Cena
- Shelton talked on his cell phone backstage. He said it wasn't his fault he lost to Cena. He then said "You're coming here?! Next week?!" He didn't look happy.
- Matt Striker made his case to Mr. McMahon about being GM. McMahon asked Striker how he would handle the Angle/Cena brawl from a few moments ago. Striker said he would make them each write a 500 word essay on rules. HA! Vince didn't seem to like that idea. Vince said he hates teachers because they didn't let him fight. Vince announced that Cena and Angle would wrestle next week on RAW in a "First Blood Match."
- Carlito read a Christmas poem about how he spit apples at so many people in 2005 and how he will win the WWE Title at New Year's Revolution.
Carlito vs. Victoria
Carlito smiled when Victoria was announced. During the match, Torrie's dog ran into the ring, distracting Carlito and giving Victoria the opening to nail him with a low blow. Victoria followed that by hitting Carlito's knee with her magic wand, but all that just got a one count. Carlito then nailed her with for the neckbreaker faceplant for the win at 2:36, making that the new time to beat.
Winner: Carlito
- Kane walked backstage.
Kane vs. The Heart Throbs
Kane beat both men in 28 seconds with chokeslams, making that the fastest time. Kane will enter the Elimination Chamber last.
Winner: Kane
- Backstage, Vince McMahon watched the Bret Hart DVD and said "The best there is, the best there was, and the best there ever will be....we'll see about that."
The last part is written by Wade Keller of PWTorch.com:
-Vince McMahon entered the ring. He showed a clip of Bret Hart talking on the DVD about how a lot of people have opinions on the Survivor Series in 1997 and he understands most people's opinion isn't based on the full facts. Vince then asked the crowd whether they thought "I was right" (some cheered) or "Bret was wrong" (some cheered, then stopped). Vince said he just tricked the fans, just as he tricked Bret that night to get the finish he wanted. "As far as I'm concerned, the means justified the ends," he said. "I tricked Bret, I tricked you. So what? As long as I get what I want, and as long as that's the right thing for the business, that's the thing to do." Shawn Michaels interrupted. Vince referred to him as his "partner in crime." He said he wasn't expecting him. He bragged about how Bret went on to WCW and his career went into the toilet. Michaels whispered something to Vince. He seemed not to believe it. The crowd chanted "We Want Bret!"
Vince welcomed Shawn to take the mic and speak outloud. Michaels said he wouldn't come out there and defend Bret Hart. He said nobody would believe him. He said he has been asked if he would do it again, and he said consistency over the years he would do it again. Vince applauded. Michaels said, "The thing is, the reason I would do it again now is because then my loyalty and now has always been to this company. I did it then as I would now because I think it was the right thing to do for the WWE." He said that notwithstanding, if Bret doesn't want to get past it, that's his choice, "but for you to live in that day, Vince, it's time to let it go. That was eight long years ago." Michaels said he's 40, Vince is 60, he's a father, Vince is a grandfather. He said a lot has changed. "Don't you think it's time you and I grow up a little bit. Maybe it's time you move on." Vince smiled at Michaels, then frowned and mouthed, "you son of a b—h." Vince took the mic and said, "Shawn, let me remind you of how the business moves on. You go all the way back to Buddy Rogers, he was the first-ever WWWF Champion. After that Bruno Sammartino, Pedro Morales, Superstar Billy Graham, Hulk Hogan, Ultimate Warrior, you name them and they all moved on. One name remained constant. That name is McMahon. So I want to make sure you understand. Are you suggesting I should make you move on like those other guys because, Shawn, I wouldn't want to have to do that. But I could do that at a snap of my fingers. I don't really think that's what you want because as the business has moved on, so have you Shawn. You've done very well for yourself, but one bad investment can change everything."
Vince said Michaels has a responsibility to his family and a certain standard of living. Vince said he's no different than those people. "There's no other place to go now. There is no WCW. You're no different than all of these people (the fans). They work for The Man. In your case, that's me, Mr. McMahon. I appreciate you speaking your mind, but I think right now you're eating a little humble pie and swallowing your pride. I don't like throwing my weight around." He asked what it was like for Michaels to swallow his pride. He said the fans do it every day. He said it doesn't taste too good, but "you're just like every single one of these people. You will do, Shawn, not only what I told you to do that night at Survivor Series to Bret." He said his new year's resolution is not to take crap anymore from him or anybody. "I don't have to take it, so by god I'm not," he said. "I admit it, I screwed Bret Hart. Shawn, don't make me screw you." He lowered the mic, mouthed a few more words at Shawn, and then walked away. Shawn stared back. Vince was going to leave, but then leaned in and kept staring at Shawn. Shawn was expressionless, then began taking off his jacket. McMahon walked out of the ring as his music played. Coach said, "That was strong stuff." Lawler said, "I don't know what to say." Vince walked to the stage and let out a smarmy smile. Shawn continued his intense, expressionless stare.
-The announcers plugged next week's Angle vs. Cena main event.
Check out 411Wrestling.com.