Yet Even More Bad News For Ric Flair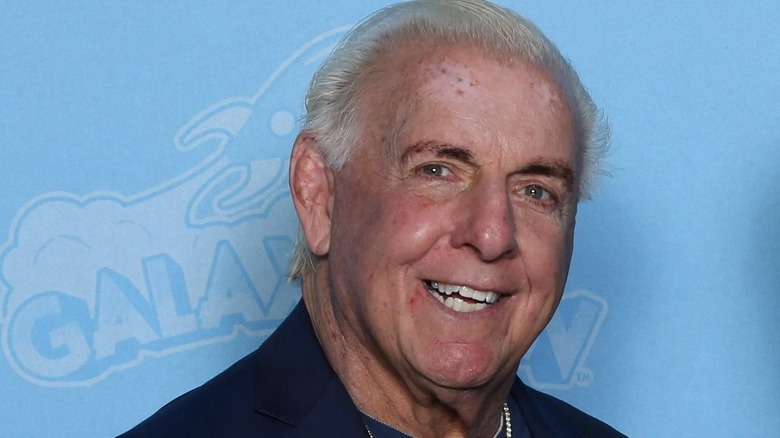 Photo Credit: Wikipedia
Poor Ric Flair. This is such a bad time in his life. Check out this story from Charlotte.com:
Source: https://www.charlotte.com/mld/charlotte/entertainment/gossip/13307913.htm
Pro wrestler Ric Flair has been pinned by the IRS over back taxes and is fighting a nasty divorce battle with his wife.
Flair, one of Charlotte's best-known celebrities, owed the federal government $1 million in 1997, according to a statement from his accountant. The IRS began garnishing Flair's wrestling salary this year, seizing more than $200,000 so far.
Flair and his wife Elizabeth separated in February after 22 years of marriage. In a divorce filing, she accuses Flair of "cruel behavior" and says he slapped, kicked, choked, threw, bit and spit on her and pulled her hair.
Her complaint, which was filed in May, also accuses Flair of abusing alcohol and steroids, causing him to become "enraged, paranoid, emotionally unbalanced and violent," and says he exposed himself to her friends and committed adultery.
Flair acknowledges in court filings that he had a "tumultuous" marriage, but he denies the abusive behavior and steroid use and says his wife is trying to humiliate him with the allegations.
He accuses her of destructive behavior and says she hit him — not the other way around.
Flair, whose real name is Richard Fliehr, and his wife did not return calls for comment.
Flair's attorney also wouldn't comment on the allegations, saying the divorce "isn't news" because it was filed months ago.
"We're defending the case, and we're not going to talk about their domestic problems," said Bill Diehl, perhaps Charlotte's best-known lawyer. "She accused him of being a bad boy. He accused her of being a bad girl. That's where we stand."
Flair was in the news earlier this week after being accused of road rage on Interstate 485.
The divorce case file at the Mecklenburg County Courthouse has grown as thick as two phone books, stuffed with financial records, credit card bills and property tax records.
There's also a letter from the judge, ruling that Flair must pay Elizabeth $20,000 a month until the case is settled, based on their previous living expenses.
Judge Jane Harper says the payment includes $2,000 for gifts, which Harper calls "obscenely high although far less than she says she needs," and $200 for religious contributions. "Whether she makes this or not," the judge writes, "I've included it to encourage someone in this family to share a tiny smidgen of their huge wealth with someone besides themselves."
The judge also says she'll consider freezing the couple's assets until the case is decided, because Flair used money from a retirement account "to get $92,000 for his girlfriend's finger."
Flair, in response to his wife's complaint, denies her charges and says it was her abusive conduct that led him to leave her. His response and counterclaim, filed in August, calls her "emotionally unstable, verbally abusive and physically violent."
He also accuses his wife of hitting him in an effort to provoke him into retaliating physically.
Charlotte-Mecklenburg Police records going back to 2002 don't show any calls for service relating to domestic abuse at the Fliehrs' south Charlotte home.
Elizabeth says she once called police to report abuse and Flair pulled open a wrestling scar to appear bloody, so it would look like she attacked him.
Flair says he and his wife have been separated three times and that she condoned and encouraged his "marital misconduct."
The wrestler says he is involved with a woman who he has taken on trips and bought gifts, but he invokes his right to privacy on the question of whether the relationship is sexual.
Much of the case file deals with the family's financial situation and wrangling over money.
Flair says he and his wife "lived well beyond our means" and racked up substantial debt to the IRS and other creditors.
In an affidavit asking for support payments, Elizabeth estimates that she spends $65,000 a year on clothing and $50,000 on vacations. She said she spent $50,000 on Christmas gifts in 2004. The family also owns a boat, a country club membership, and a house in the Piper Glen neighborhood with an estimated $1.2 million tax value, according to court records.
Flair, known for his "Nature Boy" persona and piercing "Wooooo," said he's due to make $500,000 from his WWE contract this year. But he hasn't received a paycheck since April, he says, due to the IRS' actions.
Flair also says he's concerned about his future in wrestling.
"I am 56 years old," the star writes, "working in a business that demands physical fitness and is dominated by performers much younger than I.
"There is no guarantee that even next year, I will be employed."
Road Rage Charges
Ric Flair was charged last week with injury to personal property and simple assault and battery, both misdemeanors, after a 29-year-old driver filed a complaint against him.
The driver says Flair got out of his vehicle on Interstate 485 in Charlotte on Nov. 23, grabbed him by the neck and then kicked the door of his Toyota 4Runner, leaving a large dent.
Flair told the Observer on Monday that it didn't happen that way. "I didn't do anything wrong at all," Flair said in a phone interview. "As usual, I will be exonerated."
Flair surrendered to authorities at the Mecklenburg County jail Tuesday morning and was released on $1,000 bond less than two hours later.