Big Early Afternoon Update: Ashley, Lesnar's Title, Batista/Maria, Lita More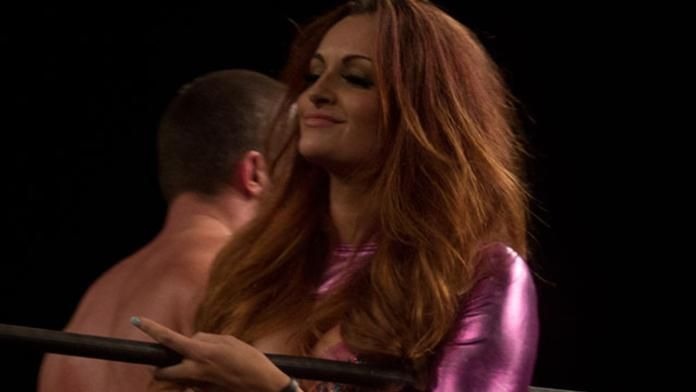 On Saturday, Ashley Massaro, Val Venis and Viscera will be signing autographs @ Stadium Sports – Wilton Mall, Saratoga, NY from 1-3PM .. Massaro, Venis and Viscera then move to the Crossgates Mall at 1 Crossgates Mall Road, Albany, NY from 4-6PM. For more information, call 800-459-2011 and 518-869-9565.
Zach Arnold reports that fresh off his successful title defense over Shinsuke Nakamura at the Tokyo Dome on Wednesday, Lesnar next defends the IWGP heavyweight strap on 2/19 against Ryogoku Korugikan in Tokyo.
On Friday, Batista and Maria will be signing autographs @ SportsWorks at the Sunrise Mall in Massapequa, NY. For information, call 526-541-4475 .. Cena will be signing autographs @ World of Wheels in Chattanooga from 6:30 – 9PM. For into, call 423-756-0001.
Will McNinch sent this one: Hey just wanted to drop a line and recap the show on 105.7 the X in Harrisburg, featuring a Q&A with the fans asking Kurt Angle questions. Highlights: "Eddie Guererreo was lik a pastor to everyone in the locker room" Was offered a contract by UFC prior to joining WWE and if he knew then what he knows now, he would have went with the UFC. Said the toughest opponent he has faced is the Undertaker and that he wants to end his winning streak at Wrestlemania (spoiler????) Thanks guys and keep up the good work
Ratman sent this in: Lita will be making an appearance at the World of Wheels show at the Bayside Expo Center in Boston, MA this weekend (1/6-1/8).
Thomas Pate sent this one: Presale Password for the Raw Live Event in Macon, Georgia on Feb 4, 2005 is RAW and the Presale Password for the RAW Event in Atlanta, Georgia on Feb 6, 2006 is RAWATL