TNA News: iMPACT!, Gail Kim, Spike TV, More News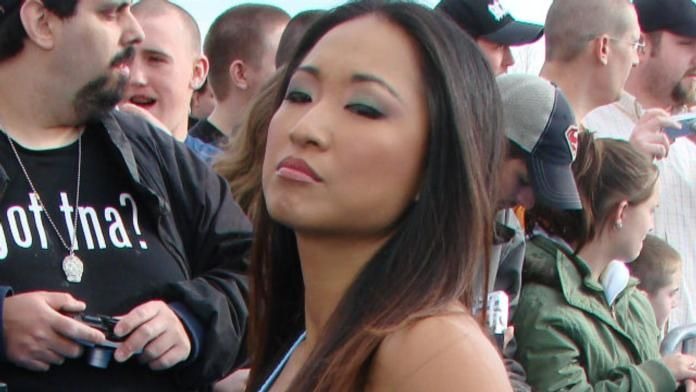 The TNA Monday Night replay scored a 0.6 rating. The overall viewing audience was 761,000.
In a report that you could file under the "oops" department, an article that appeared today in Korea about TNA's Gail Kim visiting the country referred to her as the current WWE Women's Champion.
According to some new reports, Spike TV's schedule for March does not feature any type of specialized programming for TNA or even UFC. In regards to this discovery, one Spike TV representative noted that the lack of announcements for TNA shouldn't be seen as a negative and added that negotiations were quote "always ongoing." This same Spike representative noted that should an agreement be made for a future TNA special, Spike TV's schedule would be quickly reconfigured and updated to accommodate that programming change.
From TNAWrestling.com: TNA WRESTLING RETURNS TO ORLANDO THIS TUESDAY! SEE ALL THE TOTAL NONSTOP ACTION LIVE! Fans in the Florida area – join TNA Wrestling LIVE this Tuesday, January 31, as we return to Universal Orlando Resort for our next round of "iMPACT!" on SpikeTV tapings! The road to the February 12 "Against All Odds" Pay-Per-View continues at the TV tapings, as more matches will be announced for the Pay-Per-View and all of your favorite TNA stars will be in attendance, including AJ Styles, Samoa Joe, Christian Cage, Jeff Jarrett, Rhino, Abyss, America's Most Wanted, Team 3D, the TNA Knockouts and so many more! Tickets are free for both guests of Universal and Islands of Adventure theme parks, as well as the public. Doors open at 6pm with a bell time of 6:45 p.m. Free parking is available at the Universal parking garage after 6pm. For more information on seating, call the Universal Orlando Resort "iMPACT!" hotline at (407) – 224 – 6000. Upcoming live events include Impact tapings (Jan 31), Against All Odds PPV (Feb 12), Impact tapings (Feb 14), Impact tapings (Feb 28), Destination X PPV (March 12), Impact tapings (Mar 14), Impact tapings (Mar 28), Impact tapings (Apr 11), Lockdown PPV (Apr 23)
We have opened a website directly related to TNA at TNAWrestlingNews.com Please be sure to check that website for all the latest backstage TNA news and rumors updated on a daily basis. Check it out now at TNAWrestlingNews.com