Big Sunday Update: Batista At RAW, WM22, Regal, Tomko, & More News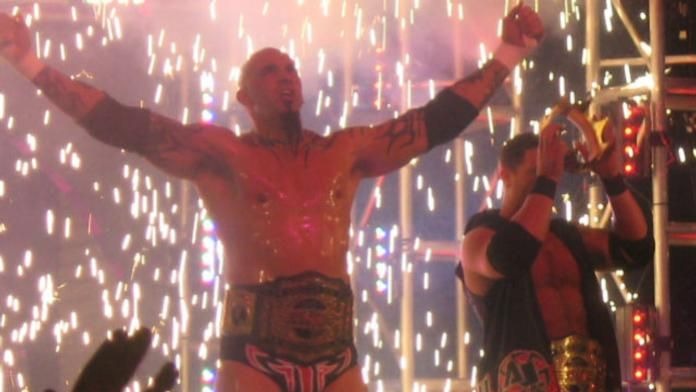 On Saturday's Zero-One Max show in Osaka, Steve Corino and Yutaka Yoshie defeated Ikuto Hidaka and Minoru Fujita to capture the NWA Intercontinental Tag Team belts.
Former World champion Batista is scheduled to be at the Supershow taping in Washington, DC., this coming Monday. Smackdown! will be taping the show right after RAW as they leave for Australia and New Zealand immediately after for a three day tour Down Under. Batista made a surprise appearance at No Way Out, something which could have been kept for two weeks more as he is from Washington, DC., the site of the next Smackdown! taping. As announced last week, ALL WWE talent, whether they have been used lately or not, has been told to arrive for this Monday's Supershow for a major backstage announcement.
A new Wrestlemania 22 poster can be seen in the new issue of Smackdown magazine with Kurt Angle on the cover. The poster features John Cena giving Booker T a Bulldog with the Wrestlemania 22 logo and the words "Big Time" under that.
There is a brief interview with Randy Orton in the April issue of Men's Fitness magazine, talking about how he works out.
William Regal, Gene Snitsky & Tyson Tomko will be signing autographs from 2-4PM on 3/25 at the Alton Square Mall in Alton, IL.
Starting on 3/2, the first 500 people who purchase $20 worth of WWE products at the Toys R Us in Orland Park, IL will get a ticket to meet Billy Graham on 3/29 from 5-7PM The Fan Axxess tour hits Orland Park's Toys R Us from Noon to 8PM that day.
Finishing up her independent dates before reporting to Deep South Wrestling, developmental diva Krissy Vaine lost to former OVW regular Melissa Coates last week for WXW Wrestling.