Fans Boo Cena & More At WrestleMania Press Conference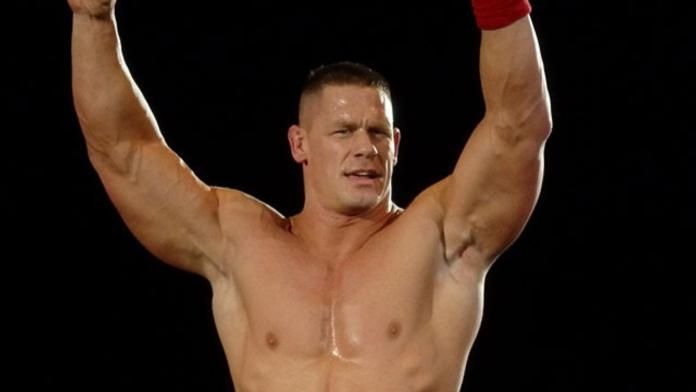 Credit: PWInsider.com of Buck Woodward
I had the chance to watch the WWE Wrestlemania 22 press conference on WWE.com this afternoon. The press conference ran for just about one hour, and basically consisted of each wrestler involved coming out and cutting a promo for the assembled fans and media. Some notes from the conference:
- Michael Cole came out first, and put over the magnitude of the event. He actually said the show starts at 8ET/5PT, then corrected himself and said it was 7ET/6PT. He also noted that the live festivities for the fans in the arena would begin at 5:30pm. Cole commented that there were 30 or 40 fans camped out since 6am this morning for the press conference. Given that I could see empty seats, I have a feeling they didn't need to do that.
- Cole then talked about Wrestlemania II being in Chicago, and asked if anyone remembered the battle royale that Andre The Giant won, and involved William Perry. That got little reaction from the fans. Well, it was 20 years ago. As Cole talked about the battle royal, Jonathan Coachman interrupted and entered the room. Coach talked about other famous WWE moments in Chicago, including Bret Hart defeating Steve Austin, Shane McMahon jumping off the Titantron onto the Big Show, and the start of the Hogan-Rock feud. There was actually a "Coach" chant.
- JBL was the first guest. JBL referred to Chris Benoit and Eddie Guerrero hugging at Wrestlemania 20, which prompted an "Eddie" chant. JBL said the fans were chanting that because they remember the great JBL-Guerrero feud, and because they don't care about Chris Benoit. JBL said he defeated Eddie Guerrero for the WWE Title, and now he would defeat Chris Benoit for the U.S. Title. He said defeating the two greatest technical wrestlers in the world for championships in a two year span was like defeating Harley Race and Lou Thesz in a two-year span. JBL said Benoit is a future Hall Of Famer, and they should put their match on last, because no one would be able to follow him.
- Carlito came out next, apple in hand, and said everyone knows the World Tag Team Title match is the "real main event" of the show. Carlito said everyone wondered if he could beat Kane & Big Show while at the same time "babysit" Chris Masters. Carlito said he and Masters would be on the same page on Sunday, and that everyone should congratulate him now on his title win.
- Michael Cole began to talk about Booker T, when Sharmell came out to the podium. She said that Teddy Long, Michael Cole and everyone else were in cahoots against Booker T, and then brought out her husband. Booker joked that he had a prepared statement, but decided against reading it. Booker said he had no problem facing the Boogeyman, but Teddy Long tricked him by putting Sharmell in the match. Booker said Sharmell was not a wrestler, and that he would do whatever has to in order to protect his wife. Booker then said he would sue Teddy Long, the WWE, and even the fans if anything happens to Sharmell on Sunday. Booker then teased his "Can you dig that" line, but instead of saying "Sucka" he said "Thank you very much" and left the podium.
- Mark Henry was next, and there was a "Rest In Peace" chant as he came out. Henry said that "thirteen great superstars" had failed to beat the Undertaker, but he would be the one to end Undertaker's streak. Henry said the difference between him and everyone else is he isn't afraid of the Undertaker. Henry argued with some of the fans that were yelling at him, then said the Undertaker would be the one that rests in peace.
- Candice Michelle was out next, saying she was the hottest Diva to ever grace the cover of Playboy. She said her Playboy is hotter than both of Torrie Wilson's combined. There was a lot of hoots and hollering from the fans during her segment, and Candice closed by promising that at Wrestlemania she would "be on top".
- Jonathan Coachman referred to Vince McMahon as the "most stacked 60 year old chairman in the business world" before introducing Shawn Michaels. Michaels was greeted with "You Screwed Bret" chants. Michaels said that "fifteen, twenty, thirty years ago, however long it has been" he was involved in screwing Bret Hart. Michaels said the other man that had "something to do with it", Vincent Kennedy McMahon, would be his opponent at Wrestlemania. Michaels said that unlike everyone else, he was "scared to death" of his Wrestlemania opponent, because Vince McMahon owns the company and has a history of screwing people and ruining their lives. Michaels said the only thing that makes him different from everyone else Vince has ruined is that he is "The Showstopper, Mr. Wrestlemania" and that this Sunday his boss was going to be taking a "butt whipping" at his hands. Michaels also started what became a running gag of emphasizing that the show is sold out, so you can see it "Only on PPV".
- Before introducing the next guest, Michael Cole said that the three-way match for the WWE title was "in my opinion the main event of Wrestlemania" and then brought out Rey Mysterio. Rey acknowledged a "Viva La Raza" that was yelled out, and spoke a bit of Spanish. Rey talked about how being in a Wrestlemania main event was a dream come true for him. He was very humble as he talked about growing up and wanting to be a part of Wrestlemania. Rey then referred to Randy Orton calling him a "charity case" and that he didn't belong in the main event. Rey said he would prove he belonged there, "Only on PPV". Mysterio said that with all due respect to Kurt Angle, it would be every man for himself at Wrestlemania, and that he would prove wrong everyone who didn't believe in him and walk out the World Champion.
- Randy Orton was out next. Orton completely dropped the storyline they have been pushing on Smackdown, and said he respected Rey Mysterio, noting they both grew up in wrestling families. Orton said that Rey is not a charity case, and does belong in the main event at Wrestlemania. Orton then said that it won't stop him from "kicking his ass" on Sunday. There was an "RKO" chant from some of the fans. Orton said he had respect for Kurt Angle as well, but he would be walking out of Wrestlemania as the champion.
- Kurt Angle came out, and when the fans chanted "You Suck" along with his music, Angle noted the chants were for Orton. Angle noted that at last year's Wrestlemania he fought one of the greatest of all time in Shawn Michaels, and that they stole the show. Angle said that he has two of the best athletes in WWE history to do it with again this year. Angle said Rey Mysterio belonged in the main event, and noted he belonged in it more than Orton. Angle said he could "beat Rey Mysterio or make Randy Orton's ass tap out", but either way he would still be champion at Wrestlemania.
- Triple H was the next guest, and after taking a comically long amount of time clearing his throat, he talked about the butterflies that wrestlers get when they are involved in Wrestlemania. Triple H said that it was "refreshing" for him this year, because he was going to have the "easiest match of his life" on Sunday, which prompted laughter and boos from the fans. There was a "Cena Sucks" chant as well. Triple H said John Cena is like Rocky, in that he's "really tough, but not very good, but somehow gets the job done". However, Triple H noted that John Cena has never beaten him, and that at Wrestlemania, Cena's name will be added to the long list of stars he has beaten. Triple H, like Michaels and Mysterio, also emphasized the show was available "Only on PPV" over and over.
- John Cena was the final guest. As he came out, there were a lot of boos, although there were some who were trying to start a "Cena" chant. Cena joked that he wished people would "make up their minds" and thanked everyone for the "warm Chicago welcome". A girl yelled out "We love you Cena", which ended up prompting a lot more boos. Cena said that a champion is not "judged by how they are admired, but how they stand up to adversity". Cena said that Triple H "walks the walk and talks the talk, and he has kicked the ass to back it up". Cena said that he was the "definitive underdog" going into the PPV. Cena said his first WWE match was in Chicago, and that people have strong opinions about him, but he loves his job and works hard at it. Cena then said that he will face the "greatest WWE superstar to ever walk the aisle" on Sunday, but that Triple H was mistaken if he thinks he will get through Cena easily.
- Jonathan Coachman then closed the press conference, with Triple H joking with him about it being available "Only on PPV".