Lance Hoyt Speaks On TNA Title Shot, WWE, Undertaker & More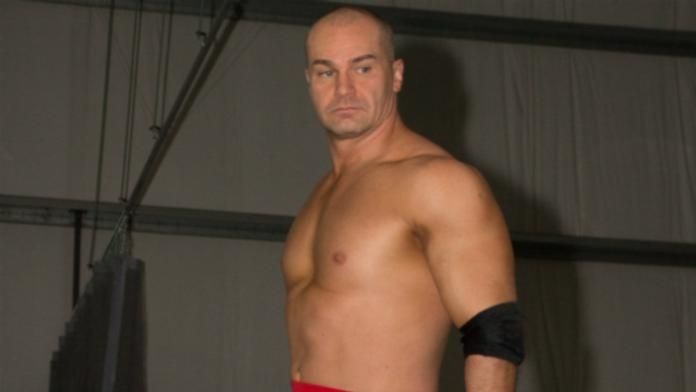 www.TNAHeadlines.com had the opportunity to interview TNA superstar Lance Hoyt! Lance was a terrific guest, he spoke on several subjects from wanting to wrestle the Undertaker, wanting to work with Kid Kash again (in WWE?), TNA and much more. Below is the interview:
Interview With: Lance Hoyt
Interview By: Andy Steven
Website: www.TNAHeadlines.com
Date: March 6, 2006
Andy Steven: Firstly I would like to thank you for taking time out of your busy schedule to take part in this interview for www.TNAHeadlines.com.
How did you break into the wrestling business?
Lance Hoyt: I broke in when the owner of the club I worked at introduced me to a guy who had a indy wrestling school and fed in Austin, Tx.
Andy Steven: What type of advice would you give to wrestling fans that want to break into the business as early as possible?
Lance Hoyt: If you have a passion for it and are serious and ready to do the work. Start as early as possible.
Andy Steven: What differences are there from the hometown crowds at PCW and the crowds in Orlando for TNA?
Lance Hoyt: The crowds are a lot alike. PCW has a lot of very loyal and great fans. As does Orlando. Only TNA is much larger.
Andy Steven: What kinds of injuries you have gone through throughout the years in wrestling?
Lance Hoyt: The only semi serious injury I have had was when I strained my MCL. But I'm always beat up in some form or another.
Andy Steven: If you had the opportunity to work with any superstar from 'up north in World Wrestling Entertainment' in a 'Interpromotional Dream Match' (with any-which-stipulation added — assuming it would add to the match-up, itself) who would it be against, what match would you be competing in, and why did you choose what you did?
Lance Hoyt: My interpermotional dream match would be with Undertaker. I respect who he is and what he has done in this buisnesss and is someone I've tried to mold myself after in many ways. I think it would be a classic Big man match.
Andy Steven: What stars do you think will help the TNA more, any big heavyweight names or light division, have you heard of TNA interested in signing any big names in particular?
Lance Hoyt: Don't know really. I think Sting will help us out a lot. But I am still trying to prove that I am the Future of TNA and the buis.
Andy Steven: How was it like working with Kid Kash as your tag-team partner, would you like to work with him again at WWE if offered a contract?
Lance Hoyt: My time with Kash was great. We held the tag titles twice. I would love to work with him again but we can only watch a see if that ever happens again.
Andy Steven: What was it like holding, winning and loosing the TNA Tag Team Title belts?
Lance Hoyt: Awesome, Amazing, And Terrible.
Andy Steven: TNA's ratings have been on a rise since the new year began and great things lay on the horizon for the company and its superstars. What is your view on the WWE and how they don't see TNA and its amazing talent as a possible threat to restart the federation wars?
Lance Hoyt: We have great times ahead of us and even if they claim we aren't competition. They know we are and they are watching very carefully. Despite what is said.
Andy Steven: Is there any news of a TNA Title shot for Lance Hoyt?
Lance Hoyt: Not at the moment but this buis is crazy and one could come at anytime. So keep watching.
Andy Steven: Are you close friends with any of the wrestlers in TNA, WWE or any other independent wrestling company? If so, who?
Lance Hoyt: Monty Brown in TNA. Paul London and Kid Kash in WWE and Jeromy Sage and A.C. Riddick on the indy scene in TX.
Andy Steven: Who do you think is the most "Underrated Star in TNA?
Lance Hoyt: Besides myself (ha ha ha) Probably Chris Sabin or the Naturals.
Andy Steven: What are some of the benefits and non benefit of being in the Business?
Lance Hoyt: It's Fun living the life and traveling and getting to do things that I otherwise probably would never do but it comes with a cost of loss of privacy and being away from loved one a lot.
Andy Steven: Do you have any funny stories which you can recall in your past experiences in wrestling?
Lance Hoyt: Jeromy Sage one of my best friends SHOT on me in our first match and I didn't realize it till almost two years later when he told he had when we were talking about the situation. I didn't know him at the time and then we became best friends.
Andy Steven: What is next for Lance Hoyt? And Finally I would like to thank you very much once again for taking this time to take part in this interview for www.TNAHeadlines.com, I wish you the best of luck in the future and do you have any messages to say to your fans?
Lance Hoyt: What's next. The world title. One day, Some Day it will be mine. Check out www.HoytHoytHoyt.com.
For great exclusive TNA coverage make sure to visit TNAHeadlines.com, featuring a TNA newsboard full of TNA backstage news, spoilers and results updated on a daily basis. We also have a great specials TNA section with TNA Knockouts, rare photos, exclusive interviews and more! A great site for any type of TNA fan! Check it out at TNAHeadlines.com.