Traci Speaks On Doing Lesbian Angle, Yes To Playboy & More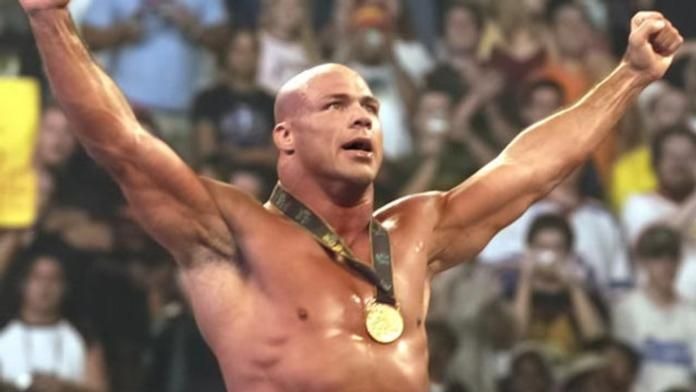 WWE
www.TNAHeadlines.com had the opportunity to interview TNA Knockout Traci! She was a wonderful guest speaking on several topics from her growing up in a farm to posing for Playboy. Below is the interview:
Interview With: Traci Brooks
Interview By: Andy Steven
Website: www.TNAHeadlines.com
Date: March 2, 2006
Andy Steven: Firstly I would like to thank you for taking time out of your busy schedule to take part in this interview for www.TNAHeadlines.com.
How did you break into the wrestling business?
Traci Brooks: my pleasure..., I won the Toronto Sunshine Calender Contest and was named Miss June 2000. To promote the calender I was a Toronto Sunshine Girl and in my bio I wrote to be the next WWF (E) Superstar. I then was given contact # to Sully's Gym in
Toronto, On. I trained there for just under 2 years and then a former student of Sully Gym, Rob Fuego opened up Squared Circle Training in Toronto where I continued my training...
Andy Steven: How did you childhood involve wrestling growing up in a farm and tell us more about the animal shelter you want to open after wrestling and when will that be?
Traci Brooks: I grew up in a small town and we only got 3 channels and WWF Sat. Nights Main event was the only wrestling I got to watch...I was glued to the TV every Sat...I had all the action figures, cards, magazines....I knew the first time I watched wrestling that this is what I want to do with my life.....
My dad s farm is on 223 acres and I would love to open up an animal shelter for run away and abused animals...unfortunately it won t be anytime soon as I am busy with wrestling but it s definitely another dream of mine....
Andy Steven: How did you get in contact with TNA or how did TNA approached you for you to still currently be with the promotion?
Traci Brooks: Scott Damore is the one who contacted me to come to TNA...
Andy Steven: Would you ever consider a Lesbian angle/storyline with some other Diva?
Traci Brooks: ummm, never thought about it since I am involved with Maverick Matt Bentley...I am sure if it is good for the story line and is done properly I would consider it....
Andy Steven: Would you ever consider working for the WWE?
Traci Brooks: TNA is my family, my life...I live, breath, and bleed TNA
Andy Steven: A bit cheeky now& What are your measurements?
Traci Brooks: Only Maverick Matt Bentley knows that.
Andy Steven: When you watched wrestling as a little girl. Who were the people that you looked up to? And if you were wrestling today what job would u be doing?
Traci Brooks: I would be farming full time; I grew up watching Steamboat, Piper, Rick Rude, Macho Man, Jake the Snake. Steamboat is however my all time favorite wrestler to this day.
Andy Steven: Who would you wrestle in your dream match and what match type and stipulation would it be?
Traci Brooks: I would love to get in the TNA ring and wrestle Gail Kim, straight up match....Gail and I trained and traveled together for about 2 years and it s been awhile since we have been in the ring together...
Andy Steven: How do you keep your self in shape when you are wrestling?
Traci Brooks: I work out twice a day...cardio on an empty stomach for an hour, then one body part superset with abs and then finish up with 20 minutes or more of cardio....I eat healthy and I eat allot....
Andy Steven: What are your thoughts on the possibility of TNA going head-to-head with the WWE?
Traci Brooks: I think we already are.......I don t think of it going head to head. I concentrate on TNA moving ahead and think of how far we have come in 3 years.......
Andy Steven: Are you currently single or dating anyone at this time?
Traci Brooks: Single
Andy Steven: With Gail Kim and Jackie Gayda now joining you in TNA do you see more women coming into the company and along with that do you see a Women's Championship being added?
Traci Brooks: That s what I pray every night for.....
Andy Steven: Does the arrival of new knockouts make you fear that creative team will lack of storyline for you at some point?
Traci Brooks: Hell NO.....it means more chances, more opportunities and allot more fun in the locker room...
Andy Steven: If you got contacted by Playboy to do a shoot and at the same time help promote TNA, would you accept?
Traci Brooks: I would love to...I think to be in that magazine in the ultimate compliment.
Andy Steven: I would like to thank you very much once again for taking this time to take part in this interview for www.TNAHeadlines.com, I wish you the best of luck in the future and do you have any messages to say to your fans?
Traci Brooks: thank you so much for your time and please continue to watch and support TNA!
For great exclusive TNA coverage make sure to visit TNAHeadlines.com, featuring a TNA newsboard full of TNA backstage news, spoilers and results updated on a daily basis. We also have a great specials TNA section with TNA Knockouts, rare photos, exclusive interviews and more! A great site for any type of TNA fan! Check it out at TNAHeadlines.com.