Gail Kim At HOF, HBK Walks Out, Steve Austin & More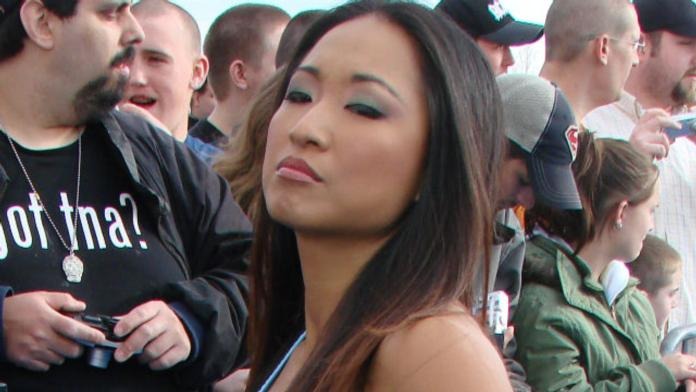 Brendan sent in the following live report from last night's HOF ceremony.
Hi guys. I was at the Hall of Fame induction ceremony last night. About 6:45 Lillian Garcia welcomed us, and introduced the superstars of world wrestling entertainment. The wrestlers walked to their seats. Kurt Angle had a huge Angle chant going, and JBL was booed until he took his hat off and saluted the crowd, which got a loud response. Batista got a huge ovation, as did Triple H. During the ceremony itself the crowd was hysterical. During the Verne Gagne induction a chant of "one more match" was started. (of course it was also started during the Eddie Guererro induction.) I noticed on WWE. com the editors make it sound as if the crowd was chanting "Triple H" while Cena was at the mic. That was true the first twotimes. The third chant was a deafening "f*ck you Cena" chant that even he was surprised at. good quick editing by the folks at wwe. Most of the crowd went to get t-shirts and drinks during SD Jones and Tony Atlas. Just after Eddie was inducted Shawn Michaels and his wife walked out of the theatre. I assume this was at Bret's request. (he walked out to a mixed reaction. half the crowd was chanting "you screwed Bret" and the other half was chanting "HBK" As you did mention not only was Hart's induction speech MAJORLY cut down (he had some great Owen and Anvil stories that you have to hear on the DVD) but Austin's speech was also cut by about ten minutes. Hulk Hogan did not appear to be interested in being there, nor did he look to be in a particularly good mood.
Thanks guys, Happy Wrestlemania
Brendan from Chicago
TNA star Gail Kim was in attendance at last night's WWE Hall of Fame ceremony. She was seen sitting next to Doug Basham. Click here to see her in the background of a photo from WWE.com. Gail attended last year's Hall of Fame ceremony with Doug Basham as well.
Shawn Michaels and his wife walked out of the theatre prior to Bret Hart's induction. HBK left to a mixed reaction from the crowd. Half of the crowd chanted "You screwed Bret" and the other half of the crowd chanted "HBK."
Stone Cold Steve Austin's speech was heavily edited. It was cut by approximately 10 minutes from what was seen during last night's HOF broadcast on the USA Network.