Jim Ross Notes, SmackDown!, Triple H Beer Commercial, RVD, & More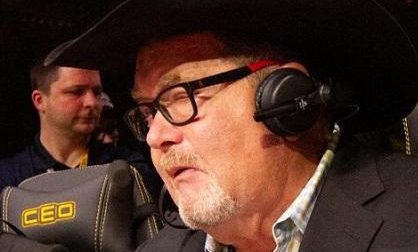 Photo Credit: AEW
WWE.com has added some classic Jim Ross interviews featuring Kane and Mick "Mankind" Foley before his new interview with Chavo Guerrero airs tonight on RAW.
The Wrestling Observer is reporting that WWE SmackDown will be airing on Saturday next week in New York, Los Angeles and Washington, DC due to sports preemptions. The New York airing on Saturday will be at 8pm, while the Los Angeles airing will be at Midnight.
Brandweek.com reports that Triple H has been signed to be part of a new Miller Lite ad campaign that will also feature Burt Reynolds, Eddie Griffin, Jerome Bettis, Ty Murray, and Aaron Rolston. The commercials will have the stars debating "guy" topics like how long to wait until dating your best friend's ex-girlfriend. Check out Brandweek's article on this story here.
Rob Van Dam has a new commentary up talking about how he airbrushed the Money in the Bank briefcase. Visit RobVanDam.com for that.