More Triple H News, Undertaker, WM22 Scalpers, Lots More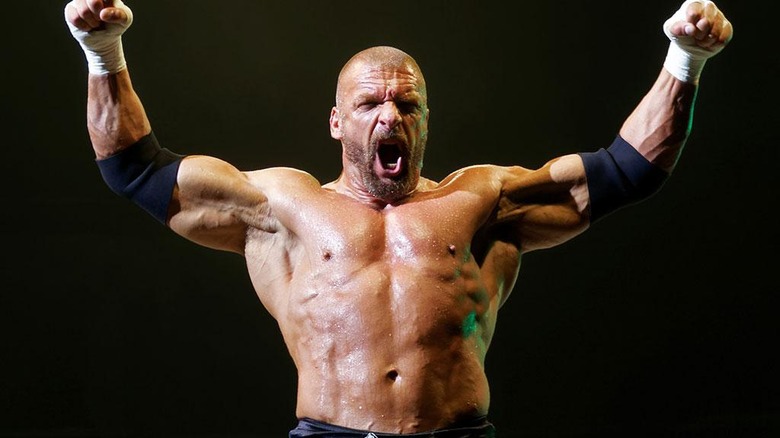 Photo Credit: Miguel Discart
Nathan sent this along. ... I was at last night's Triple H book signing at Tower Records in Bloomingdale, IL. I got there at about 4 O'Clock for a 7pm signing and the line was already a block long. By the time Triple H arrived the line was several blocks long. He arrived on time and it was announced he would only be signing copies of his book. WWE was there cutting promos with the crowd. They had people saying such things as "Wrestlemania is big time in Chicago" and having them sign releases. Triple H was very polite to all fans in attendance and shook hands with all fans and thanked them for coming. Fans that wanted a different item signed (a lot of fans brought sledgehammers) were told they could go to the back of the line and if time permitted Triple H would sign the item. There is no way he would have been able to get to everyone unless he stayed all night. Triple H was not the most personable autograph guest I have ever seen, but given the amount of people waiting that is to be expected. Besides does anybody want to meet a happy Jolly Triple H??
A poll on WWE.com is asking what Undertaker shirt you like best. All three shirts feature a new demonic-looking design. The Undertaker was also wearing new tights at the SmackDown house show in Oklahoma City with the new logo on them.
The Chicago Sun-Times features an article noting that scalpers are getting up to $1,000 for WrestleMania 22.The article also features questions Vince McMahon putting over the magnitude of the event. "It is a live extravaganza of epic proportions" Vince said. He also mentioned "For WWE, it's the annual showcase that is the culmination of significant story lines". The article features quotes from WWE Diva Trish Stratus.
On channel IAC 115, DirecTV has an interactive selection dedicated to WWE WrestleMania 22. The section features biographies of WWE RAW Superstar Triple H and current WWE Champion John Cena. It also features a 36 piece puzzle of Triple H delivering an elbow drop to Ric Flair.