Jim Ross To Have Street Named After Him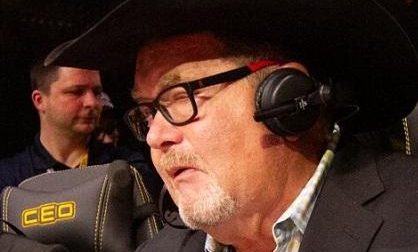 Photo Credit: AEW
WWE announcer Jim Ross is set to be honored in his hometown of Westville, Oklahoma this weekend, including having a street named after him. The following is a local press release that has been sent out in Westville with a full listing of events:
"J.R." Jim Ross Coming Home for Loyalty Week Festivities
For a decade, the black cowboy hat, the Oklahoma drawl and the honest passionate delivery has established J.R. as a WWE main figure. Jim Ross is considered by many experts and fans alike to be the greatest announcer to ever hold a microphone in sports entertainment.
Jim Ross is also a best-selling author. He has written two cookbooks published by Simon and Schuster, both of which were on the NY Times Best-Sellers List. He was also co-author with Stone Cold Steve Austin on Austin's autobiography, "The Stone Cold Truth," which was a NY Time Top-Ten Bestseller reaching #8. J.R., or just Jim, as he is affectionately called in Westville was actually born in northern California logging country of Fr. Bragg, CA. His Oklahoma parents, J.D. and Elizabeth (Sheffield) Ross returned to their roots in Westville, Ok when little Jim was just an infant. Most of Westville's residents will remember "Granny" Mae Sheffield who was Jim's treasured grandmother.
Jim's work in television required him to reside in Dallas, TX, Atlanta, GA and Stamford, CT. However, he has now returned to reside in his home state of Oklahoma Westville residents will be glad to know that Jim will return to his hometown of Westville for 2006 Loyalty Week Events. Look for Jim at the John F. Henderson Public Library on Friday, May 5, 2006 for a luncheon and book signing. Lunch will begin @ 11:00 AM followed by chance to hear Jim speak about his experiences as an author. The Friends of the John F. Henderson Public Library will have copies of Jim's cookbooks available for purchase and to be signed by Ross. Cost of the luncheon is $2.00. Please call the library at 918-723-5002 to reserve your seat! The Westville Chamber of Commerce will host a community wide Barbecue Dinner on Friday night, May 5, 2006, featuring Jim's BBQ recipes. Cost for the BBQ Dinner will be $5.00. Dinner will be held at the Westville Park on Buffington Road. In case of rain, dinner will be moved to the Westville Community Building.
On Saturday, May 6, 2006 at 11:00 AM, please join the Westville Community in dedicating a street in the name of hometown hero, Jim Ross. Immediately after the street dedication, 2006 Miss Loyalty will be crowned by Ross. These events will occur on the corner of Buffington and Williams Street.
The 2006 Loyalty Day Parade will follow at 1:00 PM with our own J.R. Jim Ross as Parade Marshall.
And don't forget the All School Reunion at Westville High School beginning at 1:00 PM on Saturday, May 6, 2006. The Westville All-School Reunion is held bi-annually and is a great way to catch up with old friends.