Surprise! - Jim Ross Named As New RAW Announcer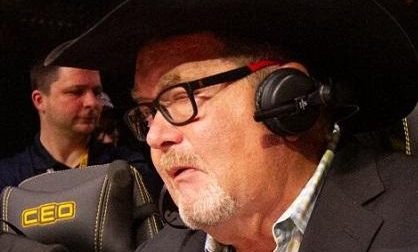 Photo Credit: AEW
Next week s Monday Night RAW should be a real Slobberknocker. WWE.com has learned that Jim Ross will be back at ringside calling all the action when RAW invades the Pond in Anaheim, California. The following is a statement released from WWE headquarters in Stamford, Connecticut. In the wake of Joey Styles decision to quit World Wrestling Entertainment, Mr. McMahon has been forced to reluctantly give Jim Ross his old job back. Mr. Ross will handle the play-by-play duties on RAW on a probationary basis. Mr. McMahon and his office declined further comment.
WWE.com reached Ross at his home in Oklahoma moments after the announcement was made. I m excited about this new beginning, Ross said. I m looking forward to the opportunity to contribute on Monday night. I m also excited about seeing old friends and fans I ve missed over the past six months. Ross was embarrassed, humiliated, and fired by the McMahon family live on RAW October 10, 2005 in Corpus Christi, Texas.
Despite the fact he will be on probation, Ross, a 30-year veteran of the game, says he doesn t plan to alter his unique play-by-play style. I will be a little nervous because I want to do well. But my entire career has been based on being true to myself and wearing my emotions on my sleeve. I will be critical when I need to be, even if that means offering an opinion or two about the boss. I won t run scared and will call matches the way I see them.
One person who is elated with Ross return is Jerry The King Lawler. For 10 years these two men formed the best commentary team in sports entertainment. WWE.com reached Lawler moments after the news broke. Working with J.R. at Saturday Night s Main Event, WrestleMania and Backlash I realized we hadn t missed a beat as a team. We have a chemistry that can t be replaced overnight. I don t want to take anything away from Joey Styles or Coach for that matter, but the announcing on RAW will be better. The King says J.R. will not compromise his play-by-play just because he s on probation. If you know J.R. he ll go head first into an empty swimming pool if he s passionate about what he s saying and he s telling the truth. J.R. can t hide his true feelings, he s too passionate about his job.
WWE.com asked J.R. about the Joey Styles situation and as usual he weighed in with heartfelt comments. Based on my experience, I don t believe Joey handled this the right way. We all tried to help him. In fact, I tried to mentor him. I quit once out of defiance and it was the worst mistake of my life. But I can also relate to many of his complaints. I just hope he doesn t regret his decision.
What about his health and his recent recovery from colon surgery? Is J.R. ready to go from a health standpoint? I ve never felt better, J.R. says. I m in the gym five days a week, I have a clean diet, and mentally I m in a better place. I m just so happy to have another chance to live my dream .
Jim Ross dream begins again Monday night on RAW in Anaheim. And you can bet HE LL BE WALKING A MUDHOLE AND STOMPING IT DRY!