Very Detailed UFC 61 Preview, Shamrock-Ortiz II, & More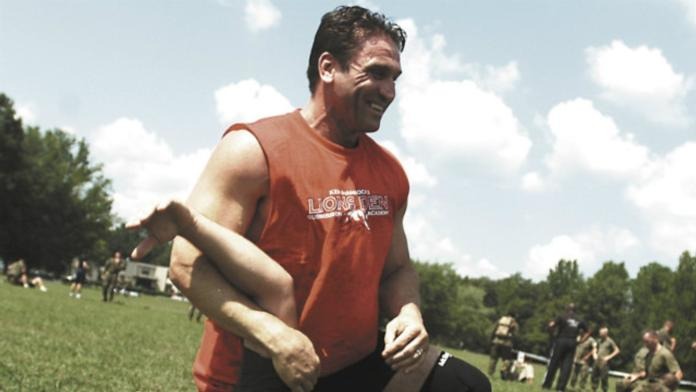 UFC 61 "Bitter Rivals" Preview Column
July 7, 2006
INTRO
UFC 61, what's the first thing that comes to mind? For most normal people, it's "Tito Ortiz vs. Ken Shamrock II" but this is the show headlined by the Heavyweight title rubber match between current champion Tim Sylvia and former champion Andrei Arlovski. It's all the same though, if they put Shamrock-Ortiz on top and had Sylvia-Arlovski in the middle, everyone writing about this event would b—h about UFC being too much like pro wrestling and not worrying enough about being a real sport for putting a money-match on top of a legit title match. What makes something like pro wrestling anyway? Trying to do good business, trying to make money? How could they!
Anyways, does anyone remember UFC 48? Ken Shamrock and Kimo headlined with Sylvia challenging Frank Mir for the vacant Heavyweight title in the middle of the card. Everyone whined and b—hed, and of course the pro wrestling comparison stuck its' ugly head into the argument. Little side bar, the Heavyweight title never seemed less important at this point as it was vacant going into the event, the outcome was controversial (at least it was live) and it was marketed under a match that had literally no value other than a winable fight for Ken Shamrock in the UFC, something UFC fans hadn't seen in 8 years prior to that point. So we can close the book on the mystery of what's really important in the fight game. A side bar to that side bar – how much did it suck that Sylvia stood there with a broken arm pretending like nothing happened to save face? It took away from Mir's moment, and unless Mir does something big against Dan Christison at this event coming up (more on that below) that was probably Mir's career highlight. A full house boo'ing him like crazy for thinking, thanks to Sylvia, that the entire thing ended because the referee made a mistake.
Ok, now that we've settled that, we can go ahead and speak the truth. It's ok, no one is watching. Just you and me here for this one. So, we've got the big Shamrock-Ortiz event coming up in under 24 hours, and not only that but they booked some Heavyweight title match too. You might've heard of the rivalry before, big Russian dude, big cocky American. Sylvia and Arlovski are gonna have a cage locked behind them and within five minutes, as they've done twice before, they will show everyone how to create a roller coaster of emotions in a fight that doesn't get past one round. If there's one safe bet aside from Ortiz pummeling Shamrock again, even though everyone (myself obviously included) will be digging into their August budget to order the 29th (random funny number alert) pay-per view of July because of that fight and that fight alone, it's that no matter who wins – Arlovski/Sylvia won't be going past one round.
So, what have we learned in this shameless attempt at a clever intro into the typical fight-by-fight breakdown of the PPV line-up? It's that the two money-matches don't have a lot of built-in suspense as the clock ticks and the event gets closer. Does it matter? No. A definitive "no" at that. This will still be one of the biggest money-events in the history of the company. It doesn't matter that in both fights there isn't a whole lot at stake in terms of unpredictability. Ortiz is going to blast Shamrock out of the water, and Arlovski or Sylvia will be able to call themselves "the" champion while everyone else questions who really is the superior Heavyweight. If anything unexpected happens, s–t – we can do it again in 2007 and make some more money! Alright, now that we've got that out of the way. Let's roll our sleeves up and get into this thing here.
Drew Fickett vs. Kurt Pellegrino
Our first preliminary bout of the evening features some hot up-and-coming Welterweights mixing it up. Drew Fickett is on the radar at 170 lbs. due to some unexpected wins over Josh Neer and Josh Koscheck after losing his debut efforts in the octagon against Nick Diaz. Fun fact, Fickett has a win over Kenny Florian, a fight that catapulted Florian into the original Ultimate Fighter season one reality show. Fickett's last outing was a quick submission loss to the impressive Josh Burkman. So this fight is important for Fickett. Pellegrino is the real deal, but an unknown name so Fickett is expected to win here to get another semi-big fight. I've never watched a Pellegrino fight, so I'm talking based strictly on statistics here. Basically, jump to the next fight breakdown, as I'm just filling space to avoid skipping fights on my little column here. Pellegrino is apparently a good submission fighter, as he's already guaranteed a spot in the 2007 Abu Dhabi world submission grappling tournament. Yeah, you have to know a thing or two about submissions to accomplish something like that. Knowing what little I know here, and taking the odds into account (they do the research and they've got this fight pretty close, Fickett a slight favorite) I'll go ahead and pick Fickett by ground and pound stoppage, or decision. Don't expect much from me on specific predictions. I'll pick a winner, but choosing how (especially in MMA) is no easy task. I always love when I see all the "experts" out there doing predictions and listing "split decision" for a bunch of fights. Come on.
Gilbert Aldana vs. Cheick Kongo
Aldana came into the UFC with a little bit of hype. He was coming in as a knockout artist to be paired with a similar type of fighter in Paul Buentello. He lost that fight by stoppage from strikes, but showed everyone what they expected – a slugfest with Aldana taking punches as good as he dishes them out. This is Aldana's second chance in the UFC, and things look to be the same for him. He's in with another striker who has a reputation of being a banger. He's a Dutch striker, and thanks to guys like Ernesto Hoost, Bas Rutten, Alistair Overeem, etc. – those are the kind of strikers who people expect big things from in terms of their stand-up ability. So if all goes as planned, this should be a rock-em-sock-em robot fight, with two guys swinging until one falls down. Always good to have one of these on a card, especially during the prelims. Get the crowd pumped up and more lively for the fights "that matter" later on. Oh yeah, prediction. I'll say Aldana based on zero knowledge of Kongo, although everyone is telling me not to sleep on Kongo in this fight. I just can't pick someone I've never seen or even heard of until he was booked for a big show, even if he is the real deal. Silly logic, but I don't have much to work with for this one.
Jeff Monson vs. Anthony Perosh
This is somewhat of a "gimmie" fight for Monson, at least that's what the "experts" say, and that's what the betting odds show as Monson is the biggest favorite on the card – even bigger than Ortiz over Shamrock. I've never seen Perosh fight, but have heard of him in the submission grappling world, so I guess he's a submission fighter who UFC expects Monson to handle without problems. If that's the case, explain to me why this fight is a prelim? A win that isn't televised for a guy who you would think UFC is getting ready to feed to the Arlovski-Sylvia winner doesn't mean much. A loss that isn't televised does, however. So, Monson is going to need to take this fight seriously as a loss here would obviously set him back a notch and move Brandon Vera up one. I guess it doesn't matter though, as outside of Monson and Vera, UFC has no one at Heavyweight ready for Arlovski or Sylvia in the title picture. I doubt Monson submits him, as Perosh is no slouch on the ground and I doubt Monson takes many risks in trying to do so. If it's there, he will, but I don't see him going out of his way to make it happen. I think Monson is coming in to get his win and nothing else. His stand up game is reportedly improved since his earlier days in the UFC when Chuck Liddell could beat him just with leg kicks, but a novice striker in Marcio Cruz was having his way with him just with leg-kicks (and a jab) and we all know if he fights for the title, Arlovski and Sylvia have more than leg kicks to offer. I'll take Monson by decision.
Hermes Franca vs. Joe Jordan
Joe who? Joe Jordan. He's filling in on short notice for Roger Huerta, Franca's originally scheduled opponent. This isn't his first time fighting a "name" fighter though, as he's mixed it up with respected fighters such as Jens Pulver, Jorge Gurgel, Clay Guida, Melvin Guillard, Nick Agallar, and Rich Clementi. Well, he lost to all of them. He's got a draw against Josh Neer though! He is coming in off a five-fight win streak, all by knockout, so he's on a roll at the moment. Franca has been busy himself though, trying to do his best Jeremy Horn or Travis Fulton impression in the fight world. He's doing a good job of it too, coming off a couple of notable wins such as Gabe Ruediger and Ryan Schultz. Franca was in the Lightweight title mix prior to UFC scrapping the 155 lb. division, so you know he's coming in looking to jump right back into the mix. This time there's more than Yves Edwards and Josh Thomson to worry about, as the Lightweight division – which was just brought back a few shows ago, is already the most stacked division (in terms of competitiveness) in the company. Franca not only needs to win this fight, but win big. I predict he'll do just that, as he'll take out Jordan sometime before the scheduled three rounds are completed. Submission or stoppage with strikes, take your pick.
Yves Edwards vs. Joe Stevenson
A very exciting match on paper to open up an underrated UFC line-up from top to bottom. The actual scheduled PPV line-up is as strong as the company has had in recent shows, and it all begins with this very important Lightweight bout. Why when this bout is scheduled, was Kenny Florian vs. Sam Stout a title eliminator bout for Sean Sherk to determine the new Lightweight champion in UFC? This fight produces a much more credible challenger for a vacant belt against an already set fighter in Sherk, who has yet to compete at the weight class. In any matter, whoever wins this one is immediately at the top of the list of fighters to get a shot at whoever ends up with the belt, well, along with Jens Pulver now that he's back and is the only 155 lb. champion in UFC history – and never lost his title before leaving the company due to a financial dispute.
The actual style clash here is very exciting. Early on it should be clear who is going to win this fight. The main determining factor will be Yves Edwards ability to avoid the takedown from Joe Stevenson. On the feet it shouldn't be any mystery, Edwards will have the advantage. On the ground, with Stevenson on top, he'll be at an advantage. I'll say if forced to spend most of the fight on the ground, Edwards will be in less danger than Stevenson is going to be if he's forced to spend most of the fight standing up. That doesn't mean much other than will Edwards be able to avoid the floor? If he can, he should finish this fight by stoppage from strikes, possibly a clean-cut knockout, unless he just beats Stevenson on points en route to a decision victory. See, again, don't come to me if you're looking for specific predictions. If he can't avoid the takedown, then the fight gets interesting. Will Stevenson be able to keep Edwards down? If he does, will he be dominating enough to win a decision or even stop him with strikes or a submission? I'd say he can control position and stay busy enough to keep the fight on the ground, and win a decision. His best chance to stop the fight on the ground would be a submission set up with ground and pound. One thing people overlook in this fight is Edwards ability on the ground. He won't be lost if he's forced to fight off his back, he's been there before and is more than proven in his ground game. Thug-Jitsu is to be taken serious!
Picking this one is hard to do, simply because there's so many different ways this fight could end up. General instinct tells me Edwards will be able to avoid Stevenson's takedowns, and he'll beat him up on the feet either leading to a stoppage at some point, or a one-sided decision. Stevenson is fighting at 155 lbs. in the UFC for his first time, after fighting a weight class above his regular fighting weight just to get on the Ultimate Fighter reality show and into the UFC permanently. One loss in his real UFC debut, and Stevenson thought twice about remaining at 170 lbs. Edwards is a former 170 lb. fighter himself, so moving down for Stevenson doesn't guarantee him any statistical or physical advantage over Edwards. It just guarantees him fighting to the best of his ability, at his natural weight. With him fighting who he's fighting, and the fact that he's coming in off a loss, you can bet Stevenson trained his hardest and barring any unmentioned injuries, he'll be the best Joe Stevenson possible on Saturday night. However, Yves is also coming off a loss that set him back quite a bit in a division that he was expected to be king of whenever the dust settled. Now, he's got to regain those expectations from the fans, and fighting a determined Joe Stevenson is a tough obstacle to overcome. Prediction – Yves Edwards by decision. This should be a very good fight, the styles scream entertainment.
Frank Mir vs. Dan Christison
This one is pretty interesting. Obviously the main focus is on Frank Mir and where he stands. Is he going to be the same fighter he was before his motorcycle accident? An even better question is what kind of fighter was he before the accident? Prior to the accident, everyone labeled Mir as a guy who kind of quits when things don't go his way. Everyone pointed to the Ian Freeman fight, a fight he was expected to win pretty easily, where he just about shut down as soon as his gameplan failed and he found himself on the receiving end of some brutal ground and pound. No one seems to be drawing the comparison from that to the Marcio Cruz fight. Everyone just jotted the Cruz fight down as a fight Mir shouldn't have taken yet due to not being fully recovered from his accident. It was almost identical though. Mir came in a pretty heavy favorite, immediately things weren't going his way, he was taking punishment, and he just kind of hung on as long as he could until he couldn't any longer. His facial expressions, his body language, it was all reminiscent of the Ian Freeman fight. This is Mir's last chance to show people a sign that they were right in pointing to his early return in the Cruz fight as the reason for it ending up the way it did. If he loses here, everyone is going to write him off. There will be a lot of know-it-alls who all of a sudden start bringing up the Ian Freeman fight, drawing the comparison to the Cruz fight, and sprinkling on top whatever juicy conclusions we can draw from the Christison fight once it's over. That's looking at things from the "what if Mir" loses file. Odds are (literally, check any of your favorite gambling websites) Mir wins this one.
In all fairness, I have seen Christison but I'll make the same claim I did with most of the "unknowns" in the prelim line-up, in that I haven't seen enough of him to really gauge his chances here with Mir. Obviously most expect Mir to submit the guy, myself included, but really that's just going on the logic that Mir is 100 percent healthy and determined. Another factor people overlook, Mir's motivation to be a professional fighter. It wasn't all that long ago that Mir was contemplating retirement. A loss here, I wouldn't doubt for one second that those same rumors resurface. Christison is a big guy in terms of size, but that's nothing new to Mir. He's got some impressive wins, but also carries the dreaded double-losing efforts to a past-his-prime Dan Severn on his record. So he's a mixed bag in terms of expectations. The key wins look good enough that on paper would make you think he could beat Mir, but again most people don't really break things down they just kind of look at how good this fighter is, how good this fighter is, and here's who wins because this guy is better than the other guy. More than ever, in the case with the current Frank Mir, that equation won't work. You have to look at the styles, and like I said I don't know enough about Christison's style. Yes, this is all a big build up to an excuse for me making a blind pick. I'll take Frank Mir by early submission.
Tito Ortiz vs. Ken Shamrock
And it's time to make some money. From a die-hard fans perspective, this fight has no purpose. Beating Shamrock does very little for Ortiz, as he's already done that before in the most dominating fashion possible. Shamrock hasn't done anything to earn the rematch since their last fight, so add that one in. Shamrock is too old and not on par with the rest of today's legit competition to be a championship-contender anymore, so why book this match? To make some money, gets some eyes on your product, and build up whatever is underneath it on the card to the larger than usual audience that should turn out for this PPV. It's funny when die-hard fans always think they know what's best for the sport (like video taping weigh-ins) but s–t all over money-making ideas. If the company makes money, it grows. If it grows, it gets more accepted in the mainstream. These are all things the die-hard fans claimed to want for "their" sport, but as soon as UFC takes the proper steps in making these things happen, they call them sell-outs. They think they're becoming too much like pro wrestling. Whatever you want to call it. What they're doing is becoming too much like a legitimate money-making organization, and that comes first and foremost in any business. This fight right here, this fight will make a ton of money and help the brand name grow in this very pivotal stage in the history of the sport. It's important to have attractions just as much as die-hard fan pleasing matches. Boxing has Mike Tyson, pro wrestling has Hulk Hogan. In boxing, Mike Tyson isn't the best fighter anymore, not by a long shot, but he's still easily the biggest money-maker (well, if he wanted to be). In pro wrestling, Hulk Hogan might not know a wrist-lock from a wrist-watch, but he puts asses in the seats. In MMA, Ken Shamrock and Tito Ortiz – no matter where they stack up in the competitive standings in their weight class, they're among (got to add Chuck Liddell in there now, so they aren't the "only" one's anymore) the biggest draws the company has. Matched against each other, it's the only big money fight the company has left in the near future – and it is indeed a big one.
A few factors to get out of the way. The main being comparing this fight to the last time they fought. What's different this time than last time? Well, this time Tito Ortiz is coming in with some leg injuries and a back problem. Ken Shamrock is reportedly coming in healthy. The last fight Ortiz came in after recovering from ACL surgery, but had plenty of time to repair the injury. Shamrock claimed in the first fight that he fought on one leg, never getting it fixed before the fight due to what he saw as a risk of the fight being cancelled and never put back together again. The last fight was a five round bout for the Light Heavyweight title, but only lasted three rounds due to corner stoppage. This fight is scheduled for three rounds, non-title. Another factor is weight. Ken Shamrock came in the last fight having to make 205 lbs. While he still has to this time, he's not coming down from a fighting weight of Heavyweight. I'm not sure what his walk around weight is, surely 220 lbs. or more, but his last two fights were at or around the weight he'll be fighting this time. Age is against him, as he's 42 now, with Ortiz coming in at the prime fighting age of 31. Since the last fight, Ken Shamrock has beaten Kimo, another UFC legend who hasn't been competitive at the top level in quite a while, and lost to Rich Franklin and a past-his-prime smaller Kazushi Sakurba. Ortiz has faced the best competition of his entire career since the Shamrock fight, battling with Randy Couture, Chuck Liddell, Vitor Belfort, and Forrest Griffin, going the distance in three of the four and winning two of those. So that gets out of the way most of the excuses you might hear after the fight from either side.