Angle's Co Workers Comment On His Release From WWE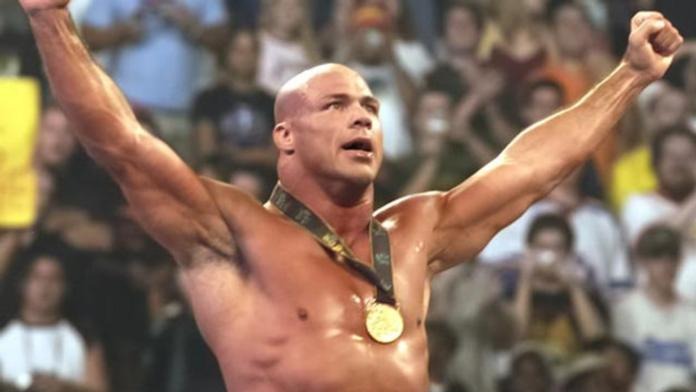 WWE
The following is from WWE.com:
One word describes what WWE superstars and officials are feeling over Kurt Angle's release late last week from World Wrestling Entertainment: SHOCK.
"I was shocked, I just couldn't believe it," said former World Champion Rey Mysterio. "I go back a long way with Kurt, and this has really affected me. I hope he can get his issues straightened out. We all have issues with this lifestyle because it's not easy. I hope he keeps plugging away because I'd love to see him in the ring again someday."
ECW representative Paul Heyman, who has known Angle for years says, "This is the best thing for both parties. Kurt has spent his entire life driven to be the best at what he does. Kurt's body, however, could no longer preform to the level that he envisioned for himself. (Kurt) was prepared to drive himself into an early grave simply to live with himself striving to be No. 1. This is a recipe for catastrophe, and taking time off to get his mind and body in sync is the only way to deal with these issues."
Former World Heavyweight Champion Batista says he's shocked as well. "I know Kurt is passionate about wrestling, so for this to happen, something must be going on. I am worried about him; I hope he's ok."
Longtime friend and ECW producer Dean Malenko says, "This is a big loss. Kurt is irreplaceable. He goes 130-percent every night; he's one of the best wrestlers I've ever seen. People have to worry about their life first, and Kurt needs to get his head straight and get himself happy."
Chavo Guerrero says he still can't believe Kurt and WWE have agreed to part ways. "He's a machine; there has to be something else going on."
When told Angle was so banged up that he admitted he couldn't enter a wrestling ring without using prescription pain killers, Chavo said, "This isn't ballet. We all get banged up, but Kurt's a different animal; he doesn't know how to downshift into a lower gear. I wish him the best, I respect him and Kurt always has the Guerreros in his corner."
Ken Kennedy says, "I'm shocked, but I'm happy Kurt's doing what's right. He's been in a lot of pain, and hopefully this decision saved his life. It sucks because Kurt is good for this company. He's the most intense wrestler I have ever seen."
Will Kurt Angle ever return to a WWE ring? Only time will tell if the six-time champion can get his head and body back to where it needs to be. If and when that time comes, WWE Vice-President of talent relations John Laurinaitis says the door will always be open.
"We look forward to doing business with him again. Kurt is a great athlete and an even better person. He will be missed."