Mike Tyson To Fight On Upcoming PRIDE MMA Card?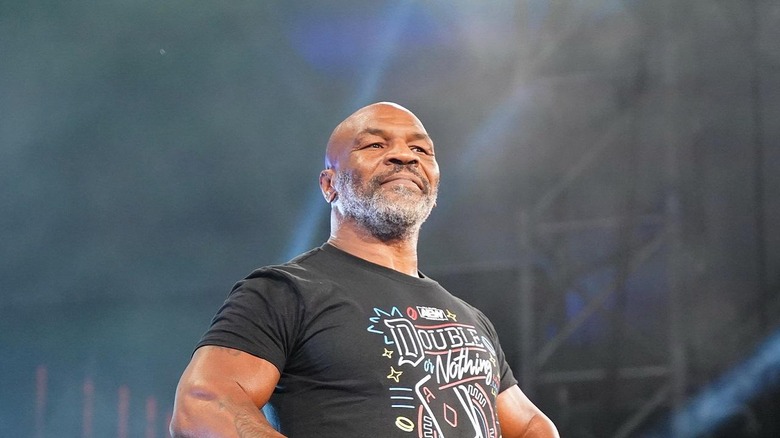 Photo Credit: AEW
The following is an article from the Las Vegas Review-Journal website:
Retired Tyson planning exhibition bouts
By KEVIN IOLE
REVIEW-JOURNAL
Former heavyweight champion, 40, to train at Aladdin for series of exhibition bouts
Former heavyweight champion Mike Tyson has no plans to return as an active boxer, but will fight a series of up to 10 exhibition matches in the next several months, sources close to Tyson said Friday.
Tyson, 40, will train for those bouts at the Aladdin. The source said a ring will be set up in the casino and Tyson will work out in a public area for an hour a day.
An Aladdin spokesperson said talks are ongoing and declined further comment.
Tyson, who is staying at the Aladdin, could not be reached for comment. But multiple sources said he will have a news conference next week in Las Vegas to discuss the venture.
Tyson is expected to box an exhibition on a Pride Fighting Championship mixed martial arts card, though the date and site are not determined. Pride has a card scheduled for the Thomas & Mack Center on Oct. 21, though Tyson reportedly will not fight on that show.
However, Tyson, who has not competed since June 11, 2005, when he quit on his stool after the sixth round against journeyman Kevin McBride, isn't planning to join Pride.
Tyson, who at age 20 in 1986 became the youngest man to win the heavyweight title, has long been a fan of mixed martial arts. He was the guest referee on a card in Manchester, England, on March 18, though the bout lasted about a minute.
Asked by ring announcer Bas Rutten, a former Ultimate Fighting Championship heavyweight champion, whether he would fight again, Tyson said no.
"My fighting days are over, but I love and enjoy watching cagefighting, though," Tyson told Rutten.
Tyson served as a color analyst on the international feed of the WBC heavyweight title fight between Hasim Rahman and Oleg Maskaev on Aug. 12 at the Thomas & Mack Center.
That deal, which reportedly paid Tyson $20,000, was arranged by the Los Angeles-based Sports Placement Service. Harlan J. Werner, its president and CEO, could not be reached Friday.
Tyson was 50-6 with 44 knockouts as a pro, but was 5-5 with two no-contests in his final 12 bouts. He ended his career by losing two in a row and three of four.