WWE Partnering Up With Bischoff On Two New Projects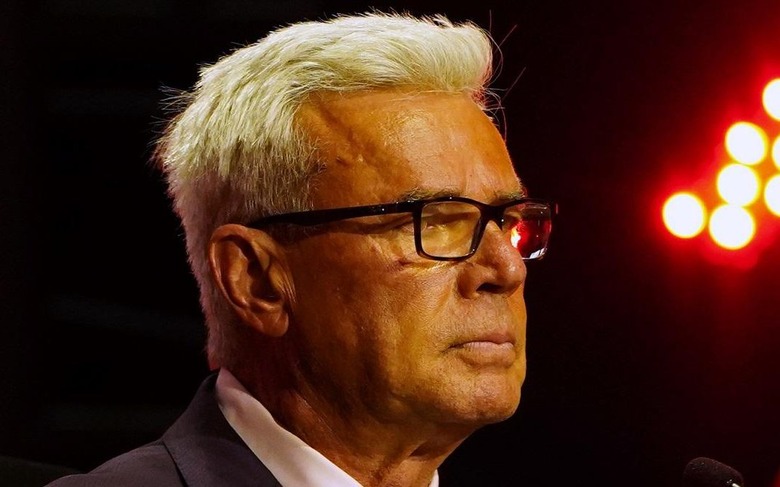 Photo Credit: AEW
WWE Partnering Up With Bischoff On Two New Projects
WWE will be partnering up with Eric Bischoff on two new ventures coming up.
The first is Bischoff's autobiography which is due out on 10/3. The promotional material reads as follows.
The exciting, no-holds-barred autobiography of controversial former WCW president and former WWE RAW General Manager, Eric Bischoff—the only person who was able to beat Vince McMahon and the WWE at their own game.
First hired as an on-air announcer, Bischoff was asked by then-WCW owner, Ted Turner, what he thought was needed to beat the World Wrestling Federation—Turner liked his answer, and Bischoff was appointed president of the company. With Turner and his money behind him, Bischoff declared war. He hired top talent away from WWE and went on to produce a show that looked more dangerous and was sexier, and edgier than anything being done by McMahon and his team. Broadcasting live, and going head to head with the WWE, Nitro became the number one wrestling show for more than eighty consecutive weeks.
However, the formula for the WCW's success also became the blueprint for its failure. Top-heavy with highly paid talent with control over their storylines, the WCW stumbled, and the WWE stepped in and regained the lead in the ratings. When Time-Warner bought out Turner, they found that the WCW was losing millions a year, and all programming was cancelled. Vince McMahon swept in and was able to buy the entire company for pennies on the dollar. In this tell-all book, Eric Bischoff explains all the things that he did right—and wrong—as he helped shape the sports entertainment industry into the billion-dollar business it is today.
Eric Bischoff is a graduate of the University of Minnesota and a black-belt martial artist. In 1993 Bischoff became president of WCW, and hatched the idea for the revolutionary New World Order (nWo) with former WWE Superstars Kevin Nash, Scott Hall, and Hulk Hogan.
The second project is the Socko! Energy Drink that was briefly featured on an episode of Hogan Knows Best. WWE branded drinks will follow. Below is the press release.
Nation's Fastest-Growing Independent Energy Drink, Socko Energy Announces Partnership With World Wrestling Entertainment, Inc. Licensing and Promotional Partnership Between WWE(R) and Socko Energy Gives Way to New Products and Growth (August 08, 2006)
LOS ANGELES , Aug. 8 /PRNewswire/ — Continuing the brand's move toward gaining increased exposure throughout the U.S., Socko Energy today announced that it has formed a multi-year licensing and promotions partnership with World Wrestling Entertainment, Inc. (NYSE: WWE).
The deal will yield new products including a limited edition "RAW(R) Attitude Powered By Socko" as well as quarterly collectors' edition promotional cans featuring WWE Pay-Per-View branded names including "SummerSlam(R) Energy Powered By Socko" and "Wrestlemania(R) Energy Powered By Socko," among others. Each of the WWE promotional cans will be made available through Socko's existing and expanding distribution network.
"When it comes to branding, no one does it better than WWE. We're thrilled to partner with WWE as 'RAW' and 'SMACKDOWN' are two of the most popular and exciting entertainment brands today," said Mike Jannicelli, vice president Bliss Beverage. "Not only will this deal harness the power we already have with consumers and take that excitement to the next level, but a partnership of this magnitude will position the company for future growth."
Entertainment and marketing company Bischoff-Hervey Entertainment (BHE TV, LLC), responsible for branding Socko on a global level through non-traditional, entertainment-based marketing initiatives, approached WWE's Florence Di Giorgio to develop a partnership between Socko and WWE.
"We look forward to this very exciting product launch and partnership with entertainment powerhouse WWE," said Eric Bischoff , a 20 year veteran of the sports entertainment industry. "The demographics and buying power of the WWE audience, combined with their passion for the WWE's RAW brand, make this one of the most exciting licensing opportunities we could bring to Socko."
About World Wrestling Entertainment, Inc.
World Wrestling Entertainment, Inc. (NYSE: WWE) is an integrated media and entertainment company headquartered in Stamford, Conn., with offices in New York City , Los Angeles , Toronto and London .
About Bischoff-Hervey Entertainment
Bischoff-Hervey Entertainment (BHE TV, LLC) combines the diversified strengths of industry veterans Eric Bischoff and Jason Hervey . BHE specializes in content creation and production for various broadcast outlets, licensing and merchandising and innovative brand integration solutions.
About Socko Energy
Socko Energy is the flagship product of Bliss Beverage, a Scottsdale , AZ-based company that has developed an energy drink which appeals to a mass audience without succumbing to the latest "extreme" trends set forth by other energy drinks on the market today. The end result — Socko — is a vibrant, eye-catching energy drink filled with clean, refreshing, non-heavy, healthy ingredients with a smooth taste and electrifying color. Socko is currently available in 16 U.S. markets and quickly becoming the fastest-growing independent energy drinks in the country. To learn more about Socko Energy, visit www.sockoenergy.com.