The Complete Story So Far On Kurt Angle/TNA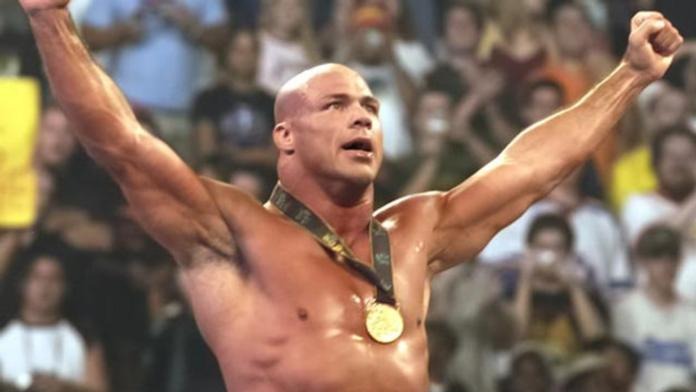 WWE
Well it has been 48 hours now since the announcement that has turned certainly TNA and perhaps the wrestling world on its ear. Kurt Angle, who just 6 weeks ago was a WWE superstar, and 6 months ago main evented Wrestlemania as World Champion has signed with TNA.
The announcement was made on air Sunday Night during the closing segment of TNA s pay per view event No Surrender by Jim Cornette in what was undoubtedly a huge surprise. Since then we have learned many, many details as to how all of this came about (and to TNA s credit they pulled this off with most everyone largely in the dark) and so we here at TNAWrestlingNews.com decided to try to do a wrap up so to speak. What we know now about the deal. When did it come about? Who was in the know? TNA President, Dixie Carter s, reaction:
It began Sunday evening prior to No Surrender when word came out through, Dave Meltzer, that the surprise was not informed to TNA s talent roster and that the majority of them would find out live as the announcement would close the pay per view. It was revealed at this time that the person was believed to be away from the building in a hotel room and would be kept there until 9:30pm eastern time. That turned out to be false as Angle was (to our knowledge at this time) not in Orlando at all and was not at the show. Word starts to come out that some TNA talent were upset that they were not aware of who the surprise was. It was also rumored that those in the know had signed non disclosure confidentiality agreements so word would not be spread.
During the final segment of the No Surrender pay per view, Jim Cornette, announced a time switch for TNA s television program, iMPACT!, starting with a 2 hour November 16th broadcast at 9pm. Cornette then said that was his announcement, but this is the announcement , with that they cut to a video package of Kurt Angle announcing that the former WWE & World Champion was heading to the company. Immediately following, TNA s traffic on their website, was so great that the website went down. A splash page of Angle coming to TNA was put up and the site later returned with the video package from the pay per view.
Quickly after the pay per view went off the air, word started leaking about the details this last week that led to it all. It became apparent that Angle s Mixed Martial Arts rumors was nothing but a smokescreen to hide his deal with TNA (around the time the MMA rumors came out is when TNA President, Dixie Carter, announced a huge surprise for No Surrender). It was revealed that the video clips that were show on No Surrender were actually shot late last week (rumored to be last Wednesday night at midnight) in a warehouse in Nashville Tennessee.
TNA hired local independent workers to come to the warehouse, set the ring up, sign confidentiality agreements and leave the building. Angle then arrived, did some promos, shot the scenes for the video package and left. The ring crew was then allowed back in the building to break the ring down.
Kurt Angle s official website, KurtAngleWWE.com, posted a statement about the deal and we learned that the TNA staff was not informed of the announcement until approx. 15 minutes before it aired on live pay per view. Those who knew in advance are believed to be TNA President Dixie Carter, Jeff Jarrett, Terry Taylor, Dave Sahadi, and a few others and all signed confidentiality agreements.
TNA then sent out a press release announcing Angle s entry to the promotion, TNAWrestling.com, put up several stories including TNA Superstar thoughts on the announcement and the following press release from TNA President Dixie Carter:
A MESSAGE FROM TNA PRESIDENT DIXIE CARTER TO THE FANS REGARDING THE SIGNING OF KURT ANGLE
First, let me say to our talent and our staff, congratulations on our move to primetime. Each of you have worked so hard for this and deserve all the great things that will come with the move. To our fans, none of us would be here without you. Your belief in our product has made all of this possible, and from all of us, thank you. This is just the beginning.
I hope the hype of our announcements last night lived up to or exceeded your expectations. In this industry, it is very hard to keep anything quiet. We are thrilled to have Kurt Angle join our team. Just like with all of our wrestlers, Kurt s family and health will always come first. I m sure you will be hearing from him in the coming weeks.
I asked Kurt s agent to provide me with a quote for our announcement release. Most times a publicist, manager or agent will prepare a statement for the talent. But after a long film shoot in Nashville last week that ended at midnight, Kurt sat down and hand wrote his heartfelt comments on a hotel note pad. Instead of just pulling a small part from that to use in the press release, I thought his fans would love to share in his full emotions from that night:
Being with TNA feels like I have finally found my home. I had fun in WWE at certain times, but I was never really happy. Now being a part of TNA, I know I have a purpose. I feel like I am part of history, part of a company that is not only on the rise not only going to be the number-one watched wrestling show in the world within a short period of time but TNA gives me an opportunity to spread my wings. This company has no limits to where it can go. The sky is the limit and the main reason is because they brought the real back into wrestling and that is a perfect fit for the greatest wrestler in USA Olympic history. I have room to grow here and to help TNA grow. Working for these caring and very giving employers of TNA makes me feel like I have a purpose and that the sky is the limit. I don t feel trapped or held back like I did the first six years in my tenure with the other company. They held me back. Now, our wonderful audience will see the real Kurt Angle doing what I love to do real wrestling and that s what puts a smile on my face each time I come to work. I even smile when I think about it. TNA will be the most watched television show on cable television. It s only a matter of time. Now, I get the opportunity and privilege of being a part of it. Thank you TNA for saving my career, my life and my desire to do what I love. I will be here in some capacity for the rest of my life. That s real&that s damn real. Kurt Angle
There is no word at this time of what Kurt s contract with WWE was as many expected a no compete clause, which is obviously not the case. No word yet on how Vince McMahon reacted to the announcement but one has to believe it was not positive.
In the end, regardless of how you feel about the deal, TNA managed to pull off something that is very rare in today s wrestling market, especially with the internet they pulled off a huge announcement that lived up to the hype. No one knew this was coming and it was definitely a shocker. Where does it go from here remains to be seen, Kurt Angle could rise like a phoenix and get a second run like Hulk Hogan did when he signed with WCW, or this could be potentially the beginning of the end of the most celebrated athlete in the wrestling industry.
Late Notes: Kurt Angle is back with his wife Karen and is not going to rehab, but is going to see a doctor on pain management. We've also been told that Angle was scheduled to be paid by WWE until February 25, 2007.
In any event these last 48 hours have been exciting for a wrestling fan. We want you to stick with TNAWrestlingNews.com for any more in this breaking story as we are sure to know more in the coming days on what is certainly the biggest story in the business right now.
For more great exclusive TNA coverage like what you just read above, visit TNAWrestlingNews.com