TNA Turning Point Results - December 11, 2006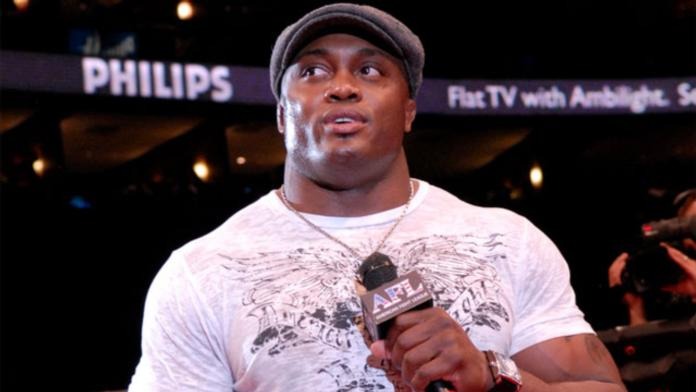 Credit: WrestleView.com
Here are highlights from TNA's 30 Minute Pre-Show before the Turning Point PPV:
- Christy Hemme is up first welcoming everyone to the pre-show. Christy talks to fans about Kurt Angle vs. Samoa Joe II later tonight.
- Backstage, Jeremy Borash is with Robert Roode and Ms. Brooks. Roode promised that Ms. Brooks would show off her "assets" tonight when she faces Eric Young in a Bikini Contest. Ms. Brooks added that she was willing to get naked tonight.
- Mike Tenay & Don West preview the Turning Point card tonight.
- A video package runs highlighting Abyss vs. Sting vs. Christian Cage tonight in a Triple Threat for the NWA World Heavyweight Title.
- Backstage, Jeremy Borash is with NWA World Champion Abyss and James Mitchell. Mitchell calls Christian Cage a cry baby and that Tomko could reveal Abyss' dark secret all he wanted. He then tells Sting that Abyss' belt and soul belong to him. Abyss then turns his back on Mitchell. Mitchell yells at Abyss to end the segment.
- Ron "The Truth" Killings & Lance Hoyt defeated Serotonin (Kazarian, Matt Bentley & Johnny Devine) in a 3 on 2 Handicap Match. The finish saw Hoyt take out Kazarian with a big boot allowing Killings to hit the Axe Kick to get the pinfall.
- Backstage, Jeremy Borash is with Jerry Lynn. Lynn says he will call the X Division Title Match tonight between Christopher Daniels and Chris Sabin right down the middle. Sabin then interrupts thinking Lynn won't be fair. Lynn tells Sabin he was paving the way for the X Division when Sabin was on the other side of the railing.
- Footage of Serotonin bringing Kazarian back to the ring and Raven coming out is shown. Raven caned Kazarian on the back as he did to Johnny Devine at last month's Genesis PPV.
- A video package airs highlighting Kurt Angle vs. Samoa Joe II later tonight.
- Backstage, Jeremy Borash is with Samoa Joe. Joe talks about having a nightmare for the last three weeks about tapping out to Kurt Angle. He mentions having a recent dream about snapping Angle's neck and promising to do so tonight.
- The new female announcer is backstage when she believes Kurt Angle's car is pulling up. The car door open and she is handed a sledgehammer, which looks to be a tease that VKM has arrived to mock DX.
- Don West does his "hard sell" to finish the pre-show.
——————————————————————————–
TNA Turning Point PPV Results – 12/10/06
Location: Orlando, Florida
Commentators: Mike Tenay & Don West
Report By: Adam Martin of WrestleView.com
- The new TNA opening hits. A video package airs with a Christmas theme showing various TNA stars shaking hands and then later turning on each other. All of the main matches at the PPV tonight are highlighted such as Kurt Angle vs. Samoa Joe II and Abyss vs. Sting vs. Christian Cage for the NWA World Title.
- A graphic opening hits welcoming us to TNA Turning Point. We then go live to the Impact Zone in Orlando, Florida where a display of pyro goes off above the ring and in the entrance area.
- Senshi won the Paparazzi Championship Series Elimination Match. Kevin Nash joined Mike Tenay and Don West at ringside on commentary. Involved in the elimination match is Alex Shelley, Austin Starr, Sonjay Dutt, Senshi and Jay Lethal. Mike Tenay mentions that a series of these matches will be taking place in TNA over the next few weeks with each participant earning a point. The winner of tonight's match will earn five points. Alex Shelley was eliminated first by Sonjay Dutt, so Shelley leaves with 1 point. Jay Lethal was eliminated next by Senshi, so Lethal leaves with 2 points. Sonjay Dutt was out next being eliminated by Austin Starr, so Dutt leaves with 3 points. We are down to Austin Starr and Senshi. Shelley came back and distracted Starr, allowing Senshi to pin Starr to eliminate him (Starr leaves with 4 points). Your winner is Senshi with 5 points. After the match, Shelley goes up to Nash at ringside and tell hims he is back at "#1" for him. Nash and Shelley shake hands as Starr looks on angry.
- Backstage, Jeremy Borash is with Eric Young. Young is wearing a robe. Borash tells Young that the TNA fans were behind him tonight.
- Eric Young defeated Ms. Brooks w/ Robert Roode in a Bikini Contest (hosted by Jeremy Borash). As stated earlier, the winner will be voted on by the fans in the Impact Zone tonight. Eric Young comes out wearing a pink bath robe, while Ms. Brooks shows up wearing a red bikini. Brooks shows off her body first. Young then reveals he is wearing a t-shirt with a woman's body on it. Robert Roode demanded that Young be disqualified. Young then says he isn't done, taking off his clothes and revealing Sponge Bob Square Pants boxers. The referee then goes to declare Ms. Brooks the winner because Young didn't wear a bikini. Young asks for last change and takes off his boxers, revealing his bikini. The fans in Orlando went crazy for Young voting him as the winner. After the contest, Roode jumped Young. When Roode sent Young into the ropes for an attack, Young ducked and bailed from the ring heading to the back. Roode got on the mic and said he was sick of Young, Ms. Brooks and the Orlando fans. He then tells Ms. Brooks that in order to make it up to him, she has to get Young to sign a contract with Robert Roode Inc. so then the fans will love him as well. Roode warned Brooks that if she didn't get Young to sign, she might be the one who gets fired.
- Backstage, the new TNA announcer girl knocks on VKM's door (which said Dumb to the Xtreme on the door). A fat guy who was supposed to be Big Dick Johnson of WWE fame came up to her. He then took off looking for catering.
- Christopher Daniels defeated Chris Sabin to retain the X Division Title with Jerry Lynn as the special guest referee. Early on in the match, Sabin took out Daniels with a big hip toss on the entrance ramp. Daniels followed that up with a big elbow from the top rope on Sabin. Daniels then got the win with the BME (Best Moonsault Ever) on Sabin to retain the X Title. After the match, special guest referee Jerry Lynn got on the mic and tried to get both guys to shake hands. Daniels wanted no part of it. Lynn smacked Daniels. Lynn yelled out that they will respect him. Daniels tried going after Lynn, but TNA officials hit the ring and held him back.
- Mike Tenay introduces Jim Cornette. Cornette comes out to the Impact Zone and gets into the ring. Cornette introduced A.J. Pierzynski, who brought his X Division Title replica with him, and Dale Torborg. Both were sitting at ringside and came into the ring. Cornette then introduces David Eckstein and his brother Rick. Eckstein held up his World Series MVP trophy. Eckstein plugs his new book. Torborg and A.J. then tear pages out of Eckstein's book. Pierzynski then runs down Eckstein on the mic. Both sides start brawling until Lance Hoyt comes down and takes out Torborg with a big boot. Hoyt and The Eckstein's stare down Torborg and Pierzynski to end the segment.
- A video package airs highlighting the events between AJ Styles and Rhino leading into the match tonight.
- Backstage, Jeremy Borash is with Rhino. Rhino said tonight, he will make AJ Styles see things his way. Styles then attacked Rhino and they continued brawling backstage. The match eventually finds its way into the Impact Zone.
- AJ Styles defeated Rhino. Nice setup to this match with it starting backstage and finding its way inside the Impact Zone. Before they hit the ring, the two brawled in the crowd which saw Styles send Rhino into part of the wall cracking it open. Rhino followed that up with a big high back body drop on the entrance ramp. A spot then takes place with Rhino sending Styles over the top rope that saw Styles land hard on his knee. The referee checked on Styles and TNA trainers also came out. Styles tries to stand up, but can't. When the referee goes over to ring announcer David Penzer, Styles gets back up and rolls up Rhino in the ring for the quick victory.
- Backstage, a man pretending to be Vince McMahon "fires" the new girl who was doing interviews for TNA. The man was holding a cage with a rooster in it and walked off doing the Mr. McMahon strut.
- Back live, we see another shot of AJ Styles and Rhino brawling on the entrance ramp as TNA officials and security try to break it up.
- A video package airs highlighting the events between LAX and America's Most Wanted leading into the Flag Match tonight.
- Backstage, Jeremy Borash is with LAX. Konnan steps up and says after tonight, America's Most Wanted will now be known as America's Least Needed.
- NWA World Tag Team Champions LAX defeated America's Most Wanted in a Non-Title Flag Match. No pinfalls or submissions in this match as the first to hang their respective flag above the ring will win. Gail Kim took out Homicide with a big moonsault onto the floor. One big spot saw James Storm hit a sunset flip on Hernandez off the ladder. Gail Kim tried to go up the ladder with the U.S. flag, but Konnan stopped her. This brought out Petey Williams who stopped Konnan. Hernandez takes out Williams with a clothesline. The finish saw Homicide (with the Mexican flag) and Chris Harris (with the U.S. flag) climb up both sides of the ladder and hang both flags. Storm then accidentally hits Harris with a beer bottle when he comes up on the ladder, allowing Hernandez to jump up on the ladder and throw the U.S. flag off to keep the Mexican flag hanging for the win. After the match, Gail Kim yells at Storm for hitting Harris with the bottle. Konnan gets on the mic and tells Tenay and West to stand up for the Mexican National Anthem. The entire anthem plays as Konnan stares at the flag proudly.
- A plug for the Final Resolution PPV on January 14 is shown.
- Backstage, James Storm said Chris Harris quit on him. Storm said it was a disgrace that the Mexican National Anthem had to be played tonight. He tells Harris that he has until iMPACT! to apologize to him and the fans for allowing that to happen.
- Voodoo Kin Mafia come out dressed up as D-Generation X. BG James is Triple H complete with a sledgehammer and water bottle. Kip James is Shawn Michaels. The fans in Orlando chant "DX SUCKS." A group then comes out who were acting like The Spirit Squad followed by a fat man covered in oil wearing a thong. VKM cut the fun and BG James gets on the mic talking about Vince McMahon. James reminds Vince that he had them drive to CNN Center when they worked for him. He issues a "million dollar challenge" to Vince and DX and says TNA is fully supporting it. BG says he wants WWE to stop doing the DX skits since they are ruining the legacy of D-Generation. VKM then challenge DX to a tag team match anywhere, anytime. BG finishes the promo calling Vince a piece of sh*t if he didn't accept their challenge.
- A video package airs highlighting the events between Abyss, Sting and Christian Cage leading into the NWA World Title Match tonight.
- Backstage, Jeremy Borash is with Christian Cage and Tomko. Cage puts over his undefeated streak in TNA and says tonight is about him as he never the NWA World Title to begin with.
- Abyss defeated Sting & Christian Cage to retain the NWA World Heavyweight Title. First man to get the pinfall or submission in this match wins. Before the match began, Abyss and Tomko stared each other down. One spot saw Abyss and Christian Cage fighting on the outside and then Sting took them out coming off the ropes. Tomko got involved later sending Sting in the guard railing with the referee distracted. Another big spot with all three men doing the tower of doom from the corner. More interference from Tomko when Sting hit a Scorpion Death Drop on Cage, covered, but Tomko pulled the referee out at two. With the referee down, Mitchell hands Abyss the bag of thumbtacks. Abyss hesitates to use them, but puts them on the mat. Abyss attempts a chokeslam on Cage onto the tacks, but Tomko blocks it. Tomko then smashes Abyss' face first into the tacks. The finish saw Sting knock Mitchell off the ring apron and then talk to Abyss. Sting then kicked Abyss down and applied the Scorpion Deathlock. Cage came in with a steel chair and hit Sting with it. Abyss then hit Sting with a Black Hole Slam quickly and got the pinfall.
- Backstage, Jeremy Borash was with Kurt Angle. Angle said tonight, we will find out who the better man is.
- Samoa Joe defeated Kurt Angle. Lots of brawling outside of the ring early on in the match with Angle sending Joe into the steel steps. Back in the ring, Joe suplexed Angle over his head in an impressive spot. Angle then followed that up with three huge german suplexes. Angle then applies the Ankle Lock on Joe. Joe fights out of that and attempts a Muscle Buster, but Angle counters that and gets the Ankle Lock back on. Angle then hits the Angle Slam out of no where, covers, but Joe kicks out! Joe responds with a rear naked choke on Angle, but Angle fights out of that and gets the Ankle Lock back on yet again! We then see Joe get the rear naked choke, the referee checks Angle and Angle fights it off to get the Ankle Lock once again. Joe gets the bottom rope to force the break. The referee gets knocked out, Joe applies the rear naked choke again and Angle taps! The referee is still out and Angle low blows Joe. Angle leaves the ring, grabs a steel chair and comes back in. The finish sees Angle swing the chair and miss Joe. As a result, the chair hits the ropes and connects into Angle's face. Joe locks on the rear naked choke on Angle and Angle taps out. Samoa Joe is your winner as the fans show appreciation for the match in Orlando.
Mike Tenay and Don West review the highlights of Angle vs. Joe II. The PPV goes off the air with the fans in Orlando chanting "one more time."
For great exclusive TNA news, visit www.TNAHeadlines.com. Current stories include VKM-WWE-TNA updates, Chris Jericho, TNA **SPOILERS** and much more!